Indian cinema is full of success stories of women making it big on the Big Screen. Here is a woman who has achieved noteworthy success behind the scenes of Bollywood, despite not being a native of India.
Indian cinema is full of success stories of women making it big on the Big Screen. Here is a woman who has achieved noteworthy success behind the scenes of Bollywood, despite not being a native of India.
Sophie Winqvist Loggins is extremely passionate about her chosen line of work. "In our everyday lives, we are surrounded by 'reality'. I believe we all experience reality differently. Images can communicate things as well as emotional experiences. If you tell a story visually, you can bypass the mind and connect with the body and the human being," says the Swedish cinematographer who literally brought spookiness to life in the 2013 release Aatma.
The Stockholm, Sweden-based Sophie, a Director of Photography (DoP) or, in common parlance, cinematographer, is one of the many foreign cinematographers working in the Hindi film industry today and giving a fresh look to desi cinema. One look at Aatma and the difference is discernible. There is nothing novel about the story of the horror genre – it's Sophie's surreal touch with the camera that is more noticeable than the script or the performance of actors like Bipasha Basu and Nawazuddin Siddiqui.
"In a movie, you can describe the world through a mood or a psyche. If you do that right, the viewer can experience something new and get a glimpse of something they might never have formulated before. The other world is perhaps the best example for that. Spookiness is about the uncanny and the abject. When you study images and story-telling, you learn how to connect with the core idea of the film. Then you need to figure out how that can be represented visually in a way that does not communicate to the mind but to the body," says Sophie, describing the way the visualisation process unfolds for her.
Many do not believe in the presence of the aatma and supernatural powers or beings; nonetheless, universally everyone does find these subjects intriguing. Whether skeptical or with a tongue-in-cheek stance, at some time or another, most people do participate in discussions and debates on the 'unexplainable'.
Sophie has been able to exploit this outlook and represent in different ways on celluloid.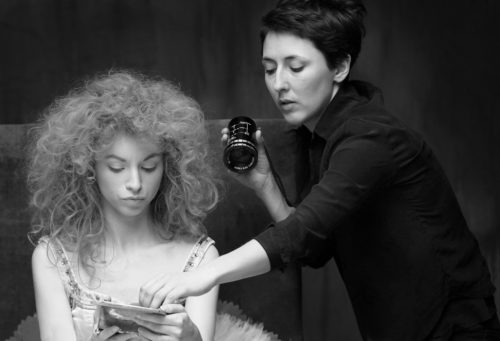 The horror genre, whether in domestic or international cinema, is pretty popular with filmmakers and audiences. In fact, in India, the Ramsay brothers are synonymous with horror films, crude and gory as they may be, and they have a large following. In recent times, however, there have been better films made, including Raaz Reboot, Bhoot, Haunted, Alone, Ragini MMS, and, of course, Aatma. Naturally, in this genre in particular, it's essentially the visual drama that pulls people to the theatres. So, it comes down to how well the cinematographer can showcase and communicate.
Connecting with the Indian audience wasn't very difficult for the 30-plus talented DoP. That's because Sophie has been familiar with India and Indian culture ever since she was 15 – her mother regularly travelled to the country for work. Then, in 2000, her mother, a therapist who worked as a supervisor for teachers and parents in a school for disabled children with INTACT India, formally introduced the then 24-year-old Sophie to India.
"INTACT was running weaving projects for divorced women in Tamil Nadu in 2000-01 and my mother loved interacting with them. For me, it was a privileged way to visit India for the first time through my mother's life here. She taught me how to behave culturally, and in a respectful and communicative way. For many Westerners, it's hard to understand how to behave in a society that is different in many ways," shares Sophie.
In the meantime, her interest in photography intensified while she was apprenticing for a still photographer. Later, after graduating in Art History and studying French in France as well as Spanish in Cuba even as she was doing still photo projects, Sophie realised that she could tell many more stories with moving images.
That's when she went ahead and did a cinematography course at the National Film School of Denmark and opted to build a career as a DoP.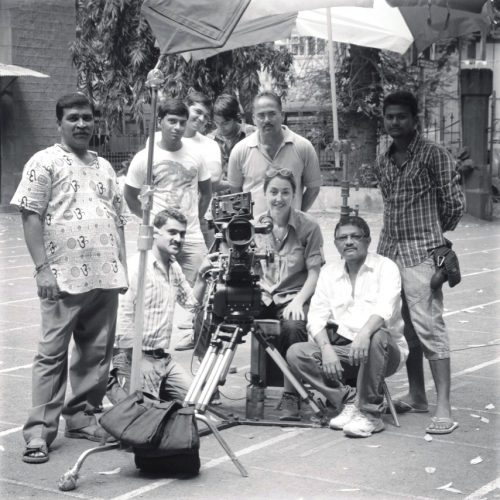 Sophie's understanding of the visual media is quite unique. Even her website has a different look. There are moving images for the links to her work and that itself gives an eerie feeling. The best among her several works displayed on the portal is a short film Odd One Out, with a deadly looking black cat. Then there's Dyret (creature), a short commercial, Your last piece of perfection, or the fiction Her bor Jensen. It's from here itself that one can see the difference that Sophie makes while tackling subjects from the Other Side. In many of these films, one can see glimpses of different parts of India, revealing her interest in the country. Incidentally, even though Sophie lives in Sweden along with her husband, she has set up a small studio in Mumbai.
Till recently, the world of DoPs was completely male-dominated. The equipment is very heavy, and one has to sometimes move around with the heavy camera on the shoulder. Hence, women rarely ventured into this field. However, in the last few years, many female DoPs have decided to make their mark.
"Even today, there are tonnes of biases against women DoPs. You have to [work twice as hard] to prove yourself," admits Sophie. Yet, she adds, "But then there's also curiosity, kindness, and less of the alpha battle. Good work shines through and your talent is your only true basis for negotiations. The real challenge is to try to stay calm and keep doing good work that tells a great story."
The work of a DoP runs parallel to the film—right from conceptualising to the end of film production. According to her, a DoP, too, starts prepping well before the shoot. If it's a movie with a visual language, the more time one gets, the better.
"Often, I'm a part of the process right from the time when the script is being developed," she says.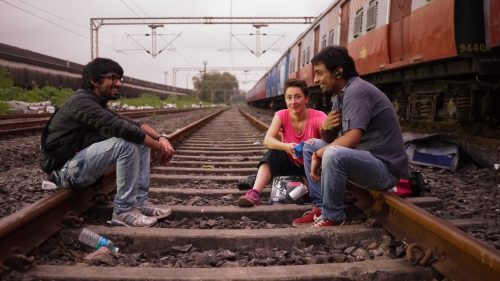 But the freedom of how she wields her camera depends often on the director and the producers of the film. "I would guess that the biggest creative freedom for us is in a smaller independent film in the West. That's where a movie can be more easily led by a director, and the producer tries to fulfil his or her vision. These types of projects are generally not blockbusters but, hopefully, festival winners."
Talking about actors, Sophie feels actors with experience help a lot with a perfect shot. "Experienced actors are easier for DoPs because they understand how to work with the camera. But then it depends on the energy and the tone of the film and what you are looking for. Sometimes non-actors give you the authenticity that the director is looking for."
Sophie Winqvist Loggins loves working in India and signs off with, "I miss India and there are interesting storytellers who have started getting a chance here today. That's very cool. I would love to make more films here!"
Find out more about Sophie on her website.
Featured Image Source: Pixabay
Like this story? Or have something to share? Write to us: contact@thebetterindia.com, or connect with us on Facebook and Twitter.
NEW: Click here to get positive news on WhatsApp!