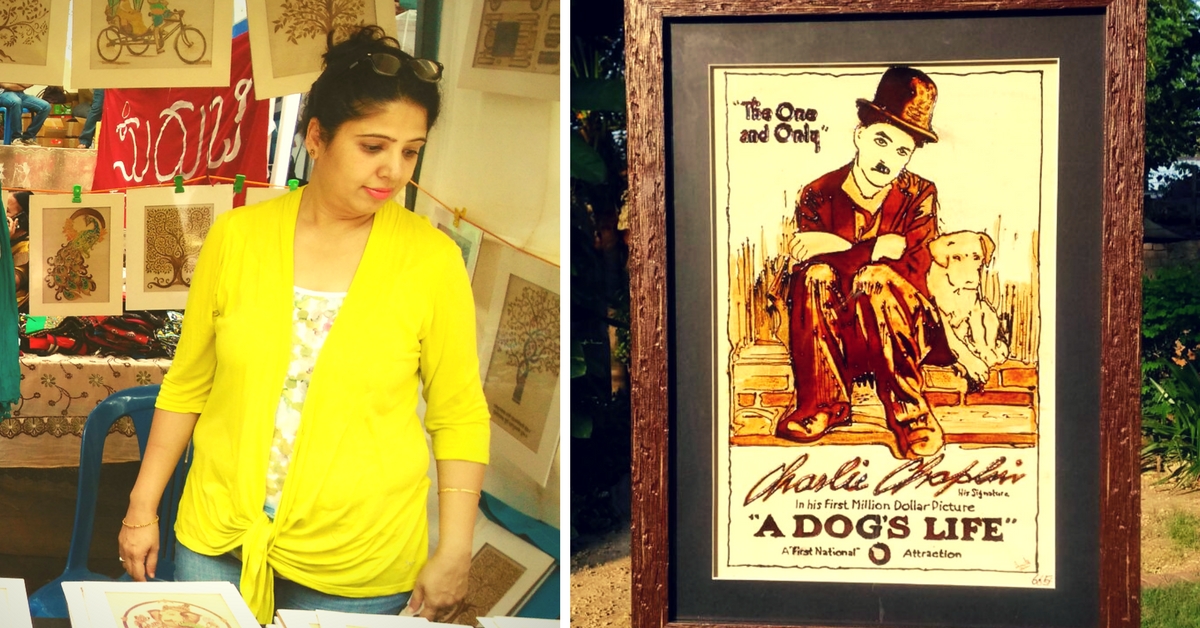 Amita Dutta (44) is a highly successful painter, reputed for the art that she creates using coffee. That's right, coffee! She has not let her hearing impairment come in the way of her creativity.
Dressed smartly in a lemon green top and blue jeans, Amita Dutta sat inconspicuously at her stall like any other person. It was the brilliant array of coffee paintings displayed behind her that attracted crowds at the recently concluded Coffee Santhe, organised by the Women Coffee Alliance-India Chapter (WCA-I) in Bengaluru. But there was more to Amita than just her paintings.
As a toddler at a little over two years, Amita Dutta seemed just like any other child. However, it was a visit from her maternal grandparents from Laos in April 1974 that led to a startling discovery. Rani Vahi, her grandmother, had come laden with several gifts including jingly toys. But when Amita did not respond to their sounds, it became a cause for worry. She advised Kamlesh Kapoor, Amita's mother, to check if the child had any hearing problems. "I was shocked. I couldn't believe that Amita could be deaf," says 72-year-old Kamlesh.
"I took her to doctors at the All India Institute of Medical Science (AIIMS) and Safarjung Hospital. Their diagnosis was that Amita was not completely deaf and would learn to speak soon. But that did not happen," she adds.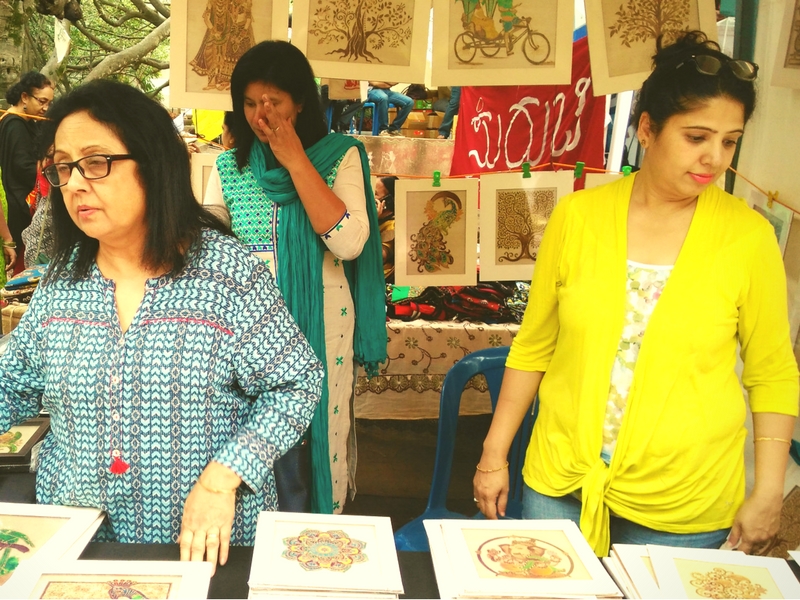 Amita was later diagnosed with bilateral hearing loss. This was a terrible blow, something that hampered her educational process too. Sent to a Hindi-medium school, Amita found communicating with others and understanding what the teachers taught an almost impossible challenge to overcome. "I would simply keep quiet. I had just one friend who somehow was able to explain and talk to me in gestures. That's how I began to learn at school," Amita gestures. "Every time I understood the text, I felt so great about it. It was the only means of communication for me. Otherwise, I would get bored, look around and not know what everyone else was talking about," she adds. As she drew closer to Class 10, the school principal expressed her apprehension about Amita's ability to clear the examination. She feared that her failure would spoil the reputation of the school. "She dropped out of school then," Kamlesh says.
But that's all in the past. Today, Amita (44) is a highly successful painter, reputed for the art that she creates using coffee. That's right, coffee! It was something she discovered accidentally in 2008 when she was doing a diploma in Arts and Craft at Savitri Polytechnic in Gurgaon where she learned various art forms. What mesmerized her most was coffee painting. "She used to take coffee from home to college. I didn't pay much attention to it. One day, she came home excitedly and asked me to close my eyes. She gestured that she had something to show me. I obliged and when I opened my eyes, I was amazed by what was in front of me. It was a painting of a Greek god on a chariot painted entirely in coffee," recalls Deep Dutta, her mother-in-law.
Incidentally, Amita's husband is hearing-impaired too.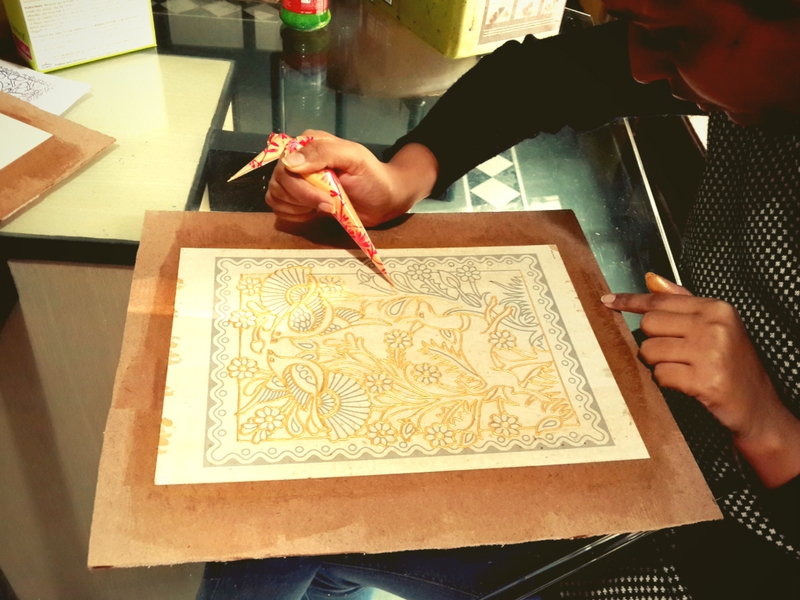 Coffee painting was the start of a long journey that took her places and earned her a lot of accolades in Bengaluru, New Delhi and Gurgaon, including receiving the National Award for Best Self-Employed with Disability in 2013 from President Pranab Mukherjee. Using instant coffee powder and water to produce various shades and concentrations of coffee, Amita has experimented with several themes and subjects in her paintings. She takes inspiration from her surroundings and re-creates everything from rickshaws, owls, abstract designs, racing cars, Vedic chants, mythological figures such as Radha-Krishna, to famous personalities like Mahatma Gandhi and Charlie Chaplin.
Her favourite subjects are peacocks and trees.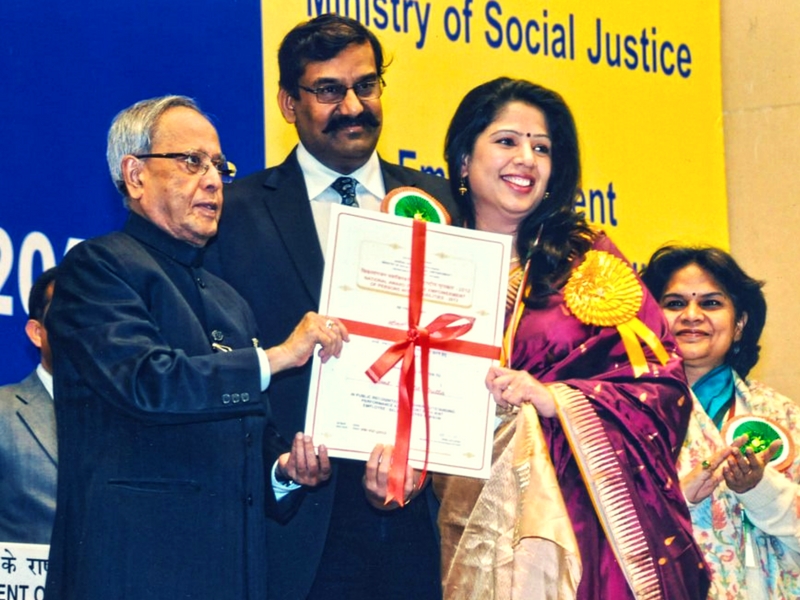 This unique art form involves a lot of labour. First Amita glues the paper on to plywood, ensuring there are no creases. Next, she gives each painting a coating of diluted coffee powder, which gives the work a certain vintage feel. After tracing the design, she meticulously outlines it using a 3-D liner of any colour or sometimes even ceramic powder dust. She then lets it dry completely before filling in colour, which include coffee and fabric colours. She initially used only coffee as a medium to paint but it was in 2010, at the insistence of friends and family, that she began coupling coffee with other colours. The result was received with much appreciation.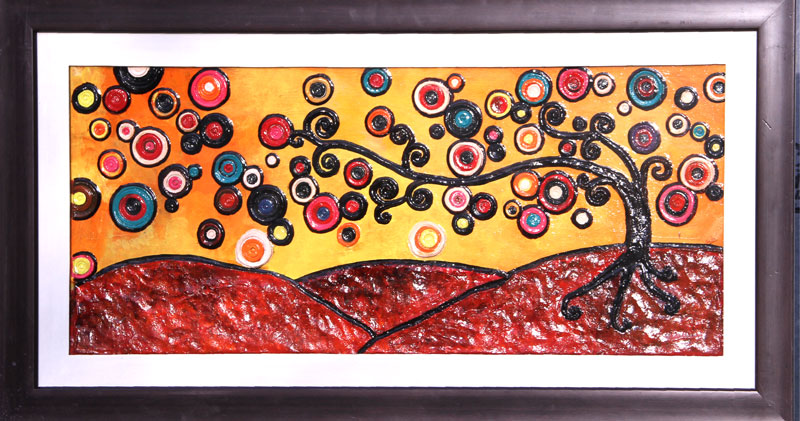 Further, the work must not be kept under extreme conditions for coffee can start dripping from the painting. The ideal time to work on the paintings is between August and March as the humidity is low. However, it is impossible to paint and dry coffee during the monsoon season. "We begin as early as August to be prepared for the festive season from Durga Puja to Diwali. Numerous fairs and exhibitions are held across the city during the time and people in huge numbers buy her paintings," says Deep. "A problem we faced earlier was that there was no protective layer to stop the paintings from getting spoilt under extreme conditions. A tip from my husband, who has a furniture business, resolved it. He suggested we use melamine to give it a final finish," Deep adds. Melamine is a thermosetting plastic resin combined with formaldehyde and hardened by a heating process.
It is used as a laminating coating to preserve furniture, dinnerware, etc.
Interestingly, what began as a hobby soon turned into a lucrative business. With the staunch and steady support of her family, Amita began exhibiting and selling her work all over New Delhi and Gurgaon. "Young people came forward and showed a keen interest in her work. Japanese and Koreans were also struck by her art and began calling us whenever they organised events. In addition, we ensured we chose venues where there were Bengalis as they are such art lovers!" Deep says. This year, Amita got an opportunity to display her work at the seven-day Diwali extravaganza organised by the Blind Relief Association, visited by the cream of New Delhi. "Getting a stall there is very tough but fortunately they obliged us. They didn't even charge us for it," she adds. Amita also takes orders and can create custom-made designs as well.
Not one to accept defeat, she even completed her education. With strong emotional support from her family, she wrote the Class 10 examination through the National Institute of Open Schooling and completed a three-year course in Interior Design from New Delhi Women's Polytechnic in 1998. She is now proficient in Adobe Photoshop, Illustrator and Microsoft Excel. Her main means of communication is through signs and gestures. Amita learnt the American Sign Language (ASL) from her husband Charu Dutta, who too has won a National Award.
Their two children, Ninad and Dhwani, can hear perfectly well, and have mastered the sign language as well.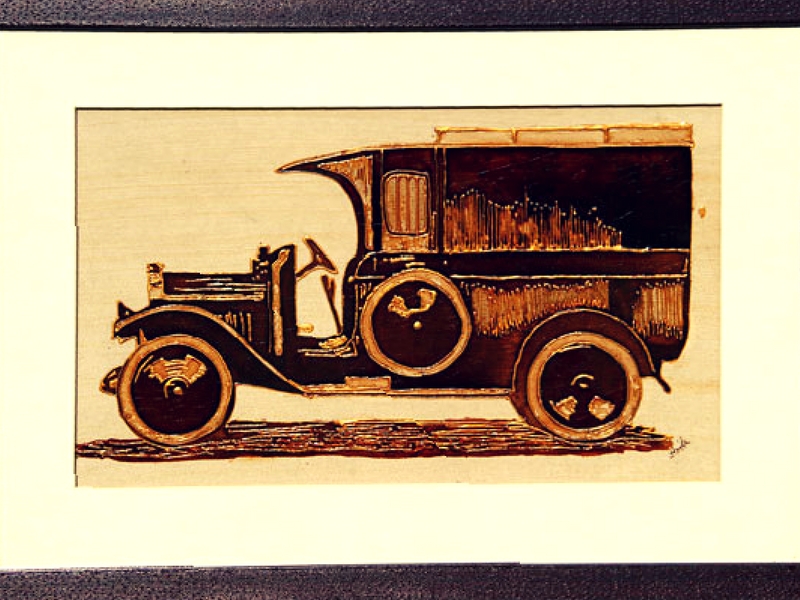 Amita has never let her disability turn into helplessness. She has proved that grit and determination with creativity can help a person face and overcome the biggest odds. For her, it has been a long and silent journey so far with more than a fair share of twists and turns. And yet, she has risen above it all by hearing her inner voice.
So, how about some coffee with Amita? You can check out her work and contact her through her website www.araamita.com.
Like this story? Or have something to share? Write to us: contact@thebetterindia.com, or connect with us on Facebook and Twitter (@thebetterindia).
We bring stories straight from the heart of India, to inspire millions and create a wave of impact. Our positive movement is growing bigger everyday, and we would love for you to join it.
Please contribute whatever you can, every little penny helps our team in bringing you more stories that support dreams and spread hope.