Dhapara village, located in the remote district of Bhilwara, Rajasthan, is infamous for its long history of rampant alcoholism. The elders and even children of the village are drunk almost every evening.
Dhapara village, located in the remote district of Bhilwara, Rajasthan, is infamous for its long history of rampant alcoholism. The elders and even children of the village are drunk almost every evening. Alcohol is available not just at the tekhas (liquor shops) but also at the kirana (grocery store) and mobile recharge shops.
But today one feels the presence of hope in the air of this village, and sees children at the forefront working as the catalysts of change. This reform started after a resident named Lado Singh foresaw the dark fate his village would meet in the years to come if people continued to consume alcohol. So, he convinced the team of School of Democracy (SFD) – also known as Loktantrashala — to setup their first rural library for the children in Dhapara.
SFD is a non-formal educational institution located in Badi Ka Badiya, another village in the district. The school is dedicated to promoting and deepening democratic education and learning in India through varied activities such as trainings, workshops, lectures, cultural events, public assemblies, and exhibitions.
---
You may also like: How Thousands of Children in Indian Slums Are Learning through Colourful Storybooks
---
Dhapara was among the many villages SFD visited to promote their idea of setting up libraries across Bhiwara and Rajsamand districts, under their 'Community Library Program'.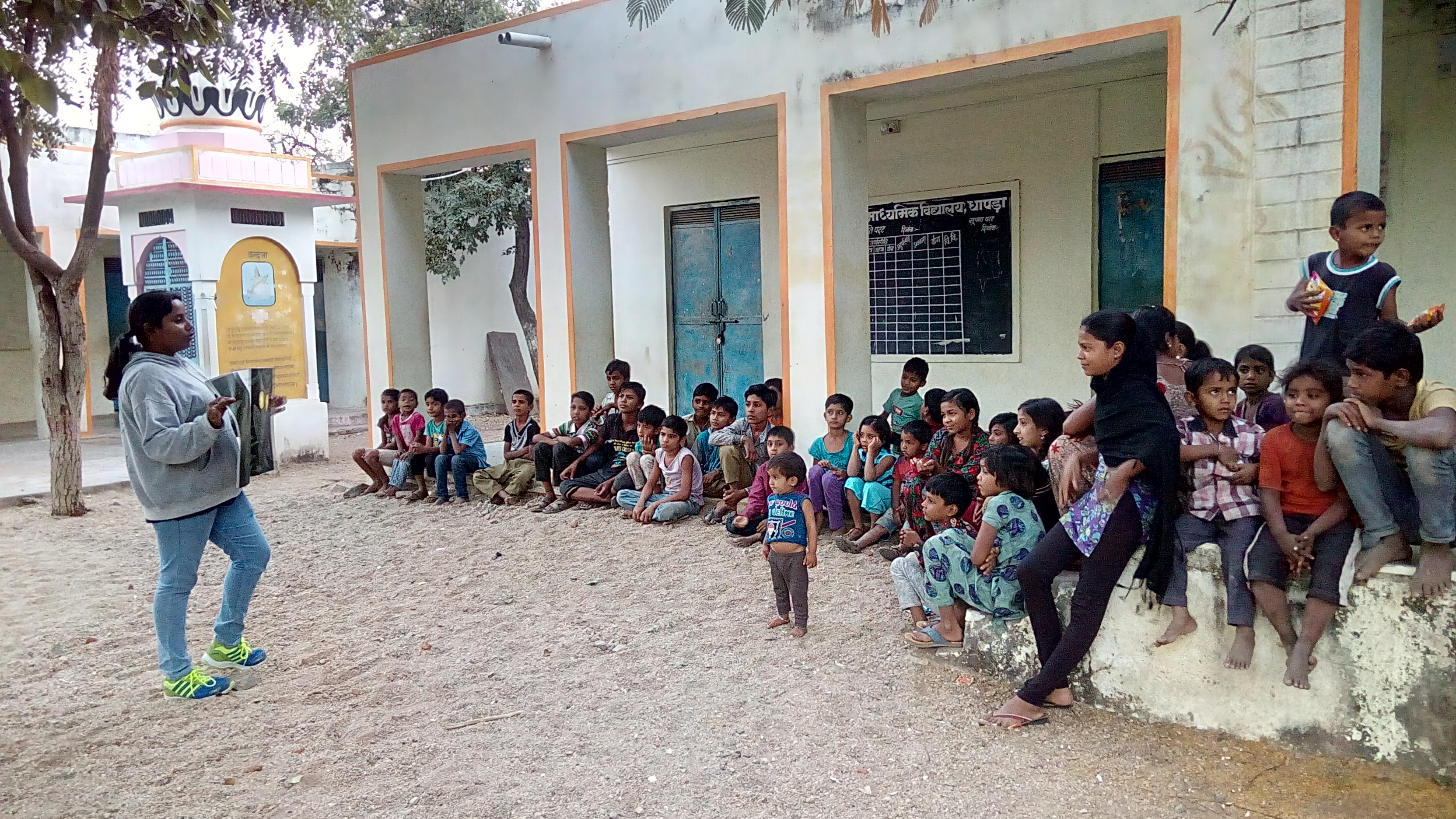 It was during their brainstorming session that Lado Singh jumped at the opportunity. Presenting the problems of his village, he convinced SFD to open their first library there. "A majority of the villagers live off pensions and the young people don't work after Class 8 or 10. Many ex-service men reside here (approximately 40% of the village population) with their families. Everyone consume alcohol every night, almost as a unit," says Lado Singh. He adds that the liquor shops in the area are illegal but nobody has raised any objection. In 1993-94, he along with a women's group protested against the opening of liquor shops. But they lost the battle.
Now, a good Samaritan has donated space for the library that will be managed by the community. The library is currently being decorated by volunteers working with SFD and has already found its first librarian – Pappu Singh, a teenager who voluntarily came forward for the cause. SFD hopes that this initiative will re-kindle the joy of learning among children and will also bring the elderly out of their homes. "The Community Library Program is designed for a village community, targeting children and youth in particular. It seeks to provide them with an opportunity to learn and develop their reading and comprehension skills," says Reny Joseph who works with SFD.
SFD's team observed how this space was already bringing about behaviourial change among the villagers even at the time when the library was being set-up.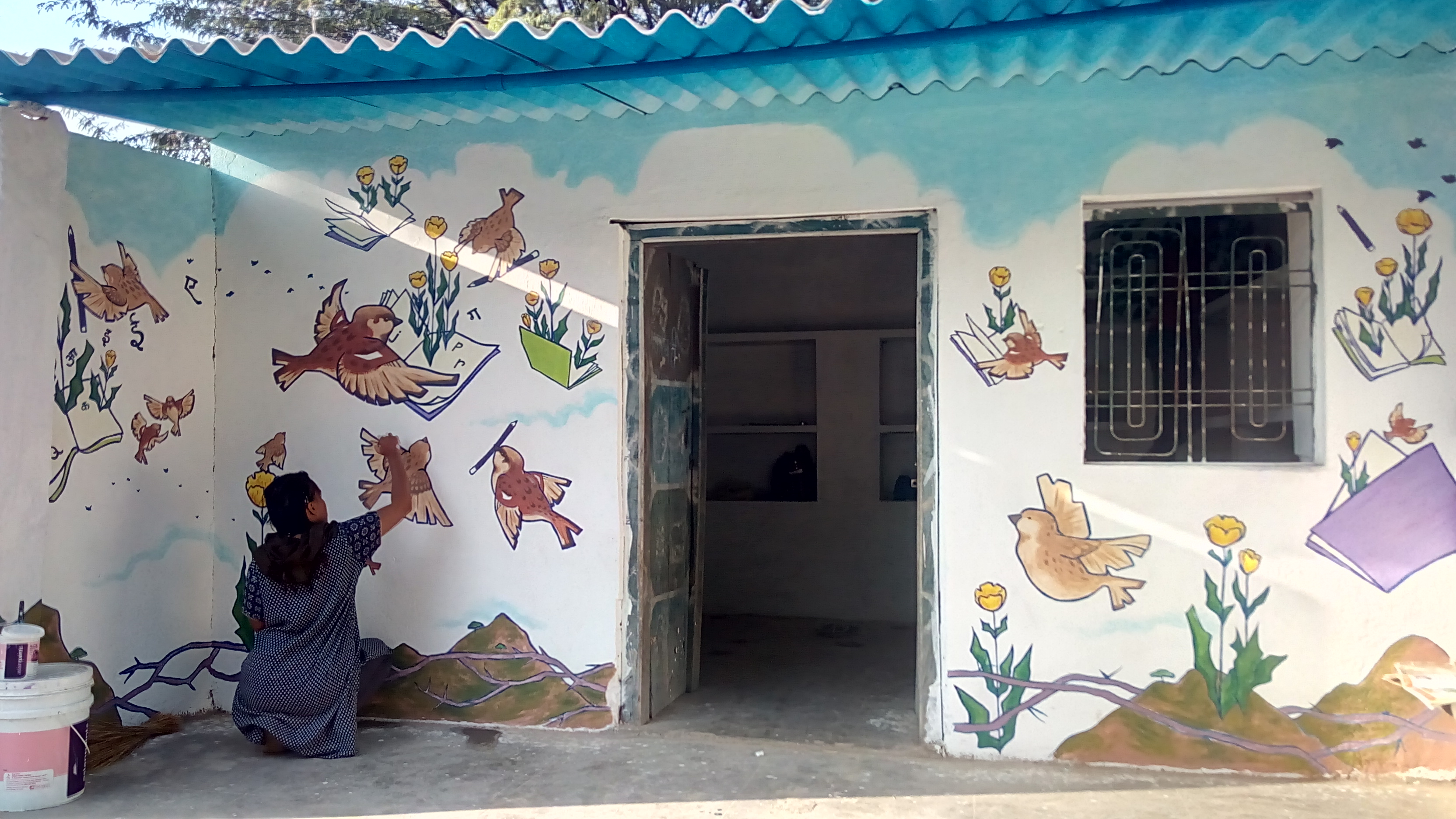 "When Kabini Amin, our artist/volunteer was doing up the walls, we'd have curious crowds of people -young and old – whispering, wondering what was going on. Gradually people began giving suggestions on paintings, they would count how many new birds had come up, there were requests to add goats and peacocks to the hills painted on the wall," shares Adithi Manohar from SFD. Dhapara's library is strategically situated opposite a government school.
---
You may also like: This Duo Converted Boring Textbooks into Fun Videos and Animation for School Kids in Gujarat
---
The SFD team started by spending hours with the people of Dhapara, some days from morning up to sunset. "As the days progressed, we realised that people were spending their evenings in and around the library space, which they otherwise spent drinking at home. It is heartening that the space is bringing people of all ages together," adds Adithi.
For now, the library houses books donated by Zubaan and some purchased from publishers like Katha, Tulika, Children's Book Trust, and National Book Trust. SFD has also received some donations from people and the library gets six different magazines in a month now. Most of the books are in Hindi, some bilingual, and very few in English.
The young team of SFD does not look at it as a mere reading space.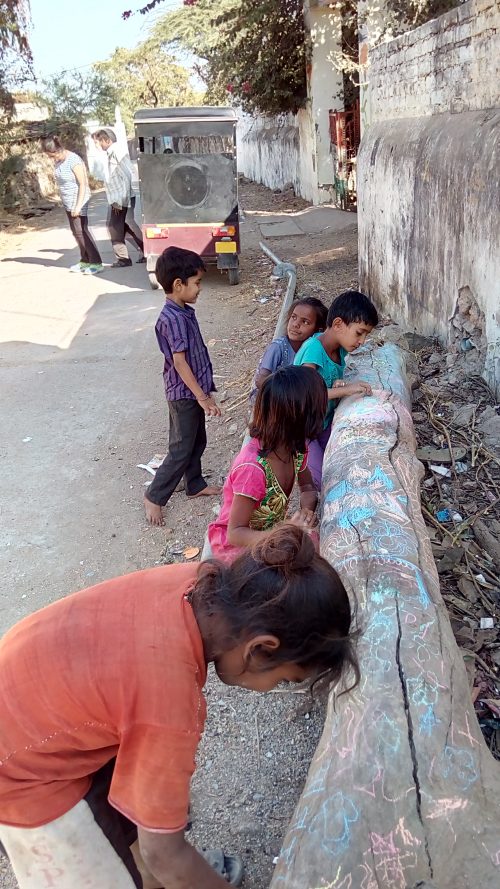 They conduct story-telling sessions and confidence building games to encourage children to form and voice their opinions. According to Adithi, the main challenge is to build an atmosphere conducive to learning by creating educational programmes that are effective.
SFD's Community Library Program aims to create five libraries that will be managed by trained members of the village. Once a cluster of libraries is functioning, a Village Book Fair and Rural Literary Fest will be organised to discover, encourage and nurture the creative talents of children and students.
"Change may take a while, but it will be initiated with the help of the youngest and most enthusiastic bunch in the village — its children. And that itself gives us hope and makes us strive harder," says Adithi.
---
You may also like: A 'Spark' of Brilliance: IIT-Mandi Students' Initiative to Provide Quality Education to Rural Kids
---
For more information, you can email: loktantrashala@gmail.com
Like this story? Or have something to share? Write to us: contact@thebetterindia.com, or connect with us on Facebook and Twitter.
NEW: Click here to get positive news on WhatsApp!