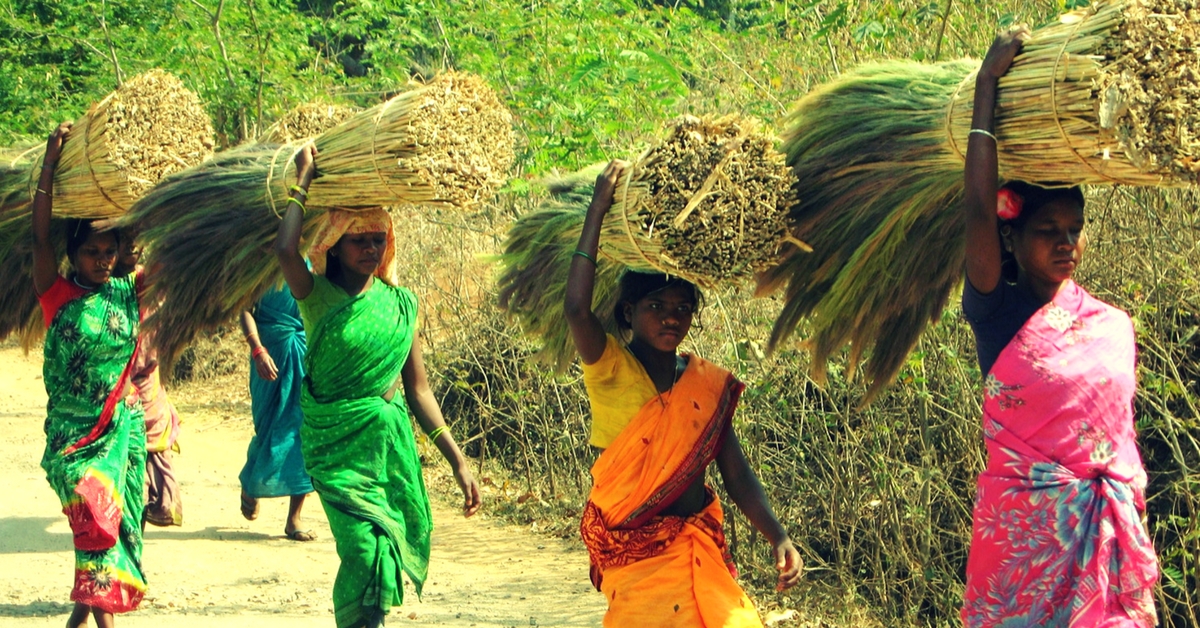 For many tribal women in Odisha's Kashipur block in the Rayagada district, making and selling brooms is the primary source of income and livelihood. Exploited and taken advantage of, the women finally decided to take matters into their own hands to secure their futures.
For many tribal women in Odisha's Kashipur block in the Rayagada district, making and selling brooms is the primary source of income and livelihood. Exploited and taken advantage of, the women finally decided to take matters into their own hands to secure their futures.
Salpai Majhi, a proud and confident tribal woman leader, has a wonderful story to tell, "Since ages, we have depended on the forest to run our homes.We have been collecting grass from the forest and making brooms that have been a valuable source of income, particularly when our men cannot find work as labourers on the nearby farms. But, until some years back, we were compelled to sell the brooms at a meagre price to the middlemen and petty traders who came to us. Then we decided to take things into our own hands and we fought hard to get our due recognition and secure our rights. This became possible only through Ama Sangathan."
For generations, men in the adivasi families living in and around Kashipur block in Odisha's Rayagada district have worked as labourers while the womenfolk have trudged into the dense forests to collect grass which they use to make brooms. Until a decade ago, the women quietly did all the back-breaking work and then simply handed over the finished product to the exploitative middlemen and traders who offered them a pittance whilst making good money themselves.
Today, riding on the inspired activism of women like Salpai Majhi, Sukri Majhi, Lakai Majhi, Gunjli Naik, and others, they have organised themselves into an informed and active Federation – calling it Ama Sangathan, meaning "our organisation" – and also learnt to assert their social, political, and forest rights.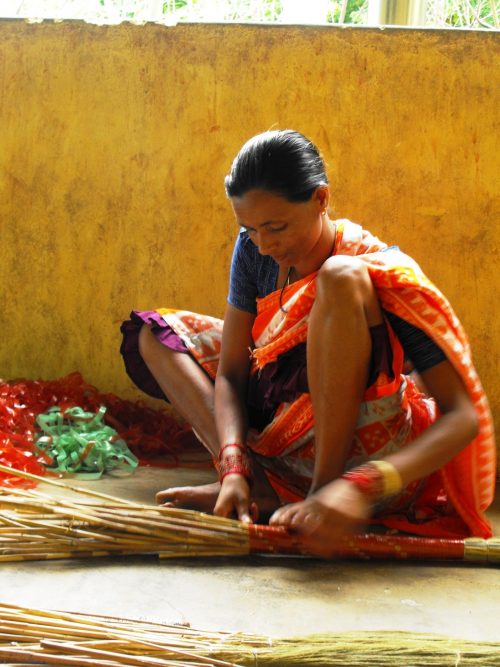 Since agriculture around these parts is mostly rain-fed, keeping the home fires burning during the off-season has always been a tough call for women. Whereas gathering and selling Non-Timber Forest Produce (NTFP) is what keeps them going, it comes with its share of hard work and heartaches. It takes days of walking and climbing steep hillocks before they have enough grass to make brooms, and this is followed by hours spent on cleaning, stacking and fashioning the actual brooms. Earlier, they would have to sell the entire stock to the traders backed by the Tribal Development Cooperative Corporation (TDCC). The TDCC, mandated to protect the tribals, would strike deals with traders and middlemen to conduct business on its behalf.
Adding to their difficulties were the forest officials whose high-handed attitude was not easy to handle. A disgruntled Sukri Majhi, another vocal AMS member, shares, "We have legitimate rights over the forest produce as we have been living here since generations. However, there was a time when the officials would demand their share out of our collections. I remember once when, about a decade ago, a few of us had collected grass and kept it in our huts. The ranger came to us with some middlemen and they threatened to take everything away. They forcibly took our entire collection for just 50 paisa to Rs. 2 for a bundle."
Incidents like these were not uncommon, but, eventually, they paved the way for the women to stand up for themselves. The women slowly realised that the middlemen and traders were indiscriminately exploiting them. They received support from Agragamee, a local NGO that has been working to empower tribal communities for nearly 30 years. The change started with the formation of Mahila Mandals at the panchayat level. These groups allowed the women to discuss their problems and mutual concerns while learning about rights and entitlements. With new-found knowledge they found a voice, and decided to challenge the authorities. As they were together in this, no one was scared of the consequences of these confrontations. Ultimately, the Mahila Mandals joined hands to form a block-level organisation, the Ama Sangathan. It aimed to break the traders-TDCC nexus and claim their right to collect, process, and market the grass brooms.
It took three long years of persistent campaigning, with endless rounds of writing petitions. There were threats of arrests for false cases regarding stocking of brooms declared illegal by the Forest Department. The women even had their entire stock seized. Eventually, met the then State Chief Minister to share their point of view, before there were any tangible results. Then on April 1, 2000, there was a major breakthrough. The Chief Minister announced the de-nationalisation of 60 items on the NTFPs list, including the brooms.
Satisfied with the way their movement shaped up and became a means for tribal women to gain agency, Gunjli Naik of Mandibisi panchayat says, "Our struggle was not futile. We fought very hard. Many of us faced court cases and were threatened with dire consequences if we didn't leave Ama Sangathan. But we never gave up on our dream. We are a 1,200-member strong group, and from the very beginning we have stood firmly by each other. We knew it may take long, but we would get due recognition for our rights."
"Now, no one can stop us from either collecting grass or selling the brooms made from it. There is no need to be fearful of anyone – be it the forest officials or the petty traders who used to usually rebuke and humiliate us. Being in Ama Sangathan has given us the confidence we need to face moneylenders, middlemen, officials, and the government," Naik says, visibly proud.
The NTFPs policy-change has had a real impact on the lives of the tribals. It has ended the domination of the middlemen over trade in the area, as well as increased people's bargaining power. In fact, Agragamee stepped in to show them how they could improve the quality of their product to improve marketability. Previously, they would take the grass and roughly bind it together. But, with simple training, they learnt how to clean the stalks properly and bind it with a fine finish. Consequently, prices of the brooms increased by 300 %, making broom-making a viable alternative to slaving for contractors. Now, the group is doing well, and retailing its product in neighbouring states as well.
The members have turned the organisation into an enterprise, dividing the profits among themselves.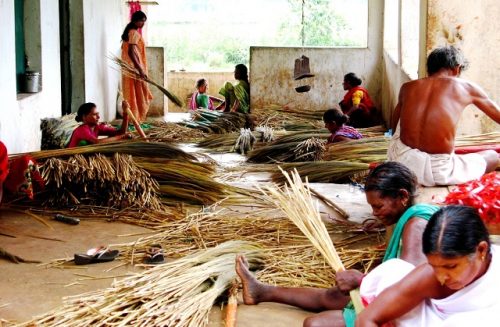 However, in spite of acknowledging how far they have come, Sushila Majhi, Secretary, Ama Sangathan, injects a note of caution. She says, "Our group still has a long way to go. We may have secured our forest rights and bettered our economic status, but much work must be done to secure future generations. We have demanded that a government school with full-time teachers be set up in our area to ensure our children get a fair opportunity to study." Additionally, the Sangathan has been backing women to claim their rightful space in the panchayat. Ghasen Jhodia says, "The Sangathan women openly talk about women playing a greater role in the running of the panchayat and exercising their political rights. We work to run our households and we are bringing in good money. So why can't we extend our presence in public life?"
Thanks to Ama Sangathan, the tribal women of Kashipur are feeling empowered and optimistic. At least work-wise, things will only get better from here on. With the initiation of the ambitious Clean India mission countrywide, the group stands to gain big time. After all, the humble broom, their flagship product, is the key to maintaining even the most basic hygiene.
Visit Agragamee to find out more about Ama Sangathan and their work.
Like this story? Or have something to share? Write to us: contact@thebetterindia.com, or connect with us on Facebook and Twitter.
NEW: Click here to get positive news on WhatsApp!
We bring stories straight from the heart of India, to inspire millions and create a wave of impact. Our positive movement is growing bigger everyday, and we would love for you to join it.
Please contribute whatever you can, every little penny helps our team in bringing you more stories that support dreams and spread hope.
Tell Us More