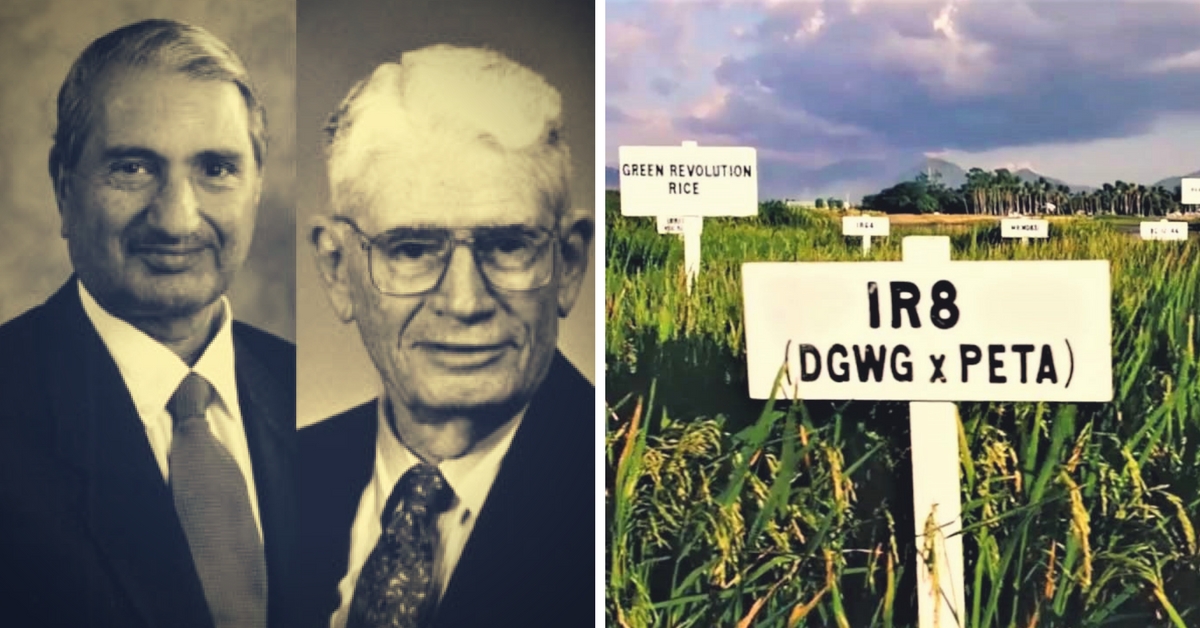 Developed by rice scientists working at IRRI in the early 60s, the IR8 rice variety is believed to have saved many regions in India from famine. This November, International Rice Research Institute is celebrating the 50th anniversary of the official release of the IR8 to the world.
In 1967, when a 29-year-old Nekkanti Subba Rao sowed a semidwarf variety of rice in over 2,000 hectares in Atchanta, West Godavari district in Andhra Pradesh, he had no idea that the grain he was sowing would start the first Green Revolution. The grain was IR8, a rice variety that could produce as much as seven tonnes of rice per hectare, while the traditional seeds could produce only two tonnes per hectare.
This November, International Rice Research Institute is celebrating the 50th anniversary of the official release of the IR8 rice variety to Asia and the world. It was developed by rice scientists working at IRRI in the early 60s that is believed to have saved many regions in India from famine after it was released in November 1966.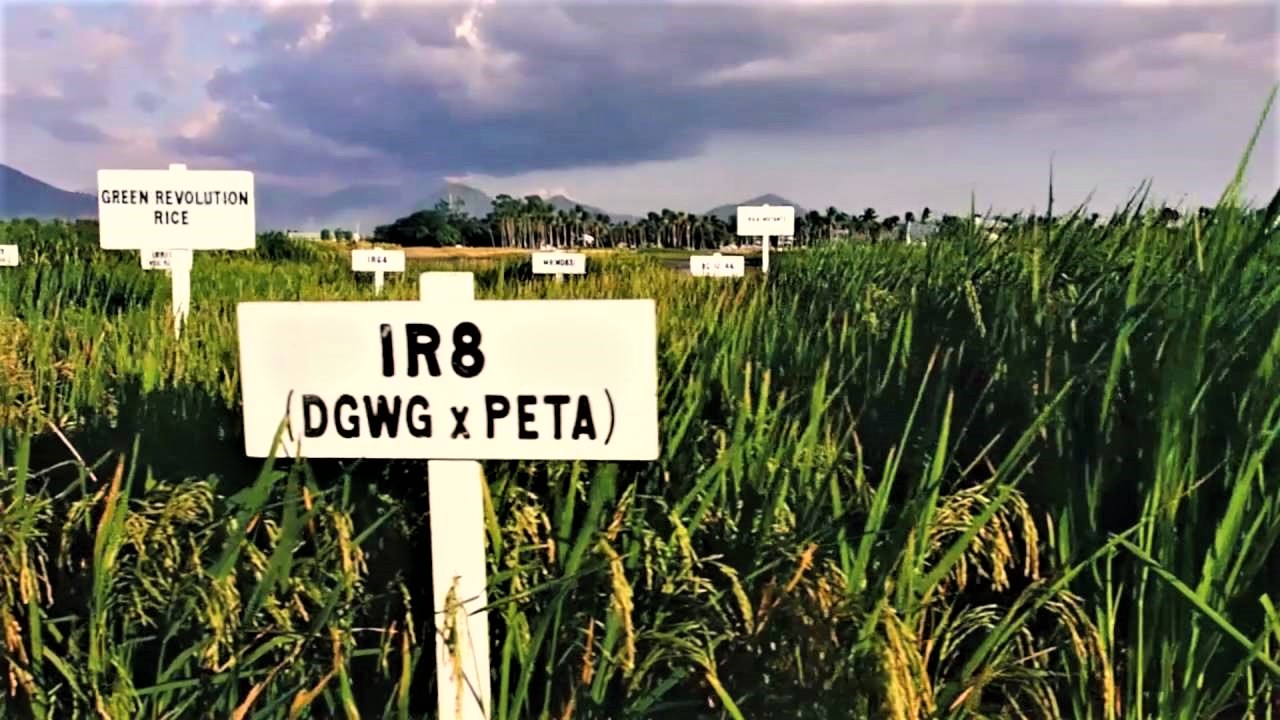 In the 1950s, Asia was on the brink of famine. Food was scarce and millions of people were in danger of starvation. India was importing huge quantities of food grains from the US to feed its growing millions in a manner that was famously described as "ship-to-mouth" sustenance. By 1960, the International Rice Research Institute was established with an urgent mission: to develop a high-yielding rice variety that is resistant to attack by major insects and pests.
Peter Jenning and Henry Beachell, who joined as rice breeders at the IRRI, began experiments with rice crossing. The team tried as many as 38 crosses involving rice varieties from China, Taiwan and Indonesia.
It was from the third generation of a cross between two dwarf varieties, China's Dee Geo Woo Gen (DGWG) and Indonesia's Peta, that the seed stock of IR8-288-3 was selected.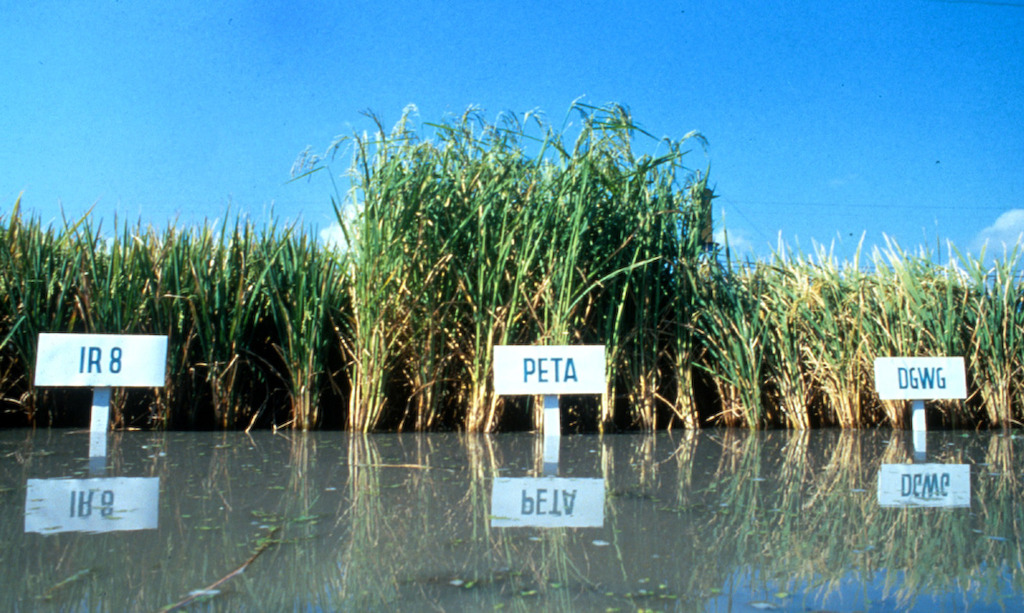 The rice was first tested in 1966 in Philippines, where the agri-research firm was based. The results were amazing. From 88 kg of pure seeds sown, 71 tonnes were harvested.
Dr. Surajit Kumar De Datta, a young Indian agronomist of IRRI, played an important role in demonstrating the high yield potential of the variety. In 1996, he examined the response of the rice variety under various fertilizer conditions to determine maximum yields under the best management possible. He was amazed with the results – the IR8 rice produced around 5 tons per hectare with no fertilizer and rose to almost 10 tons with 120 kg of nitrogen per hectare. That was 10 times the traditional rice yield.
The results from S K De Datta's historic experiment in 1966 was published in Agronomy Journal in 1968.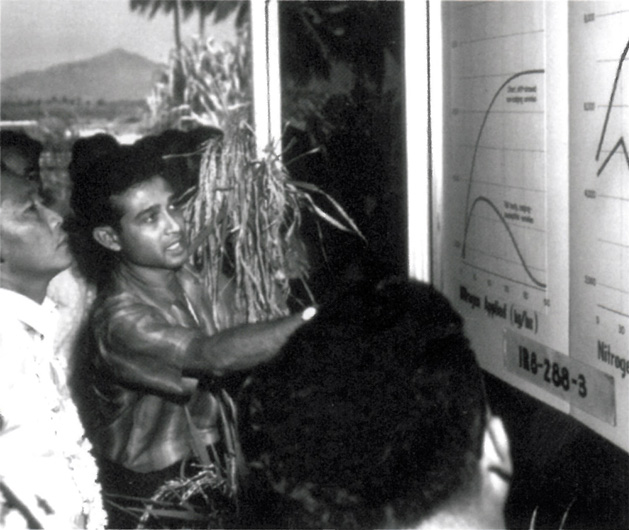 The world responded when Dr. Datta's study results were published. Philippine President Ferdinand Marcos read about the new rice and came to IRRI to see for himself. On November 28, 1966, the IRRI seed committee re-christened IR8-288-3 as IR8 and officially released it. A ray of hope for people across the continent, IRB was quickly dubbed the "miracle rice".
At around the same time, Agriculture Minister C. Subramaniam had invited Nobel-laureate Norman Borlaug to work on improving the agricultural sector in the country.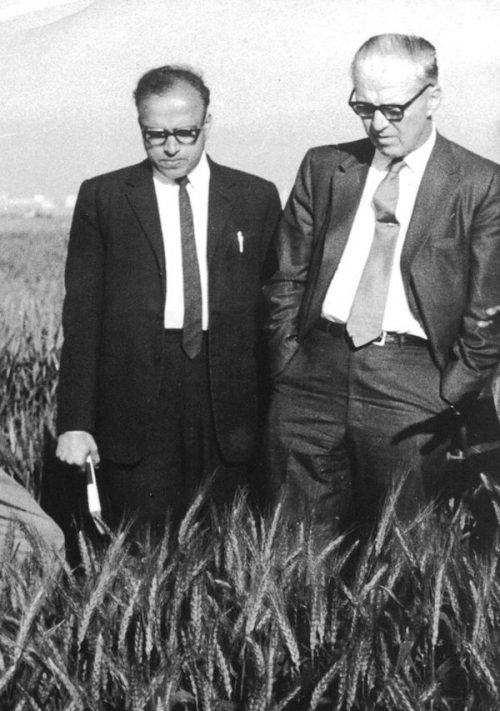 Working in Mexico, Borlaug had developed a special breed of dwarf wheat that resisted a wide spectrum of plant pests and diseases and produced two to three times more grain than the traditional varieties. Subramaniam knew that if successfully applied in India, this new variety wheat would fill its granaries to overflow – as it eventually did, heralding the Green Revolution in India.
---
You May Like: Meet India's First Woman PhD in Botany – She Is The Reason Your Sugar Tastes Sweeter!
---
However, India was predominantly a rice-eating nation – rice was cultivated in every region, from the hilly terrains of north and north-east to the coasts of south. With the specter of famine, shortages, and starvation hanging over the sub-continent, IR8 came as a boon to India.
Nekkanti Subba Rao was the first farmer who planted and widely shared seeds of IR8 in India in 1967. The next year, IR8 was planted on 1,600 hectares in his village and the rest, as they say, was history. IR8 seeds were soon being distributed throughout the country.
Today, Subba Rao is affectionately called "Mr. IR8" and "Dhaan Pandit" in his community, due to his huge success in multiplying IR8 seeds. Incidentally, this pioneering farmer has also been instrumental in promoting and distributing Swarna-Sub1, a flood-tolerant variety of rice developed in 1979!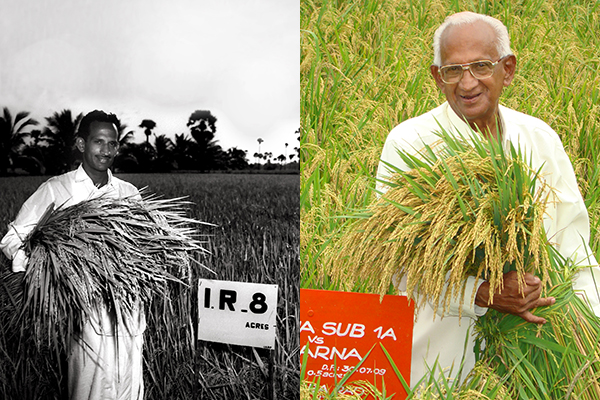 Thanks to its short growth duration, pest-resistance and high yield, IR8 quickly became popular with Indian farmers. Being a dwarf variety, it could also withstand wind action unlike the traditional tall paddy. At a recent event to mark the 50th anniversary of the IR8 variety, eminent agricultural scientist Prof M.S. Swaminathan recalled how a farmer in Tamil Nadu's Thiruvannamalai district, K N Ganesan, had named his son Irettu (IR -ettu as 8 is 'ettu' in Tamil) after IR8. The farmer's yields had risen from two tonnes per hectare to 16 tonnes per hectare after using IR8!
Inspired by the success of IR8, Indian scientists began experimenting with IR8. In 1967, IRRI recruited Dr. Gurdev Khush to develop high-yielding rice varieties with short growth duration, resistance to diseases and insects, and superior grain quality. In less than five years, he became head of IRRI's plant breeding department and was well on his way to developing his own new varieties of "miracle rice" such as IR 20, IR 36 and IR 50
The resulting 300-plus improved varieties were distributed to rice-growing countries in Asia, Africa, and Latin America. In Vietnam, IR8 was was fondly called "Honda rice", as one good harvest of this rice assured farmers enough money to fund a Honda motorcycle! World rice production increased from 257 million tons in 1966 to 686 million tons by 2010, a Green Revolution that feeds more than a billion people every year. One of these varieties, IR36, is the most widely planted food crop ever grown.
Dr. Gurdev Khush shared the 1996 World Food Prize with his mentor, Dr. Henry Beachell, for their unparalleled achievements in enlarging and improving the supply of rice, one of the world's largest food crops.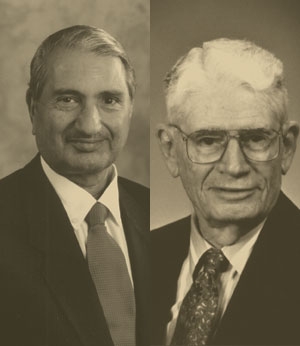 This makes it important to invest in research on climate resilient varieties of rice and how they can be used in climate change management. It is also important to formulate strategies for effective extension of technologies to field of the farmer at the farthest point. With this in mind, Odisha has partnered with International Rice Research Institute, Manila to promote climate-resilient varieties in rain-fed areas.
Scientists at the Central Rice Research Institute (CRRI) in Cuttack are working on a climate resilient variety of paddy that will singularly be capable of defying both flood and drought. In the coming decades, a climate-smart varity of rice may be the best hope of increasing food production rapidly, at low cost and without adverse environmental consequences in developing countries like India where human populations are increasing most rapidly. As IR8 turns fifty, lets hope that its new varieties stand the test of changing times as well as changing climate.
In celebration of IR8's 50th year, IRRI is conducting essay and photo contests. 
Essay | How will innovations in the global rice sector change the world again?
JOIN NOW: irri.org/ir8/essay-con
Photo | A rice farmer's life
JOIN NOW: irri.org/ir8/photo-con
Who can join: The contest is open to all, except for IRRI employees and their immediate family members.
For more details, visit IRRI's FB page.
Also Read: A Tribute to M G K Menon, the Brilliant Physicist who Laid India's Scientific Foundations
---
We bring stories straight from the heart of India, to inspire millions and create a wave of impact. Our positive movement is growing bigger everyday, and we would love for you to join it.
Please contribute whatever you can, every little penny helps our team in bringing you more stories that support dreams and spread hope.