For several days now, our readers have been pointing us to a remarkably inspiring story that was making waves on social media but had not received its due coverage in conventional media. As we prepared to run the article today, it was heartening to see that it also appeared on the front page of The Hindu, covered by one of our freelance writers, Anumeha Yadav. Here we piece together the amazing story for you, compiled from the many sources that our readers have sent us, and for which we would like to thank them.
On the night of July 13, 2013, as most of India slept, eighteen girls from Jharkhand were ecstatically screaming 'Vande Mataram' as they lifted the trophy for being placed third in the prestigious Gasteiz Cup in Spain! Representing the Yuwa India under-14 all-girls' team, this was the first time that most of them had even played outside their village of Ormanjhi on the outskirts of Ranchi.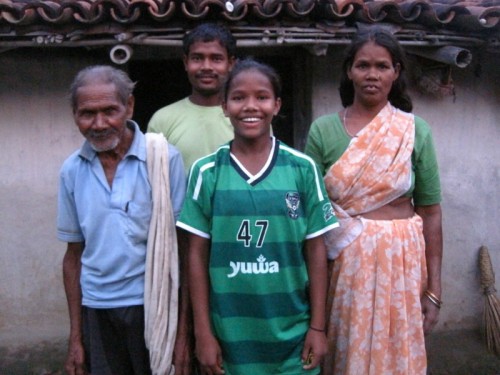 The team was fondly called Supergoats by the organizers in Spain, since they were seen playing barefoot many a times during the practice matches. This was because the team had limited football gear and could not afford to spoil them before the tournament began.
If this was not shaming enough, it is also reported here that the girls were slapped, kicked and asked to clean floors by the local bureaucrats in Jharkhand when they approached them for birth certificates, a necessary part of the application process. They managed to get their passports only due to the efforts of an American, Franz Gastler, who founded Yuwa-India and fought for their case with the Ministry of External Affairs in New Delhi.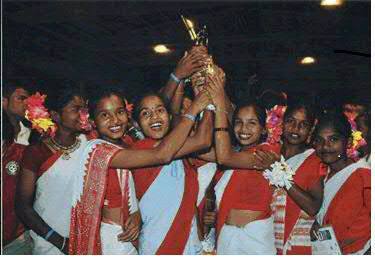 However the girls put all these insults behind them on July 13th as they danced and cheered. As soon as the announcement of their win was made, they rushed to the dressing room and changed into their traditional garb of red-bordered white sarees with plastic flowers in their hair, proudly proclaiming to the world that they were Indians, even if they were marginalised in their own country.
Here is a video documentary of the amazing all-girls team and what football means to them:
With inputs from Anumeha Yadav.