It is unfortunate that the normal human procedure of menstruation has been regarded as 'impure' and considered taboo for generations of Indians. However, things are changing now, and it is hearty to know that India is at the forefront of disruptive innovations in menstrual hygiene. Here we bring you a 'Bong' duo doing fabulous work in breaking stereotypes and creating a sanitary revolution.
That 'time of the month' – for most urban women in this country it amounts to minor discomfort and a rather welcome excuse to consume chocolate. I had never really paid much attention to the fact that menstruation drastically affects the lives of millions of women across rural India every single month. That's until I found myself, as part of my training under the ICICI Fellowship, with my period in Dhoan – a little village nestled in the Western Ghats and 3 hours away from the closest town or district headquarters.
My search for menstrual hygiene products at the time opened my eyes to the reality of the 300 million women in India who do not use sanitary napkins during menstruation – that's more than the entire female population of 27 European Union countries (255 million) and almost the total population of the United States (311 million). The reasons for this dire situation are a lack of awareness, availability, and affordability; not to mention issues that arise with disposal (AC Nielson report, 2011). All of these are coupled with the cultural taboo attached to menstruation in our country where menstruating women are considered to be 'impure'.
In the absence of menstrual hygiene products, women and adolescent girls in this country make use of dirty rags, bark, ash and mud instead. This abysmal dearth of menstrual hygiene translates into a loss of 5 years of work days over a lifetime and is a leading cause for the 23 percent school dropout rate among pubescent girls.
However, hoping to change this situation are the very Bong duo of Jaydeep Mandal and Sombodhi Ghosh – the founders of Aakar Innovations – who have developed a low-cost sanitary napkin manufacturing machine that produces bio-degradable pulp fibre sanitary napkins comparable in quality to MNC products.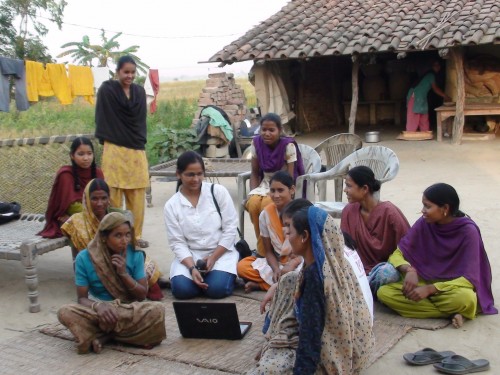 Aakar is a platform integrator where, through the setting up of sanitary napkin production units, it offers livelihood opportunities to rural women and also creates sales and distribution models through village-level women entrepreneurs. The Aakar model thereby addresses 6 of the 8 Millennium Development Goals i.e. MDG 1,2,3,5,7 and 8.
The Beginnings:
Despite being initially hesitant to work on an issue seen intrinsically as a 'female problem', Jaydeep and Sombodhi, realising the scope of the problem, were determined to find solutions. Sombodhi says:
When we first thought of starting Aakar everyone told us we were out of our minds. How could two men work on such a sensitive issue, especially when we will never experience the problems and discomfort for ourselves? Also in the Indian society menstrual hygiene is an extremely difficult topic to broach – even doctors find it uncomfortable to talk about! All of this bolstered us to face these challenges head on and to experiment and arrive at a lasting viable solution.
They were inspired by India's very own 'sanitary pad man' Arunachalam Muruganantham, and supported by Prof. Anil Gupta and the National Innovation Foundation (NIF). Collaborating with the Council of Scientific and Industrial Research (CSIR) and NIF, after several rounds of experimentation they devised a machine which manufactures bio-degradable sanitary napkins using agri-wastes such as banana fiber, bagasse, bamboo and water hyacinth as raw materials.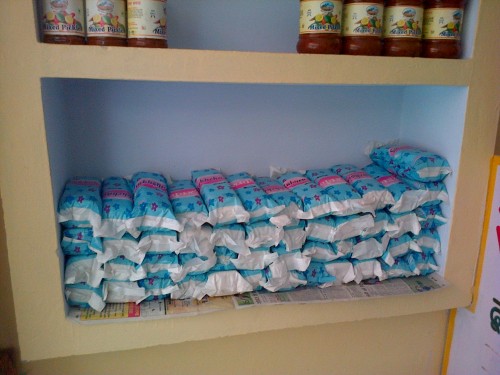 At just Rs. 2 per napkin; the sanitary napkins marketed under the brand name 'Anandi' (meaning joy and happiness) are available at a price point 40% lower than the lowest market competitor. These napkins are UV rays sterilized and adhere to BIS standards for sanitary napkins, making them an ideal and reliable solution to the current unhygienic alternatives that women and pubescent girls in the country resort to.
Growth and Support:
Aakar successfully pilot-tested its model in Uttarakhand, providing employment opportunities to 32 village level women entrepreneurs and creating access to menstrual hygiene products for 3000 women. Based on the success of its pilot, the Gujarat Livelihood Promotion Ltd (Govt of Gujarat) signed an MOU with Aakar in early 2013 to enable them to scale up their technology across Gujarat.
The Millennium Alliance; a joint initiative by FICCI, the Department of Science and Technology (GOI) and USAID have recommended Aakar Innovations as one of the top five Indian innovations in the family planning and reproductive health sector. Its biodegradable fibre technology has been recognised as one of the top three innovations in the DST Lockheed Martin India Innovation Growth Programme 2013.
Aakar is also supported by the Centre for Innovation, Incubation and Entrepreneurship (CIIE) at IIM Ahmedabad.
Challenges:
However, despite the current recognition coming its way, the going was tough for Aakar in its early days. The enterprise, in the course of piloting various innovations, found itself almost at the brink of bankruptcy. A small loan by NIF through its Micro Venture Innovation fund in 2010 allowed it to tide over this period and set up a small unit in Khatima, Uttarakhand.
Aakar's experience in Uttarakhand taught them many lessons, foremost among them being the need to critically work on empowering women and creating community awareness regarding menstruation and menstrual hygiene. Both Jaydeep and Sombodhi believed that for the women in these communities to accept and adopt 'Anandi' pads, the communities they were a part of needed to embrace gender equality – and that this cannot be done if women and girls who are at the core of these communities are ostracised for a week every month.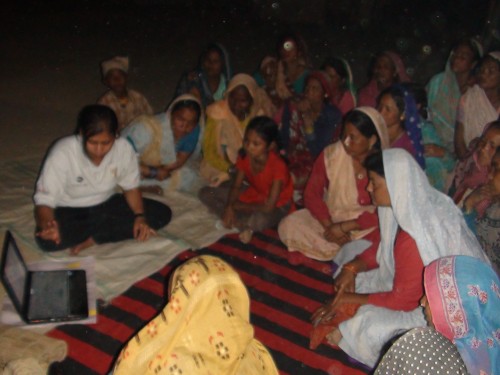 While hoping to learn of the expectations of women and girls regarding menstrual hygiene products and to get their feedback on 'Anandi' pads, Aakar's founders found that creating community awareness was the key as no awareness of this kind of product even existed in these communities. They sought the help of community doctors, key influencers in the community as well as developed champions out of women from the community. These even went on to become mascots of 'Anandi' pads in these communities.
According to Shashank Rastogi, Director, Aarohan Ventures – CIIE:
Aakar is one of the rare social enterprises leveraging lean startup techniques to come up with better solutions. Through an iterative process of product testing, customer feedback assimilation and refinement, Aakar is creating apt solutions to address one of India's key development challenges.
Today, the founders of Aakar find themselves on the threshold of setting up their first commercial unit in their home state at Behrampore in West Bengal.
Over the next five years, Aakar looks to expand operations to Afghanistan, Philippines and other countries in south-east Asia and Africa, catering to the needs of 6 million women while directly employing 11,000 women. It hopes to resist 720,000 school dropouts, recover 370 million working days and prevent 40,000 maternal deaths. Aakar believes that lives of millions of women can be free.
Read our previous stories on breaking menstrual taboos here.
Divya works with the Centre for Innovation, Incubation and Entrepreneurship, IIM Ahmedabad as a Research Analyst working on ecosystem development for social enterprises in India. She is an economics graduate from St. Xavier's College, Mumbai and has extensive experience of working with grassroot NGOs and social enterprises. She is also an ICICI Fellow.