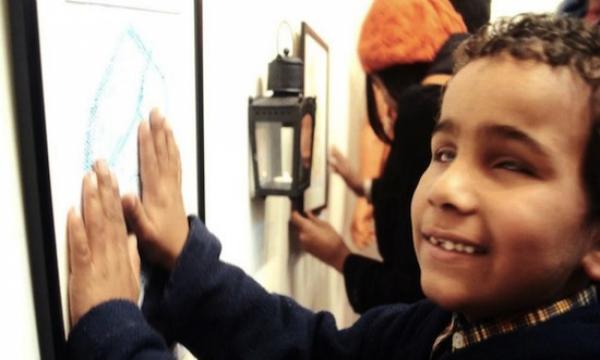 An advertising creative professional, Swasti Ray, went beyond just feeling bad for the disabled, and worked hard to create a product that helps bring colour and art in the lives of the visually impaired. Read about his innovation and what inspired him to think out-of-the-box!
Don't we all have a soft corner towards people who aren't as blessed as us? We all shed a few tears of empathy watching movies like Dosti, Black, Tarein Zameen Pe; but a few like Swasti Ray actually use that moment to generate an idea for the benefit of these children. This celebrated advertising creative director talks about his initiative 'eyecan', which brought art and colours in the life of the visually impaired.
It was a usual weekend for Swasti Ray when he observed a visually impaired kid behind her mother trying to feel the shape of an apple near the fruit vendor in Shahpur Jat's busy lane, which immediately brought a question in his mind, "Will he be able to know the colour as well – 'red' – and should we put Braille colour codes on every fruit?" The very thought motivated him to work on something that helps the blind enjoy colours and painting. And thus, 'eyecan' came into being.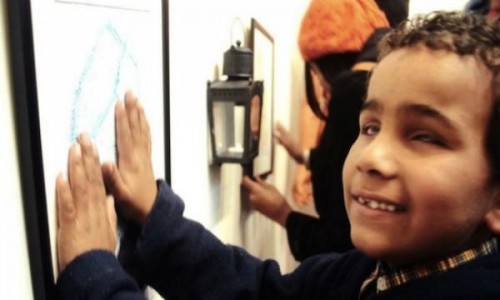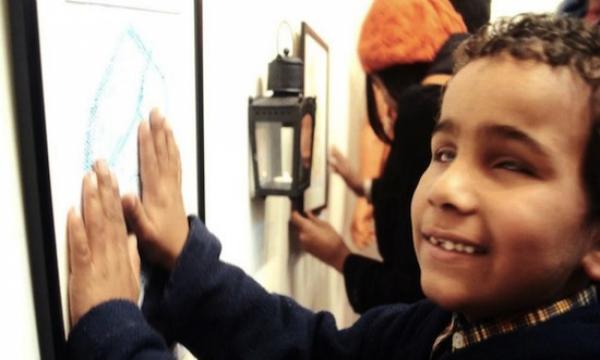 Eyecan' was conceptualized two years back. It was the time when I realized my skills should go beyond what we call in advertising 'ye patli gali toh award jeetaga.' I have to do something real using my academic and professional skills, a complete form of trans-disciplinary art, based on research and technical planning, an idea which would go to small villages and across the country as well. And as I was completely inclined towards the social form of art, I kept my emotional senses always open, which really helped me to come up with the idea of 'eyecan'. My initial work of developing a basic water painting strip with Braille identifiers (named Colorise) ended in confusion and failure. But with technical inputs from the Vice President of Amar Colony's Institution for the Blind and Helen Keller Institute for Deaf & Blind (Mumbai), I was able to adapt a Japanese colouring device 'Mitsuro Pen' (an electronic device which is heavy in weight and uses wax strips to melt as wax ink) into 'eyecan 'pastels which are being used by the visually impaired in India for realizing their ART dreams.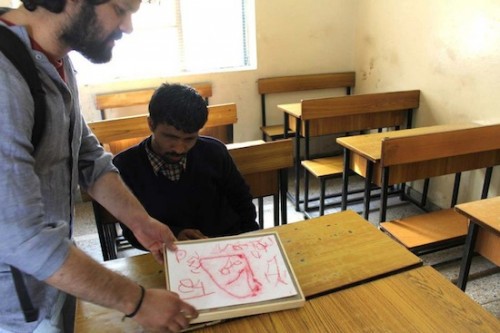 All this has not been easy; Swasti went to Japan to tap into the global learning of educating visually impaired and their prospects. One of his good artist friends from Japan, MiranRin, introduced him to Chiba School of Blind, Tokyo and he was called to do a small workshop using the Japanese 'Mitsuro Pen'.
Japan was a great help for me in terms of learning all the emotional and functional aspects of teaching the blind, to technically enhancing the product. In my initial days of research, I also came up with an idea of using mess net drawing boards. I always had in my mind 'Simple-mass produce-spread across'. I fully used my Japanese experiences to get the best use of my product. The continuous weekend classes were really fruitful. 'eyecan' now was not just a project or workshop. It was proved as a revolution.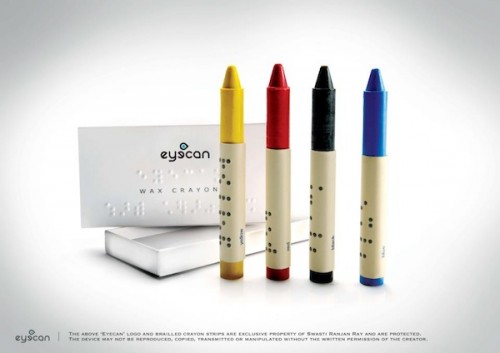 These art workshops with the visually impaired have been the best moments for Swasti. He has been touched by the innovative and imaginative sense of these children.
Their eyes always wait for someone they could see, all the innocent questions will make you think about what it feels like being blind oneself. They learn and adapt very fast, their sensation of touch and imagination is far superior to be called as super-enabled. It took me just two classes to make them realize what wonders they can do. I gave them examples of legendary blind artist Eseref from Turkey as well as the process of exploring their imagination.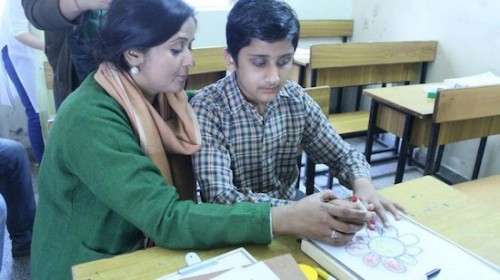 Swasti's joys and involvement multiplied with each workshop and by the end of November 2012, he had planned organizing an art exhibition to showcase the brilliant work the students had done. Everyone from his clients to his advertising company (JWT) including Gallery Art Eterne came forward to support him. Shivani Bharatwaj, a senior artist from Delhi joined the cause by teaching the children on week days as well. Finally on February 21st, 2013, they did something unimaginable – an art exhibition by blind students!
Apart from great response from children & audiences, the biggest incident which touched me emotionally, happened on the 2nd day of our exhibition. A lady with her visually impaired daughter (aged 20) came to me asking "I saw your article in Hindustan Times; can my daughter paint as well?" She was not the only one, many parents came to me asking if their kids could draw and tested the instrument there. It was the biggest reward of making 'eyecan', there I felt the power of media making a small pastel approach many emotions. Can you imagine a visually impaired child, Umesh, was the centre of all attention as he had made a portrait of Dr. Manmohan Singh! We still have that work to gift it to our PM as it's a message to him from Umesh.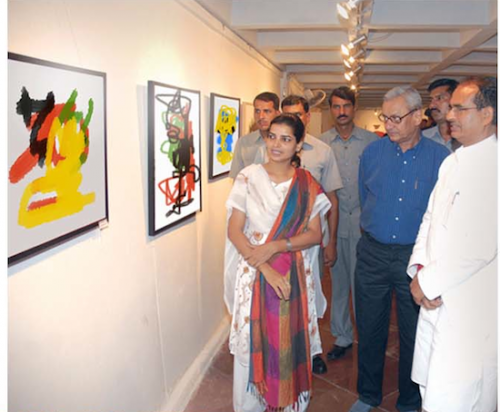 This is great, but at this point we all must be wondering "How can the blind see colour"? Swasti's device (pastel & drawing board) is the answer itself – "feeling is viewing". For these children, the sensation of touch converts the shape, size, dimensions and perspective as well into a form of imaginative drawings in mind and then they are able to express it in their own way by the use of Braille coded pastels over mess textured board. The best thing was the students themselves were feeling their painting.
People like Swasti really take art beyond all limitations, and humanity beyond all imperfections!
I think every individual has to do his bit. We in India devote/indulge most of our time and money to what we call 'GOD'. We can spend a million rupees to put our children in a good B-school but we can't pay a thousand rupees to sponsor a poor kid's monthly education. It's not a responsibility; it's a necessity for being a human to know a human. I would say disabled are those who can't help others! And the solution is simple – be one of them and think.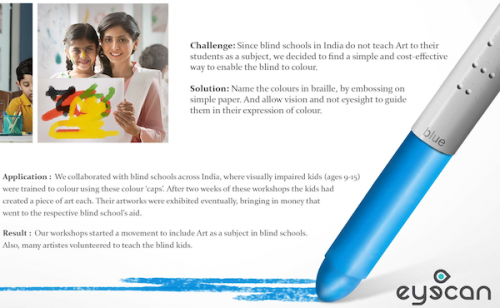 Swasti's passion and persistence have earned him many laurels. He was invited on the occasion of World Peace day by GEOC (Global Environment Outstretch Centre) in the Tokyo UN building to host an exhibition of selected work by the Chiba School of Blind. He was also invited by the scientist, Mr. Takashi Tanaka, inventor of 'mitsuro pen' for a friendly conversation about his 'eyecan' pastels.
Eyecan has also been nominated for the 'DoGooder' award. But more than anything else, it is the joy in the eyes of those innocent children that has made Swasti really proud of his work!

This post was written by Anu M for
Halabol Voices
, which is an initiative of Halabol – a platform for initiating change, and reprinted here with permission.
We bring stories straight from the heart of India, to inspire millions and create a wave of impact. Our positive movement is growing bigger everyday, and we would love for you to join it.
Please contribute whatever you can, every little penny helps our team in bringing you more stories that support dreams and spread hope.