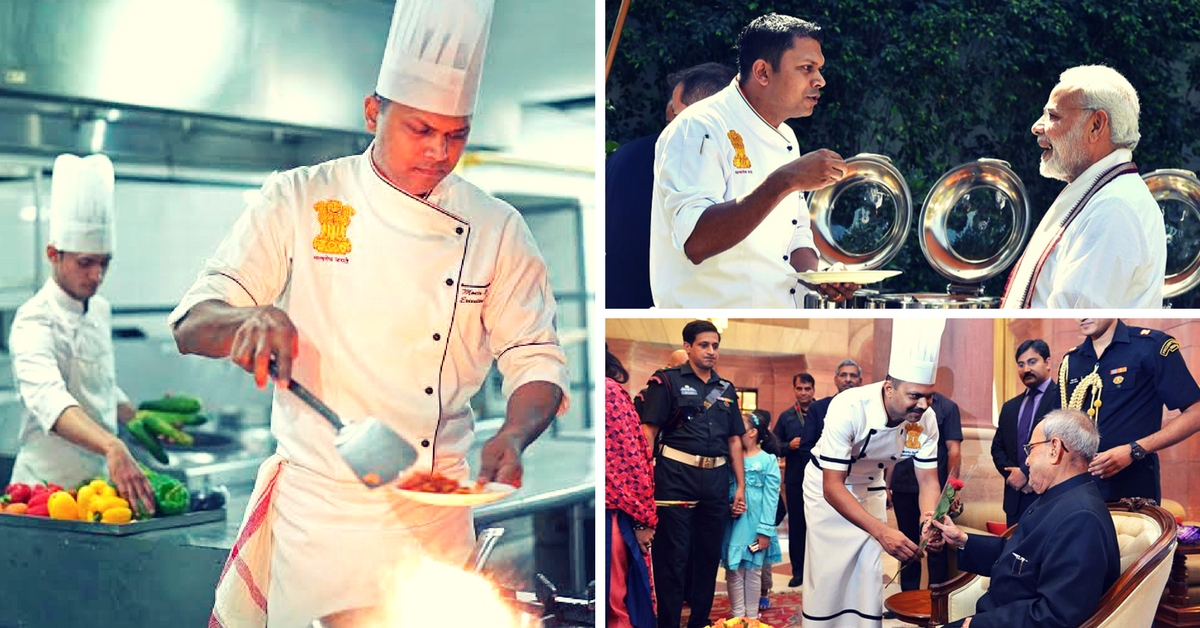 The youngest ever executive chef to the President of India, Chef Montu Saini is the culinary diplomat who organised the "G20 of Gastronomy", Club des Chef des Chef, for the first time in India. In an exclusive interview to The Better India, he speaks about life, work and how it feels to cook for the first citizen of India.
Arguably the most exclusive culinary society in the world, Club des Chefs des Chefs (CCC) is an elite club of chefs who cook for presidents, prime ministers, kings and queens. The club meets every year to compare recipes and learn culinary traditions from each other. This year, for the very first time, India hosted the annual meeting of this club, whose members quietly create magic in the most powerful kitchens of the world.
The culinary diplomat who organised the "G20 of Gastronomy" in India is Chef Montu Saini, the man who cooks for the President of India. Not only is he the youngest ever executive chef to the President, he is also the youngest member of the Club des Chefs des Chefs!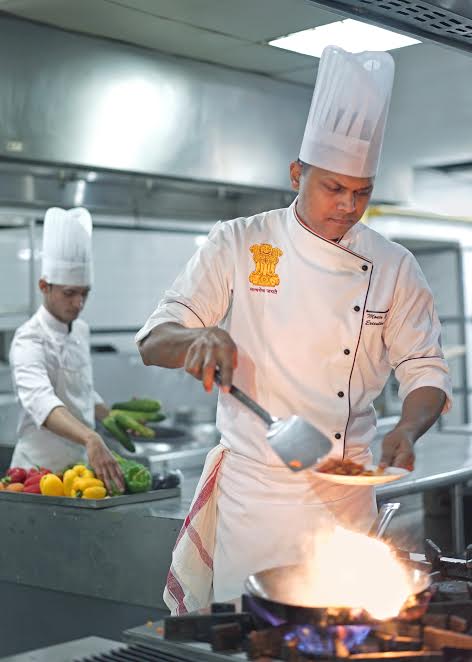 It was in June 2015 that 34-year-old Montu Saini joined his post as the executive chef at Rashtrapati Bhawan. Aware of the significance of CCC, he was keen on bringing it to Indian and immediately wrote a letter to Gilles Bragard (the founder of CCC) inviting him to our country.
"India has been a member of this club for three decades and never once had it hosted the general assembly, " he said, revealing how he put fellow club members on a guilt trip over depriving India an opportunity to host their signature event.

"I was delighted when Bragard accepted the invitation. For me, it was an opportunity to showcase India's culinary wealth and use food as a bridge between cultures and societies.

However, it did take some running around to arrange, from getting the permission from the higher authorities to collaborating with the Ministry of Tourism to arrange the stay of the visiting chefs. Finally, after months of planning, the event was successfully held in October this year."
Between October 23 to 28, the Rashtrapati Bhavan rolled out the red carpet for chefs who cook for the world's most powerful people, including Cristeta Pasia Comerford, (the Obamas' Executive chef at the White House), Mark Flanagan (the head chef at Buckingham Palace), Neil Dhawan (the head chef to the Canadian PM) and the chefs of the French, German, Irish, and Chinese heads of states among others. Five of these chefs, including Montu Saini, also cooked for a charity dinner supporting Kailash Satyarthi Children's Foundation that was held at Delhi's Imperial Hotel.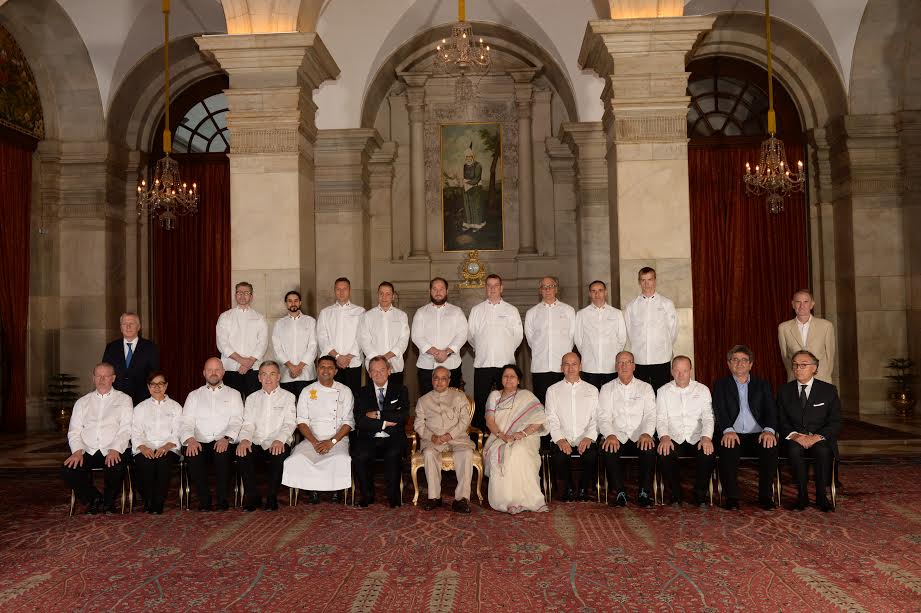 Bragard and other chefs of the club also visited the Rashtrapati Bhawan kitchen, where they relished popular Indian street foods like golgappas and aloo tikkis, cooked up by Chef Saini. They also tried their hands at making jalebis. As Chef Saini says
"This event was essentially about exchange of culinary skills. Yesterday, the chefs cooked in my kitchen, and next year, I will probably cook in their kitchens. Since the event showcases India's culinary expertise to the rest of the world, I would also like to connect it to Prime Minister Narendra Modi's 'Make in India' initiative."
At a press conference hosted by The Imperial during the event, CCC founder Giles Bragard had also echoed Chef Saini's thoughts, saying,
"If politics divides people, a good table always gathers them. Chefs are great diplomats and good food helps in easing negotiations."
After a four-day stay in Delhi, during which they explored Khari Baoli (the famous spice market of Chandni Chowk), the chefs visited Agra to see the iconic Taj Mahal, followed by a trip to Jaipur. The club members were received by President Mukherjee for high tea and also had a meeting with Prime Minister Narendra Modi.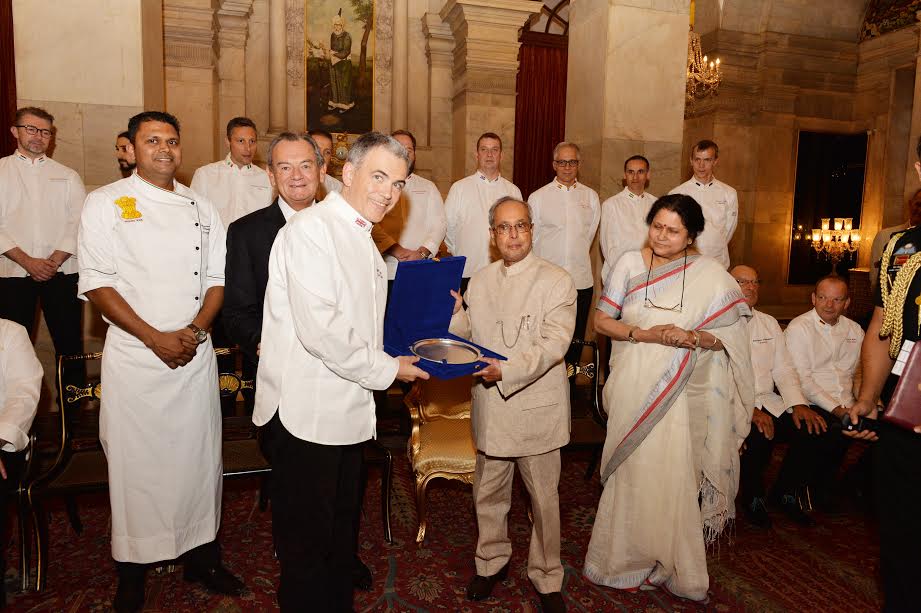 Delighted by the cultural experiences and sumptuous repasts they had been treated to throughout the event, Chef Christian Garcia (Chef to Prince Albert II of Monaco, and President of CCC), had said that all the chefs were looking forward to becoming "ambassadors of Indian gastronomy" after this visit. For Chef Montu Saini, this was the culmination of all his efforts and a dream come true. He says,
"When they sent me mail mentioning that this was the best annual meet the CCC had ever had, I was over the moon! I felt that I had finally served my country in some way."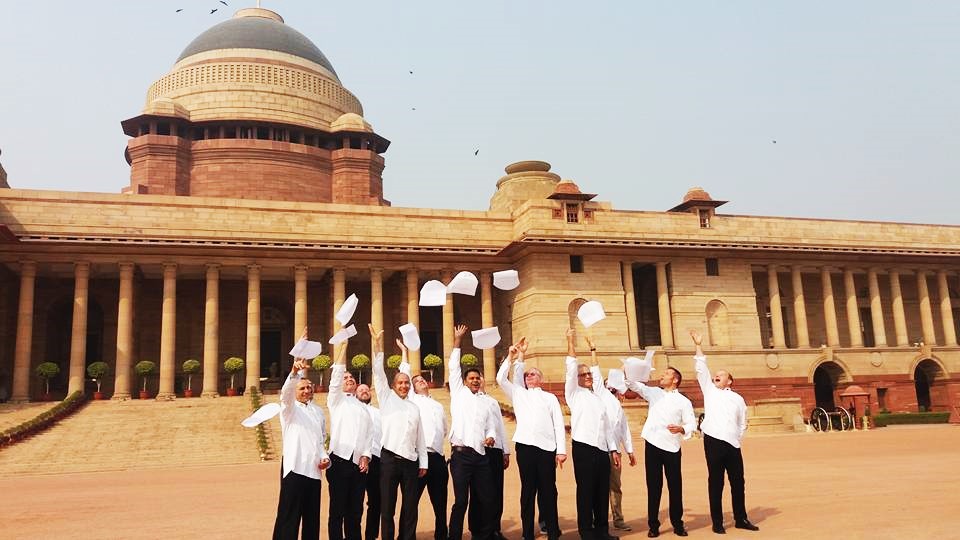 Born in a small village in Haryana, Chef Montu Saini trained at the Institute of Hotel Management in Bengaluru and worked briefly at Pizza Hut and with the Oberoi group. He then joined the India Tourism Development Corporation's Ashok hotel in Delhi, where he worked at the hotel's coffee shop and multi-cuisine restaurant for eight years before securing the prestigious position of the executive chef to the President of India.
" I was working as a sous-chef at ITDC Ashok when I saw a newspaper advertisement for the post. I applied and was selected after a series of interviews, followed by the trade tests in which I had to showcase my culinary proficiency", explained Chef Saini, speaking to TBI in an exclusive interview.
The power chef has also won two prestigious awards, including the Federation of Hotel & Restaurant Association of India (FHRAI) 'Young Hotel Chef' and the Indian Culinary Forum (ICF) 'Master Chef'. He also holds five culinary degrees, has represented India on various international platforms and is currently pursuing a PhD in tourism studies.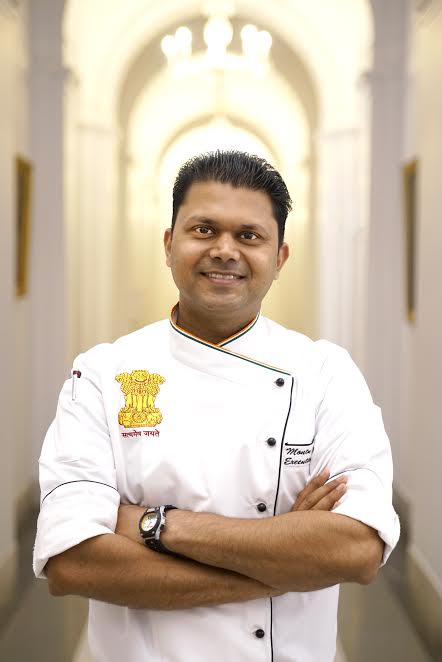 Asked about how different working at Rashtrapati Bhawan is from hotel kitchens, Chef Saini says that while commercial concerns are paramount in hotel kitchens, cooking for the President and his high-profile guests is very different experience.
"Here, I am representing my country. This leaves no scope for mistakes. Any mistake in this job can create a much bigger problem than it would in a hotel. Just sorry won't be enough. Being the President's chef is all about zero-error work, efficient management, superior quality and best in class service. Other these operational differences, there's not much change. Ultimately, putting out delicious food is what is paramount in both jobs."
As the executice chef, Chef Saini works with a team of 40 chefs in a kitchen that is divided into different sections for different specialities. While there is big section for state banquets, there is a separate small section for the President and his family. There is also a separate section for bakery and confectionary as well as a halwai section. To prepare the dishes from multiple cuisines for multiple events, Che Saini and his team work for almost 15-16 hours a day.
A man who believes in keeping himself fit, Chef Saini's typical day at work starts with a walk, tennis or a few hours at the gym. The first thing he does when he enters the Rashtrapati Bhawan's kitchen is to get a brief on the events to be held that day.Next, he allocates, responsibilities to his teams such as checking the cold storage for supplies, procuring new supplies, designing menus, explaining techniques in detail and ensuring that all the necessary equipment is in order. If there is a manpower crunch, he also pitches in with the cooking
He also organizes culinary classes for everybody who works on the President's estate and takes lectures at the Dr. Rajendra Prasad Sarvodaya Vidyalaya school on the President's estate. When he is not in the kitchen or completing the paperwork in his office, Chef Saini spends time doing what he loves most – experimenting with ingredients and creating new dishes.
Also Read: India's Littlest Chef Bowls Over Facebook With His Mango Ice Cream Tutorial, Gets Paid $2000
However, its always traditional Indian cuisine that is served during diplomatic dinners and high teas hosted at the Rashtrapati Bhawan for the Head of States.
"Serving Indian food rather than serving food of the guest country is an effort to highlight the rich diversity and of Indian food. Personally too, I have always found by inspiration in Indian food. So, I make sure that the guests get to taste delicacies from different parts of India. For example, Aung San Suu Kyi, who recently stayed at the Rashtrapati Bhawan, ordered puri bhaji, kachori and masala dosa.

Besides, the taste of the food depends on the ingredients on it. I can't make a French onion soup with Indian onions. It won't taste the same! ", says the passionate chef, who is a firm believer in the fact that it is futile to copy exotic recipes using traditional ingredients.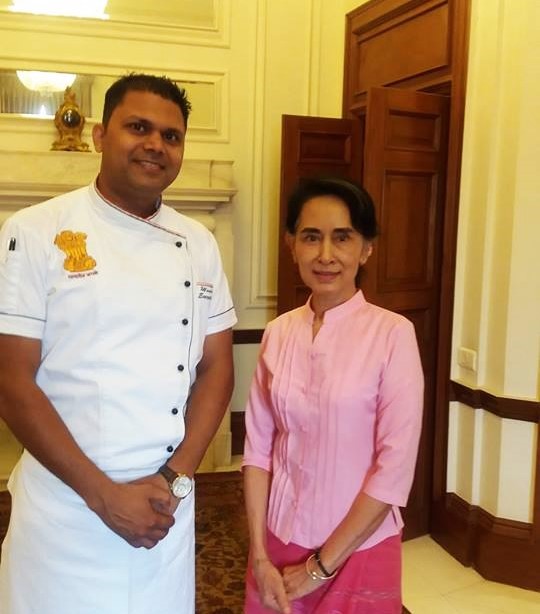 Though the variety of food depends upon the event and occasion, most of it is made using the fresh fruits, vegetables and herbs sourced from the daali khaana or the vegetable garden in the President's Estate. The two cuisines that dominate the kitchen are Awadhi – Chef Saini's two signature dishes, Sabz Baoli Handi and Murgh Darbari, are a part of this cuisine – and Bengali, the President Pranab Mukherjee's favourite cuisine.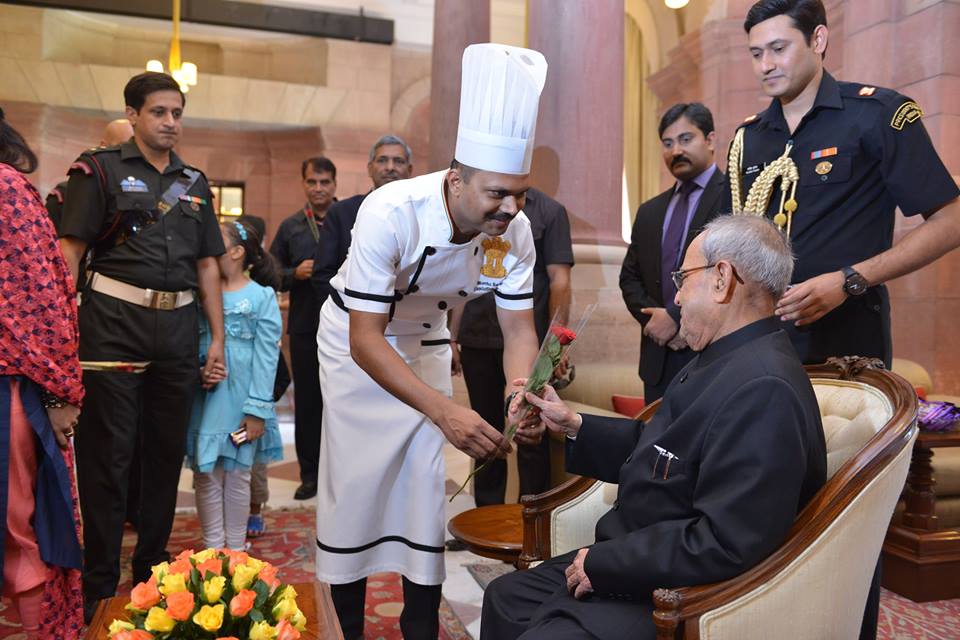 Always diligent towards his duty, Chef Saini is tight-lipped about the President's favourite dishes. However, he divulges that the President loves Bengali food of any variety, which is why Bengali delicacies are prepared pretty often at the Rashtrapati Bhawan.
"The President is quite adventurous about food and likes trying everything, be it north Indian, south Indian or Continental food", says Chef Saini, who tastes every meal before it reaches the President's table.
Asked about biggest state banquet he had organized to date, Chef Saini says that it was the one held during Indo-Africa summit – it had 400 sit-down guests and 54 heads of state dining together! For this huge task, Chef Saini constructed seven separate kitchens. He also designed a special traditional thali menu for the occasion – the first time it had been created for such a large gathering of guests.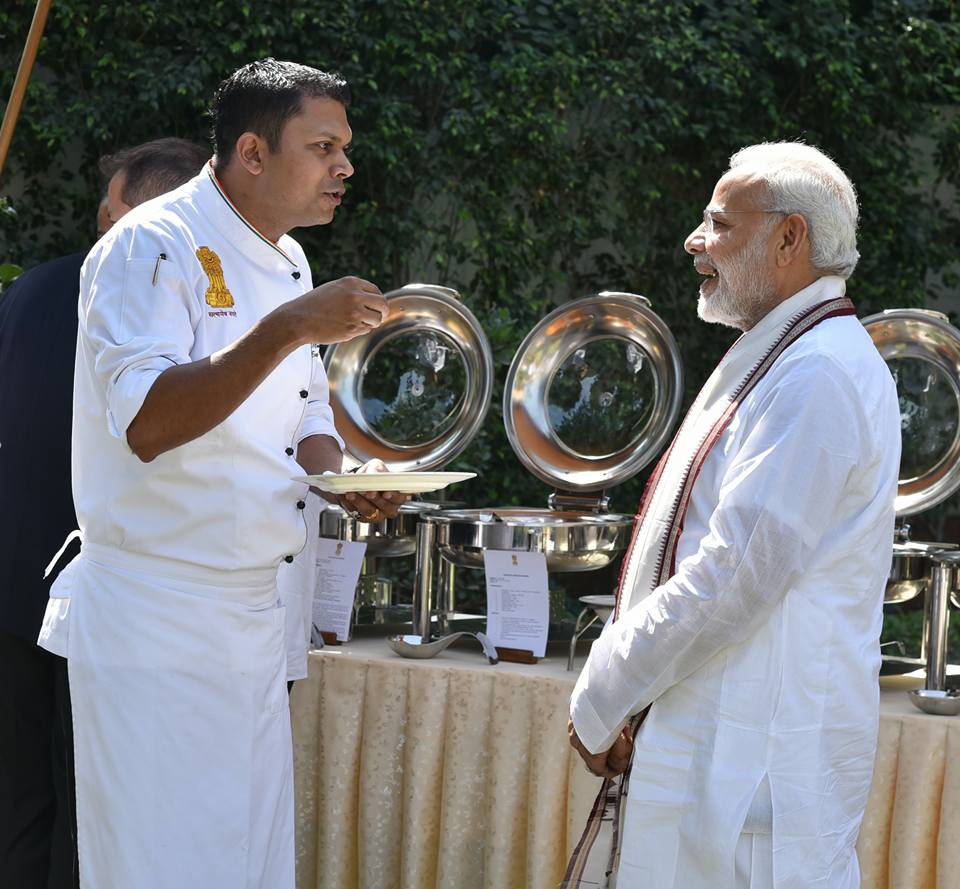 French strategist Charles Maurice de Talleyrand-Périgord once told Napoleon Bonaparte, "Give me a good chef and I shall give you good treaties." This holds true for Chef Montu Saini, a simple man who puts his heart and soul into his important job. No less than a culinary ambassador of India, the talented chef signs of by saying,
"For me, being the President of India's chef is an incredible honour and an opportunity to serve my nation through my craft. Till the end of my tenure, I will continue serving to the best of my ability."
---
Also Read: The Impressive History of the Oldest Indian Restaurant in London That Just Received a Michelin Star
---
We bring stories straight from the heart of India, to inspire millions and create a wave of impact. Our positive movement is growing bigger everyday, and we would love for you to join it.
Please contribute whatever you can, every little penny helps our team in bringing you more stories that support dreams and spread hope.