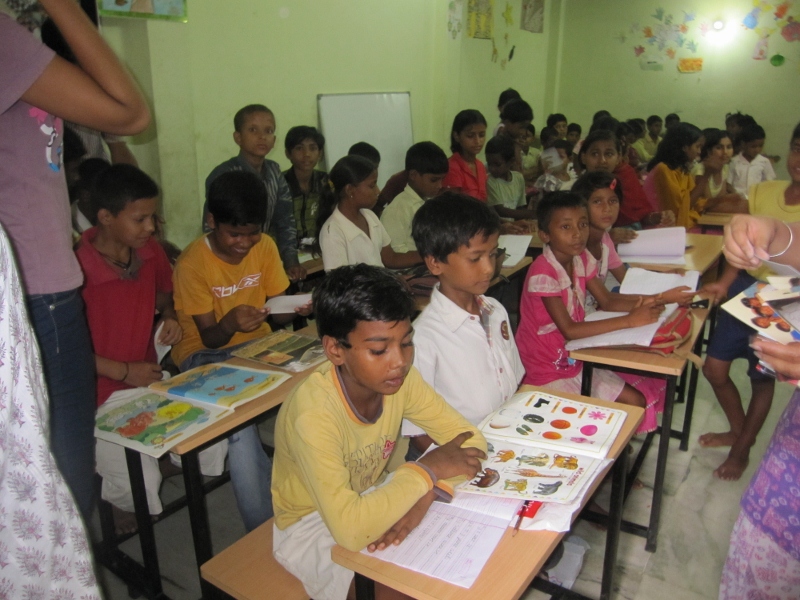 There are innumerable construction sites in our cities, but scarcely any arrangements for the education of the workers' children. Nestled among the landscaped villas and high-rise apartments of Gurgaon, Bagiya is one such school. Here we present an interview with the founder, Shilpa Sonal, to know what made her get started on this mission and what all she has achieved in six short years.
There are innumerable construction sites in our cities, but scarcely any arrangements for the education of the workers' children. Nestled among the landscaped villas and high rise apartments of South City 2, Gurgaon, BAGIYA is one such school. Housed in the basement of a residential building, Bagiya educates the children of construction site workers.
Founded in 2007 by Shilpa Sonal, Bagiya "mainstreams" at least 50 such children every year, meaning that 50 under-privileged children from Bagiya enter mainstream schools such as DPS, Pallavanjali and Shikshaantar. Sports and extra-curricular activities too get attention, and Bagiya ties up with sports academies and other such activity centres depending upon the aptitude of particular students. Doctors, artists, and sportspersons too volunteer their services, sometimes for a week or a month.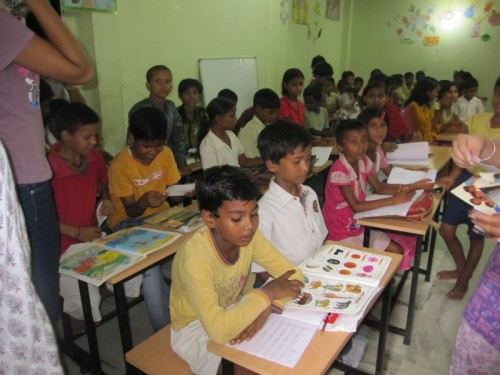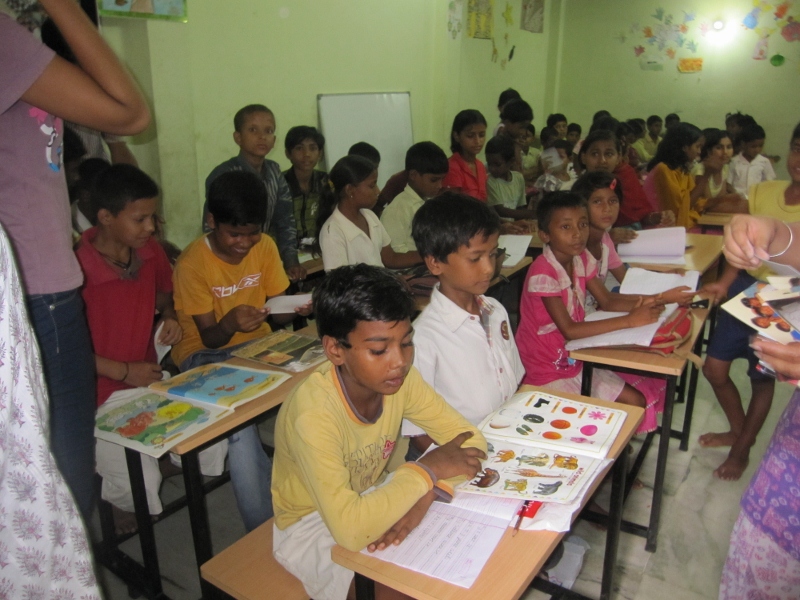 With a team of 20 volunteers,some of whom travel long distances to reach the school, Shilpa Sonal now dreams of opening a Bagiya in each of the many villages located in and around Gurgaon. Also on the anvil are vocational training centres in these villages, with the objective of improving educational infrastructure in the centres of neglect that abound in the Millennium City. Shilpa Sonal is confident that as they proceed with focus and dedication, she and her team of volunteers will make a tangible difference to the lives of those to whom they will bring schooling and vocational training.
TBI guest writer, Priya VK Singh, interviewed Shilpa Sonal to find out what motivates her to run the school and how she has managed to achieve all that she has in a span of six short years.
Shilpa, what accounts for your involvement with the school?
While my husband was serving the Special Forces in the Indian Army . I worked for the welfare of the ladies and families of the Jawans fighting at the borders in remote areas of Ladakh. This was both a very humbling experience and educative as well. Later, after my husband took an early retirement from the Army, I got involved in getting our dhobi's 3-year old son operated for a life-saving open heart surgery. This, to my mind, was my moment of truth! To see the boy absolutely normal and healthy is a pleasure inexpressible in words.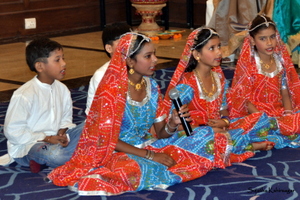 Did you always want to do this, or was it something that just happened?
Yes, definitely since the time I got married to the Army life and saw how selflessly our Jawans fight for the country. Our country needs great many benefactors to help the less privileged come forward!
How many years have you been involved with Bagiya, and in what capacity?
Its been six years since I began as a volunteer for the service of society. Later, one realized the need to structure the social initiatives and hence the umbrella of Sanshil Foundation for Welfare was founded by me as a non-profit organization in 2009.
Has the school grown during these years?
From 6 children from nearby construction sites in my front lawns, today, we have today 200+ children going through a literacy program at Project BAGIYA – A school for underprivileged children. We take immense pride in sharing that we have already mainstreamed 120 children in schools like DPS Shiksha Kenra, Shikshantar, Pallavanjali, CD Sr secondary school etc. These children continue to be hand-held by us and we partly or fully sponsor their education as well.
Are there other projects that you have undertaken?
A stitching centre for women in Jharsa Village, Gurgaon for the past three years is the ideal example of how villages continue to be nestled in concrete jungles of development but have no room for individual growth of the villagers. Products made at Sanshil Stitching centre are being bought by corporates like Kuoni Destination for their tourists from Europe. Sanshil also runs a school for slum children in Sector 30, Noida.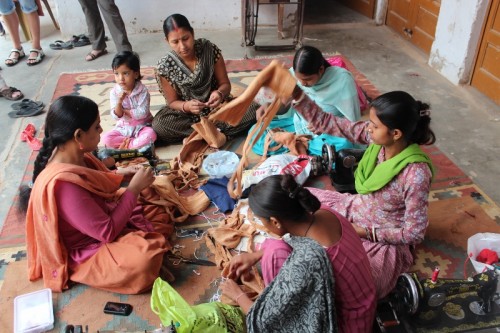 Do you find your work satisfying, Shilpa?
Extremely! What better way to live everyday when someone somewhere can benefit from our efforts? Simply the joy of giving and touching a life! There s no substitute to this joy. Try this sometime.
What are the challenges you face?
Social initiatives are not always able to get financial support to sustain. Corporate support through CSR is also not always able to match the mission and objectives set out by the NGO/NPO. We at Sanshil Foundation are constantly struggling to meet our needs.
What are your plans for the future?
To be able to impact as many lives in our own small way. On a micro level, we would like to empower more and more children and young adults from the lower strata via vocational training.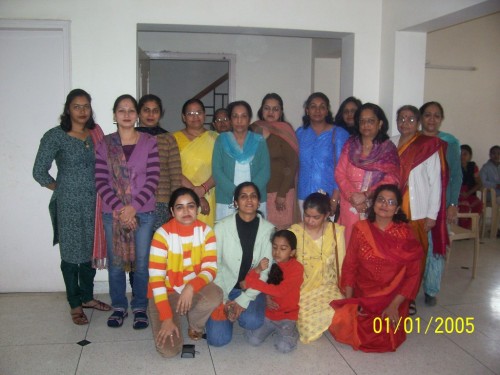 What is the impact that your involvement with the school has had on your family, specially your children?
A lot of personal time is at stake. But I manage my work like a job. After-work hours and weekends are only for the family. On another level, my children have seen me giving my time to benefit another human being. Surprisingly, they have silently observed and understood to manage many things on their own.
Are they supportive, proud?
Yes, my parents-in-law who live with us and my husband have always supported my initiatives. Frankly, it would not have been possible without their support.
Do your children share your dreams?
It is too early to say because my children are still very young, but I am confident they will grow up to be sensitized human beings and will do their bit some day.
How can readers help?
I would request all readers to support any small cause they believe in, or one that touches their hearts. If each one of us does a small good deed, we could make this a happier planet! Some can give their time, some money and some both. Since no organization can sustain itself without support, we need people from society to contribute both. So, one can choose to impact in whatever way comfortable.
To know more about the school and the organization that runs it, visit their website: http://www.sanshil.com/Home_Page.html
Mother, civil servant, patriot – Priya VK Singh believes that we, the generation which has benefited most from India's recent growth story, must do something about India's crumbling institutions and the rapid spread of corruption if we are to guarantee our children a secure and happy future and a sense of pride in belonging to the country of their birth. She does what she can.
We bring stories straight from the heart of India, to inspire millions and create a wave of impact. Our positive movement is growing bigger everyday, and we would love for you to join it.
Please contribute whatever you can, every little penny helps our team in bringing you more stories that support dreams and spread hope.