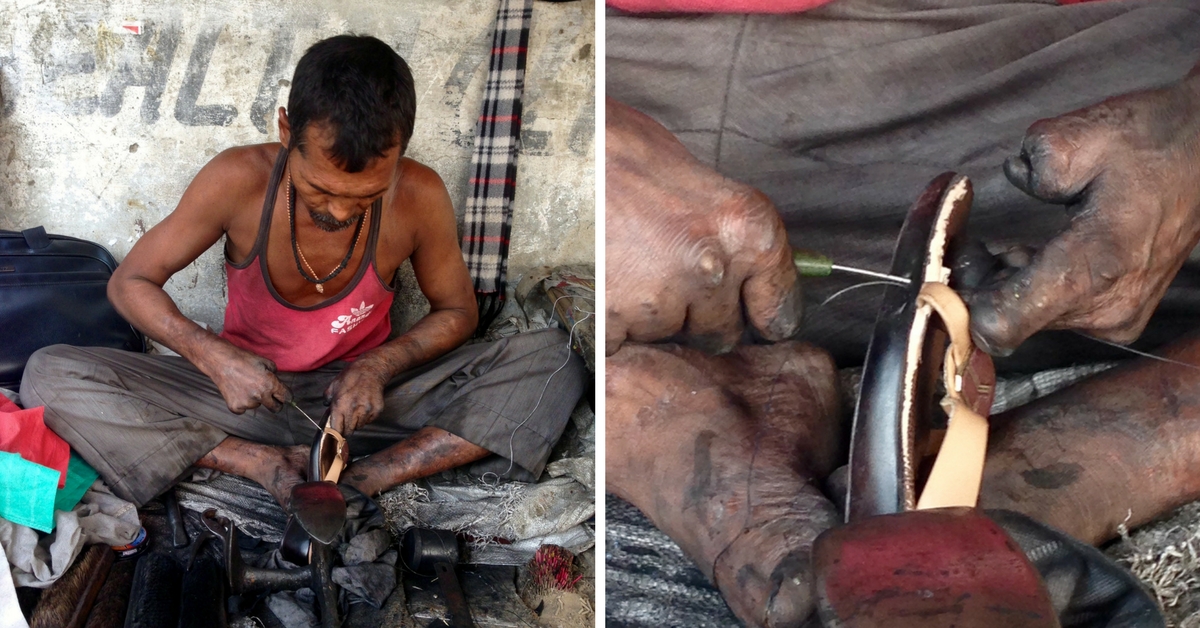 Dinesh Das, a humble cobbler who has been working from the same spot in Delhi for almost two decades despite losing his fingers, cuts an inspiring figure.
Dinesh Das, a humble cobbler who has been working from the same spot in Delhi for almost two decades despite losing his fingers, cuts an inspiring figure.
New Delhi resident Dinesh Das, 39, remembers being in such a rage he could have killed the man. The man in question was a doctor in his home state of Bihar, where he was visiting his in-laws and had developed a fever. The doctor gave him the wrong medicine. As a result, his hands were covered in ugly rashes. If the infection spread, Dinesh was told, he could lose both his arms. He sought help from another doctor who said the only way to save his arms was to amputate his fingers.
The procedure left Dinesh with ten uneven misshapen stubs where his fingers and thumbs used to be. But this tragedy did not prevent Dinesh from continuing to do what he had always done since he was a 10-year-old boy – work as a cobbler.

It is the only thing he had ever done, the only thing he was trained to do, and, fingers or not, he was going to continue. "I had a family to feed," he says.
Fifteen years after the incident, Dinesh can talk about what happened to him with a measured calm, choosing to focus on the fate he escaped rather than his misfortune. "He is like a god to me," Dinesh says of the doctor whose timely decision to operate saved what is left of his hands and allowed him to continue working as a cobbler.
Dinesh's family moved to Delhi in 1990 from Ramganj village in Bihar. His father is also a cobbler; he taught his young son all about the mending, cutting, stitching, gluing, and polishing work that goes into reviving an old shoe – work that has stained his skin and hardened his hands, so they seem like worn industrial tools themselves.
He is one of many who live on the sidelines of the capital's busy life – another workman at another busy traffic intersection.
He has occupied his nook in Dwarka, a dusty suburb of Delhi, for almost two decades now, watching it transform from a ghost town of empty buildings into a bustling neighbourhood.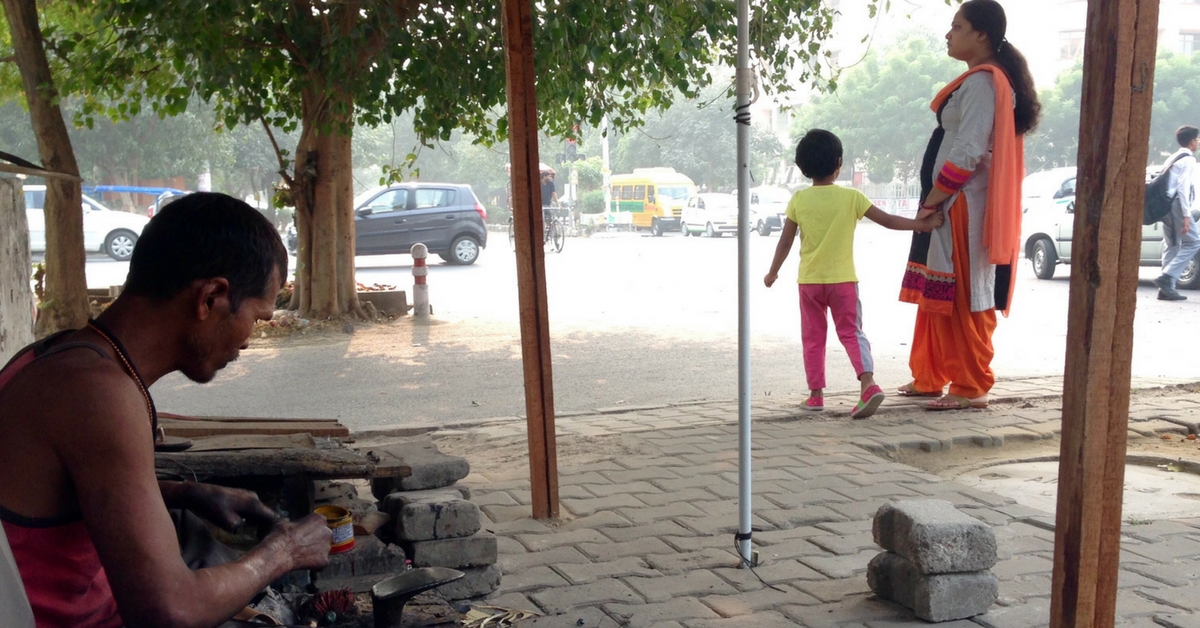 He was there this Diwali. He was there on Holi, on Republic Day, and on every other day that the Government of India deemed a gazetted holiday. He was there because there were shoes to be repaired, sandals to be mended, and bags whose zips had given up. There was also some money to be made. They are meagre, the earnings of a city cobbler. A ten here, a twenty there. "On a good day I can mend up to 200 shoes," he says. He takes home around Rs. 15,000 a month.
Dinesh is at his spot by 9 am every morning. He takes few breaks, mostly to drink water or to chat with a friendly customer. Even as he talks, he remains hunched over his work station, muttering responses, his eyes fixed on the shoe in his hands. His fingers, whatever is left of them, busily weave through the tough fabric of a branded shoe. He doesn't take lunch. Once he gets behind his last, the inverted foot-shaped instrument that is the centre of a shoe mender's work, he rarely moves.
After the day is over around 9 pm, he gathers his tools, the shoes, and the raw materials for the shoes into a large white plastic gunny bag, throws it over his shoulder and begins the half-hour walk to his home in a nearby neighbourhood. When the load is too heavy, he says, he gives in to the exhaustion and hires a rickshaw. But a ride costs 50 rupees. It is 50 rupees he cannot afford. So he avoids the rickshaws and walks. "I cannot spend 100 rupees just on travel," he says. If the earnings of the day are not enough, the 100 rupees he saved by walking would help him buy milk. A one-litre packet of full cream milk costs Rs. 49 in Delhi. The milk is not for him; in his house, only the children are granted this luxury.
His greatest joy is to come home and be handed a glass of water by one of his children. His 20-year-old son is already married and works as a driver at a nearby hospital. His middle son, 16, and 2-year-old daughter and wife live with him. The cobbler's life revolves around his children. So it is with some hurt that he recalls their reaction to the news of his operation.
His wife was inconsolable, and his sons kept asking what had happened to his hands.
"'Who will I ask for money from?'" he remembers his elder son asking in distress. "From your father," his wife replied. Dinesh has not let them down.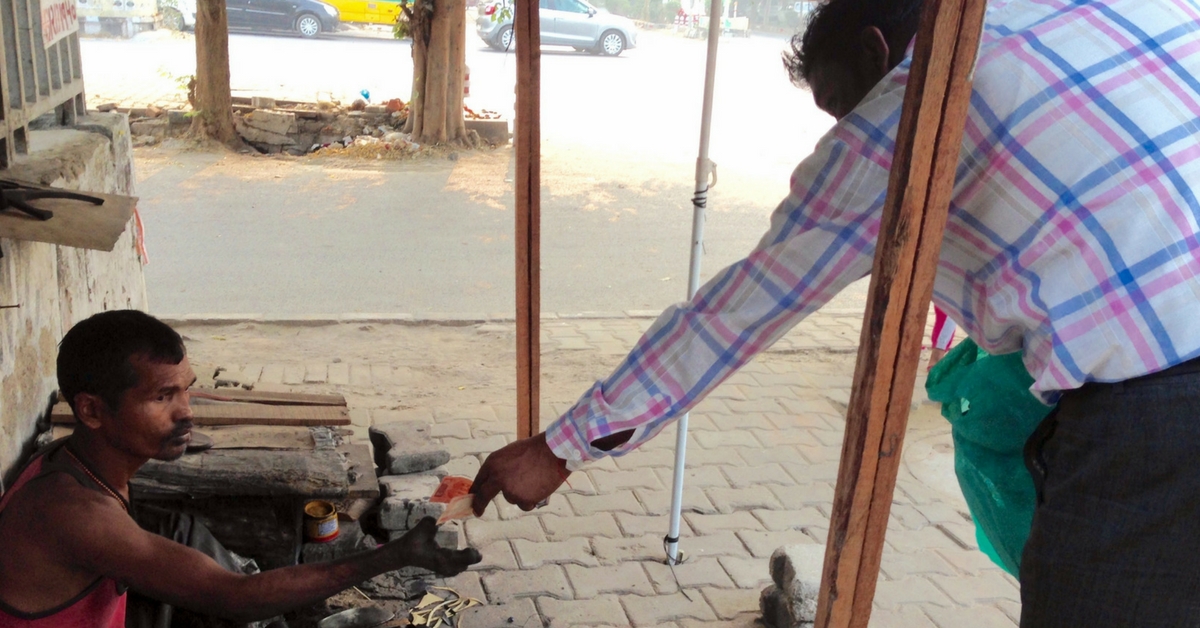 He tries not to dwell too much on the past and on the adversities he has faced. From his corner in the city he has seen enough misfortune strike others. He recalls the day a Maruti car was thrown up into the air in an accident that wiped out half of a family. He has been sought by policemen, sometimes for bribes and at other times to help them solve daylight robberies. Those are uncommon, but on a daily basis his job also involves giving directions to umpteen lost souls in this maze of high rises. He keeps up with his regular customers. He can tell you who has moved, whose son is getting married, who has a new job. He can also tell you who planted the four majestic trees that guard his spot and provide him and countless others fleeting moments of relief on hot sunny days. The trees are the fruits of his own labour and foresight.
He points to another tree he planted recently in the empty plot behind him, a young tamarind tree jostling for space with weeds and litter. The tamarind is a slow-growing tree; it can grow up to 18 meters. Dinesh plans to be around to see it rise to its full glory. It will probably outlive him; these trees can survive hundreds of years if no government agency or greedy developer interferes. It will continue to provide shade, even to people who never notice and would never know that a fingerless cobbler was the one to plant the seed.
If you wish to help Dinesh in any way please write to editorial@thebetterindia.com
Like this story? Or have something to share? Write to us: contact@thebetterindia.com, or connect with us on Facebook and Twitter.
NEW: Click here to get positive news on WhatsApp!
Tell Us More
We bring stories straight from the heart of India, to inspire millions and create a wave of impact. Our positive movement is growing bigger everyday, and we would love for you to join it.
Please contribute whatever you can, every little penny helps our team in bringing you more stories that support dreams and spread hope.