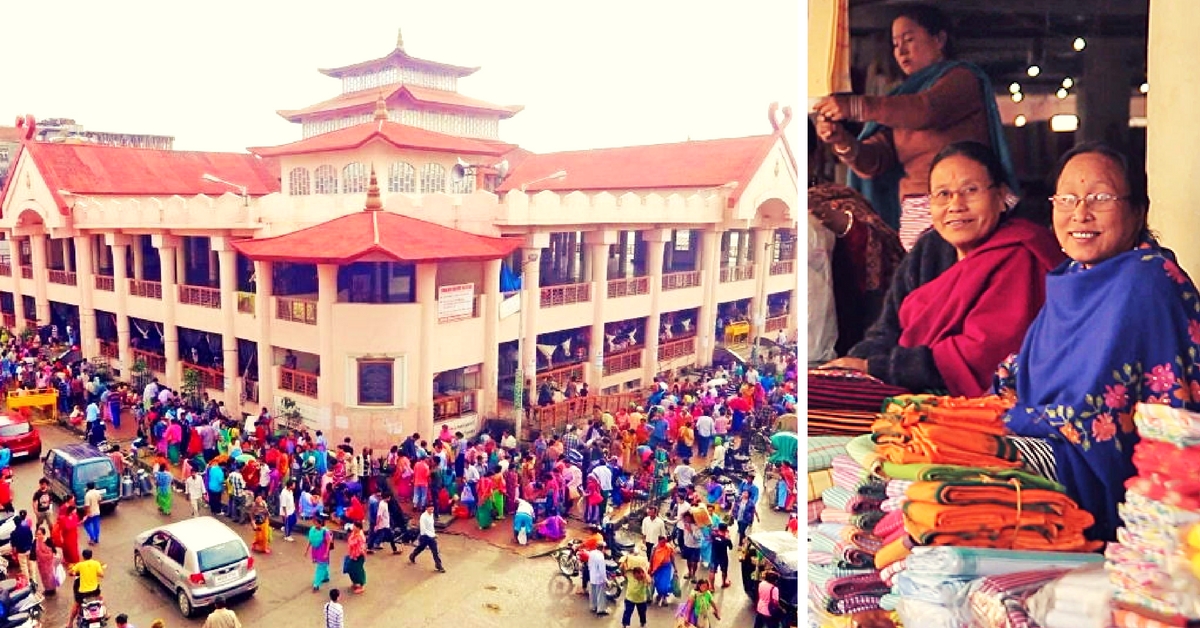 Located in the heart of Imphal, Ima Keithal has long been an important meeting ground and trading hub of Manipur. Run entirely by women, this sprawling 500-year-old market represents the life and ethos of a state where women have long been at the forefront of commerce and socio-political protests.
With its vibrant array of textiles, spices, fresh fruits and vegetables, Ima Keithal can be mistaken for any other bustling bazaar in India but it has one distinct difference – the 5000 traders manning its stalls are exclusively women. Located in the heart of Imphal, this sprawling 500-year-old market has long been an important meeting ground and trading hub of Manipur.
An unique symbol of Manipur's history, Ima Keithel (which translates to 'mother's market') is believed to be the largest all-women market in Asia, and possibly the world.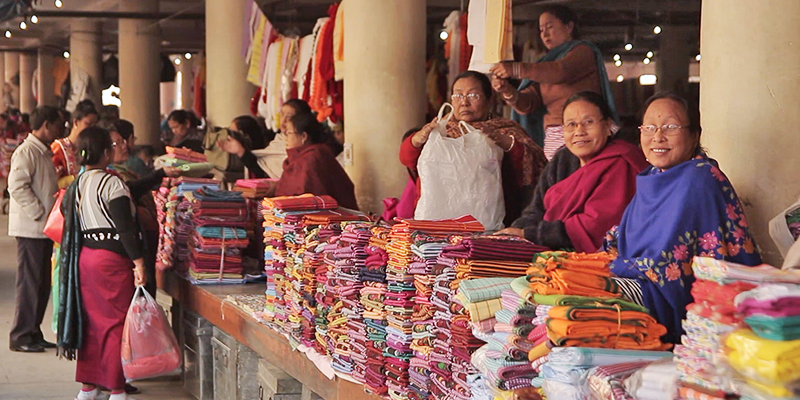 While Ima Keithal's exact origins remain unclear, scholars believe that the market dates back to the 16th century. Studies suggest that the market's female-only workforce originated as a result of the enforcement of the Lallup-Kaba, an ancient forced labour system in Manipur that sent men of the Meitei community to cultivate faraway lands and fight wars. The women stayed back in the villages, working in their own paddy fields, taking care of their household and selling their farm produce in improvised markets. This led to the creation of markets where women played a central role, the most important and largest one being the Ima Keithal.
---
You May Like: Difficult to Imagine Shops without Shopkeepers? Mizoram Has Had Them for Years!
---
During the colonial era, the British administration tried to impose aggressive commercial reforms in Manipur. For example, large amounts of locally grown rice was exported to various British battalions stationed near Manipur without considering the requirements of the locals.
Such measures were furiously opposed by the women of Manipur in a conflict called Nupi Lan (Women's War) that begun in 1939.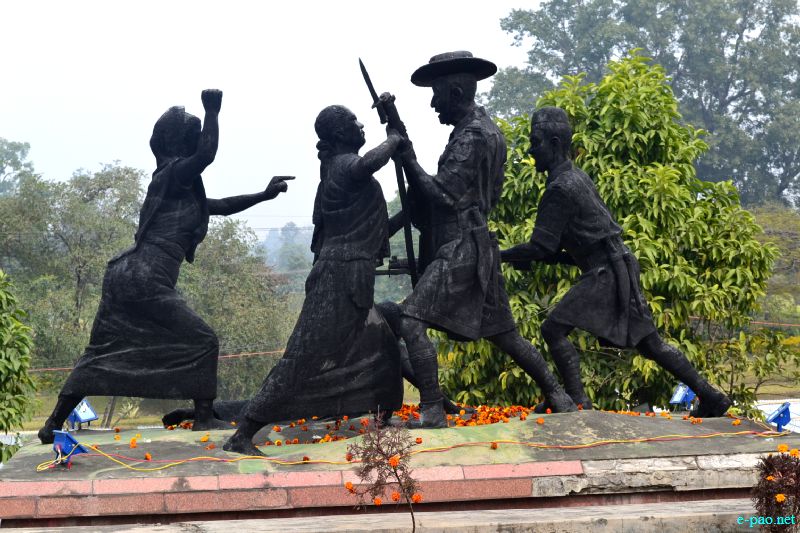 During Nupi Lan, the women traders of Ima Keithel organized agitations, meetings, rallies and blockades to demand changes in the economic policies of local ruler, who was completely under the thumb of the British. In an effort to crush the movement, the Britishers tried to sell Ima Keithals' buildings to foreigners and external buyers but the women defended their market fiercely. For them, it was more than a market – it was a symbol of their cultural identity as a people. Nupi Lan faded out only when the Second World War broke out and Manipur became a war-zone for both, the Japanese and the Allied forces.
Ima Keithal's role in the Nupi Lan movement has remained a significant milestone in the history of social movement in Manipur. Post Independence, the all-women market became a centre for the exchange of socio-political ideas. In the absence of print media, people from all over the state would visit Ima Keital for information on important happenings. Ever since, Ima Keithal's women have continued to play a major role in Imphal's local economy.
Ima Keithal has continued to thrive over the years, offering visitors everything from traditional handicrafts and modern clothing to local produce, dried fish and the famous Morok chilli. It 
did however take a battering during the earthquake which shook Manipur on January 4, 2016.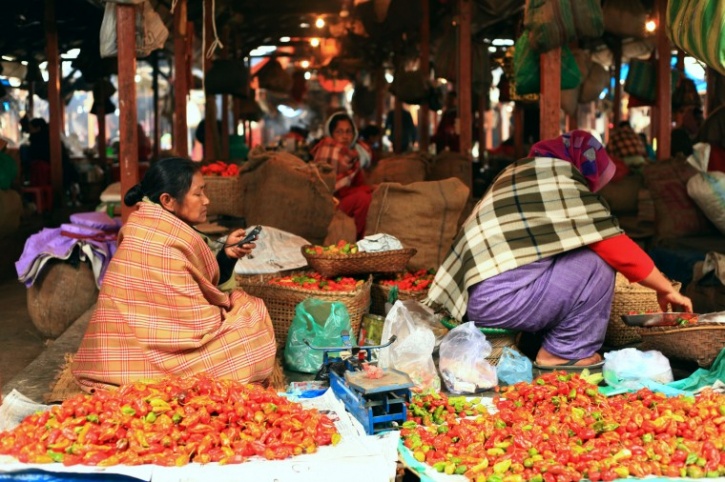 Only married women are allowed to trade and run the stalls in this multi-ethnic marketplace, a privilege that is passed on from one generation of Manipuri women to the next. These women, some of whom come from really far-off villages, pay around ₹ 40 per month for the small space in which they display their wares.
The women of Ima Keithal have formed an union that manages the market and runs a credit system for the women traders; the women can borrow money to purchase goods and pay it back to the union later.
Every morning, impeccably dressed in traditional phaneks (sarongs) and innaphis (shawls), these friendly ladies settle down for a day of  business at the Khwairamband Bazaar (another name of Ima Keithal). The cacophony of their boisterous gossip, coupled with laughter, rings out over the hubbub of haggling between buyers and sellers. By nightfall, the din fades away to a murmur, as women pack up their wares and bundle them into waiting carts while some linger to cook a simple meal.
In many ways, it is unfair to call this historic city hub just a market place. It has always been more than that – a way of life for countless women, a centre of information exchange, a hub of social-political ideas, and a symbol of gender justice.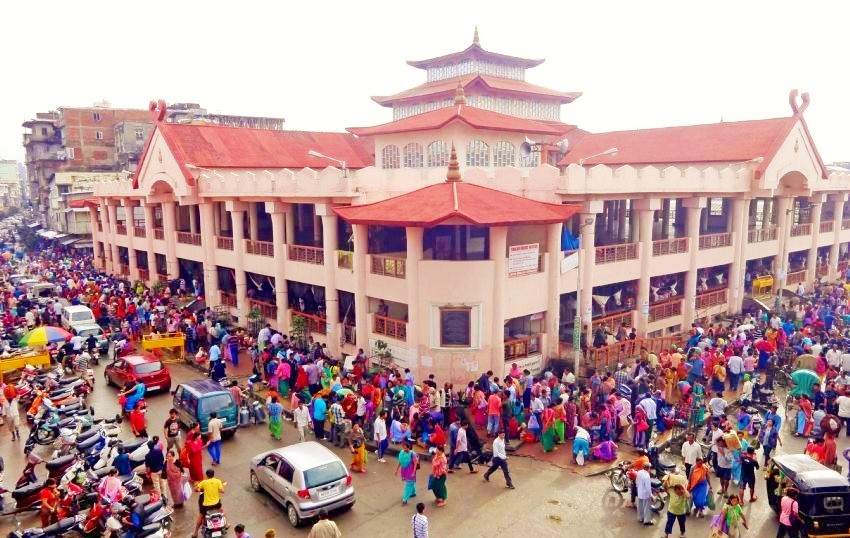 Recognizing the special role the market plays in their lives and livelihood, Manipuris affectionately refer to Ima Keithal as the 'Queen of Markets'. As 70-year-old Bilasini Devi, an Ima Keithal trader who has been selling fruits at this market for over 45 years, says in an interview to the Hindu,
"This market is like a second family to me. I love coming here."
Run entirely by women, Ima Keithal represents the life and ethos of Manipur, a state where women have long been at the forefront of commerce and socio-political protests. A unique cultural experience, this vibrant 'Market of Matriachs' continues to be a beautiful example of economic empowerment and gender equality.
---
Also Read: "Respect Women When They Say No" – Mary Kom Writes in an Open Letter to Her Sons
---
We bring stories straight from the heart of India, to inspire millions and create a wave of impact. Our positive movement is growing bigger everyday, and we would love for you to join it.
Please contribute whatever you can, every little penny helps our team in bringing you more stories that support dreams and spread hope.