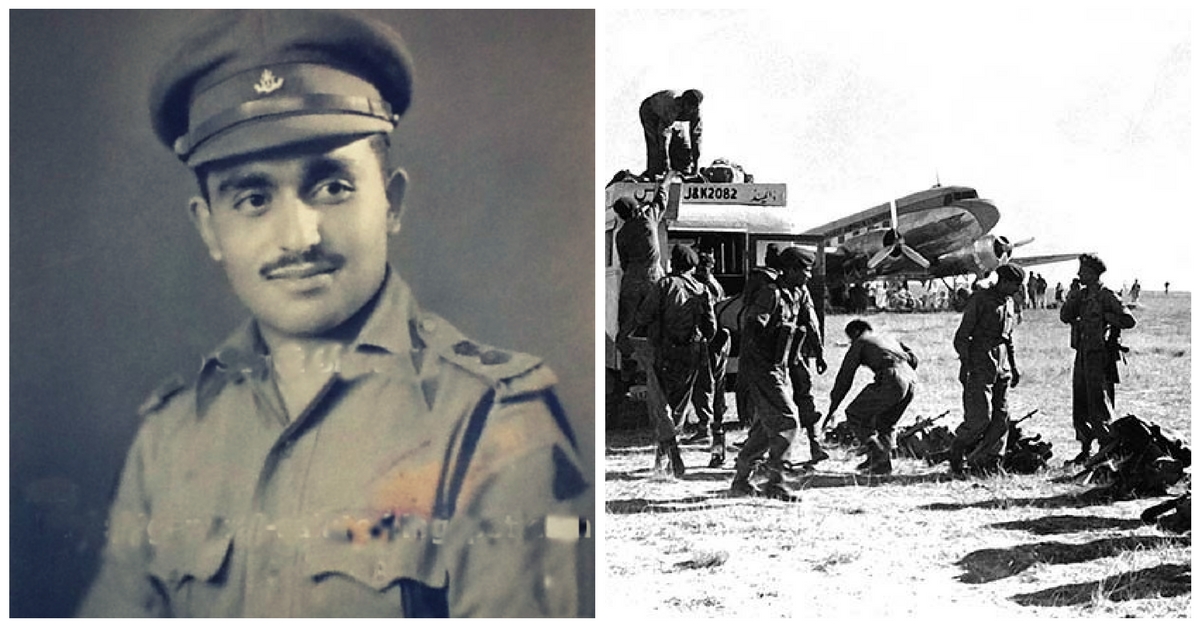 India's first Param Vir Chakra recipeint, Major Somnath Sharma laid down his life while evicting Pakistani raiders from Srinagar Airport during the war with Pakistan in 1947-48 in Kashmir.
"The enemy is only 50 yards from us. We are heavily outnumbered. We are under devastating fire. I shall not withdraw an inch but will fight to the last man and the last round." – Major Somnath Sharma, India's First Param Vir Chakra
The legacy of Indian Army's heroes is as vast and varied as India itself. Among the many brave hearts who have laid down their lives for their motherland is a man whose actions in the battlefield transcended heroism. Today, on his 69th death anniversary, Defence Minister Manohar Parikkar will be visiting Kashmir to pay homage to this unbelievably courageous soldier.
This is the story of India's first Param Vir Chakra recipient, Major Somnath Sharma.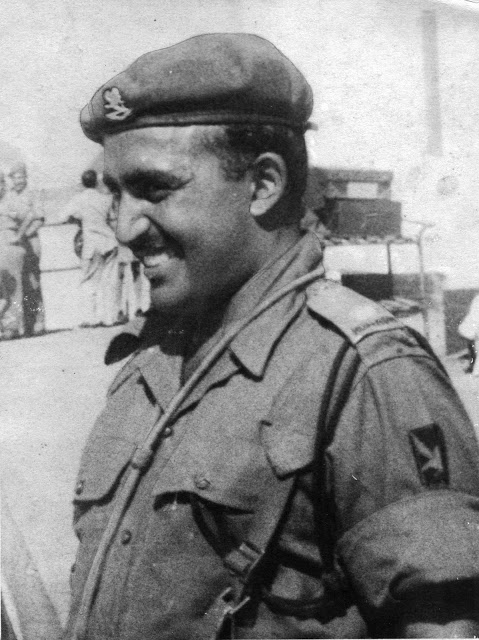 Major Somnath Sharma was born on 31 January 1923 at Dadh in the Kangra district of Himachal Pradesh. His father, Amar Nath Sharma, was a Major General in the Indian Army who later became the first director general of India's Armed Medical Services.
Major Sharma's family had a long tradition of military service – his uncle, Captain K D Vasudeva, had died defending a bridge on the River Slim against the Japanese during the Malayan Campaign in World War II. Vasudeva's gallantry had made it possible for hundreds of his jawans to cross over to safety, a fact that greatly influenced Major Sharma throughout his career.
Deeply inspired by his father and uncle, Som (as his friends and family called him) had already decided that he would join the Indian Army when he was still a child. After completing his schooling from Sherwood College in Nainital, he enrolled at the Prince of Wales Royal Military College in Dehradun before joining the Royal Military College at Sandhurst. On February 22, 1942, Somnath Sharma was formally commissioned into the 8th Battalion, 19th Hyderabad Regiment (later 4th Battalion, Kumaon Regiment) of the Indian Army (then British Indian Army).
During his early career, he served under Colonel K S Thimmayya (the only Indian to command an Infantry brigade in battle during the World War II and Chief of the Army Staff, 1957–1961) during the Arakan Operations in Burma. For meritorious action in the face of the enemy, Somnath Sharma was awarded a 'Mention-in-Despatches'.
Somnath Sharma was serving as a Major in the Delta Company of 4th Kumaon regiment when the Pakistani invasion of Jammu and Kashmir began on October 22, 1947. By the next morning, the first troops and equipment had begun being airlifted from Delhi's Palam airport to Srinagar. Major Sharma's company too was airlifted to Srinagar on October 31, 1947.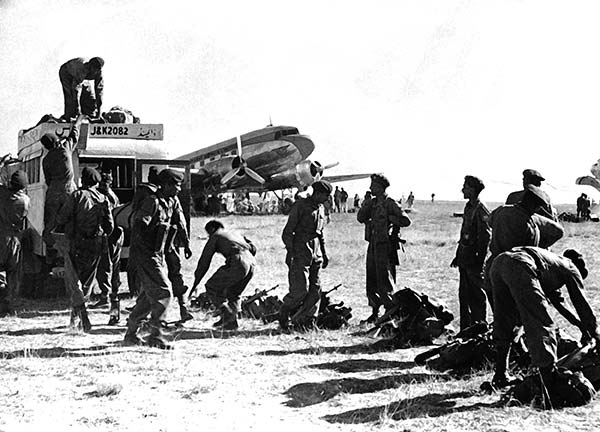 At that time, Major Sharma's right hand was in a plaster cast due to a fracture he had suffered while playing hockey. Though he was advised rest due to his injury, the major insisted on being with his company in the battlefield and was given permission to command his unit. Their mission was simple – hold the valley of Kashmir, repel all invaders, defend the newly independent state of India.
Two days later on November 3, the enemy had reached Badgam, a small town just a few miles away from the Srinagar airfield. On learning this, Brigadier L.P. 'Bogey' Sen, commander of the 161 Infantry Brigade in Srinagar, immediately dispatched Major Sharma and his company to Badgam.
Major Somnath Sharma reached Badgam at first light on November 3 and ensured that his troops took up a fighting position immediately. Enemy movement had been seen near the Badgam village but Major Sharma surmised that the movement in Badgam village was meant to divert attention while the real attack would come from the west. He was right.
It was 2:30 PM in the afternoon when a 500-strong force of tribal lashkars (raiders ), supported by powerful mortars, attacked the 50 Indian jawans of Major Sharma's company. Surrounded by the enemy from three sides, 4 Kumaon began sustaining heavy casualties from the ensuing mortar bombardment. Outnumbered by 7 to 1, Sharma immediately sent a request to Brigadier 'Bogey' Sen for reinforcements.
Major Somnath Sharma knew the importance of holding onto his position. The Srinagar airfield was the only lifeline the Army had between the Kashmir Valley and the rest of India – had the enemy seized the airfield, they would have been able to block the induction of Indian troops into the Valley by air.
Realising the gravity of the situation, he ran from post to post, often exposing himself to danger as he urged his company to fight bravely. Two forward platoons had already fallen but Major Sharma ensured that his company clung to its position tenaciously, even under heavy fire.
Other than skillfully directing the fire of his troops onto the ever-advancing enemy, Major Sharma himself took up the task of filling magazines and issuing them to the light machine gunners. Even though he himself was hindered by his fractured arm, he wanted to make sure that the casualties didn't affect the speed and effectiveness of his light automatics gunners
The last message Major Sharma sent to the headquarters stated:
'The enemy are only 50 yards from us. We are heavily outnumbered. We are under devastating fire. I shall not withdraw an inch but will fight to the last man and the last round.'
Soon after, Major Somnath Sharma was martyred in a mortar shell explosion, fighting till his last breath to stem the tide of the enemy advance. However, his sacrifice did not go in vain. Inspired by their leader's gallantry and tenacity, the soldiers continued to fight the enemy for six hours after Major Sharma had been killed.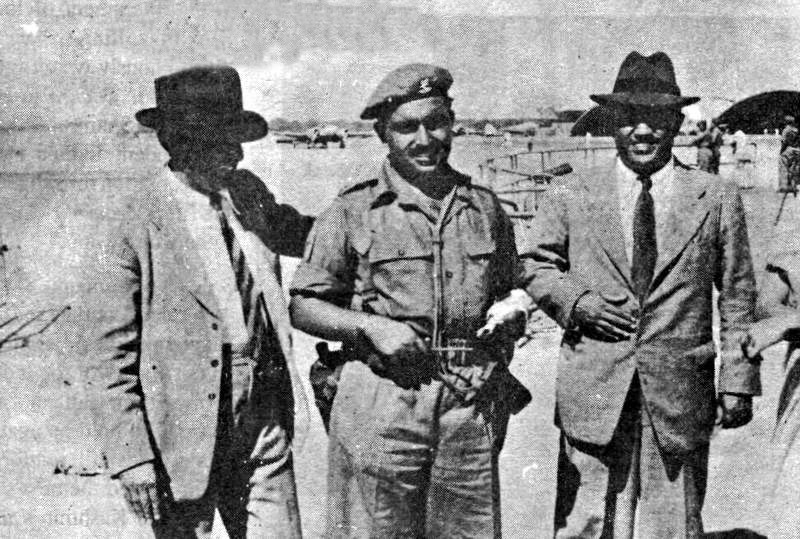 The spirited defense by 4th Kumaon Regiment delayed the enemy for six crucial hours, thus gaining time for reinforcements to get into position. However, by the time the relief company of 1st Battalion Kumaon Regiment reached Badgam, the position had suffered heavy damage. Along with Major Somnath Sharma, one Junior-commissioned officer and 20 other soldiers of the D company of 4 Kumaon had been killed in battle.
Despite the fact that 4th Kumaon had suffered over 20 casualties, it had inflicted much heavier losses on the enemy. The raiders had lost over 200 men and their leader had been incapacitated, resulting in their movement losing its impetus. This also bought time for additional Indian troops to land at the airport, reorganize and block all routes of ingress to Srinagar.
---
You May Like: This Unsung Hero's Act of Extraordinary Courage Led the Indian Army to Victory in the Kargil War
---
Led by incredibly courageous Major Somnath Sharma, 4th Kumaon Regiment had prevented the fall of Srinagar and arguably the Kashmir Valley. For his selflessness, dogged determination and raw courage in the face of the enemy, Major Somnath Sharma was posthumously awarded independent India's highest wartime gallantry award, Param Vir Chakra.
His citation read:
"His leadership, gallantry and tenacious defence were such that his men were inspired to fight the enemy outnumbering them. Major Sharma set an example of courage and qualities seldom equaled in the history of the Indian Army."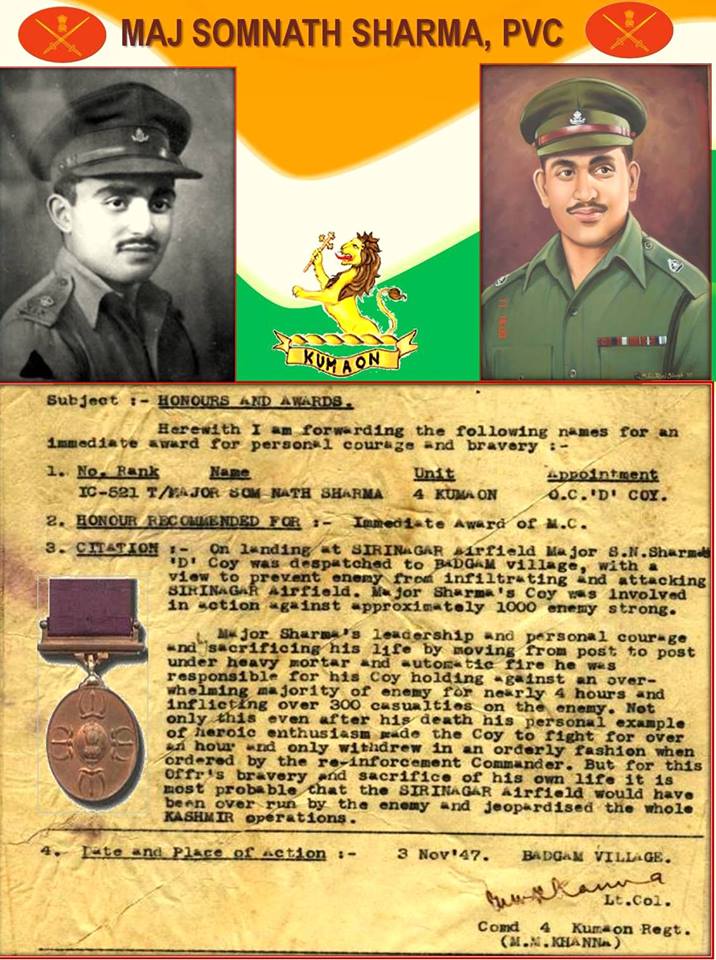 Soldiers like Major Somnath Sharma are not born every day. The sacrifice of this heroic warrior must forever be remembered with gratitude by the country he died protecting. On his 69th death anniversary, we remember and salute India's first Param Vir Chakra recipient.
---
Also Read: #KargilHeroes: The Soft-Spoken Buddhist Soldier from Ladakh who Notched India's First Win in Kargil
---