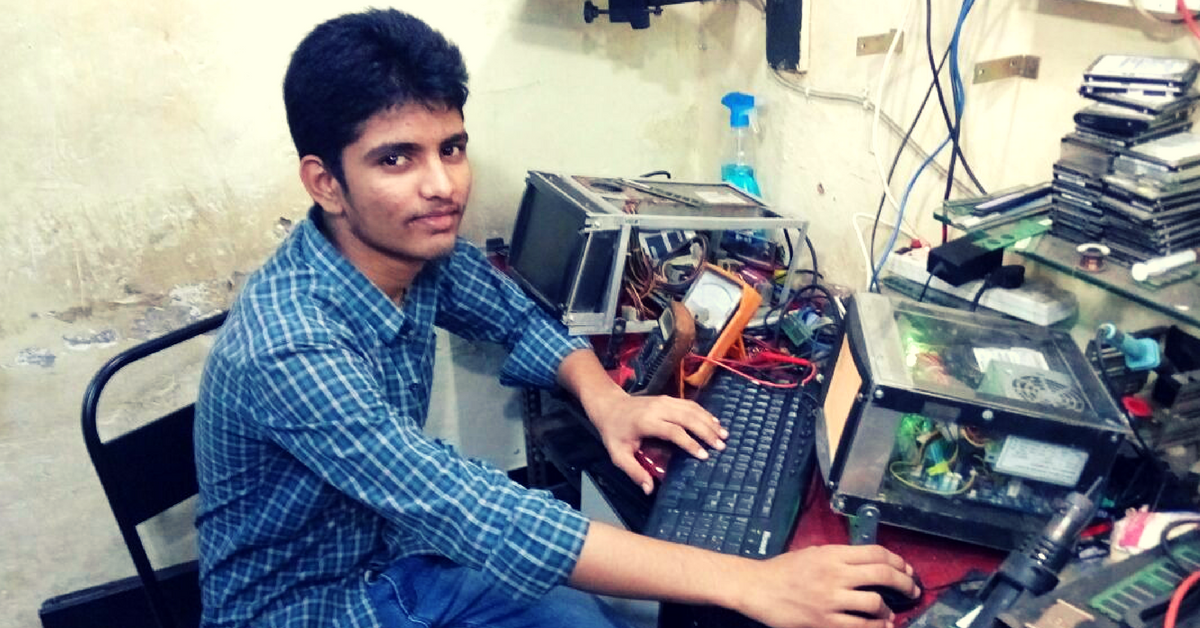 Six years ago, when Ravindra Parab decided to become an e-waste scrap dealer, he could not have imagined that this job would help his son, Jayant, achieve a breakthrough in affordable technology.
---
This article on using computers for change is a part of the 
India Digital
 series powered by Intel India.
---
Six years ago, when Ravindra Parab decided to become an e-waste scrap dealer, he could not have imagined that this job would help his son, Jayant, achieve a breakthrough in affordable technology.
Seventeen-year-old Jayant, a resident of Ghatkopar, Mumbai, was in Class 3 when he used a PC for the first time: "We had computer classes as a part of the school curriculum and that was the first time I actually used a PC. Till then, the box-shaped machines had always intrigued me because I saw them everywhere I went – in offices, banks and shops. But getting the opportunity to actually work on one was nothing short of thrilling!" he remembered.
Like most beginner computer classes, his school classes too focused on teaching the basics – different parts of a PC and, with time, an introduction to MS Office. For Jayant, every class helped peel back yet another layer of the mystery the machines held for him.
When Jayant reached Class 5, his thirst to learn more pushed him to ask his father's permission to enrol for a course at the local computer centre. "It was a month-long introductory course for beginners. While the computer classes in school introduced me to PCs, it was this course that made me confident about operating the machine," he said. The course also marked the beginning of many other classes Jayant would go on to take in the years to come, helping him gain mastery over the ubiquitous technology.
Between school and his courses, Jayant also took to tinkering around with the e-waste his father brought home:
"I picked up a lot from watching my father and my brother work and, before long, I was able to assess on my own whether some pieces could be salvaged or not. My father and brother then taught me how to take the pieces apart, how to determine what was wrong with them, fix the problems, and put them back together again," Jayant remembered. "The courses I attended taught me a lot about different software, but it is the hours I spent working with e-waste that helped me understand the minutest details about the functioning of PCs."
Jayant's growing interest also encouraged his father to set up a second-hand PC at home for his tech-savvy son. "This gave me the opportunity to practise everything I learnt, at my own pace and on my own time. I also used the internet to learn new things, every day," he said.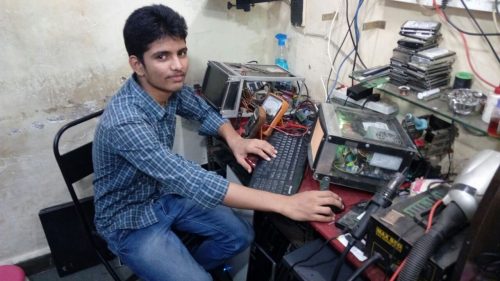 Jayant used his PC to introduce children in his neighbourhood to the life-changing technology: "I realised that many of these children had limited exposure to PCs and came from families that could not afford to buy their own machines. Given how all-pervasive this technology is, I thought it was extremely important that they be well-versed in it too. I believe that people's socio-economic status should not hold them back in life or deprive them of opportunities," explained Jayant.
With this in mind, Jayant began holding informal classes for the children in his neighbourhood. "We'd meet up twice or thrice a week, for a couple of hours, and I'd teach them about the basics of operating a PC," he said.
---
You may also like: Senior Citizens Up Their Professional Skills, Thanks to This PC-Training Programme
---
When, in Class 9, Jayant was asked to present an exhibit at a school exhibition themed 'Best Out of Waste,' the years he spent tinkering with e-waste, and the hours he spent teaching other children, inspired him to set a fairly ambitious goal: to build a computer made entirely from e-waste.
MAKING THE BEST OUT OF WASTE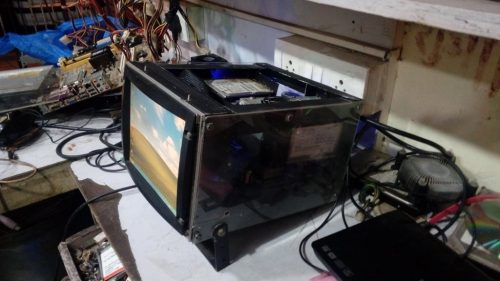 "I had seen how the exposure to PCs I provided to the children in my neighbourhood was helping them. They were able to work on PCs more confidently now and were even using them for school projects. And I couldn't help but wonder how much more they would be able to do if they had their own PCs at home," Jayant explained. "The main aim was to create something that all sections of society would find affordable."
"Admittedly, it was a bit of a daunting task; I had not heard of such a computer being made before, so I had no blueprint that I could follow, no tutorials I could refer to," he confessed. Yet, that did not deter the 17-year-old.
For a month, Jayant worked hard, rushing home from school and completing his homework in record time, in order to devote at least four hours every day to his project.
---
You may also like: This Indore-Based Startup Is Introducing India to the Internet
---
"I began by sorting through the e-waste, picking working components from the different pieces I could find, repairing the components that were broken, replacing some others… it was a tedious process," he remembered.
But, sometimes, he would get lucky, as he did with his monitor: "My father also collects e-waste from hospitals and he came across a broken ECG machine. When he brought it home, I picked it apart, saw that the problem with it was only minor, fixed it and upgraded it, and decided to use it as a monitor," he explained enthusiastically.
Bit by painstaking bit, Jayant put together his e-waste computer, under the watchful guidance of his father and brother.
"I was given strict instructions to not do any heavy-duty electrical work unless my father or brother were present. They were always around to help and their support was unwavering, but they also let me figure things out on my own and didn't push me," he said.
The end result was a compact PC, with a 9-inch monitor, 2GB RAM and 1GB hard disk. "It runs on LINUX and has inbuilt speakers, Bluetooth and Wifi. The PC can be used for work or personal use and is equipped with word processing and spreadsheet software too," he listed.
THE WAY FORWARD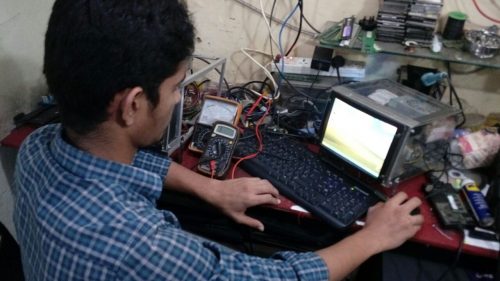 The unique PC got Jayant appreciation from all quarters, including a certificate from the organisers of the exhibition. "The exhibition draws school children from across the city and, for me, the fact that I was able to show them that building something like this was possible, that was the real win," he said.
Jayant also believes that making PCs from e-waste can prove to be an additional source of income for rag-pickers and scrap dealers.
"Imagine if we train them to properly collect e-waste, to assess the quality of the e-waste, and to repair different pieces to put them together as PCs… They could sell these machines and have an alternative source of income. What's more, they would also be helping deal with the huge e-waste problem while making PCs affordable to a large section of society," he explained.
Jayant has since built a second PC from e-waste: "I am constantly tinkering with it and trying to improve and upgrade it."
---
You may also like: How Children from India's Largest Slum Are Turning App Developers to Solve Community Problems
---
Jayant, who was forced to drop-out of school after he failed his Class 9 examination, is now studying for Class 10 through correspondence. He also continues to attend computer courses and, recently, completed a course in hardware networking.
"Knowledge of computers is essential for surviving in today's world. The first question in any job interview is whether the applicant knows how to operate a PC or not. Every single person needs to know how to use a PC," he said. "I want to continue doing more courses and further hone my skills so that I am able to make a successful career in computers," he concluded.
---
This story is part of our series with Intel India's initiative Ek Kadam Unnati Ki Aur, in collaboration with national and regional governments to empower non-urban citizens through technology, in 10 states of India.
---
Like this story? Or have something to share? Write to us: contact@thebetterindia.com, or connect with us on Facebook and Twitter.
NEW: Click here to get positive news on Whatsapp!
We bring stories straight from the heart of India, to inspire millions and create a wave of impact. Our positive movement is growing bigger everyday, and we would love for you to join it.
Please contribute whatever you can, every little penny helps our team in bringing you more stories that support dreams and spread hope.
Tell Us More