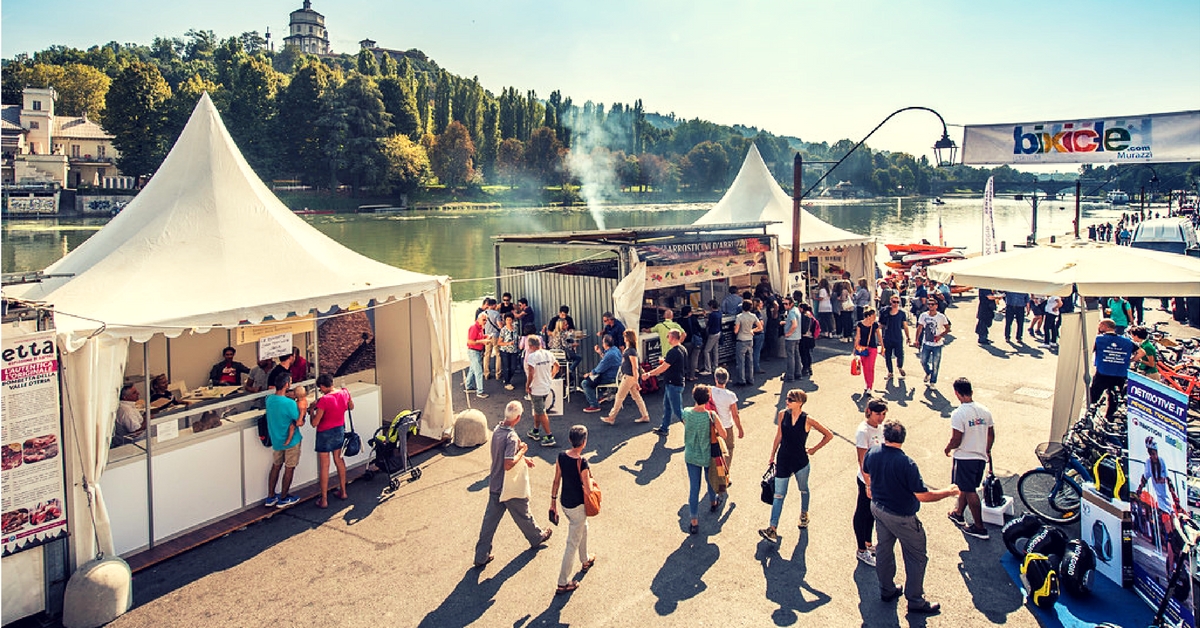 "Bottoms up!" Literally, as indigenous chefs, farmers and grassroots organisations take to the stage to give voice to the Indian delegation at what has been cited as the food and taste Olympics of the world.
"Bottoms up!" Literally, as indigenous chefs, farmers and grassroots organisations take to the stage to give voice to the Indian delegation at what has been cited as the food and taste Olympics of the world.
There was a never-seen or heard array of gastronomical delights, festive sharing of community meals, and experimental tastings, and other sensory experiences of the good life. All this and more, at one of the largest gatherings of food producers, gastronomical scientists, agricultural thought leaders, and key players of the global food chain, the Terra Madre – Salone Del Gusto 2016 in Turin, Italy, from 22nd to 26th September 2016.
They wined and dined, sang and danced to the chorus of "Good! Clean! Fair!"—the chant of the Slow Food Movement—as they took to the streets of Turin, flooding their wares into parks and piazzas to envelope the city for the first time in the festival's 20-year history.
The approximately 7000 delegates from 143 countries, as the Slow Food family, welcomed the city's inhabitants to its 5-day avatar as the food centre of the world, marching through it at the inaugural Terra Madre Parade, echoing, "Vote with your fork!", "Save Biodiversity!", "They are giants but we are millions!", and of course, the theme of this year's event, "Loving the Earth!"
Placards mirrored these slogans, framed by the flags of all participating nationalities, with traditional and inventive costumes from 1,000 food communities who were invited to participate in dialogue and share with more than 500,000 visitors at 900 side events.
INDIA @ TM
The Indian delegation included culinary experts from Slow Food India's Chefs' Alliance, organic farmers, and food enterprises from urban centres. But the voices that resonated the most were those of indigenous farmers and field workers from biodiversity reserves of India.
The Slow Food projects of the Ark of Taste and Presidia were centre-stage. The Ark identifies and supports foods that hold great cultural importance because of their integral place in a community's traditions. The Presidia becomes its action wing, devoted to those foods that are in imminent danger of being forgotten. NESFAS shared the Khasi Mandarin, the direct link to the ancestor to all citrus variety in the world. Keystone Foundation from the Nilgiri Hills of the South dished out samples of their increasingly famous coffee and wild honey.
Many subjects raised were inspired by the sessions of www.indigenousterramadre.org (ITM), 2015, hosted by www.nesfas.org in Shillong, Meghalaya last year.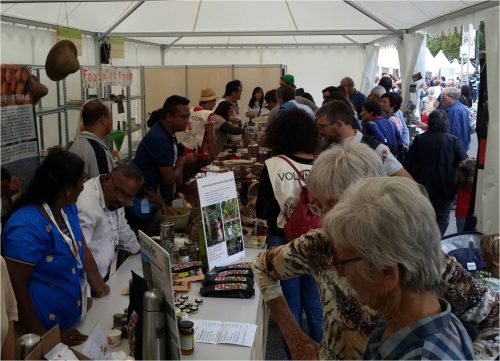 That event saw the ITM's Shillong Declaration and significant dialogues on land, tenure, wild edibles, and future of food. Head of The Indigenous Partnership (TIP) and NESFAS, Phrang Roy, quoted Francis of Assisi, "It is in giving that I receive," and said, "In our work we will have to see that no one must be left behind, especially the most marginalized farmer. The key to local food systems is access (to land, knowledge, the environment), which for some of us is like money in the pocket. In the TIP and NESFAS coordinated biodiversity walks through fields and forests, we link children and elders in this give-and-get cycle of heritage, knowledge, and conservation."
"I" for Indigenous India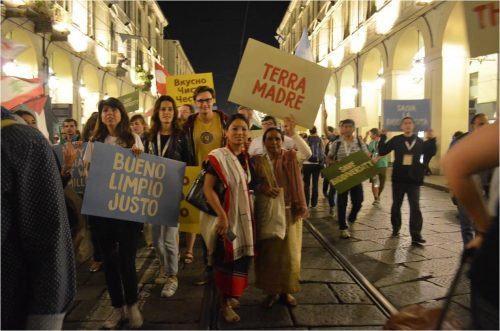 Young NESFAS delegate Wekoweu Tsuha, from Nagaland, shared the importance of wild edibles in the food culture in her presentation. It established these forest essentials as nutritional and medicinal carriers, besides being social foods that strengthen community cohesion. In indigenous North Eastern villages, traditional excursions between elders and children instill the value of conservation and sustainable harvesting. These simple walks into the forest help establish that wild edibles can also sustain communities in facing climate crisis.
Says Wekoweu, "This is taught by our ancestors' past experience, and at the Terra Madre's ITM sessions I realised we indigenous peoples share many common stories and concerns. We all talked about the diversity of wild edibles, their spiritual and cultural significance, the degradation of the ecosystem, its threats, and the important role of women in the above. I will be happy to share with my communities the knowledge that the world is also moving in the same direction, as small producers like us are concerned about community well-being, equity and environmental sustainability."
This youthful enthusiasm seems to contrast with the slight figure of Kharbhoi Yardalin, who walks through the Renaissance-era sculpted grounds of Valentino Castle and Park between the multitudinous Terra Madre activities.
Kharbhoi, a custodian farmer from Meghalaya, answers queries from curious visitors on the display of herbs and produce. She has been practising traditional farming and promoting "organic" cultivation on her land in Laithmenlangsah Village for 47 years. Her words are humble, as is her shy smile, as she says, "This visit has made me believe that although we come from different parts of the planet, we are united by the same love and respect for Mother Earth. I feel this urgent need to share a simple message with our youth back home—pursue for greatness, but learn from your elders as their stories and their knowledge of the world and Mother Earth have stood the test of time. Make a conscious effort to understand Mother Earth as she continues to feed you and humanity day in and day out. Learn to appreciate Her gifts, and in turn She will bless you with Her wisdom."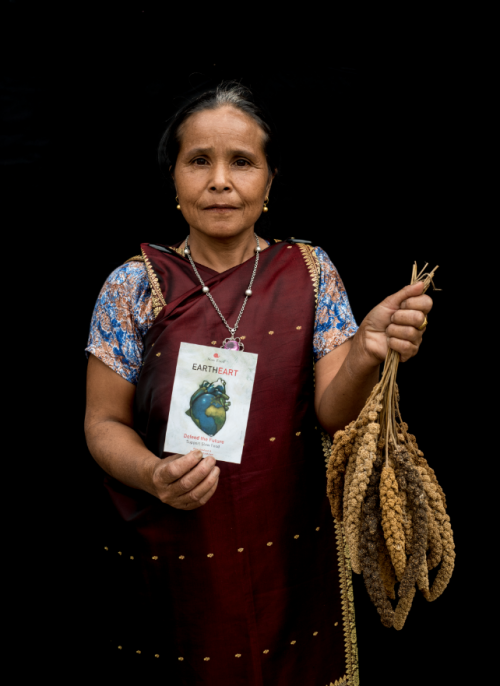 "I" stands for Community
The impassioned words of Dr. Leena Gupta drive home why this generational tuning is important. Dr. Leena questions the role of "educated" professionals in guiding indigenous communities who have existing relationships and structures with the environment.
"They don't need us to teach them, or them us, but to find their place as equals, to share their own stories and knowledge," she says, "Food is a priority, as the reality is that the way to everybody's heart is through the stomach, not just in taste but for survival. How to link societal cycles and environmental cycles is what they have prepared their generations for. Our role as NGOs is to help them know they just need to match our language and get heard. Right now, they are not participants in any of the policies that are made for them – tribal or rural – to weigh issues and their resolutions in tandem to histories, initiatives, interventions and actions by state and individuals."
Helpme Mohrmen, community representative and a NESFAS delegate from Meghalya, shared the thought as an invited speaker for the session on "Land Rights Now!", that besides the usual suspect of land grabbing, indigenous peoples have to be careful of forces within their communities also, where increasing commodification of what was earlier community or clan land for farming only.
He said, "Those who were custodians of the land for the community are now staking ownership, which adds to the already complex politics from outside the community." Both Dr. Leena's and Mohrmen's words unintentionally seem to question the role of organisations and events as gathering points. At Terra Madre, there were indigenous chefs like Chef Joel Basumatari from Nagaland. He joined hands with Native American culinary expert Chef Sean Sherman for "ITM Kitchen 2016", hosted by the TIP.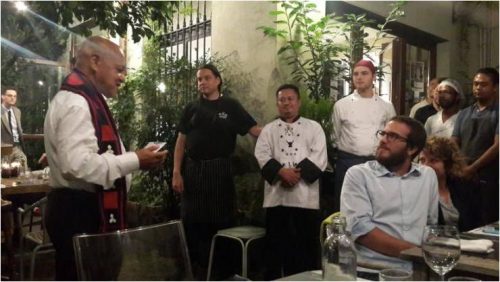 Says Joel, "In Turin it was a pleasure to learn new things and experience the diversity of culture, food and tradition, bearing in mind that …food as one and food for all. As a culinary explorer I got to feel, touch and smell the various different ingredients from different countries in one place."
However, Joel's positivity might not be shared by the common farmer until a similar voice is given to producers on international, national and local platforms, to shift gear into becoming life-changing movements like Slow Food has in Europe.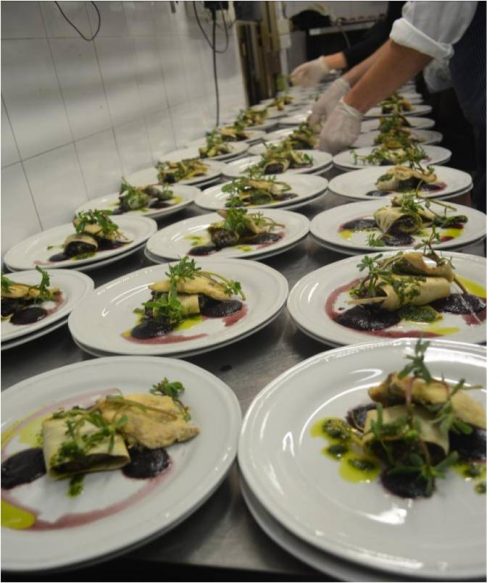 The participation of governments (national and local) in the audience is vital to avoid an open-ended debate. It is important to remember the indigenous for being the initiators and gate keepers of everything good, clean and fair.
We bring stories straight from the heart of India, to inspire millions and create a wave of impact. Our positive movement is growing bigger everyday, and we would love for you to join it.
Please contribute whatever you can, every little penny helps our team in bringing you more stories that support dreams and spread hope.