Irani cafes are an iconic part of many Indian cities, and especially the culture of South Mumbai, or SoBo or Town, as it's fondly called by residents. However, times are changing, and these iconic institutions face an uncertain future. The owner of one of the most prestigious cafes talks about the journey behind the place, and its future.
A walk though Churchgate is always a delightful one, for several reasons. There are buildings left behind by the British, there are wide roads, open maidans, and a vibe which is very different from the rest of the city. This part of the city has an unavoidable feeling of nostalgia in every street and building.
Another interesting characteristic of South Bombay is the chain of Parsi food joints. They've been here for so long that they're now a part of the city's history. Café Military, Ideal Corner, Yazdani Bakery, Kyani's & Co., Britannia & Co., and Jimmy Boy are some of them. They've been serving people wholesome authentic Parsi food for decades now. Taking their name brings images of brun maska, dhansak, kheema pav, and salli boti to mind. They're more than just eateries—they're a culture, and very dear to the people of this city.
Café Military is one of those iconic Parsi restaurants, delighting people with their food since 1933. In Fort, Churchgate, Café Military has been a getaway place for office-goers, college students, and others for decades. They always have a simple delicious meal topped with their classic custard to offer. Behram K. Khosravi (the owner) welcomes customers with a wide grin.
He's extremely approachable and affable, and it isn't difficult to strike up a conversation with him.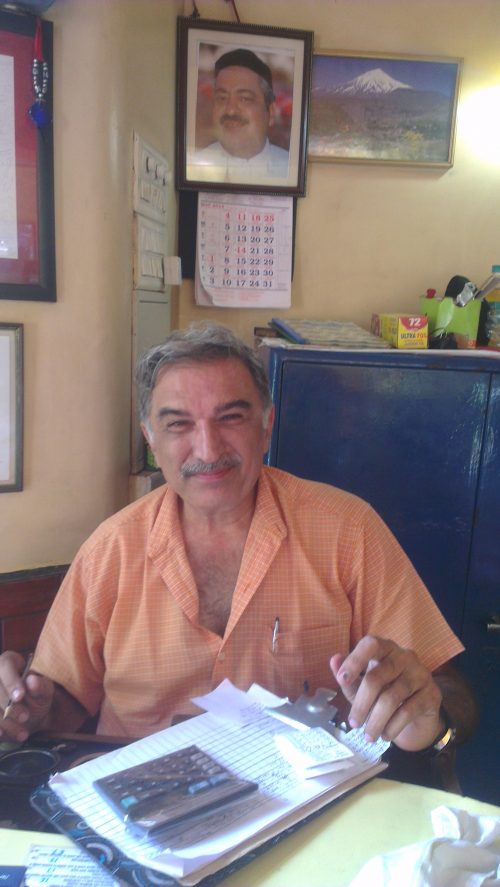 "My father, Khodaram B. Golabi, came to India from Zainabad, Iran in 1925. In those days, there wasn't much scope in Iran, so he decided to come to Bombay with my mother to earn a living. They had to go to the CID office every eleven months to get their passports checked till the law eventually became lax and they became a part of the city. My father changed our name from Golabi to Khosravi to avoid any trouble in the future. The city was very different back then. It was nicer. Landlords would willingly sell shops. So my father bought this place, and Café Military was born in 1933. My father brought brun maska, omelettes, and bhurji – that weren't made in those days – to Bombay. It slowly became very popular with the people of Bombay," he reminisces.
There were few customers in the dimly lit café. The chairs are beautifully ornate and look like they were crafted in a different era. Everything in the café, from the tiles to the memorabilia on the walls, looks like it is frozen in time. A Parsi couple walk in and greet Mr. Khosravi, who grins back and welcomes them warmly.
The fans are old and creak a little as they cool this café that once catered to the British, followed by thousands of migrants after Independence.
"I took over the café in 1951. I've been managing it ever since. I had to make a few changes to keep the business going. In the 1950s, South Indian restaurants became popular in Mumbai and we began to lose customers. Suddenly, our famous brun maska wasn't enough to keep people coming. That's when we added Mughlai dishes like kheema pav to our menu to attract more customers. We got most of our business back. Hence, I expanded my business quite a bit at that time. I bought land in Dahanu and started growing chikoo, coconuts and jamun, supplying fruit to many places. I also own property in many places in the city like Andheri and Dadar. Now I spend time at the café. I help the staff and cut bread for the brun maska sometimes," Mr. Khosravi says with a smile.
The counter is busy. A waiter emerges from the kitchen with a bottle of raspberry soda (found especially in Parsi restaurants) and a plate of omelette pav. But Mr. Khosravi is uncertain of the cafe's future, "Who's going to take over when I'm gone? I don't know. My eldest son takes care of the farms in Dahanu. My other son and daughter work in the US. Even my granddaughter thinks of Mumbai as a dirty and noisy city."
"My wife is at home. We're both getting older. I don't know what will happen in the future or who'll take care of this café," he adds wistfully.
As time passes, the memorabilia on the wall seems to multiply, and the accolades pile up, but the walls are fading. The smell of freshly made bread spreads in the neighbourhood every day. No one knows if the bread will be made tomorrow, or if the doors of the café will be open. Time is passing, and Mumbai is in a transient state, and it is inevitable for the old to be replaced with the new. But, how will Mumbai ever be the same without its raspberry soda and brun maska?
Do you know stories of people that will help map your city better? Find out how you can contribute to The People Place Project here.
Like this story? Or have something to share? Write to us: contact@thebetterindia.com, or connect with us on Facebook and Twitter.
NEW: Click here to get positive news on WhatsApp!