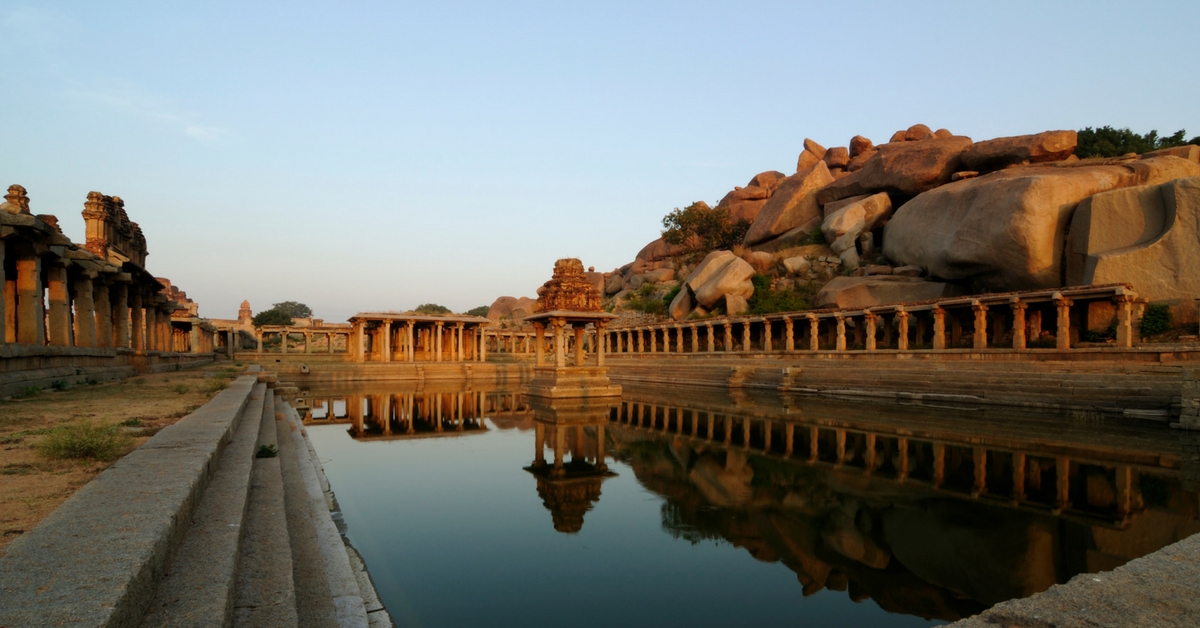 A UNESCO World Heritage Site, Hampi has evolved over the years from being a temple town to a tourist attraction that offers a wide variety of experiences to travellers from all over the world. Namita Kulkarni explores the evolving world of one of India's most famous historical tourist attractions.
A UNESCO World Heritage Site, Hampi has evolved over the years from being a temple town to a tourist attraction that offers a wide variety of experiences to travellers from all over the world. Namita Kulkarni explores the evolving world of one of India's most famous historical tourist attractions.
"Don't worry, be Hampi," said the touristy T-shirt from a street shop facing 6th century temples. With well-practised western accents, the local shopkeepers advertised their assorted wares, the persistence multiplying every second. More than a few times, petite sari-clad women with diligently oiled hair asked me if I'd like some 'good quality mervana'. Inside the main temple, south-Indian families plonked their toddlers right next to me, requesting in that sweet-strange manner it is impossible to say no to – 'please one photo'. Totally unaware that beneath the wild hair and casual clothes, I'm as south-Indian as them and not another exotic-hippie-flamingo.
Given the preponderance of Western travellers here, expect to be presumed Western unless you're in overtly Indian clothes and speaking in Kannada/Hindi. And being perceived as an outsider here – as in most touristy places – is tantamount to having 'fleece me' written all over you. In the interest of not getting fleeced I spoke in Kannada for the most part, letting any potential scammers and touts know who they're messing with. A strategy which sometimes backfired when men tried to get over-familiar now that the language barrier had disappeared. But that's another blogpost.
As India's bouldering capital, a UNESCO World Heritage site, and a backpacker haven now part of the aptly named "Hummus Trail", its reputation cannot help but precede it. Backpacking friends from as far as Poland, Switzerland and Bali had told me how much they loved 'just hangin' out' here. Bouldering in the day, making music in the evenings, and  taking in the views and the general air of insouciance. I wondered about the quaint old Hampi I knew, the way one might wonder about an old classmate who from all accounts seems an entirely different person now.
Once upon a time, a Hampi trip meant temples, temples, and more temples. History and heritage served hot on a platter of sun-baked boulders and quiet village life, with a side of coconuts from the palm trees nearby. While this still remains the main course on the tourism menu here, several other offerings of various kinds now embellish the temple town, catering particularly to low budgets and high spirits.
Hampi's counter-culture resume grows every season, right next to the rice fields and all the conservative attitudes one might attribute to a small south-Indian temple town.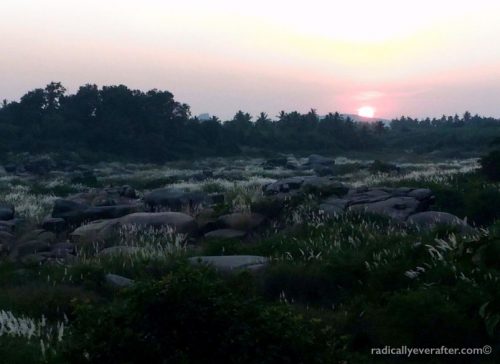 Speaking of simplicity, this impromptu live music gig by Hampi's kids and Gali, the local rockstar, made for a charming evening on the boulders.
These kids had clambered up the boulders to sell chai to the travellers. Circled by the little mob, Gali announced with all the flourish of a proud teacher, "And now the sweet children of Hampi will sing for us," in the same breath switching to Kannada to scold the kids into behaving. Thanks to my linguistic advantage, it multiplied my entertainment the way he squeezed in low-volume Kannada admonishments between high-volume English praises for these kids, who somehow merited both simultaneously. Drums, didgeridoos, guitars, and an assortment of singing voices filled the air as did squabbles and laughter.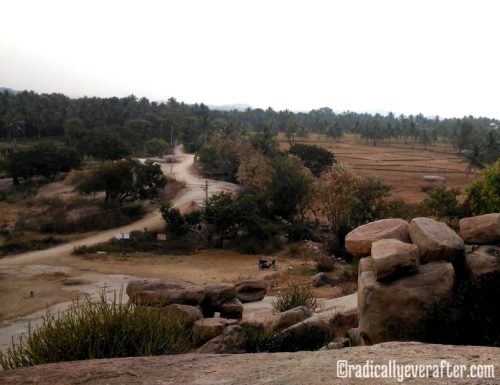 Exploring the place on foot, we met quite a few of the village's quirks that aren't mentioned in guidebooks yet.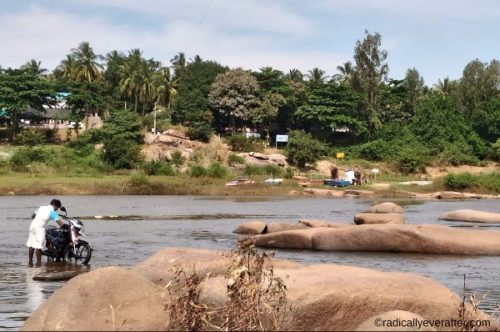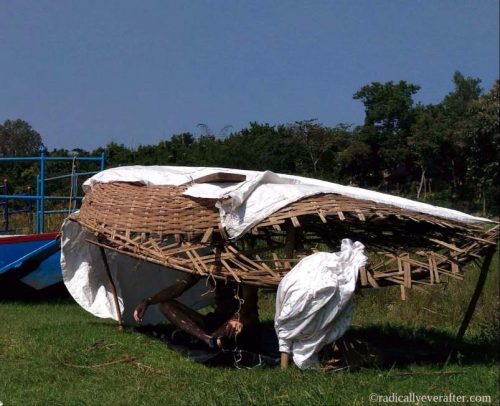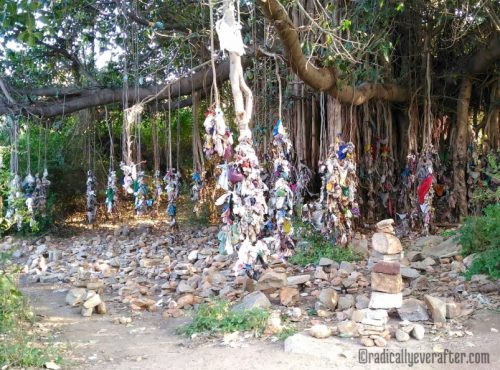 Someone wise once said, "It's not an adventure unless you're miserable at some point." This little truism loves making itself known on almost every trip. Case in point: an afternoon spent looking for a much-hyped waterfall among the boulders. The seemingly innocent trip turned memorable when we couldn't find our way back to civilization. With no food/water under the scorching sun, we precariously tackled one boulder after another in slippery flip-flops. The growing thirst and hunger weren't fun either. A lot of unforeseen bouldering and some wicked bruises later, we chanced upon a local. The good samaritan offered to guide us out – for the grand sum of Rs. 100.
Of course we agreed, having learnt that a local guide is necessary, and under-estimating nature is a bad idea.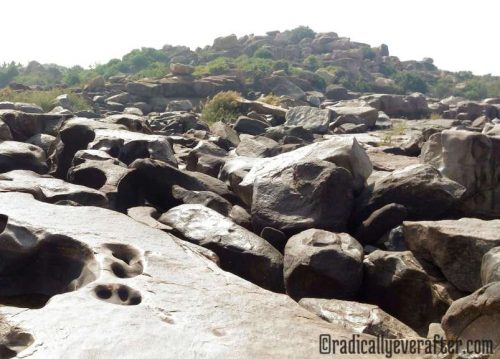 To get our mojo back after that scorching adventure, some foot reflexology and back massages seemed just the ticket. Ganga at the Lotus Ayurvedic Health Centre worked her magic on my feet for a good half-hour. I needed a few seconds to wake up and remind myself where I was when she was done. If you're ever in this part of the world, gift yourself a half-hour foot reflexology here. Your feet will thank you for it and walk you an extra mile or two.
But you're hard-pressed to walk twenty steps here without a kid pleading with you to buy their maps/stickers/guidebooks. It's easy to give in seeing their bare feet and tired little faces, but the buying only perpetuates their deprivation. This rampant child labour is the sad thing about Hampi. Parents often pull their kids from school to have them work/beg to supplement meagre incomes. From the conversations I struck up with the kids, it was clear that school simply wasn't important in their life. Some told me the names of their schools, but were out working everyday instead of being inside those schools. Poverty and ignorance ensure that they miss out on basic education and childhood itself.
But hope exists, as the Hampi Children's Trust, set up in 2007 by Tim Brown and Kali Das. As of now, they provide 40 children with three square meals, shelter, and an education, free of charge. If you'd like to help them transform more childhoods, do consider making a donation. As responsible travellers, we owe it to the places we visit to help in their solutions, without ignoring their problems. Otherwise, in the decades ahead, the only sign of Hampi being anywhere close to 'happy' will be that touristy T-shirt. Sold by yet another childhood-deprived child.
To know more about how you can contribute to the efforts of Hampi Children's Trust, visit here.
Like this story? Or have something to share? Write to us: contact@thebetterindia.com, or connect with us on Facebook and Twitter.
NEW: Click here to get positive news on WhatsApp!
We bring stories straight from the heart of India, to inspire millions and create a wave of impact. Our positive movement is growing bigger everyday, and we would love for you to join it.
Please contribute whatever you can, every little penny helps our team in bringing you more stories that support dreams and spread hope.