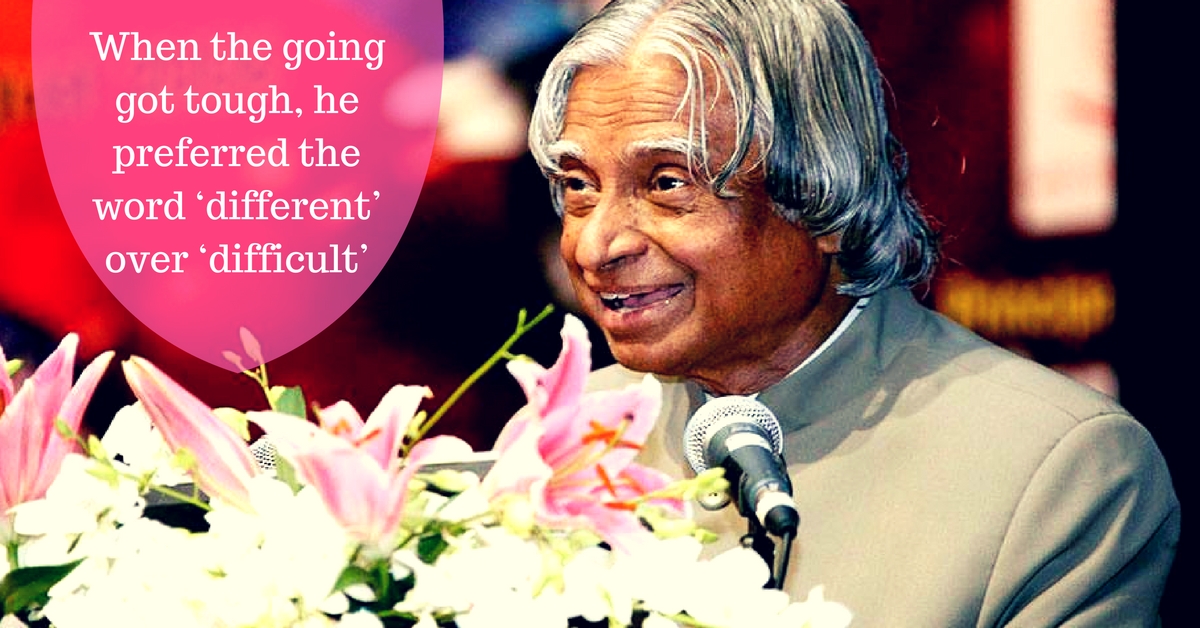 H. Sheridon writes about his experiences of working with Dr. Kalam, learning from him and how he was shaped by his love.
---
In the MY STORY section, we present some of the most compelling and pertinent stories and experiences shared with us by our readers. Do you have something to share? Write to us: contact@thebetterindia.com with "MY STORY" in the subject line.
---
H. Sheridon writes about his experiences of working with Dr. Kalam, learning from him and how he was shaped by his love.
This is neither a eulogy nor my own catharsis, a year after the passing away of Dr. Abdul J. Kalam. These are just thoughts arising from my beautiful 24-year-long association with a man who was noble, virtuous and a human being with compassion towards every creature in creation.
Every experience I had with him as his colleague and as his personal secretary after he became the President – travelling to lectures across the world, just being around in a team, early morning walks, discussions, and private talks – all form the entire picture of my life. They are simply snippets but, if put together, they form a beautiful picture called friendship. Both of us knew each other in ways that were different from how we knew others. Now, one year after his passing, I realize I can never be the kind of person I was with him because I can't relive those memories with anybody else. A little more than two decades seem like too little time spent with him – there were still more joys to discover, jokes to crack, meals to share, and curious endless things to be discussed. Every time he spoke, his voice was softer, slower paced, sensitive, and more intuitive than any I had ever heard. When the going got tough, he preferred the word 'different' over 'difficult'.
After he drafted his lectures, we often sat down for one-on-one honest, open discussions and debates.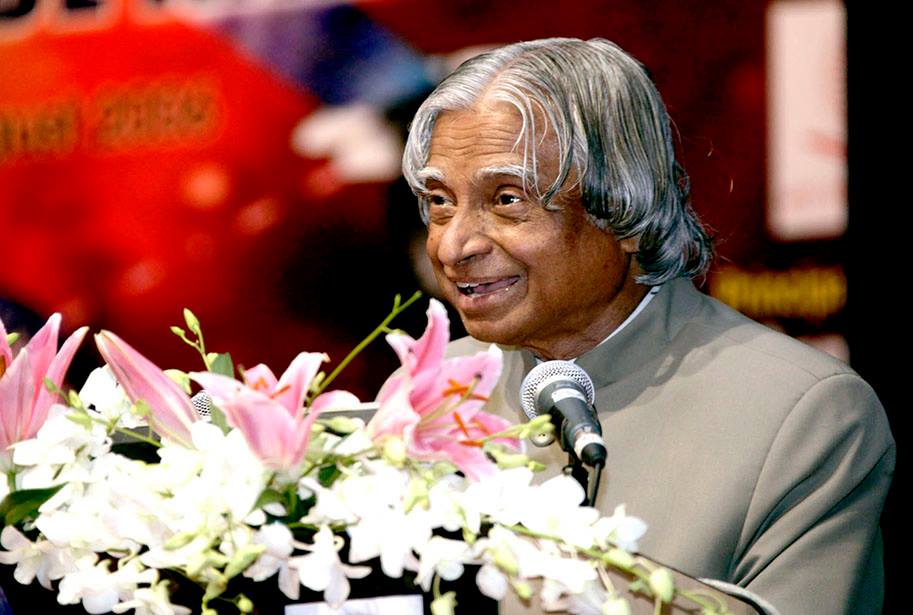 Then I began to realize how much I was learning from him – a yes or no should always be supported with facts, credentials, reasoning and, in rare cases, with examples too. With him, nobody could pretend to navigate or bluff through conversations. Beneath his simple smile and soulful eyes were great depths of wisdom and knowledge. He never displayed his grand oracular voice when students sought his help to clarify ideas; instead he helped them with the best possible answers and explanations. During his lectures I saw a speaker whose presence when he spoke was paramount, because he gave of himself in a direct, profound and honest way that was both too simple and too deep for an assessment by smaller minds. The 'Fortunate Person', as I would also call him, played and listened to music, appreciated art and literature, and had enough experiences that resonated with what he was at that moment of his life. Being with him as he penned his first book India 2020: A Vision for the New Millennium, was a moment of personal triumph and I felt privileged to share in his efforts. I understood he had an obligation to fulfil; his mission after all was to encourage future generations. As I typed every word he said, I admired him for his courage to admit his humble beginnings, endurance and spirit in the face of physical troubles when he started his climb. Life dealt him several knocks, I know, but everything turned out well in the end.
And so, it was a wonderful feeling when he called me 'Funny Guy', because that name meant a lot of things to both of us. I was his 'Funny Guy' when I said the right thing at the right time, when I absorbed a lesson he imparted, when I willingly unlearnt stuff, when I differed with him and backed it up with convincing and logical reasoning and, especially, when we were strengthened by the most perfect feeling two individuals could ever feel – bonding. He also gave me an image, as worthy as our friendship, with a title – 'My Guy'. Everyone in the power circle knew what it meant. True to his word, throughout my association with him, I was entrusted with the task of planning his daily schedule that involved meetings, travels and lectures, thereby helping me believe that I too had an incredible amount of input into his daily life.
During my last tour with him on July 2015 across the state of Tamil Nadu, as always, he interacted with many students without displaying the slightest discomfort of travelling to Chennai, Tiruchirapalli, Ariyalur, Cholamadevi, Aravakurichi, Dindigul, and Madurai in just two days.
Around students, he had a mixture of grandiosity, childlike excitement and curiosity – a recipe that led him to become the most popular President among children.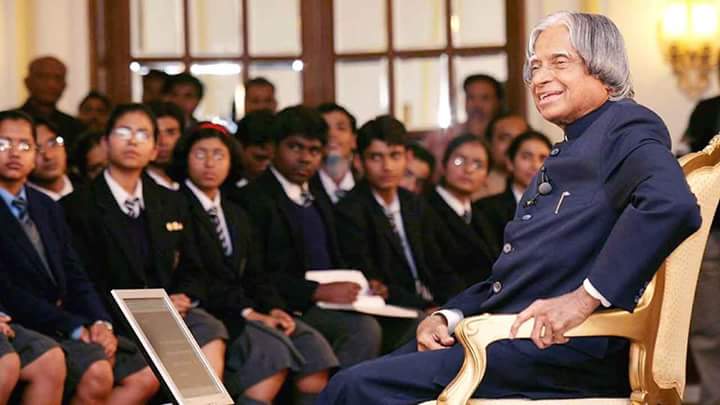 With every opportunity, Kalam ji shared his values and made memories with children and I was fortunate enough to take so many lessons on what love for humanity can achieve. His last meeting with his teacher, Reverend Father Chinnadurai at Beschi illam, was a beautiful sight; it was merely the other side of his childlike and charming self, an additional situation that completed a certain picture of Dr. Kalam as a disciple who made a difference.
Today, I have come to realize that during the prime of my life I was shaped by his love – unassailable and accepting as it was. If only I had made a consistent note of the roles he played in my life as a mentor and friend, enhancing my self-esteem every now and then, introducing me to the world as his friend, I would have enough material for a book titled, 'Gratitude Overflows'.
Above all, how the food I eat, looks, smells, and tastes isn't the same anymore. We filled our plates and talked and laughed and ate. How he relished helping me eat what I liked and exactly wished to! Fond memories of Dr. Kalam, a strict vegetarian, doing his best to help me with non-vegetarian meals through Prasangam, when I joined him at Anna University for a two week stay after he was nominated as the presidential candidate, still move me to tears. He made sure any non-vegetarian giving him company should not be deprived of his/her favourite dishes, which he christened as 'funny stuff'. The simple act of eating together was bigger than just food. In addition to some great discussions and lessons, there was this bonding that nourished my soul even as I joyfully lost myself in the sheer delight of tasty food. Winding up a meal with a few chunks of papaya was just his routine but this fruit stirs up emotions in me till today.
Years ago, when I sported a (French) beard, he questioned me twice on why I needed one. I had no good answer for this. His curiosity didn't surprise me because I almost always sported a clean shaven look, the best accessory for men to be taken seriously rather than the super intimidating look created by a beard. Since I didn't take the cue from his questions, he simply said, "Remove it, I say", just as a father would say to a son who had lost his marbles. The tone conveyed more than those four words I heard. My yearning for his guiding hand on my shoulders will remain, today and forever.
My perception of reality is intact, yet the absence of his physical being troubles me beyond my comprehension.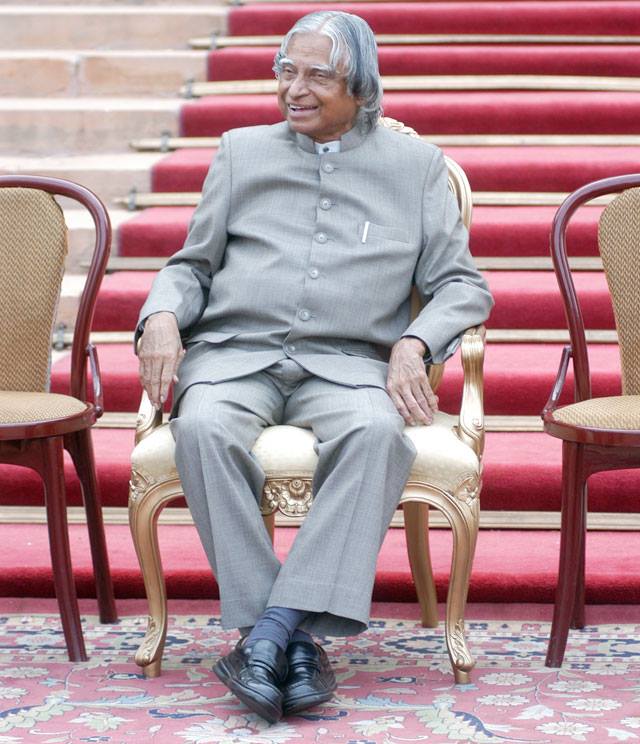 We, as a nation, will surely succeed in escaping the darkness that has engulfed us through the loss of this noble soul. We will definitely carry his dream of India forward with an indomitable spirit. For the minds ignited by his vision of our country, the successive years will be a series of milestones, changes and transformations. It takes a unique mind to inspire people in so many interesting ways. Dr. Kalam did just that, much to the appreciation, admiration and adoration of his fans around the world. Hundreds and thousands of curious, excited eyes that followed him, people who lined up for his autograph, and fans who clicked photos with him, have their own stories to tell about a great man who was accessible and acknowledged love without fear or fuss. They will take strength from his quotes and thoughts to dream big. Is there an iota of a doubt that Dr. Kalam lived his life to uplift our country?
Like this story? Or have something to share? Write to us: contact@thebetterindia.com, or connect with us on Facebook and Twitter.
NEW: Click here to get positive news on WhatsApp!