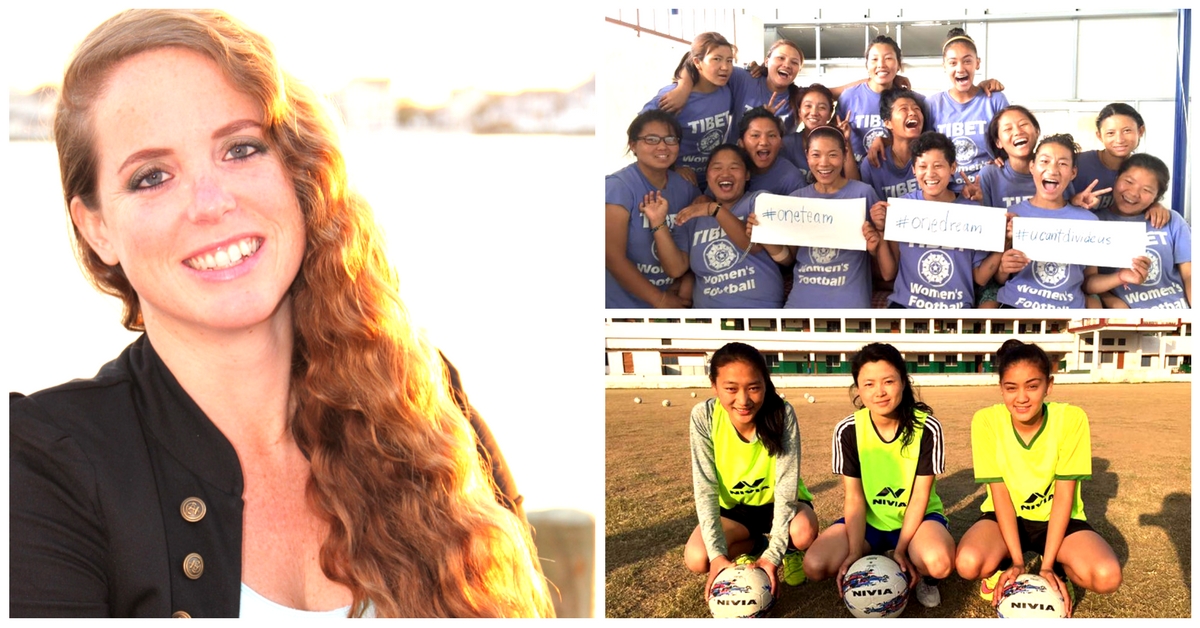 In 2011, an American teacher and 27 Tibetan refugees girls, living in exile in Dharamshala, formed the first Tibetan national women's football (soccer) team. For them, it was not just a way to combat the gender inequality prevalent in their community, it was also a precious opportunity to represent their lost homeland.
In their modest homes in Dharamsala, a hill station in Himachal Pradesh, young Tibetan girls prepare their bags for a football camp while their mothers make tea. One of them is 20-year-old Lhamo Kyi whose dream is to one day play football in the FIFA Women's World Cup.
Tibetans may not have a country, but they have a national women's soccer team, thanks to 34-year-old American high school teacher, Cassie Childers.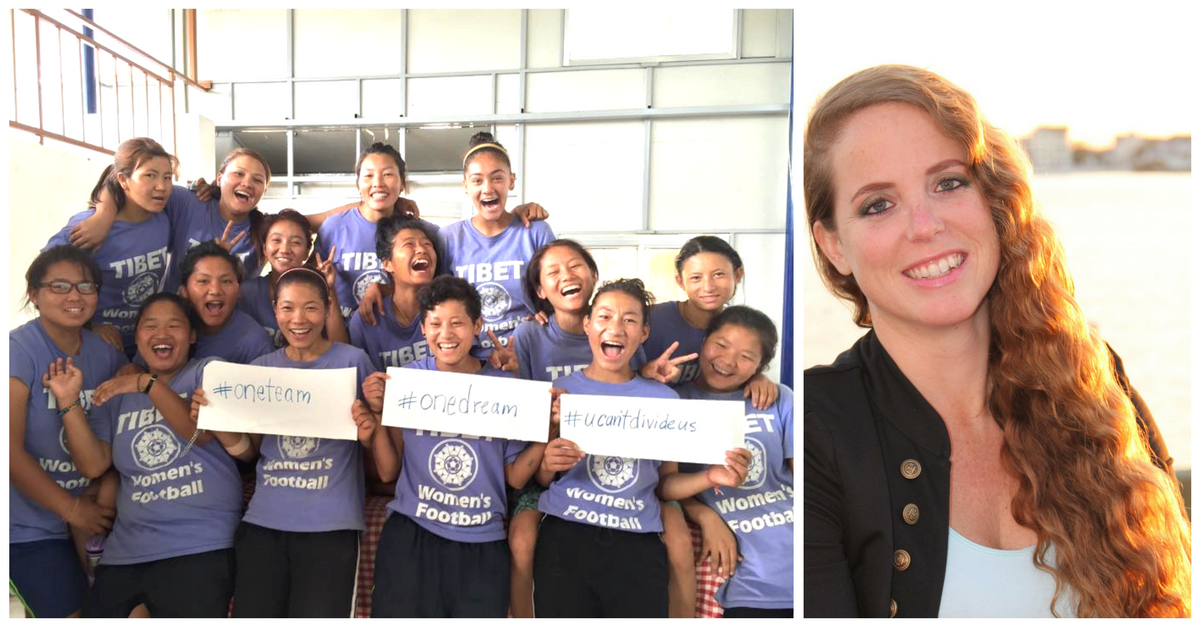 For the young refugee women of the Tibetan Women's Soccer team (soccer is another name for football), also known as the Snow Lionesses, the sport is more than just a recreational activity. It is a way for them to fight for gender equality, and use the sport as a tool to represent their homeland.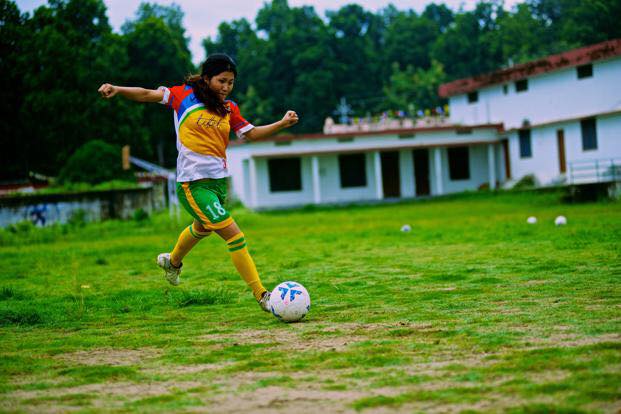 A high school teacher from New Jersey and a lifelong soccer fan, Cassie first visited Dharamsala— a place where much of the Tibet's exiled refugee diaspora lives — as a tourist. Moved by their struggles, Cassie continued to visit the Tibetan community in India whenever she had time for a holiday. It was during one of those holidays, in 2010, that the idea of Tibet Women's Football was born.
Upon noticing that there were no female football teams in the exiled Tibetan community, Cassie decided to work full time to create a football program for Tibetan girls. Speaking to The Better India, Cassie says,
"During my many stays in Dharamshala, I became aware of some of the gender issues in Tibetan society, including the existence of a men's football program while there was no program for women. I decided to start a women's team that could address gender disparities and create opportunities for Tibetan women to engage in sports diplomacy at the same time. Exactly one year later I had resigned from my teaching position and moved to India to start the program."
---
You May Like: Want to Volunteer With an NGO in the Cool Climes of the Himalayas? Check Out These Opportunities
---
In the summer of 2012, the team of young Tibetan girls walked onto the football pitch for the first time to play a match in the Gyalyum Chemo Memorial Gold Cup. Many of them were born inside Tibet and had walked with their parents across the Himalayas to escape Chinese rule.
Most of the team members had never kicked a football before their one-month training for this tournament, and no one among the 5000-odd Tibetan spectators expected them to do anything memorable. Most people in the stadium were laughing at the thought of girls playing football. However, this was soon to change.
A few minutes into the second half, the questions about the team's credibility seemed to fade –  Lhamo Kyi had scored the first goal in the history of Tibetan women's soccer.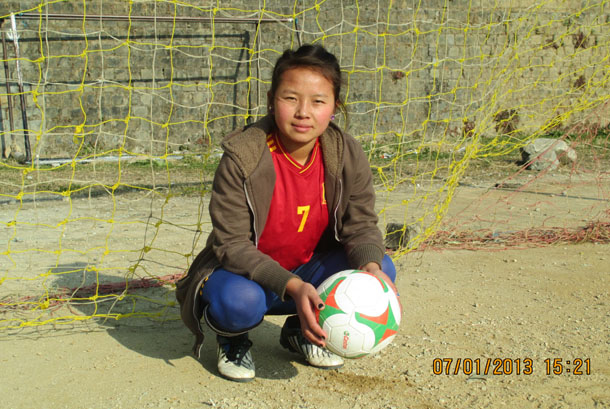 Describing the historic moment, Cassie says,
"This girl kicked the ball in the net and then ran into the middle of the ground and did a flip in celebration. And, at that very moment, you could feel the gender paradigm of the entire nation begin to shift, and from that moment forward, I knew we could become a force to be reckoned with."
The Tibet Women's Soccer programme started receiving support from both within and outside the community, and was soon experiencing commendable results on and off the field. For the young women of the team, the initiative proved to be a game-changer. Each one of them has an amazing story, but perhaps the most dramatic one is that of Lhamo Kyi.
Lhamo Kyi first came to the program in 2011, a shy and awkward school girl who would scarcely speak. A month later, she had emerged as a natural leader and was elected the team captain by her peers. Just a week after the camp ended, the 15-year-old made the brave decision to leave school and embark on a peace march from Dharamsala back to her home in Tibet.
After a long, exhausting journey, Lhamo (along with her mother and brother) made it all the way to the Nepal border, where they were treated badly and thrown back into India by border guards. Her brother, Tsetan Dorjee, was detained by the Nepali authorities and has not been heard from since.
A heartbroken Lhamo Kyi returned to Dharamsala with her mother, determined to find a way to help her country. One week later, she led the Tibetan Women's Soccer (TWS) team into the stadium for their first match, wearing her nation's flag proudly on her sleeve. Playing as the captain of the team, Lhamo scored the first goal in the history of Tibet women's football in this match.
Now, almost five years later, Lhamo Kyi has enrolled in India's top physical education university, and is slated to become Tibet's first female sports coach. The young girl has emerged as a role model in her society, and is leading by example.
Lhamo and her fellow team members know how important this platform is for both, their fellow Tibetan women as well as their nation. A sense of responsibility and commitment, removed from the hype of professional football, infuses the discussions of these girls. As Cassie says,
"For them, TWS is more than a football team — it's about unity, it's about politics, and it is also about raising your own voice."
When it comes to performance on the field, the Snow Lionesses have managed to hold their ground against various district and state outfits in India over the years.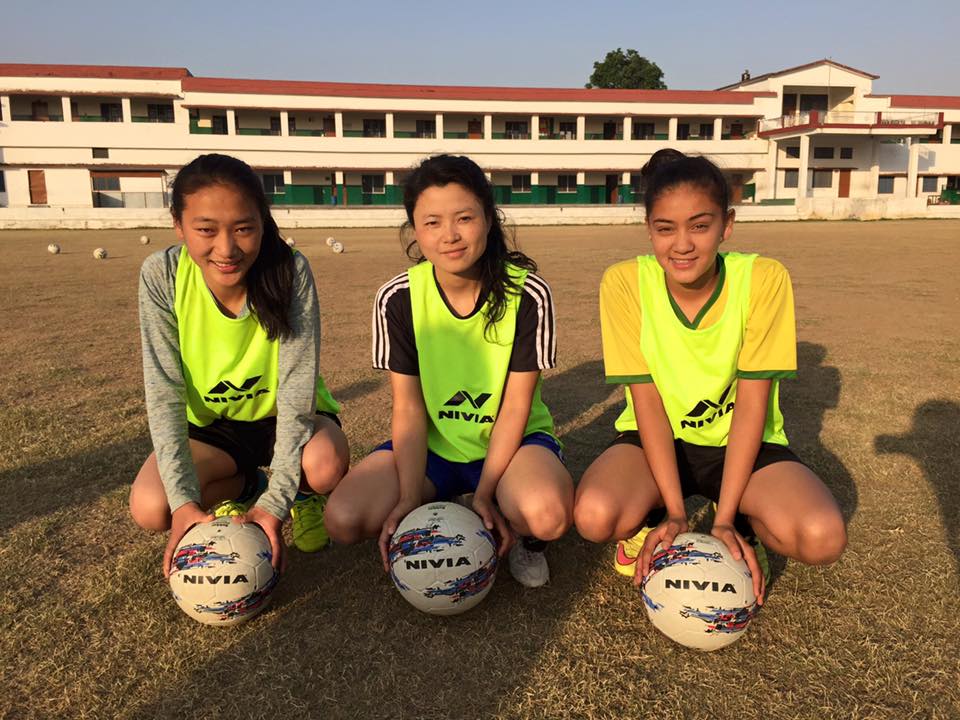 In 2014, the team lifted the title at the Imphal Ladies' Spring Football festival in Manipur. More recently, in 2015, a seven-member delegation visited Berlin in Germany to take part in the Discover Football International Football Festival, its first ever international tour.
Describing it as a memorable milestone in Tibetan Women Soccer's journey, Cassie says,
"Understanding the implications of this politically, we kept the trip secret until we arrived there in Berlin, which was why the Chinese team had no idea that we would be there.

As Tibetans, the girls had a natural disdain for China, who invaded their country in the 1950s and who has caused so much pain and suffering for them and their families. However, they also realized the power that was contained in this opportunity  – the power to bridge divides and make a headway in the Tibetan cause – at a human level.

The team was waiting when the bus carrying the Chinese team pulled up at the stadium, and our brave young players ran over to greet them, embracing them and speaking to them in Chinese so that they would understand. During the course of the week, the Chinese and Tibetan teams interacted and played football together, forming friendships and sharing their stories. These players became the first Tibetan women to represent their country abroad in a sporting match, and the first Tibetan athletes of any sex to meet Chinese athletes in a competition post invasion."
The Tibetan women players' participation in the Berlin event brought the world's attention to the Tibet Women's Soccer initiative and the work it was doing.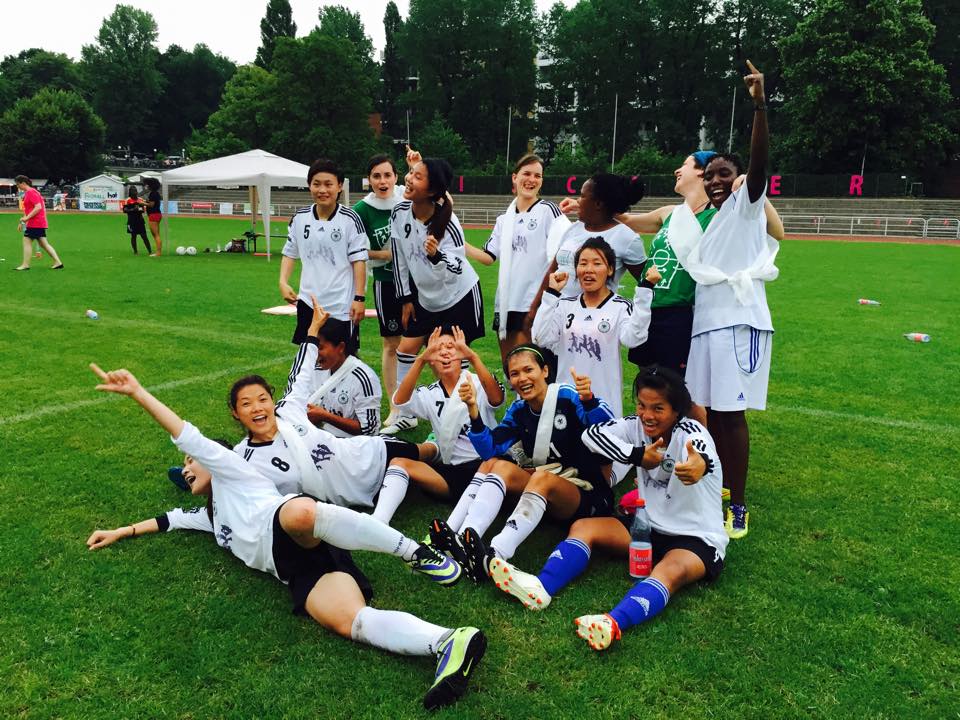 However, it hasn't been an easy journey. After all, change is never easily won in society. The main challenge the team faced came from within the Tibetan community itself – many individuals denounced and tried to shut down the initiative, outrightly saying that football was not important for girls.
However, the players didn't give up and struggled to prove themselves. They knew that every time one of them went onto the pitch to play, it was reinforcing the idea that women are capable of doing anything a man can do, something that was not necessarily accepted in their society. Each time they succeeded, it brought the next generation one step closer to gender equality.
"Football empowers Tibetan women on many different levels. Most of our players are semi-orphans in exile, with very little support from their families back in Tibet. The team has become a family to them – a place where they feel safe, accepted, and loved. TWS doesn't just provide training in football – we also conduct workshops in leadership, communication, gender study, and confidence building at all of our camps – and this has paid off big time in just a few years," Cassie told TBI.

"Today, the girls love playing football. They are braver, more confident, and hold themselves with more self-respect."
Cassie's next aim is to make the sport accessible to every Tibetan girl living in exile in India through TWS's grassroots development initiatives.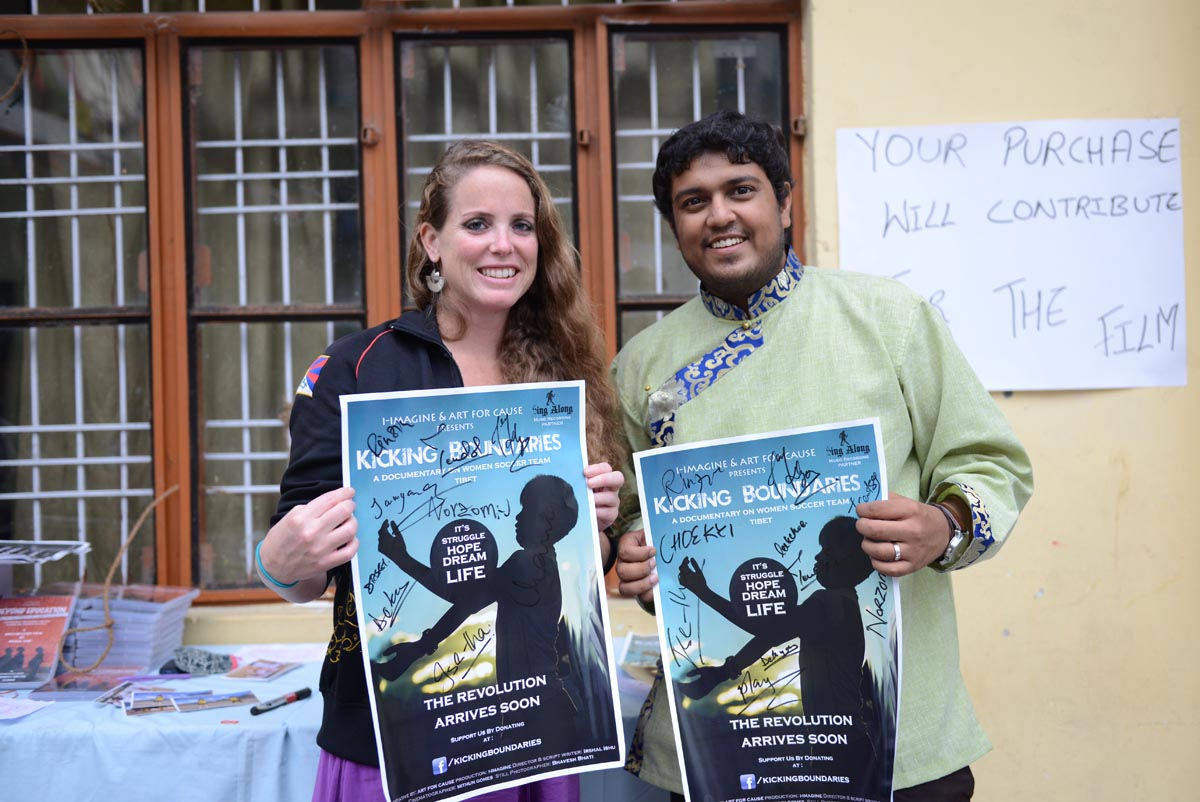 At the same time, the senior team will engage in a more competitive football environment, hoping to achieve full recognition by FIFA (the international governing body of football) and to eventually reach the very highest level of the game, the World Cup and the Olympics.
FIFA currently recognizes 23 non-sovereign entities (including Palestine and Hong Kong) as football teams but refuses to recognize Tibet. Pressure from the Chinese government has influenced their recent decisions in the past few years. Cassie feels that as the political situation with China remains at a stalemate, sport has the potential to inspire awareness and dialogue for the Tibetan cause in ways that politics can't.
---
You May Like: This 74-Year-Old Former Civil Servant Has Been Providing a Home to Sikkim's Orphans for Decades
---
Tibet Women's Soccer's growth has so far been quite commendable, and as it aims to go international (under FIFA) in the future, it could play an important role in drawing the world's attention to the Tibetan cause. On a brighter note, times are changing and team members have started training other exiled refugee girls in distant villages. All these young women dream about playing for their beloved homeland that lies across the mountains that they see everyday. And thanks to Cassie Childers, they can one day fulfill these dreams.
Here's how you can support and help the Tibet Women's Soccer initiative.
We bring stories straight from the heart of India, to inspire millions and create a wave of impact. Our positive movement is growing bigger everyday, and we would love for you to join it.
Please contribute whatever you can, every little penny helps our team in bringing you more stories that support dreams and spread hope.