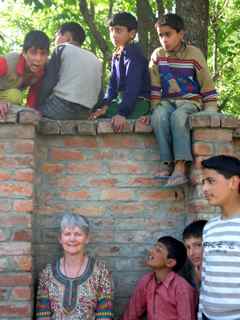 In a previous post Meeting the World Challenge, we had mentioned about She Hope Society and the remarkable work they were doing in rehabilitating the disabled in the Kashmir Valley.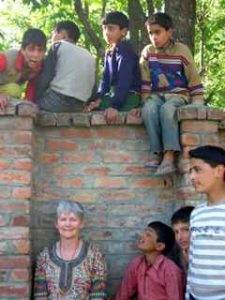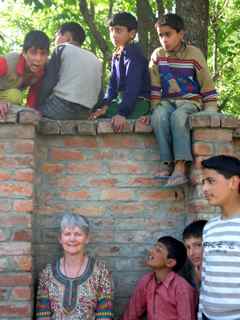 In a previous post Meeting the World Challenge, we had mentioned about She Hope Society and the remarkable work they were doing in rehabilitating the disabled in the Kashmir Valley. In response to that article, we received a note from Diane Emerson who was headed to the Centre to volunteer for a period of 3 months starting in April. Hailing from New Zealand and having traveled all over the world volunteering with various charities and NGOs, Diane expressed a strong interest in sharing her experience with The Better India, so that our readers could get a glimpse of working in an NGO, the ground realities in Kashmir as seen from the eyes of an impartial observer, and life as a traveling volunteer. Here are some of her observations.
About life in Kashmir Valley:
The food is healthy and locally grown and organic. And vegetarianism is common. Even people who do eat meat eat it sparingly.

Children are loved by both parents, and get lots of attention since everyone eats on the floor. I often see fathers walking with their little boys, and their girls. And feeding their children. Caring for children is clearly shared, because they are loved. And there is time for them.

Drunk drivers do not exist here. Alcohol is not sold anywhere. So there is no alcohol-related violence, no party culture. No drunken hooning on the roads at night, no drunks stumbling along the streets, or passed out in the gutter, or making lewd comments to the girls. No bars to go to. No alcoholic fathers making life miserable for their families. No hidden alcoholic mothers. None. So what do people do without alcohol?

People talk to each other. They hang out together, and just spend time together, rather than sit at home and watch TV, or go out to the bars. In the evenings, when so many New Zealanders and Americans are in front of their TV watching the news and getting a big dose of negativity and violence, here they talk to their neighbours and watch the light fade.
About working at the Hope Disability Centre:
Today is a CBR: Community Based Rehabilitation visit. Sami brings hearing testing equipment and we go to a village to find disabled people who need help. The village was Kulharna, and it had been arranged by the newspaper reporter who had stopped by a week before. Our first stop was at a school where there were two disabled teenage boys. The school superintendent asked me my opinion of Kashmir, and was pleased with my answers. Yes. I like it here. For many reasons. And I am finding more all the time. When funds become available, these boys will have surgery. In the meantime, exercises can be done to help.
About the work of the military in the region, and of one commendable army man:
Even though in most of Kashmir the actual voting turnout is only 3 or 4%, here in our Ganderbal district the voting turnout is closer to 60%. I found out one of the reasons why on Friday, when Sami and I visited the top military commander in Ganderbal. Commandant Vivik Sharma believes strongly in eliminating militancy, not just militants. I have learned that in Kashmir the independence fighters are called militants by some; terrorists by others. Commandant Sharma's job is only to find and stop the militants. But he does more. Much more. He organizes free cataract surgeries, field trips to Delhi for school children, free veterinary training for the small farmers, and locates funds to support efforts like the Hope Disability Centre. He will be reassigned soon. And I think he has chosen to build a cricket stadium in Ganderbal as his lasting contribution to the community. It will be finished next month. But he is most proud of the fact that not one of his soldiers has troubled any of the students at the all girls school right next door. Not once in 3 years.

The Commandant General even requires his men to treat suspected militants with respect and consideration. There was a photo of a militant giving himself up in the room we were sitting in. The military found and took in this Pakistani militant who had come to Kashmir to help liberate the country, and asked him why he had chosen the militant path. The Pakistani said he had heard that Muslims were not allowed to worship at the mosques, and other offenses. So the commandant took him around Ganderbal and showed him the open mosques, and allowed him to talk to the local people about life in Ganderbal District. And the man, who had not killed anyone, ended up joining the army. If all the miliary commanders around the world were like this man, there would be no need for militaries at all.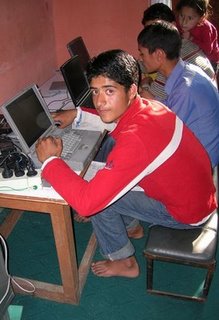 Diane also brought with her a couple of laptops from New Zealand to train the disabled youth and help them attain life skills to be able to support themselves. The program has met with tremendous popularity and Diane is flooded with more students than she can handle, so that some of the older students also take up the responsibility of teaching the newer entrants.
Follow Diane's intriguing journey with Hope Disability Centre and her experiences in India at her blog.
We bring stories straight from the heart of India, to inspire millions and create a wave of impact. Our positive movement is growing bigger everyday, and we would love for you to join it.
Please contribute whatever you can, every little penny helps our team in bringing you more stories that support dreams and spread hope.
Tell Us More