It has been a long time since the popular 1980s soap, 'Sanjha Chulha', set in rural Punjab and best known for its moving title track sung by renowned Pakistani folk singer Reshma, went off air on Doordarshan. Even the wonderful tradition of village women gathering around a common oven to make rotis may have become a thing of the past in that state. But the 'sanjha chulha' (community kitchen) has been rekindled in the villages of the Shekhawati region of Rajasthan, albeit with a small modification. Keeping up with the changing times, instead of the earthen oven, it is the sanjha gas that the Shekhawati women are sharing today.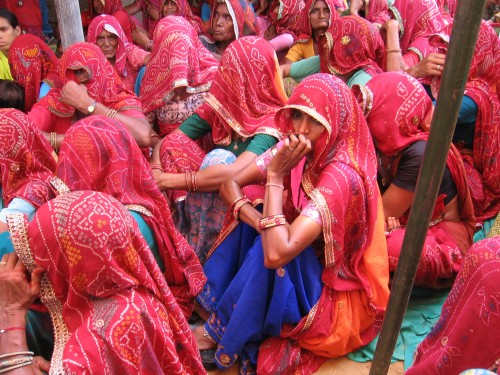 There are many advantages of a sanjha gas facility. It saves women the toil of lighting a wood fire several times a day; the consumption of fuel is less as is the environmental pollution. But what has made the return of community kitchen model really special is the fact that it is also providing a means of livelihood to the poor women of the community.
Sushila, a resident of Sangasi village in Jhunjhunu district, was living in abject poverty, barely managing to keep her household running. She couldn't depend on her alcoholic husband for anything; he would even snatch away the meagre earnings she put together by doing menial jobs around the village. With no sustainable source of income and the responsibility of raising three children squarely on her shoulders, Sushila was always under great stress. Seeing no way out of her sufferings she had even contemplated suicide many times but continued struggling for the sake of her children. The end of her woes came with Sanjha Gas Scheme launched in 2007 by the M.R. Morarka-GDC Rural Research Foundation, a non-governmental organisation known for its pioneering work in the field of organic farming.
Under the Sanjha Gas Scheme, a group of four-five families comprising mostly Below Poverty Line (BPL) or landless labourers is given a gas connection and its accompanying accessories free of cost. The poorest woman from among them is made the group leader. The connection is given in the name of this leader, who not only has to pick up the cylinder from the city, but is also responsible for the maintenance and cleanliness of the facility. Each group member who uses it pays a small daily fee – cooking for four persons is priced at Rs 7, while it is Rs 10 for six members.
Sushila is the group leader of the Sanjha Gas Kitchen in her village. In addition to the income she gets from the sanjha kitchen, she now earns nearly Rs 2,500 per month (US$1=Rs 53) by supplying meals to students of a veterinary college in Jhunjhunu. She has regained her confidence, overcome her depression and is even managing to make a saving of Rs 100 per month as the member of a local Self Help Group (SHG).
When Savitri Devi of Jantawali village was widowed at the age of 25 she had nothing. Coming from a very poor and conservative family, she was living a secluded life after her husband's death. Things, however, changed for the better ever since she got associated with the Sanjha Gas Scheme. At the initiative of Morarka Foundation, she even did a survey in her village on the relevance of such a scheme. It revealed that most women, especially those from poorer sections, were not even able to buy their monthly stock of wood at one go, let alone thinking of having a gas connection in their name.
The community kitchen has indeed been a boon. It has given local women relief from their tiny, smoky kitchens and saved them the monthly expenditure on fuel. Cooking is now an enjoyable activity even after a hard day's work.
Mukesh Gupta, Executive Director of the Foundation, expands on the idea behind the project, "It is simply meant to bridge the gap between rural and urban households. Moreover, the fuel used in rural areas – whether it's wood, cow dung cakes or coke in rare cases – is five times more expensive than LPG. This way, household money is saved along with the environment!" In fact, the Foundation has suggested to the state energy ministry to expedite the provision of an LPG pipeline supply to major cities across Rajasthan. Gupta believes pipeline service in the state capital of Jaipur alone can make available one lakh gas cylinders for the rural areas.
So far, there are 44 sanjha gas kitchen groups functional in the villages of Sikar and Jhunjhunu. "We want to add more groups but don't get the gas connections so easily," explains Vinod, the project officer, who routinely does surveys for the scheme and submits report for clearance. According to her, things could be much smoother if gas agencies were more cooperative. She adds that the agencies reportedly get a small two per cent subsidy on community kitchen gas subscriptions.
For Santara Devi of Jogia ka Bas village getting a gas connection was a luxury she could not afford. Thanks to this scheme, she too can avail of the facility. Says she, "Pehle barsaat ke mausam me gili lakdi ke mare phoonk marte-marte dam nikal jata tha. Aankh me pani aata so alag (Earlier, I used to have a tough timing cooking, especially during the monsoons when the fuelwood used to become damp)." Nowadays, making rotis has become so much faster and easier. In addition, Santara gets a monthly income too from the community kitchen as the other women in her group pay her a fixed amount for using the gas connection.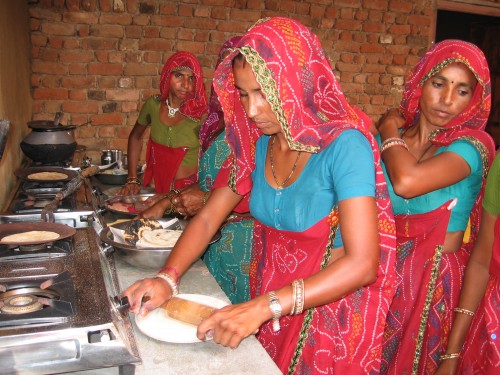 Kamlesh from Nirwana ki dhani, who comes to make rotis in Santara's kitchen, reveals that one cylinder lasts for a month, and this makes it affordable. "It saves money, time, energy and, most importantly, the community gas kitchen has given us relief from our suffocating kitchens," she says.
The sanjha gas kitchen is ideal for village women, who don't have to make elaborate meals like their urban counterparts. Their fare is very simple – most group members make dal, kadhi or sabzi in their homes and use the community kitchen to make rotis. They bring the atta (wheat flour) dough from their home and make the rotis together. It also gives them an opportunity to meet and chat with each other. In fact, Vinod sees the sanjha gas system as an ideal community space.
More and more women are now showing an interest in getting a sanjha gas connection. Gupta believes that if the state government comes forward to promote these economically viable and eco-friendly community kitchens in rural areas, they would bring about a significant transformation in the lives of village women.