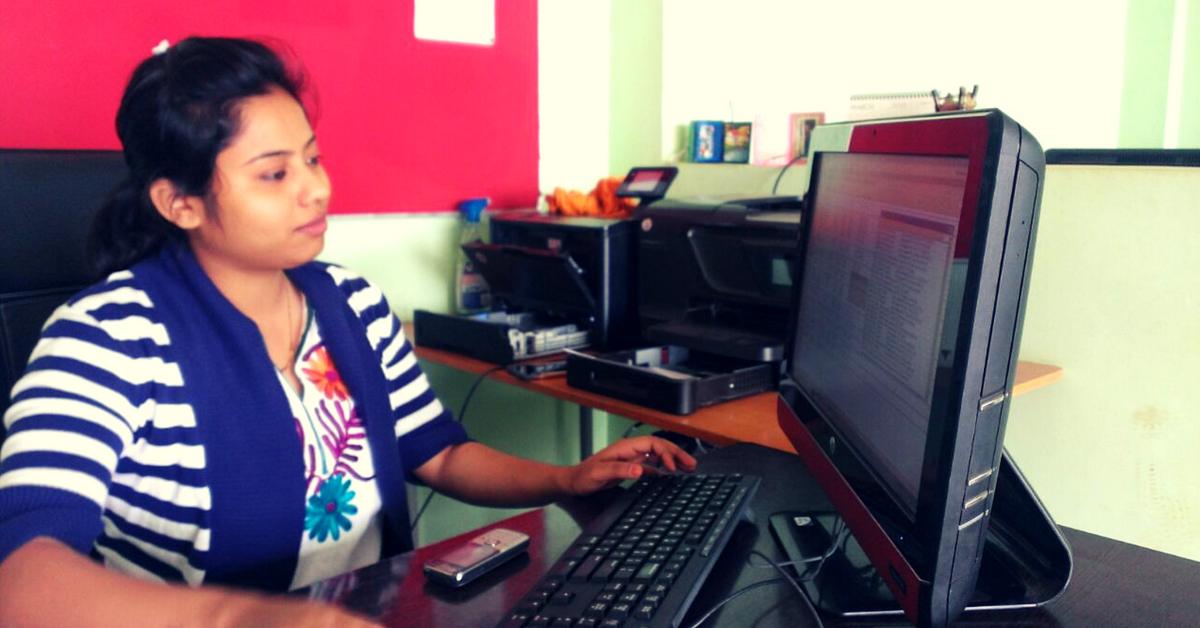 Kainat Ansari first learnt to operate a PC when she was in Class 6. Now, in less than two years, she has introduced the PC to more than 300 children in rural India, enabling them to aspire for a better life.
---
This article on using computers for change is a part of the 
India Digital
 series powered by Intel India.
---
Kainat Ansari first learnt to operate a PC when she was in Class 6. Now, in less than two years, she has introduced the PC to more than 300 children in rural India, enabling them to aspire for a better life.
By the early 2000s, the PC revolution that had taken Indian cities by storm began to trickle down to the bustling bylanes of small towns and villages. For people in rural India, the new technology brought with it a new hope, one that spoke of progress and development. PCs spelt, for many, the opportunity to write their own destiny. One person who made the most of this hope, was Kainat Ansari.
A SUBJECT OF INTEREST THAT TURNED INTO AN ABIDING PASSION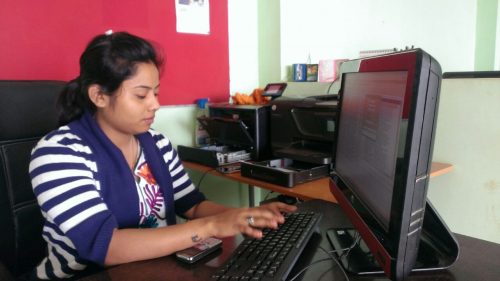 "The first time I operated a PC was during my computer class in Class 6," remembered 23-year-old Kainat Ansari. "Back then, it was just another subject for us, although a fun one!"
"We were taught about the different components of a PC, how to switch it on, how to use Paint, and the basics of MS Word," said Ansari. "But teachers rarely ventured beyond the prescribed syllabus, so we had no idea about the potential for change that PCs could bring."
It was a project in Class 9 that turned Ansari's wavering interest into a lifelong passion. Asked to research a topic on the internet, Ansari made her way to one of the two computer centres in her hometown of Chanderi in Madhya Pradesh. The novelty of PCs drew crowds in large numbers to these centres.
"There were only a handful of PCs in each centre and one had to jostle long queues to get to them. Given my growing interest in PCs, I would sometimes go to the centre after school and during the holidays. But the crowds made it impossible to learn anything," said Ansari.
Since Ansari knew little about using the internet, the owner of the centre helped her with her project. She sat in rapt attention, watching as he opened pages and pages of information, some in the form of articles, others full of colourful pictures, and yet others in the form of engaging videos.
"Back then, books were our only source of information. We didn't have any inkling about the vast amount of information the internet housed. The project turned out to be an eye-opener for me," said Ansari. "That was when I realised the true potential of a PC and its whole world of possibilities for me."
Ansari's interest in PCs did not go unnoticed by her parents, who bought her one that same year. "PCs then became an integral part of my life. Today, whether it is reading about something new, or looking for more information on new software, or even just studying, I still spend a couple of hours on my PC every day," said Ansari.
---
You may also like: How Children from India's Largest Slum Are Turning App Developers to Solve Community Problems
---
This love for technology dictated her choice of subject when doing her under-graduation, and even went on to play a deciding role in Ansari choosing her very first job as a network engineer.
FROM STUDENT TO TEACHER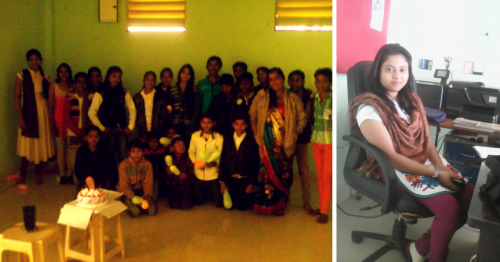 "My uncle was the one who first told me about the Digital Empowerment Foundation (DEF) when I was looking for a job after completing my engineering degree. Given my interest in technology, I was very clear that I wanted to work in this field and learn more. So my interest piqued when I heard of DEF," remembered Ansari.
DEF is an organisation that is working to ensure last mile connectivity in some of the most remote and underserved areas in India, by setting up computer centres to ensure digital literacy of the masses. The organisation also advocates the adoption of community-led digital interventions in tackling issues such as e-governance, livelihood and employment opportunities, advocacy, etc.
Ansari used her PC to research the work DEF was involved in: "I realised immediately that this was exactly what I wanted to do and I was confident that I could do it – do it well at that!"
In May 2014, Ansari joined DEF as a network engineer at the organisation's Guna Centre.
"It was during the on-the-job training that I realised I had a lot more to learn about PCs," said Ansari. While she already had a rudimentary understanding of PCs, her training helped her gain a thorough understanding of different kinds of software, as well as the different aspects of networking.
Her ability to grasp concepts quickly and her professionalism meant that Ansari was soon working her way up in the organisation. "Within a few months of joining, I was made the Customer Relationship Manager. When I started excelling at that, I was groomed to become an Assistant Centre Manager."
---
You may also like: From Digitally Illiterate to Networking Guru
---
It was around this time that Ansari began teaching children in Guna:
"We held regular computer classes at the centre, and had about six batches in a day, with 10 children in each batch. The basic course was for 3-4 months, depending on how quickly the students picked up the subject."
The course gave the students a strong theoretical base. Enough hours were also allotted for practical sessions to ensure that the children mastered the concepts they were taught.
Ansari taught the children the basics of how to operate a PC.
"I also taught them MS Word, MS Excel and how to use Google to search for information on the internet," she said. "I even taught them how to use the 'voice search' option to search for words they could pronounce, but not spell, in English."
In addition to the classes at the centre, Ansari also took regular classes for children at the 'DEF Access Points' on the outskirts of Guna.
"It was exhilarating to introduce children to technology that had so profoundly changed my life, and to know that it would do the same for them too," Ansari said.
Over the course of her 20-month stint at DEF, Ansari trained approximately 300 children.
TOWARDS A FUTURE, FUELLED BY TECHNOLOGY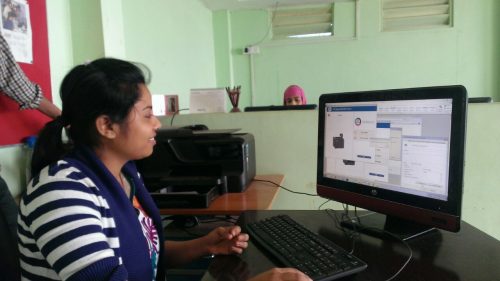 In January 2016, Ansari quit her job to pursue her Masters in Technology in the field of digital communication.
"PCs, of course, continue to play a big role in my education," said Ansari. "Although attending coaching classes while doing engineering is a fairly common practice here, I hardly ever attend such classes. My PC is my teacher. I use it to read research papers and essays on the topic I am studying, and to watch videos that help clarify complex concepts."
---
You may also like: This Indore-Based Startup Is Introducing India to the Internet
---
"You could say that we are nothing without PCs. We use them for every little thing these days – from booking tickets to finding study material for our projects, from creating our resumes to creating academic presentations. Surviving in this day and age without PCs is unthinkable," she explained.
Ansari's time with DEF has also led to another eye-opening realisation for her – the role of PCs in women's empowerment.
"Women and children in India are often handed a raw deal, purely because of a lack of education. But walk into any village these days and you will find women who were previously restricted to the four walls of their homes stepping out. They are learning how to operate PCs and navigate the internet, all in a bid to keep up with the times. They use the PCs for their own needs and are slowly educating themselves about the world around them too," said Ansari.
Today, Ansari continues to occasionally teach others how to operate PCs. She has even taught her own mother, who is now using her knowledge of PCs to improve the efficiency of her NGO, and her nieces and nephews who live in a remote area where no formal training is available.
"I believe PCs have immeasurable potential if we know how to use them positively. I know I have," smiled Ansari.
---
This story is part of our series with Intel India's initiative Ek Kadam Unnati Ki Aur, in collaboration with national and regional governments to empower non-urban citizens through technology, in 10 states of India.
---
Like this story? Or have something to share? Write to us: contact@thebetterindia.com, or connect with us on Facebook and Twitter.
NEW: Click here to get positive news on Whatsapp!
Tell Us More
We bring stories straight from the heart of India, to inspire millions and create a wave of impact. Our positive movement is growing bigger everyday, and we would love for you to join it.
Please contribute whatever you can, every little penny helps our team in bringing you more stories that support dreams and spread hope.