He has the courage to raise voice against the social evil of bride trafficking, enslaving and exploitation of women. He has the passion to inspire and lead a 300-kilometer 'March Against Female Foeticide and Gender Inequality'. He has the perseverance to fight all odds because he wants to build an India where women will live with respect and equality. Meet Shafiq ur Rahman Khan, the founder of 'Empower People'.
Even as a teenager, Shafiq Ur Rehman Khan was furiously active and stood upright for the education rights of Dalit children and other excluded communities in Gaya (Bihar). He always wanted to work for those people who were dying of hunger and starvation and for those who were forced to sell their children to traffickers to earn some food.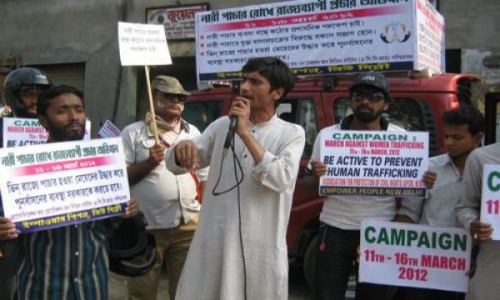 He was recently honoured with the 'Amazing Indian Award' by Times Now because he rose above the norms and worked single-mindedly for the cause of rescuing girls who fall victim to "bride trafficking." He is still as humble and one can see the passion for social welfare in his eyes. We caught up with Shafiq to know more about the mission and the man himself.
I, along with my teenage friends, decided to launch an organization to work for the livelihood and education of the Dalits way back in 1999. Within six month, we were able to expand it in 23 blocks of Gaya as well as in Aurangabad, Nawada and Jehanabad of Bihar and Chatra, hazaribagh of Jharkhand. But a group of naxalites was not happy with our social welfare concept and continuous physical attacks made us shift to Delhi. The big city widened my horizons but narrowed down my focus. I realized the menace of human trafficking is one of the worst problems for India. EMPOWER PEOPLE was launched in 2005 in New Delhi as a dedicated participatory campaign against gender inequality. In 2006, our group marched from Jind to Hisar for a social mobilization campaign involving villagers who joined us to fight against female foeticide. Again in 2012, we organized a march against bride trafficking – a typical awareness generation and sensitization programme based on peoples' participation and interface between Government/NGOs/NPOs officials and vulnerable communities.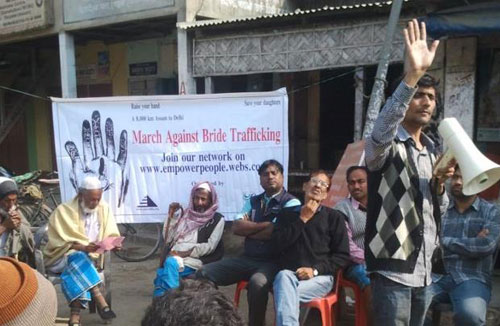 So what made Shafiq so committed to help all those girls who were deceived in the name of marriage and exploited sexually/physically?
Honestly, social welfare has become a style statement these days. People consider it elite to run or be a part of some NGO. I have never believed in any elaborative ideology. Seeing someone suffer in the hands of others, seeing girls getting sold for less than hundred bucks and living the life of slaves, seeing how girl children were killed in womb – all these were good enough a reason for me to focus on the issue of human trafficking and gender inequality.
And how does he do that? The whole world should know how Empower People rescues brides who have been the victim of human trafficking.
Empower People works on the concept of community participation. We have vigilance committees in many parts of North India who keep us updated whenever they see a girl or woman in trouble. After getting any such cue, the first thing we do is to contact and convince local stakeholders and religious or ethnic leaders to rescue that girl. Simply because, the society itself has to empower the women! After garnering support from local people, our group conducts the rescue operation. We also register an FIR with the local police. Police, generally, are not willing to rescue such girls but they come forward once they notice the local support. The problem does not end with just rescuing; there are very few women shelter homes. Even these few ones are not properly maintained and lack basic amenities. So we make sure that the rescued girl is accepted back in her village or society and is able to live a normal life in her own environs. Community level sensitization workshops and other activities are our engagement tool to carry out all these activities.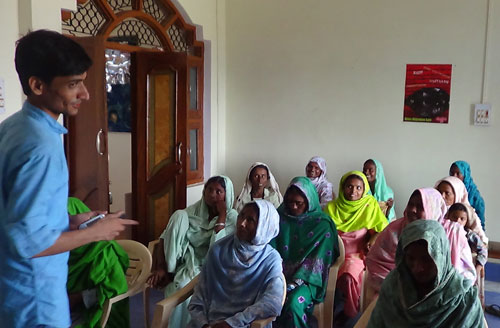 That indeed sounds great! Shafiq also talked in detail how ignorant poor people fall prey to bride traffickers.
Bride traffickers generally target people who can't marry their daughters due to dowry or other social stigmas. Prosperous states like Andhra Pradesh, Punjab and Kerala are the hub for international bride traffickers and poor states like Assam, Bihar and West Bengal are facing the trouble from domestic bride traffickers. We need to make society aware that if someone is offering an unusual help for marrying your daughter, it is better to say No and report such people to Police. Parents, who are marrying their daughters abroad, should inquire in detail about the boy and his family.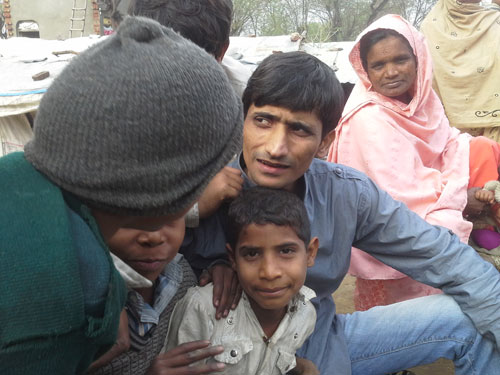 Shafiq also elaborated on how an aware society and active youth can uproot this evil.
Awareness and promotion of equality is necessary to tackle all the problems. Women empowerment is not different from community empowerment; we believe in community empowerment with a fifty percent leadership participation of women. There are many ways we all can contribute to women empowerment. A simple contribution like changing profile picture of your Facebook profile can help us in making this issue popular. Our group needs volunteers who can write or translate on behalf of us. We need financial support also to carry out some operations. The youth can join our group and contribute directly to building a better nation where our women are not forced to live the life of sex-slaves!
The best thing about his group is that it promotes community-based sustainable livelihood once the girls are rescued. Many such survivors have been trained by his group in commercial farming and they are doing very well for themselves now. Shafiq proudly recounted the story of a few brave trafficking survivors who are now a part of his group in combating the problem. Survivors like Ghaushia Khan (rescued by his group); an illiterate woman is now a nominated member of District Legal Aid Authority in her village. Many others like Usha Kumari and Jamiya Mariyam has become the head of village-level units of Empower People.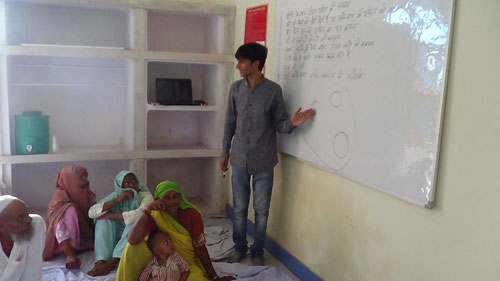 As an inspirational personality, Shafiq stands by his concept of making people the real instrument of change through awareness and participation. He believes in a holistic understanding about the notion of 'Violence Against Women.' Rather than working in project-wise schemes or with limited focus, he wishes to address the problem from the very root and plans to have a mass movement and an ideological campaign within the society against female foeticide and gender-based exploitation.
We salute his cause and support him through our communication network. To build a progressive nation, it's time to take a step towards empowering people. Empowerment comes with awareness; so let us all contribute a little by talking about such people and organizations.
---
As part of our video series #BetterDays, we will be doing a docu-film on Shafiq Khan along with Lara & Patrick from Bem-Te-Vi Producoes. This is our first ever crowd-funded video project and if you wish to make a contribution towards it, click here
Unable to view the above button? Click here
---
You could visit Empower People's website to know more about their work, or like their facebook page!
Written by Anu M for
Halabol Voices
, which is an initiative of Halabol – a platform for initiating change.

We at The Better India want to showcase everything that is working in this country. By using the power of constructive journalism, we want to change India – one story at a time. If you read us, like us and want this positive movement to grow, then do consider supporting us via the following buttons.
Please read these FAQs before contributing.