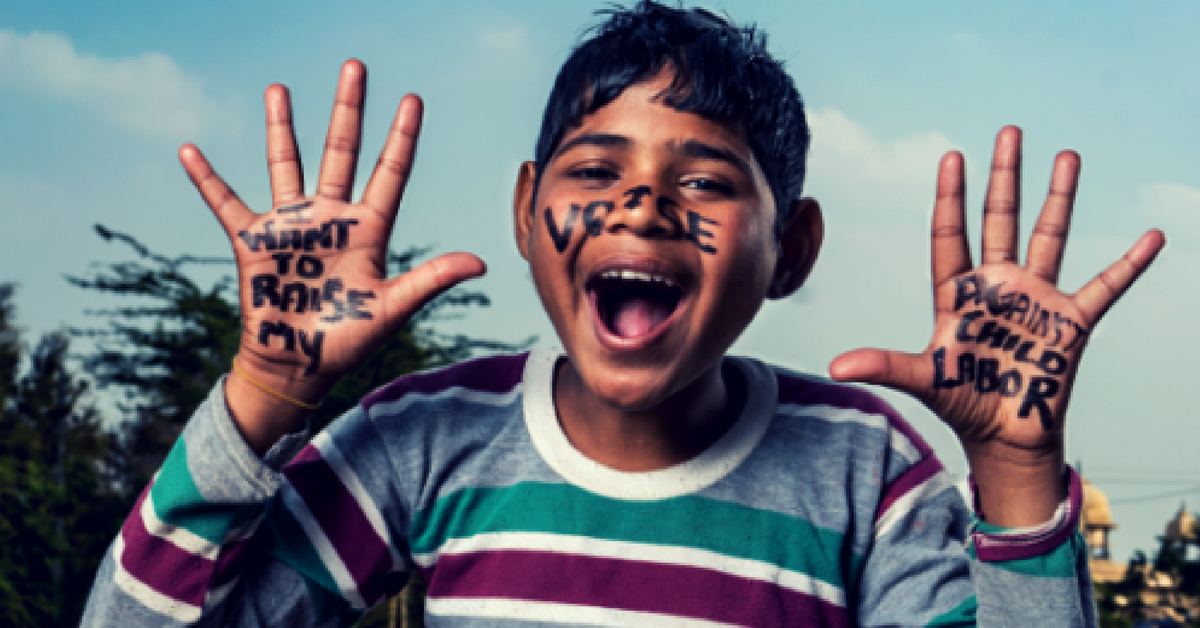 Child labour robs children of their right to an innocent childhood. Do your bit to stop it by making informed decisions and spreading awareness
Child labour robs children of their right to an innocent childhood. Do your bit to stop it by making informed decisions and spreading awareness.
"Anger is within each one of you, and if we are confined in the narrow shells of egos, and the circles of selfishness, then the anger will turn out to be hatred, violence, revenge, destruction. But if we are able to break the circles, then the same anger could turn into a great power. We can break the circles by using our inherent compassion and connect with the world, through compassion, to make this world better." These are the words of Nobel Peace Laureate Kailash Satyarthi, a child rights activist who has been fighting against child labour for over 36 years now. It was the anger of this common man that led to the formation of one of the world's largest people's movement that crossed borders and raised its voice for the children of the world trapped in child slavery.
If you have this anger in you, which makes its way forward every time you see a 'chotu' working at a dhaba or a 'munni' in tattered clothes, taking expensive dogs for a stroll in a plush locality, channelize this anger and do something to stop this.
We have a list of simple things that you can do to ensure that children are free to be childre
Begin with yourself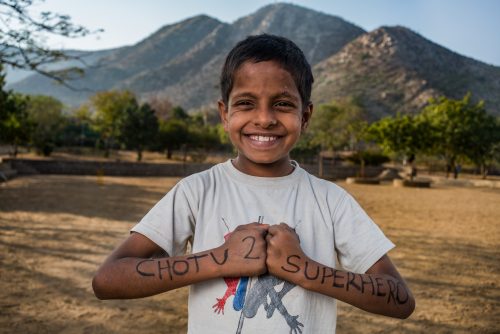 Let's accept that the people who employ children at their homes or places of work in the name of giving them an opportunity to earn a living and sustain themselves instead of starving, are not as charitable as they pretend to be. They benefit greatly from the children they look upon as nothing more than cheap labour; labour that doesn't question them, is always at their service, resides in a corner of their house to answer their every beck and call, and can be molded to the best of the owner's needs. 
But here's what we need to remember: change begins with YOU.
Refrain from keeping 'chotus' to clean your house, take care of your younger ones, do your dishes or wash your car. Instead, employ the poor adults in need of employment to sustain their families. While there are reasons humane enough to encourage you to do so, if that doesn't work, please remind yourself that child labour is illegal!
Be a conscientious consumer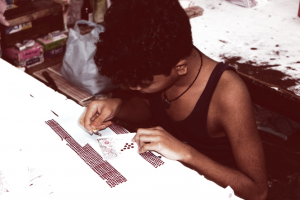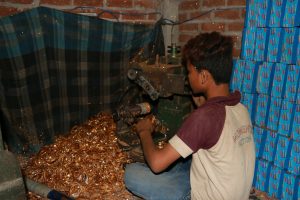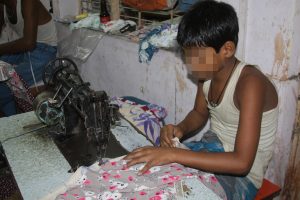 Picture: Children working in Bindi making unit, bangle making and garment industry
Be it garments, confectionery, jewelry or any other consumer product, ask your retailer, manufacturers or shopkeeper if their brand is child-labour free. They might not always have an answer as sometimes, the supply chain has many layers and the end seller might not be aware of the processes followed at other levels. But at least you've asked! This will make them think. Many might even be encouraged to investigate and ensure no child labour is involved in their business.
You can also suggest they put up a proud declaration on their premises stating 'My business is child labour free!'
Another option is to make a conscientious decision to go with organisaions like GoodWeave. Formerly known as Rugmark, this is a global network of organisations, committed to end child labour in carpet and readymade garment industry.
This industry used to be one of the most notorious with incidents of atrocious working conditions and forced child labour. Many organizations including Bachpan Bachao Andolan, have worked through their rescue operations and liberated many bonded child labourers from the carpet industry.
As responsible citizens, you must go for brands promoted by GoodWeave as those have been certified to be child labour free after a rigorous process of investigation.
Educate yourself on the laws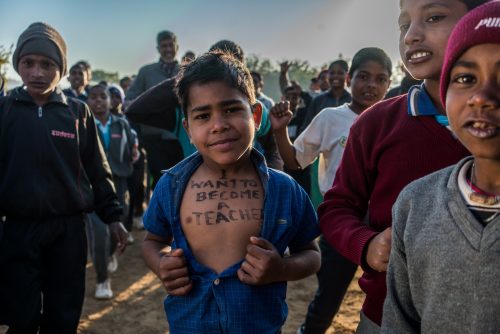 One of the first steps to making the society child labour free is to yourself know about the provisions laid down in our Constitution for the protection of children, as well as the various laws in place to stop their exploitation and ensure prosecution of offenders. A simplified list of such provisions and laws can be accessed here.
Once you are aware of this, you are better equipped to assess the situation at hand and to warn the offenders around you. 
Use the fear of retribution for good!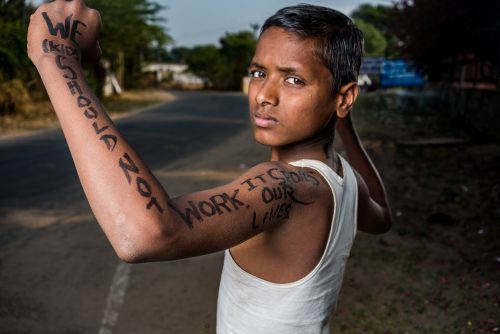 While you try talk to the offenders about the trauma child labour can have on the children's psyche, they might not be as moved. Because, let's accept it, had they considered those children as humans with feelings, they would not have subjected them to slavery, thus snatching away their innocent childhood. In such cases, informing them of the penalty laid down by law, for  the protection of children, has a better chance of keeping them from destroying childhoods.
Be vigilant and report abuse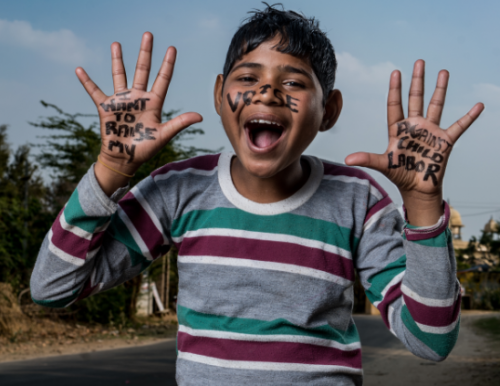 Children forced to work need you to be their voice
Be aware of any form of child abuse or exploitation happening around you. Remember, such children need us to be their voices. Know about the concerned authorities in your locality such as the RWA head, NGOs or CBOs active in your area.
When you come across any case of child labour in your surroundings, immediately inform the police at 100 or call the Child Helpline at 1098 or reach out immediately to the NGOs/CBOs in your locality. You can also inform these concerned authorities either personally or through a phone call or letter. Phone calls or letters can be used to keep your identity anonymous in case the offender is someone influential.
Talk to the parents of child labourers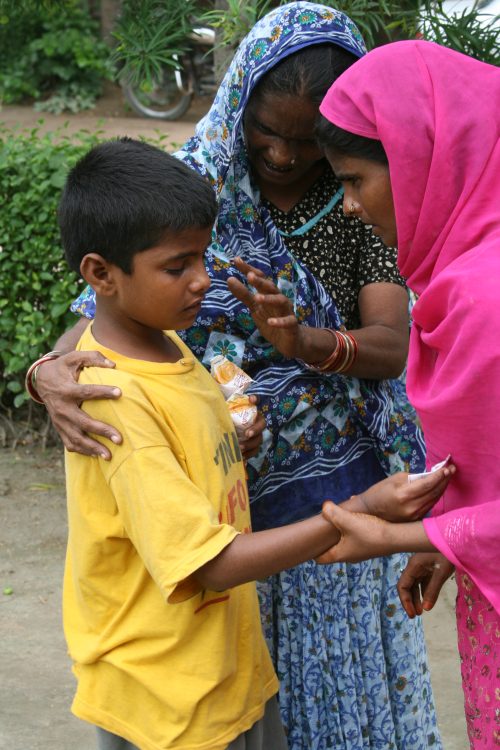 Having the parents understand the ill-effects of child labour also helps in ensuring effective rehabilitation of the child, post rescue
Many times, there are children working around us with their parents also in the vicinity. This gives you a brilliant chance to talk to these parents about the serious implications that child labour has on children, in long run. Try counselling the parents of these children and persuade them to take the children out of work and enroll them in schools instead, thus helping the children move towards a different and better future.
While the parents are likely to cite reasons like poverty and illiteracy, you can counsel them to understand this vicious circle. Poverty leads to child labour and child labour in turn, ensures that poverty remains. If there has to be a economically bright future for these families, their children must be provided with quality education and skill building.
Volunteer with some pioneer movements /organisations working to eradicate child labour
    
Volunteer at the nearest regional office of these organisations to understand this issue in-depth and understand what's being done and what needs to be done, going forward. You will be appalled to know of the atrocities and the inhumane conditions these children are subjected to, in many cases.
And these organisations always need a helping hand in their work. Take some hours out from your weekend and help them in whichever way you can.
Bachpan Bachao Andolan is one of the pioneer grassroots movements, founded by Kailash Satyarthi, Nobel Peace Prize Laureate. In its work of over 35 years, it has rescued and rehabilitated over 85,000 children working as forced labourers in industries as diverse as garment manufacturing, cosmetics, firecrackers, toy making, slaughterhouses, tea plantations, footwear automobile, electronics, etc.
Be a well-informed voter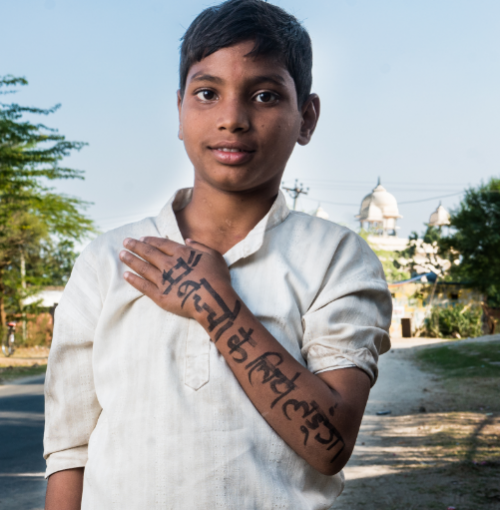 Pay attention to the agenda of the candidates in your constituency. If child labour elimination is not a part of their agenda, bring that up in discussion forums and other interactions you may have with them. If they don't condemn child labour, or show disinterest in working towards its total elimination, don't vote for them. Spread this awareness among other voters around you as well.
Ensure a child labour free community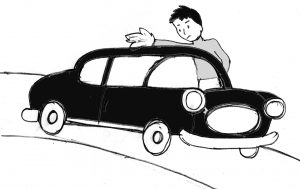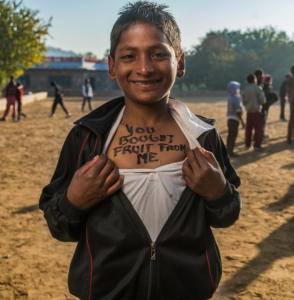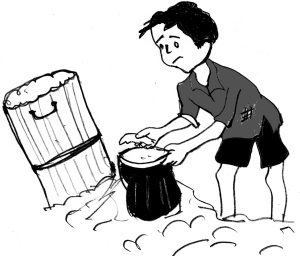 Picture courtesy: Google & BBA
Engage with the RWA in your locality to address the issue of child labour. Persuade them to make it a key priority to ensure that the locality is child labour free. Regular meetings with residents can be organized, where they are encouraged to keep adults as maids and helpers, and are asked to report cases of child labour around them.
You could also engage with RWAs to hold meetings with the children of the families residing in the locality to involve them in the cause. After all, who better than children to speak for their fellow children!
To learn more about child labour in India, click here
Picture credits: Pictures with messages written on children's bodies are clicked by Mr. Robert Fogarty at Bachpan Bachao Andolan's children's home Bal Ashram for rescued child labourers in Jaipur.
Like this story? Or have something to share? Write to us: contact@thebetterindia.com or connect with us on Facebook and Twitter(@thebetterindia).
We bring stories straight from the heart of India, to inspire millions and create a wave of impact. Our positive movement is growing bigger everyday, and we would love for you to join it.
Please contribute whatever you can, every little penny helps our team in bringing you more stories that support dreams and spread hope.