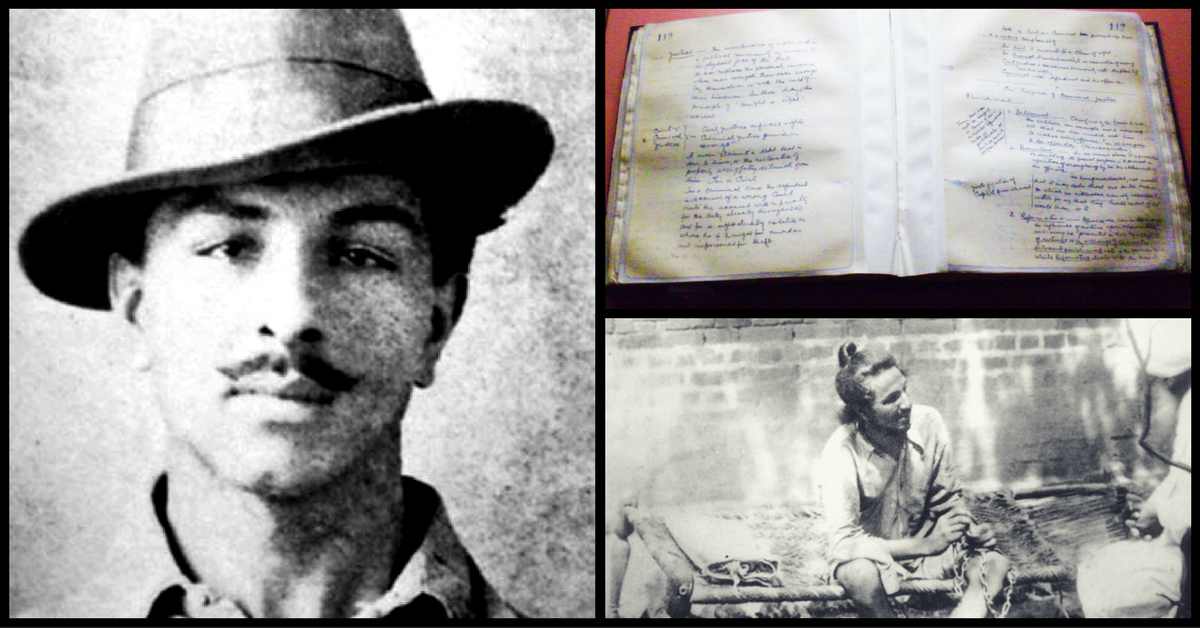 Freedom fighter Bhagat Singh's jail diary reveals him to be an avid reader, thinker, and writer with a passion for poetry. Here are a few excerpts of the original thoughts and poems jotted down by him during his jail days.
Freedom fighter Bhagat Singh's jail diary reveals him to be an avid reader, thinker, and writer with a passion for poetry.
"My life has been dedicated to the noblest cause, that of the freedom of the country. Therefore, there is no rest or worldly desire that can lure me now."
These were the words that a resolute 19-year-old Bhagat Singh, the revolutionary freedom fighter for India's independence from the British, left behind in a letter when he ran away from his home in Lyallpur (now in Pakistan) to avoid getting married.
Born on September 28, 1907, Bhagat Singh was sentenced to death in the Lahore conspiracy case, along with other freedom fighters Rajguru and Sukhdev.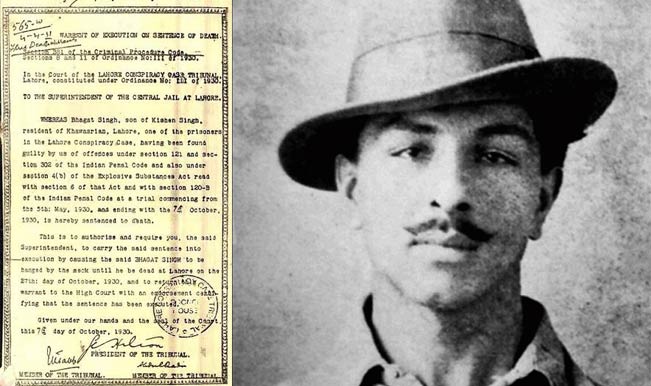 Seeking revenge for the death of Lala Lajpat Rai, Bhagat Singh had assassinated John Saunders, the British police officer responsible for the lathi charge on the senior freedom fighter. Soon after, Singh and fellow revolutionary, Batukeshwar Dutt, threw two bombs and leaflets inside the Central Legislative Assembly before offering themselves up for arrest. These were the two charges that were clubbed together by the British Raj as the Lahore conspiracy case.
In the last two years of his life in jail, Bhagat Singh and his comrades fought one of the most celebrated court battles in the annals of India's national liberation struggle. Other than using the court as a vehicle for the propagation of his revolutionary message, he also put the spotlight on the inhuman conditions political prisoners faced in colonial jails.
And though he died young (he was only 24 when he was executed), his unwavering resolve and heroism made him an icon and figure of inspiration for generations to come.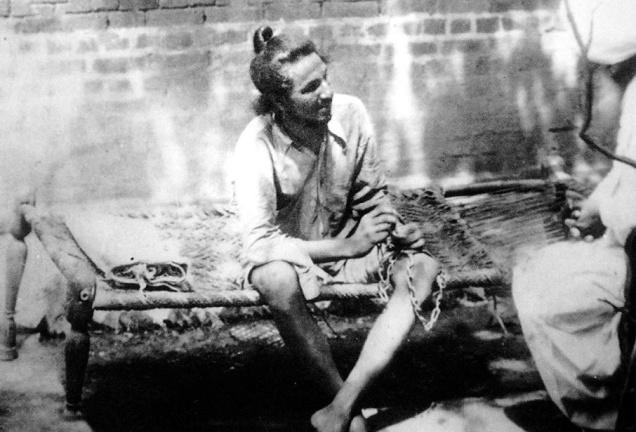 All this is well-known. What is not so well-known is that Bhagat Singh wrote four books in jail. Although they were smuggled out, they were destroyed and are lost forever. What survived was a diary that the young martyr kept in jail, full of notes, poems and jottings from what he was reading. It was written between September 1929 and March 1931, and was passed on to Bhagat Singh's family after his death.
The recently released book, The Jail Notebook And Other Writings, traces the sole surviving scripts written by Bhagat Singh while he was in jail. In sharp contrast to his popular image as a gun-toting revolutionary, the writings reveal the patriot's scholarly leanings and love for poetry.
A voracious reader, Bhagat Singh managed to procure during his imprisonment a large number of selected works of prominent authors of his choice. He spent a lot of his time reading and making copious notes on what he read while he awaited execution in jail. His interests included both political and non-political subjects, and his favourite authors were Bernard Shaw, Bertrand Russell, Charles Dickens, Rousseau, Marx, Rabindranath Tagore, Lala Lajpat Rai, William Wordsworth, Omar Khayyam, Mirza Ghalib, and Ramananda Chatterjee.
Bhagat Singh's 404-page jail diary is filled with excerpts, notes and quotes on a wide variety of subjects that reflect not only his serious study and intellectual insight, but also his social and political concerns.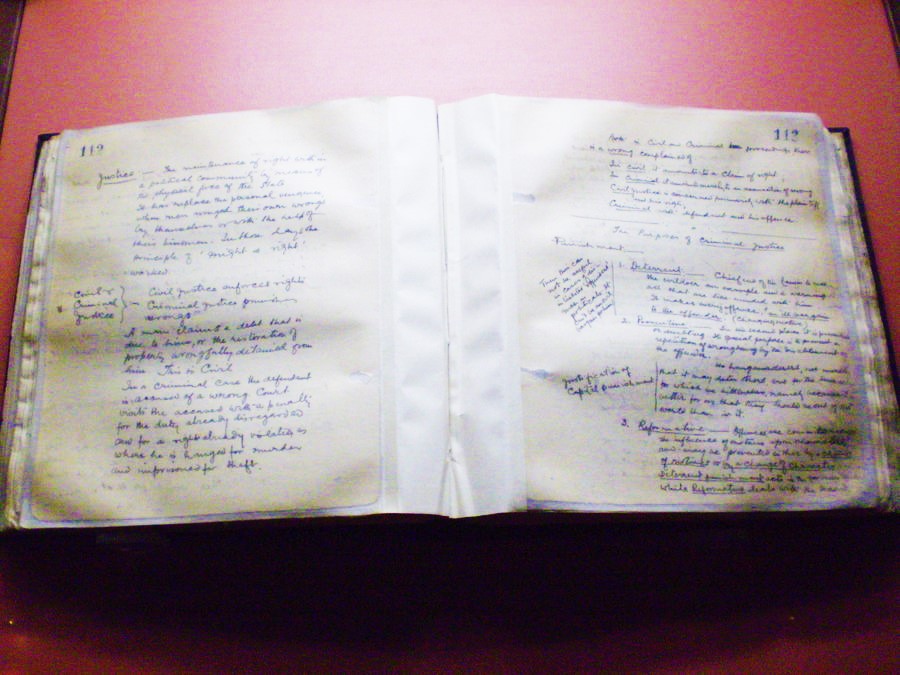 Ranging from topics like capitalism and socialism to criminology and legal jurisprudence, his diary is a clear indication of how well read and well informed the young Bhagat Singh was –  in sharp contrast to the 'trigger happy terrorist' the British Raj portrayed him to be.
Here are a few glimpses of the original thoughts and poems jotted down by him during his jail days.
"I am a man and all that affects mankind concerns me"

"Every tiny molecule of ash is in motion with my heat. I am such a lunatic that I am free even in jail."

"Lovers, lunatics and poets are made of same stuff."

"…by crushing individuals, they cannot kill ideas."

"The sanctity of law can be maintained only so long as it is the expression of the will of the people."

"If the deaf are to hear, the sound has to be very loud. When we dropped the bomb, it was not our intention to kill anybody. We have bombed the British Government. The British must quit India and make her free."

"Social progress depends not upon the ennoblement of the few but on the enrichment of democracy. Universal brotherhood can be achieved only when there is an equality of opportunity – of opportunity in social, political and individual life."

"Give me liberty or death – is life so dear or peace so sweet as to be purchased at the price of chains and slavery?"

"Life is lived on its own…other's shoulders are used only at the time of funeral."
On page 24 of his diary, Bhagat Singh quotes Francisco Ferrer, a Spanish educator who was executed after the Barcelona riots in 1909. The words reflect his repugnance for self-serving politics and personality cults.
"I also wish my friends to speak little or not at all, because idols are created when men are praised and it's not good for the human race. Acts alone, no matter by whom committed, ought to be studied, praised or blamed.

"I desire that on no occasion, whether near or remote, nor for any reason whatsoever so, shall demonstration of a political or religious character be made before my remains, as I consider the time devoted to the dead would be better employed in improving the condition of the living."
In another quote, Bhagat Singh bemoans the menace of child labour by quoting Charlotte Perkins Gilman's poem, Child Labour, on page 33 of his diary.
"No fledgling feeds the father-bird,
No chicken feeds the hen,
No kitten mouses for the cat,
This glory is for men

We are the wisest strongest race,
Long may our praise be sung,
The only animal alive
That feeds upon its young"
A window into the thoughts of the young charismatic revolutionary who was far ahead of his time, the diary also puts forth Bhagat Singh's vision of an inclusive, just and better world.
Get the book here.
---
Also Read: TBI Blogs: Remembering Chunibhai Vaidya, the Hero Freedom Fighter Who Helped 352 Villages Get Water
---
Like this story? Have something to share? Email: contact@thebetterindia.com, or join us on Facebook and Twitter (@thebetterindia). NEW! Click here to get positive news on Whatsapp.
We bring stories straight from the heart of India, to inspire millions and create a wave of impact. Our positive movement is growing bigger everyday, and we would love for you to join it.
Please contribute whatever you can, every little penny helps our team in bringing you more stories that support dreams and spread hope.