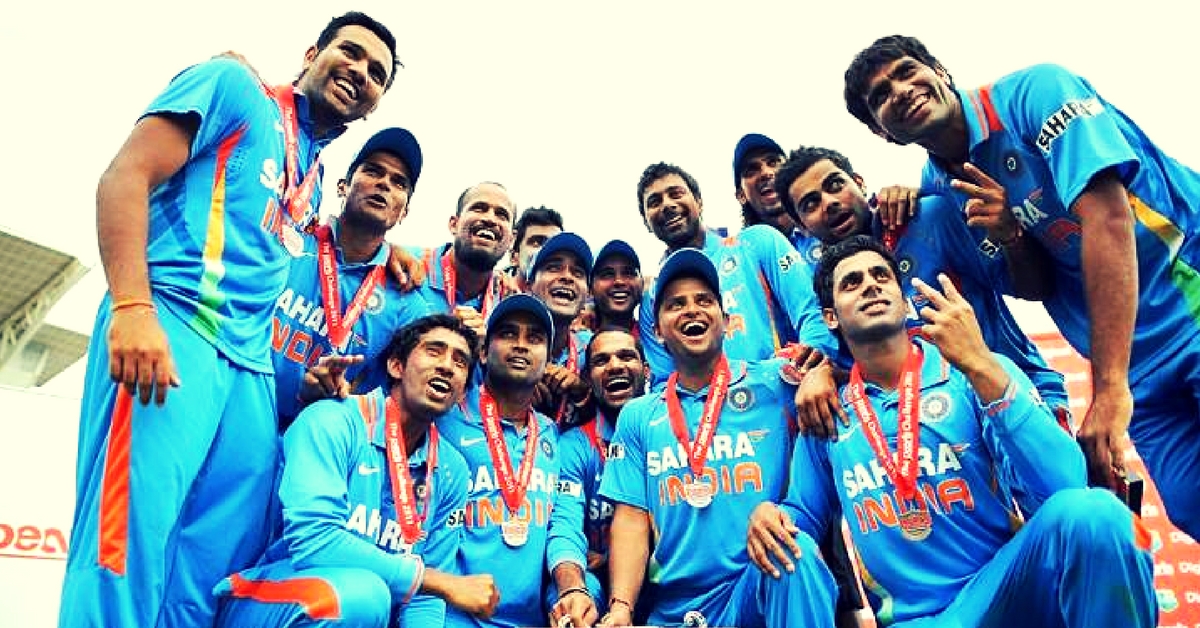 From being considered a 'weak' team to becoming an internationally renown team, the story of Indian cricket in 4 short minutes!
From being considered a 'weak' team to becoming an internationally renown team, the story of Indian cricket in 4 short minutes!
Cricket. It has always been a part of the Indian way of life. But how many of us know how it came to India? Or how it grew? Or of the legends it created, even before Dhoni, Sachin or Kapil?
'Know About India'  by Mypromovideos is a series of videos that center around little-known important facts about India. 'Indian Cricket – Birth of a Religion' is the latest edition in this series of videos . And this particular video packs the long, rich and colorful history of Indian Cricket into a few minutes of entertainment.  
It takes us through the evolution of cricket in India, right from the time the British set foot in our country. And speaks of the peculiarities of the Victorian era, especially among the Maharajas and upper-class British.
In a light hearted-manner, the video also hints at the prevailing caste and religious divisions, and how one game changed it all.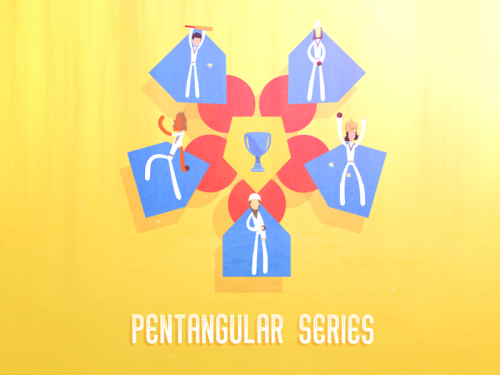 By looking at the history of Indian cricket, we get a peek at Indian History itself. The culture of Cricket clubs, cricket tours, etc are all touched upon. The visuals are cartoonish, yet always loyal to the time period being discussed.
Particularly cute are the caricatures of the Indian Cricketing heroes.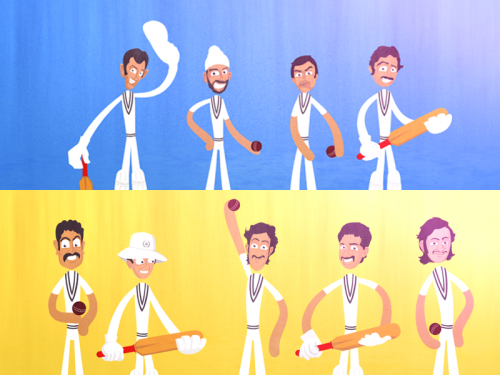 The video takes us right up to the point when Kapil Dev and his team lift the World Cup and leaves us with crowds chanting "Sachin, Sachin,"  a chant that still gives goosebumps to many and signifies the beginning of an era to any cricket fan.
Watch the video here:
Transcript:
The most popular Indian pastime- no, not street food, not Bollywood, not bargaining…definitely not eve teasing! We're speaking of the most thrilling pastime of it all- Indian Cricket!
They say it runs through our veins and know what, the history of this game is almost as fascinating as the game itself. Let's explore some of it together…
Although we like to think that it began with gilli-danda, most historians agree that cricket, as we know it, came to India with English sailors in the 1700s. Of course, English, or rather, East India Company, were in India for (cough!) trade.
Since the English played the game, all the important  English spots- Calcutta, Madras and Bombay became cricketing zones.
Cricket clubs started getting formed all over the country. But the clubs were all-white clubs with a bunch of English playing against each other.
Then slowly the wealthy Indians started playing the game. See, whatever the English did was cool back then, so if they played cricket, so would the other cool folks in India.
The first to play with the English were the Parsis. They also became the first Indians to tour England.The Parsis and English were having  regular tournaments in Bombay. Not to be outdone, the Hindu Maharajas started forming their own teams. A Hindu cricketing club, "Bombay Union," was formed in…Bombay. So now we had a triangular series in Bombay. Hindu cricketers sorted themselves along the lines of caste and region of origin.
Now, of course, Muslims too wanted to compete, making it the Bombay Quadrangular series. But even then, many sections of  Indians were left out in this communal cricket. So all the others joined as a group called  "The Rest." Thus we had the Bombay Pentangular series! See, cricket had a lot of drama even before IPL!
Gradually some Europeans started touring India. Popularity of the game grew. Meanwhile, two Indians Ranjitsinghji and Duleepsinhji  were proving themselves to be cricketers of great merit in England.
Now, both of these wonderful cricketers played for England. Then, in 1932,  led by C.K. Nayudu, India made its test debut in England.
But from there till around 1950s, we were still considered a "weak" team. Although domestically, we were gearing up for better days- BCCI was formed, Ranji trophy was started.
1952 saw two landmark victories for us- the first test victory against England and the first series victory against Pakistan.
In the coming years, we were considered a force to be reckoned with on home territory. We had legends like Tiger Pataudi, Bishan Singh Bedi, EAS Prasanna, Gundappa Viswanath and many others.
In the 1970s something interesting was happening in world of global cricket, it was transitioning from test matches to One Day cricket. And we were finding it a bit tough to go with the new trend.
This too was about to change. 1980's brought Kapil Dev, Sunil Gavaskar, Ravi Shastri, Kris Srikkanth, Madan Lal and a wave of cricketing masters we worship today. India was becoming good at the game.
Still, in 1983, West Indies were the thought to be the best team. We were nowhere close. So just imagine the thrill when Kapil and team lifted the World Cup defeating the mighty West Indies! It was the most spectacular, most memorable event ever. The whole nation went bonkers! Cricket in India had finally arrived.
And the rest, as they say, is an oft repeated and cherished history!
To learn more about the initiative, click here.
Featured Image Source: 1, 2
Like this story? Or have something to share? Write to us:contact@thebetterindia.com, or connect with us on Facebook and Twitter(@thebetterindia).