Muzaffar Ansari aka Kalle Bhai is a Class 6 dropout who did not let his lack of formal education come in the way of his passion for history and heritage. Today, the man is a certified tourist guide, a painter, a collector of coins and a linguist who can speak more than 6 languages
Muzaffar Ansari, more popularly known as Kalle Bhai, is a man of many stories and mysteries. A Class 6 dropout, Kalle Bhai pursued his passion for history and heritage to become a tourist guide, an explorer and a man who can speak and write in six different languages. 
Muzaffar Ansari knows every nook and corner of Chanderi, a small town in the Ashoknagar district of Madhya Pradesh. He knows every single person who lives here, and he is great at documenting his experiences. He always carries two things with him: his camouflage-print cap and a diary. In this diary, he jots down stories, experiences, information, financial transactions and anything he finds exciting.
He has surveyed the entire village and has a list of names of all the stone artisans, block printing artistes and handicraft artisans. Not only does he have their names written down in Hindi, but he also rewrites each of those names in Bengali and Punjabi (Gurmukhi), simply to practice the knowledge of the scripts he knows. Besides these three languages, Kalle Bhai – as he is fondly known – can also read and write in Urdu, Brahmi, Gujarati and English.
Interestingly, Kalle Bhai has only studied till Class 6. Hailing from a financially weak family, Kalle Bhai studied in a government school in the village till Class 5.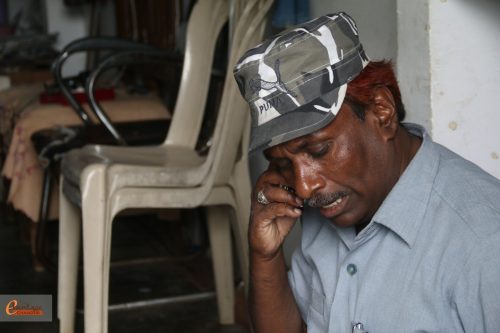 During his summer vacations, he used to sell peanuts and chana at the local movie theatre to earn money to buy the required stationery for school. He dropped out of school just a few days after he was promoted to Class 7 because his family did not have the money to buy the books and stationery required for his new academic year. He needed a few more days to arrange the same, but the teacher insulted him and Kalle Bhai never returned to the school again.
In order to support his family, he took up small jobs. He sold snacks at village fairs, worked at grocery stores for a mere salary of Rs 15 per month which, over the course of nine years, increased to Rs 525 a month.
THE NOTETAKER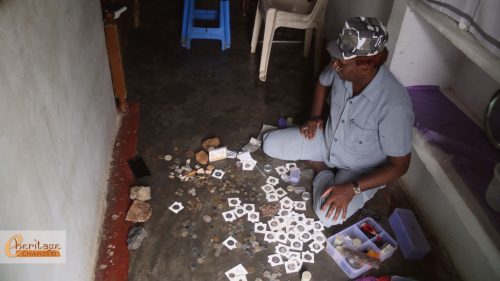 An ardent collector of currency and coins, in his diary, Kalle Bhai has listed down names (in Punjabi) of all the RBI Governors of India since 1935. Recipes of traditional Chanderi dishes, names of herbs and medicines, relatives to be invited to family weddings (he has nine children), travel plans and details — you name it and he has it all neatly listed. His love for languages is evident in the diary, where he has written thoughts and interesting facts in different scripts.
One of the most interesting lists is the one with the names of cities where he has visited a mosque to offer prayers or namaaz. That list is two pages long! To gain access to this book is an invitation to be a part of his life, and everyone he meets is welcomed into his life.
THE LINGUIST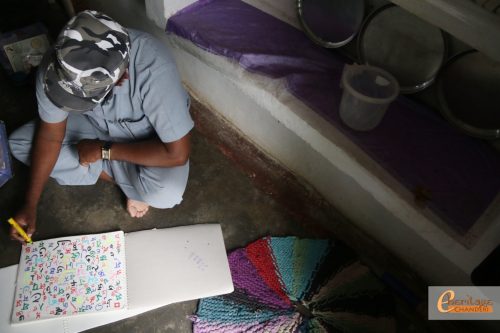 As a Class 6 dropout, Kalle Bhai has not had any formal education. And yet, he is one of the most learned persons of Chanderi. He says this is all because of his thirst to learn something new every day.
After becoming a tourist guide, Kalle Bhai realised he needed to learn English to be able to converse with national and international tourists who visited Chanderi.
He then began to learn spoken English with the help of tourists and local youngsters, making notes and flash cards that helped him memorise and repeat every word he learnt.
Kalle Bhai now hosts guests from across the globe, and can even converse in broken French, besides his fluent English, of course. His interest in languages pushed him to also learn Bengali, Gujarati, Punjabi, Urdu, Farsi, Brahmi and Kharoshti, which he practices every day.
THE KNOWLEDGE SEEKER
In the last few years, he has taught himself to use the Internet and explore the World Wide Web to learn new and interesting things, in an effort to increase his knowledge. Kalle Bhai is also a calligrapher and his parting gift to every friend who visits Chanderi is a postcard with their name written on it in a beautiful script. Another one of his interests is collecting coins; he researches the history of each and every coin – the era they came from, the dynasty of the period, etc.
Capitals of countries, names of famous cities and general knowledge, Kalle Bhai is up to date with everything!
In his teenage years, Kalle Bhai got the opportunity to become a painter after learning the art from his uncle in Bhopal, during one of his visits to the city. When he returned, Kalle Bhai took up the task of painting notices, sign boards and walls across the village. The temple near his house still has the notices he painted 30 years ago. A simple man, he is also lovingly called Kalle Painter in the village.
Fifty-three-year-old Kalle Bhai, understood the importance of having a basic education when he watched his children attend school.
In 2007, he took the decision to take the Class 10 Board examinations. In 2009, he even went on to finish the Class 12 exams.
This year, Kalle Bhai has enrolled himself in a undergraduate degree programme from an open school. Gaining inspiration from his sons, he also plans to pursue a PhD in the near future (Kalle Bhai has helped many students doing their PhD in history, through his expertise about the history and heritage of this region). Interestingly, through the many professors and students that he has assisted in their history and heritage projects, Kalle Bhai even has an honorary offer to do his PhD from the Yale University. But as of now, he's happy in Chanderi.
THE GUIDE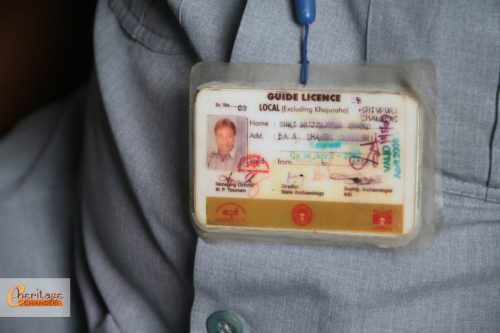 Kalle Bhai's closest friend is Mohd Waris, a childhood friend who stays in the house next to his. Their fondest memories are of studying together under a bulb on Waris' terrace, of daily walks to the school, of swimming in the jungle lakes before sunrise, and even a memory of a brush with ghosts! Kalle Bhai has also filled in copies and notebooks for his friends Tahir Mohd and Mukhtasar Ali, who were weak in studies, to save them from the teacher's wrath for not completing their homework. But Kalle Bhai charged 25 paise for these assignments — it was his secret pocket money.
Becoming a guide was a matter of chance for Kalle Bhai. Years ago, a foreign delegation had come to Chanderi for research work, and a misunderstanding regarding the name of the person they were supposed to meet with, brought Kalle Bhai in contact with the group. Impressed with his knowledge on the history and culture of the town, they motivated him to become a tour guide and help promote tourism in the area.
Through the years, he has hosted hundreds of people from across the world, and is the go-to person for the Madhya Pradesh Tourism Department too. He typically offers a two-day guided tour of Chanderi, starting with a heritage walk around the community by foot, visiting all the monuments and sites. He then takes his guests on a tour of all the rock paintings a little outside town, as well as a couple of waterfalls and 5th century temples.
The one thing that stands out in his tour is the dinner he hosts at his house. He likes to play a little game with the foreign tourists too. He places name cards of his guests around the table, written in different Indian scripts. The guests then have to guess which of the cards has their names written on it, and take a seat on the table accordingly. He believes this experience brings his guests closer to India, as diversity of regional languages are something they are not exposed to.
Kalle Bhai is an integral member of the community that has, from the start, helped the Digital Empowerment Foundation's project Chanderiyaan to be established in the town and become a brand.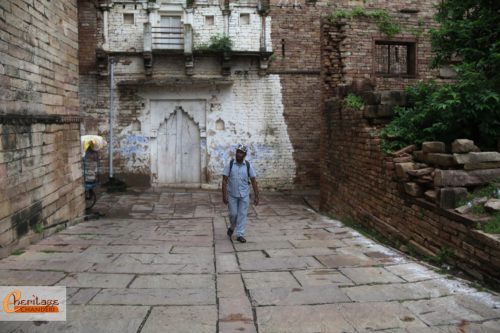 Right from finding labour and renovating existing infrastructure, to mobilising the community and allowing digital interventions in their cluster; he has been with DEF through it all.
About the author: Aayushi Maira is a former Gandhi Fellow who worked in government schools in the tribal belt of Udaipur. She has worked with Digital Empowerment Foundation as part if its Media and Communications team. She can be reached at @iushe12 on Twitter.
Image Source: Tushar Talukdar for Vimages
Like this story? Or have something to share? Write to us: contact@thebetterindia.com, or connect with us on Facebook and Twitter.
NEW: Click here to get positive news on Whatsapp!
We bring stories straight from the heart of India, to inspire millions and create a wave of impact. Our positive movement is growing bigger everyday, and we would love for you to join it.
Please contribute whatever you can, every little penny helps our team in bringing you more stories that support dreams and spread hope.