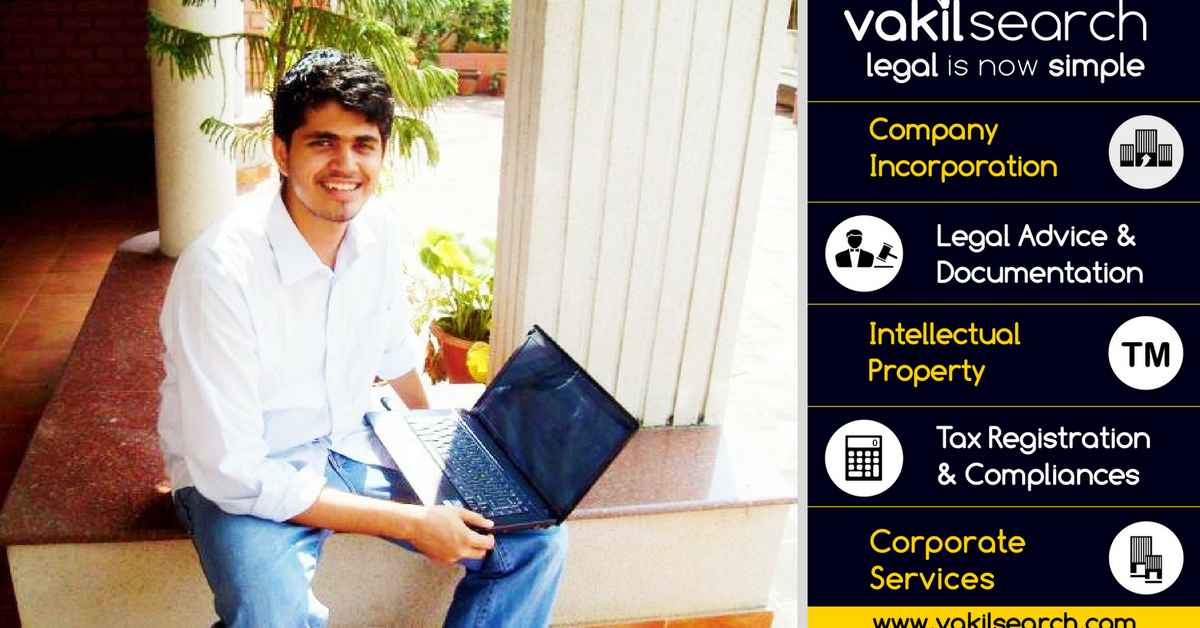 In 2011, 23-year-old Hrishikesh Datar founded a startup, Vakilsearch, that helped the common man as well as corporate groups solve legal troubles using technology.
In recent years, startups have been catering to the basic requirements of the common man. From filing RTIs and tax applications to finding medical help – Indian entrepreneurs are using technology to simplify and improve access to all kinds of services.
In 2011, 23-year-old Hrishikesh Datar founded a startup that helped the common man as well as corporate groups solve legal troubles using technology.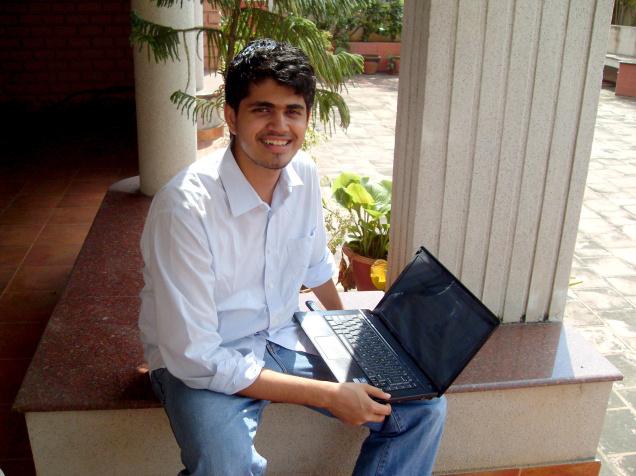 Called Vakilsearch, his startup was centred around an automated online-platform that offered a wide range of legal services – such as company incorporation, trademark and patent registrations, etc. – with the help of in-house and marketplace experts. Today, Vakilsearch's hassle free, affordable and customer-centric approach to address legal requirements has made it one of the most sought after online legal service providers in the country.
In an exclusive interview to TBI, Hrishikesh Datar (Founder and CEO of Vakilsearch) provided some insights into his interesting startup journey.
Q. How did the idea for Vakilsearch come about?
After graduating from the National Law School in Bangalore, I opted out of the recruitment process for law firms and spent a year thinking about ideas for startups. That's when it struck me: How about making legal services reliable, affordable and accessible to ordinary Indians, for whom navigating the legal system is a painful process?
I first mooted the idea at an IIM Bangalore event, where it was greeted with interest and approval. I then started exploring the potential for leveraging technology to offer individuals and entrepreneurs a standardised and hassle-free legal service.
The savings from my freelance assignments (I used to write while still in college) and funds from family and friends helped with the initial seed capital for Vakilsearch. Today, Vakilsearch holds the distinguished title of being the company that incorporates and processes almost 5% of all trademarks in the country. Clients include well-known startups Taxi for Sure and digital service sourcing platform Sulekha.
Q. Tell us about your journey as the CEO of Vakilsearch.
Vakilsearch found traction as people across India were trawling the web in search of legal advice on a budget for their own entry-level business ventures. We started off by targeting the main pain areas of a small business owner – setting up a business, trademarking a brand name, logo or slogan, and drafting basic documents and contracts. We gradually evolved our service portfolio to include accounting, taxation, tax filing, and even payroll services.
Today, our platform handles the entire gamut of legal services for a small business owner – setting up business, getting a trademark, copyright or patent, preparing legal documentation, and getting advice and support with tax registration. We have recently begun offering accounting and corporate compliance support as well. We also connect prospective litigants across the country with lawyers.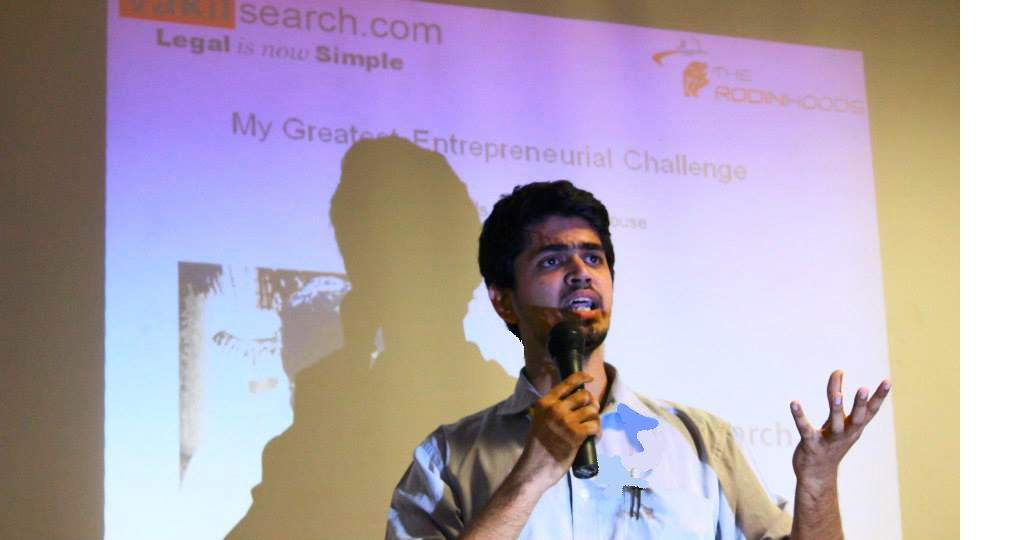 Our tagline "legal is now simple" sums up what we are all about. We want anyone and everyone who needs legal and allied professional support to be able to get it – easily, simply and at an affordable price. So, while our main customers are small and medium businesses, we also have a a small but significant number of individuals seeking services from Vakilsearch.
Q. Startup survival in India is not easy. As an entrepreneur, what were the main challenges you faced ?
Yes, there are several challenges. But if you are determined and willing to do whatever it takes to grow and succeed, success will be yours. To be more specific, one of the main challenges was of mindset – people are too used to meeting a lawyer or chartered accountant face to face. Once we convinced people that the online process was more effective, as reliable, and much more efficient, things started to change.
Also, as with any start-up, the challenges were more internal than external. For example, drawing good people to the team was a challenge as well. Other challenges were keeping customers happy and excited about the product, building a reputation for quality, and finally, attaining profitability. But eventually, we've overcome these hurdles to build a lasting business.
Q. What were the moments that really made you feel happy as a founder?
Great moments for us are when clients whom we helped when they were really small become really big. Even more fulfilling for us is the knowledge that by making services available online, we've managed to save our clients 40,000 hours in travelling time to get such jobs done.
Although there are too many to list here, one particular example is Taxi For Sure. We protected their brand when they were extremely small, and we saw them grow into one of the largest transportation providers in the county, before being acquired by Ola.
It's also heartwarming to see happy clients speak about their pleasant experience. One such example –
"Vakilsearch for us is like an important business adviser. We are just one year old in the e-commerce business and Vakilsearch has helped us grow our business immensely. The thing we love about Vakilsearch is that they work like professionals and guide like family members. Thanks to them, legal is now very simple!"
Q. Tell us a little bit about your team.
I was very excited about the idea of a startup while I was studying. On returning to Chennai after graduation, I refined the concept and built the site with the help of Karthik Kolli, a friend from IIT Madras. Now, the technical support and help is given by Tech Garuda, an excellent ITES (Information Technology Enabled Services) firm in Chennai. Particularly, Mr. Durgesh, Mr. Vikram V. and Mr. S.S. Venkataraman of Tech Garuda are the foundation on which the website and the business stands.
On the business side, Vakilsearch has Mr. Sundaram and the panel at IIM Bangalore and Mr. Siddhant Bhansali from ISB Hyderabad. Finally, Mr. Nikhil Shah, Mr. Bhaskar Anand and Mr. Kedar Deodhar are involved; they have all built technology based startups and help with marketing and business development.
Q. What are the popular services that Vakilsearch offers?
Except for fixing appointments with reliable advocates in different cities, which is a free service that we provide, we charge an affordable fee of Rs. 299 to Rs. 799 for our legal services, preparing essential documents and giving sound legal guidance. The most popular services include:
Queries: This addresses simple questions concerning the law and eases the gap between the law and the common man. Fee per query: Rs.149.
Just call: 'Bringing lawyers to you' is another service where one can schedule a telephone conversation with a lawyer to discuss any problem; this does not entail a service charge.
We also provide an exclusive service for entrepreneurs in India. This service, which, in fact, is unavailable in most of the world, is also the first in India to offers entrepreneurs the option to pay for their legal documentation through EMIs.
We have recently also launched e-tax filing services with the idea of simplifying the process for lay persons and to reach out to individual customers.
---
You May Like: #KnowYourRights – 10 Legal Rights You Cannot Afford to Not Know as an Indian Citizen
---
Q.With much competition in the online legal services field, what makes Vakilsearch different from its peers?
Anyone who has ever had a tryst with the law, however brief, knows how complicated the entire process is. First you need to look long and hard to find the right lawyer. When you finally find one, you need to visit his/her office every time you need even basic legal assistance. Vakilsearch locks horns with this problem directly. You can finish simple legal tasks without leaving your desk. Renting a house, office or shop? Need to write your will? Did a cheque issued to you bounce? Fill an interactive and easy-to-use questionnaire and your rental agreement, will or even legal notice comes sailing to you in a nice, sealed envelope.
So, I would say, that our relentless focus on customer satisfaction and a strong technology-driven platform is our USP. Another thing that sets us apart is that our service delivery and costs are clearly listed online, standardising the quality and price of legal services, an important factor for the already time and financially pressed small businesses.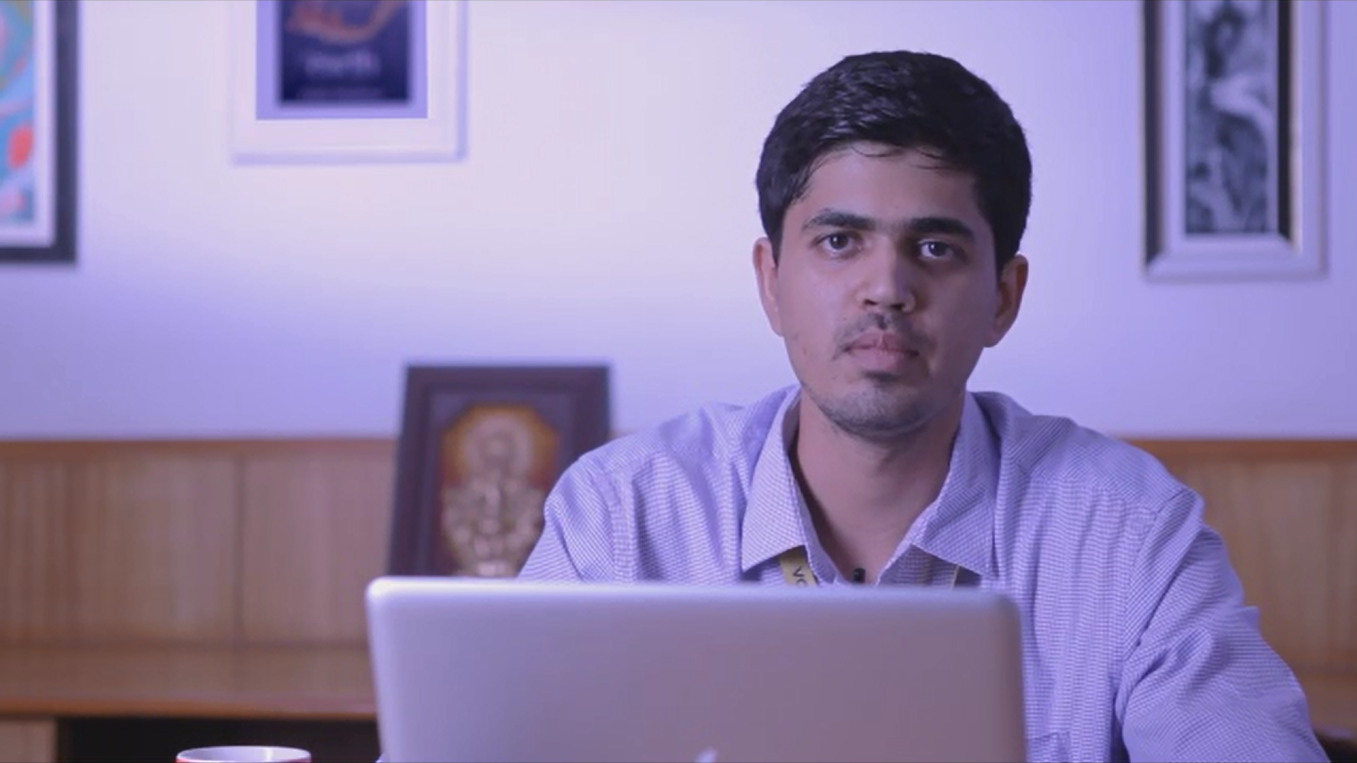 Q. Given that the less privileged need more help and support from the law, how does Vakilsearch hope to tackle the reach factor of the internet?
India has 81 million internet-enabled homes and a significant percentage of those are broadband-enabled homes. So we have been reaching out to a fairly large number of people from day one. However, it will definitely be difficult to reach the tea vendor or the small scale shopkeeper. But hopefully there will be a way to do so in the near future.
We have also tied up with the Confederation of Indian Industry (CII) to provide legal guidance to the 9,000 plus enterprises that are part of the CII family. Additionally, we help other websites like Commonfloor in Bangalore to address the legal needs of users. We are actively reaching out to other enterprises with whom we share synergies and hopefully more alliances should form soon.
Q. Where do you see Vakilsearch five years down the line?
We're building the world's largest platform for two million plus professionals, and we're already seeing great results. Our impressive client statistics have garnered investor interest, and we're the first platform to receive Series A VC funding. Today, we're indisputably the largest legal services platform in Asia.
By 2017, our team will be based across the country and our reach will span 100 cities. We are also trying to make the website better and find more and more ways to reach out to customers. Overseas expansion is also on the anvil. We're gearing up to launch our services in the US, UK and Singapore. That sums up our expansion plans for now.
I will, however, be happiest if at the end of five years we can say that every customer has been absolutely satisfied with our service. That will mean the most to all of us at Vakilsearch.
Q. Lastly, what would be your message to young lawyers and aspiring entrepreneurs?
On a professional note, we're looking for innovative, tenacious and determined minds to join our team. If you think you have it in you and want to be part of our story, please write in or call!
On a personal note, be willing to be 'unsure' about what lies ahead. Believe in yourself, try different things, work hard and keep looking for what excites you as an entrepreneur.
You can contact Vakilsearch here.
Address: Vakilsearch
Uber9 Business Process Services Private Limited
F-97, Newry Shreya Apartments
Anna Nagar East, Chennai -600102,
Tamil Nadu, India
CIN: U74900TN2014PTC098414
Number:+91 7200 365 365
---
Also Read: TBI Blogs: This Online Tool Will Help You Create a Legally Binding Will in Just 5 Steps!
---
Like this story? Have something to share? Email: contact@thebetterindia.com, or join us on Facebook and Twitter (@thebetterindia). To get positive news on WhatsApp, just send 'Start' to 090 2900 3600 via WhatsApp.
Tell Us More
We bring stories straight from the heart of India, to inspire millions and create a wave of impact. Our positive movement is growing bigger everyday, and we would love for you to join it.
Please contribute whatever you can, every little penny helps our team in bringing you more stories that support dreams and spread hope.