Remember that greeting card which said 'painted by a foot artist?' Malay Desai from Trinayani meets Ramakrishnan, the most famous one of them all, and discover there is much more to their lives than that.
Remember that greeting card which said 'painted by a foot artist?' Malay Desai from Trinayani meets Ramakrishnan, the most famous one of them all, and discover there is much more to their lives than that.
At a time when buying greeting cards from a store was still not an unthinkable option, one often had a splendid moment of realization that the card just bought had been painted by a foot or mouth painter, and that the proceeds would go to a non-profit supporting such artists. Once in a while, we'd also chance upon a picture of one of them in the act in the inside pages of local newspapers. If you ever, for a fleeting moment wondered how they did it, or what their lives were like, here's the story of Mumbai's Narayan Ramakrishnan, one of the top names in the league.
In the chaotic suburb of Andheri, Sri Ram Nagar society is an oasis. It is easy to find a world within this lush, all-Tamilian-Brahmin locality, and Ramakrishnan, or RK as he likes to call himself, hasn't really lived out of the comfort zone he grew up in. His space is like any other old Bombay dwelling, until you spot some details – the nameplate outside saying 'foot painter' under his name, his balcony having been converted into an airy studio and most strikingly, the vast floor space for him to move freely on his wheelchair. Why, the home's doors too have given away to arches. A Peanuts poster somewhere reads 'There is no such thing as too many friends.'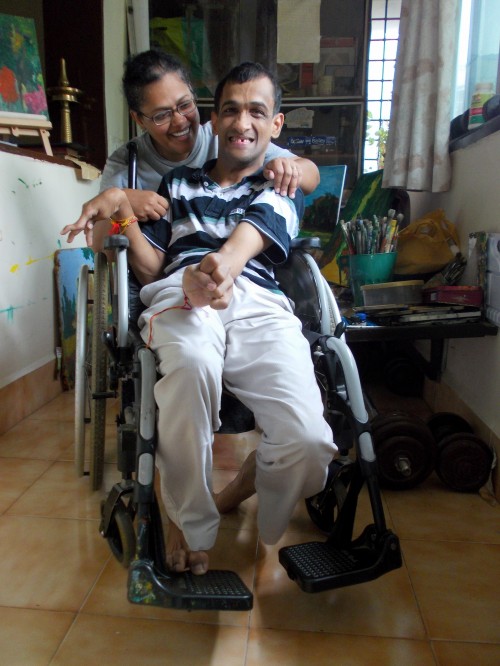 We're lucky to meet RK's sibling Vimala, mother of two who's currently in town from the Middle-East. So while RK wheels himself animatedly around the room, animating through his eyes, hands and of course feet, his elder sister (who calls him Ambi), unfolds his craft. "He never went to school, but that didn't bother either of my parents who were both teachers! He was always the creative one, having begun by painting egg shells with his feet after an architect uncle suggested so," she begins. RK was just days old when a vicious jaundice (due to an unusual blood incompatibility problem) rendered most motor controls over his fingers and toes useless, a condition later confirmed to be cerebral palsy.
With the his right foot (and its two 'good toes'), RK began doing seemingly tough chores such as opening the main door, operating remote controls, handling money and gesturing frantically in arguments. "With no formal education – even the JJ School (of Arts) refused to admit him, he's striven to learn his skills. We'd pay JJ students to come home and share their learnings for Rs 250 a week," Vimala goes on, exchanging glances with him. With time, the man grew more adept and disciplined, and more importantly, it began showing in his paintings. The makeshift painting corner became 'RK Studio' and in 1990, he became the first Indian member of the International Mouth & Foot Painting Association, a global outfit that still sends him a more-than-sufficient stipend in Swiss Francs. IMFPA now has 15 foot and mouth painters from the country and most of them, besides earning royalties in occasional greeting card sales, earn the stipend and sell art works for a living.
"His first exhibition was in '92 and he's had many since!" Vimala smiles, recalling an event when some city society celebs bought all of his works. The numbers range from 10,000 to 30,000 and more, and there must be more than sympathy in the motives of RK's buyers', we decide, looking at some of the pretty landscapes he's hung in the drawing room.
At age 42 now, the foot painter is content in his cocoon – which comprises paints and oils, neighbourhood friends, constantly visiting relatives (Vimala is one of three sisters) and Mani, his part-time assistant. "He doesn't mind being alone at all, in fact he's happiest while creating something on his own," Vimala says, though we note that RK cannot function without Mani putting a straw in his drinking water, helping him change and do the many small chores we take for granted. The companionship question for him was mulled over by the siblings, who even placed an ad in The Hindu, but destiny didn't send across anyone significant.
Today, the confidence we see in the namesake of this tiny RK Studio is thanks to his parents, Vimala admits. "From regularly getting him the extra toy to being supportive in his passion, they did it all." When their mother passed away and their father followed later, she feared he won't take it well, but he showed unexpected bravado, she tells us, as we see RK raising a knee to wipe his tears.
Not a man to hide the many emotions and colours of his extraordinary life, RK can be found laughing with Mani over a beer on Sunday afternoons. Being surefooted sure has different meanings.
An initiative of Trinayani which is an NGO founded by Ritika Sahni, this is a part of a series of articles that celebrates the intriguing lives of persons with disabilities. Trinayani works towards creating Disability Awareness and equal opportunities for persons with disabilities, communicating through workshops/seminars, print, radio, films and other electronic media. Visit
www.trinayani.org
or write to them at trinayani.contact@gmail.com