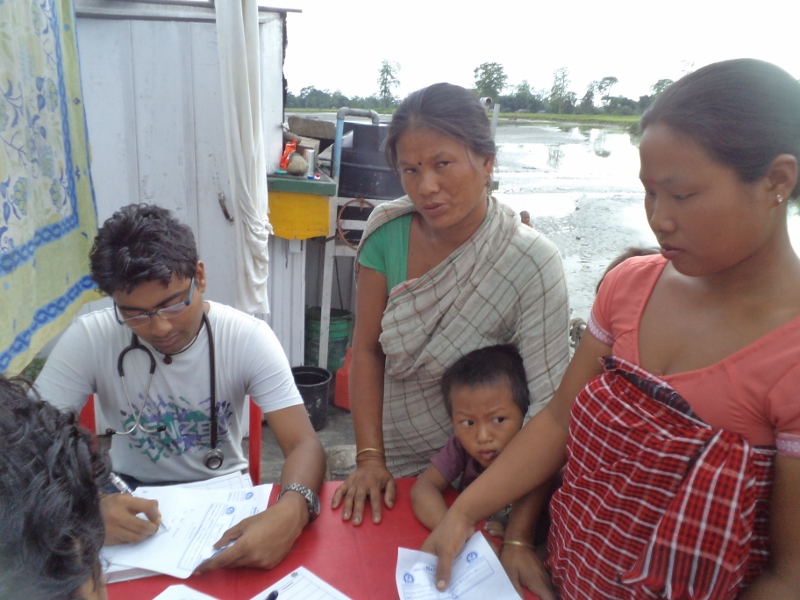 A unique concept - boat clinics - are offering crucial medical assistance, advice on family planning, and most importantly, hope to the millions living in the many small, flood-prone islands in Assam where hospitals and dedicated medical centres are unheard of, and at many times in the year, inaccessible.
A unique concept – boat clinics – are offering crucial medical assistance, advice on family planning, and most importantly, hope to the millions living in the many small, flood-prone islands in Assam where hospitals and dedicated medical centres are unheard of, and many times during the year, inaccessible.
A visit to the doctor may seem like a simple enough activity to many, but for the pregnant women of Laika island in Assam's Tinsukia district, it used to be a daunting task, one that required extensive planning followed by quick action. After all, travelling in a rocking boat over the temperamental River Brahmaputra and then treading through a dense forest to reach a health facility is not for the faint hearted. Not surprising then that most women would avoid regular prenatal and antenatal check ups, preferring to leave everything to fate.
It was the launch of the boat clinic services in 2005 that turned things around for them. An initiative of the Centre for North East Studies (C-NES), the boats bring healthcare to the doorstep of the most vulnerable communities living in the state's river islands, or 'saporis', where access to hospitals is a far cry, and communication, a challenge.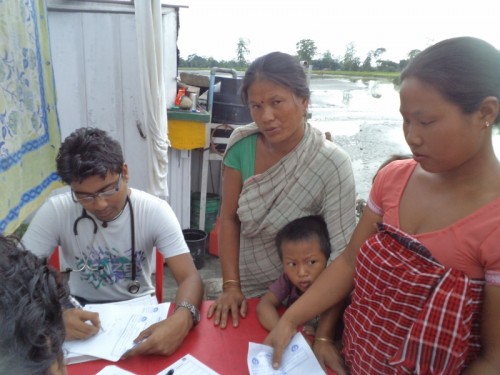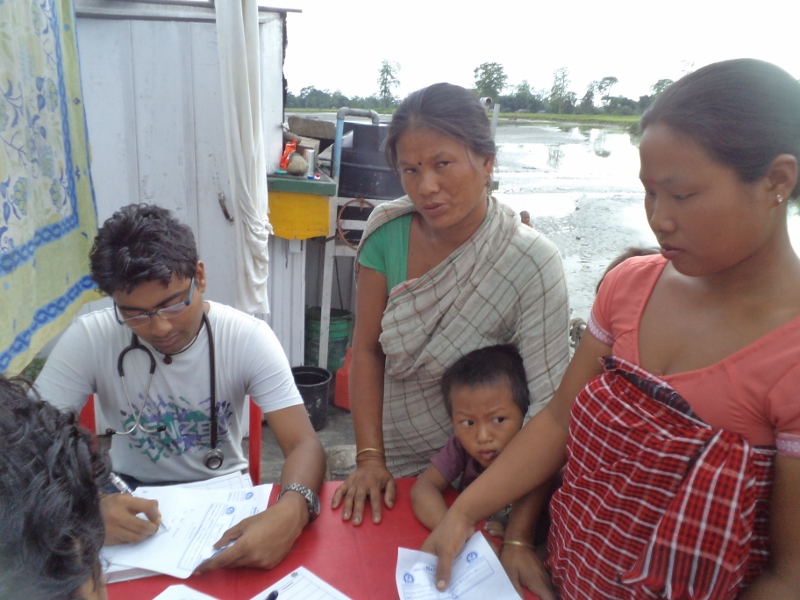 Some three million people, or 12 per cent of the state's population, live on the 2,500 islands on the Brahmaputra. Most villages here get completely cut off from the mainland during the floods. What makes this initiative even more critical is the high maternal mortality ratio (MMR, or maternal deaths per 100,000 live births) in Assam. Its MMR level at 390 is one of the country's highest.
Arumoni Regon, 55, of Laika village is a strong supporter of the boat clinics. She and her husband are among the most respected members of the community and people often come to them for advice on different matters. Recalls Regon, "Earlier, it was not easy for pregnant women to go for check-ups to the doctor. During floods they would have to take great risk to cross the river and then walk through the dense forests to reach the health centre."
What this meant was that pregnant women would be reluctant to get regular check-ups and often gave birth at home. "It was not uncommon to hear of mothers dying during childbirth or babies not surviving. This is why I think the boat clinics are a blessing for us. I insist that everyone, especially pregnant women, avail the services that come to us," adds Regon.
The journey of these boat clinics, or 'ships of hope', as they are popularly known, began with a single boat called Akha (Assamese for 'hope') in the Dibrugarh district of upper Assam. In 2004, when the concept of a boat health centre was showcased by C-NES, it won an award at the World Bank's India Development Marketplace Awards. With the award money, construction of Akha started. Carpenters from Tinsukia and neighbouring areas worked for months readying the boat that finally sailed in June 2005.
This intervention got the attention and support of the district health authorities, the UNICEF as well as the National Rural Health Mission (NRHM), which resulted in a successful public-private-partnership (PPP) and the subsequent spread of the programme to 13 districts of Assam. Besides Akha, today there are 15 other boats that provide basic medicines, organise medical camps and immunise children regularly.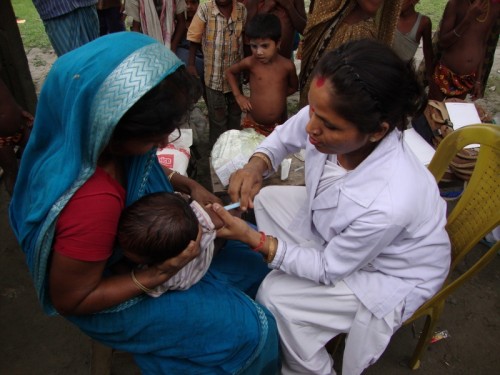 Apart from immunisation programmes, family planning services are also being offered by the boat clinic team, with support from the Population Foundation of India (PFI). Five boat clinics have family planning counselors who meet and counsel eligible couples. Spacing between children is stressed upon. Says Mehebub Alam Hazarika, district programme officer of the Dhubri district, "People in these sapori areas are conservative. They resist permanent family planning methods; so we encourage them to use condoms and oral pills. Inviting resource persons from within the community to generate awareness on contraceptive care also helps a lot."
According to C-NES 2010-11 annual report, a total of 58,945 people adopted family planning methods during the various health camps organised. Between October 2009 and July 2012, 1,032 women have been sterilised in Dhubri alone, while 121 women opted for intra-uterine device (IUD) and 15 men for vasectomy.
Every boat clinic has a 16-member team, including two doctors, a general nurse-cum-midwife (GNM), Auxiliary Nurse Midwives (ANMs) and laboratory technician. They all work with the assistance of a community outreach person. The clinic has an OPD, a pharmacy and even a laboratory for blood and other tests. According to Bhaswati Goswami, communication officer at C-NES:
The main focus of the boat clinics is women and children. In the districts that we reach out to, most people have never seen a doctor, a stethoscope or a syringe in their lives. At a health camp in Dhemaji (lower Assam), the health team was elated to know that the child of the first woman who was under their prenatal supervision was named 'Doctor'! That shows how much the team's efforts are being appreciated.
Each boat clinic times its visits in accordance with the immunisation schedule of children, and pre- and ante-natal check up of women. The Accredited Social Health Activists or ASHAs are given advance information so that they can spread the word. Nafisa Begum, a young pregnant woman, was one of the many who waited along with her sister-in-law, Sakina, a young mother of one, in queue for her check-up when the boat clinic visited Baleswar village island in Nalbari district. "When my sister-in-law's first child was born, she became so weak, we thought she would die. The child too was very tiny and died within the first week of birth. The 'doctor' (that's how the locals refer to the ANM) told us later that she was anaemic. I don't want the same thing to happen to me, so I make it a point to visit whenever the clinic comes," she says.
Sanjoy Hazarika, the managing trustee of C-NES and the brain behind the concept, feels that he has nearly achieved his goal. In an interview towards the end of 2012 he said, "When I set out, my aim was to reach 10 lakh people by the end of 2012 and we will be nearing that goal. We have covered 70-75 per cent chars (islands) in the Dhubri district." For Hazarika, winning people's trust has also been a high point of the programme, "They know that after each visit we will return. Once the people have faith in you, they are open to new ideas, and that will lead them to exercising their rights."
It has, however, not been easy convincing people. According to Minhazuddin Ahmed, a young doctor on a boat clinic, initially people were hesitant to allow their women to be checked by male doctors:
But a sustained effort has helped fight those reservations and now people call us to visit their village for a health camp. We are doing more than just treating people; we are also educating people, fighting superstitious beliefs, and offering hope.
Impressed by this work, the Union Health ministry has expressed interest in expanding the initiative in two or three other northeastern states. Reveals Hazarika, "We are also going to launch a hospital ship that will have an operation theatre, recovery room and wards, just like a Primary Health Centre (PHC) – but on water." Funded by the North Eastern Council, the hospital ship is expected to become operational in another year or two, and will travel from one district to another.
Today, the boat clinics are making a real difference to the lives of Assamese women like Phaguni Payeng, 25, of Karmi Chuk sapori in Dibrugarh. Married to a daily wage earner, this mother of four lived in constant dread of yet another pregnancy until a neighbour told her about the clinic. The health team has provided Payeng not just with iron tablets but made her aware of family planning methods.
The prospect of better health remains afloat in this once-forgotten corner of Assam.
Read more about Assam's boat clinics in a previous article here.
Tell Us More
We bring stories straight from the heart of India, to inspire millions and create a wave of impact. Our positive movement is growing bigger everyday, and we would love for you to join it.
Please contribute whatever you can, every little penny helps our team in bringing you more stories that support dreams and spread hope.