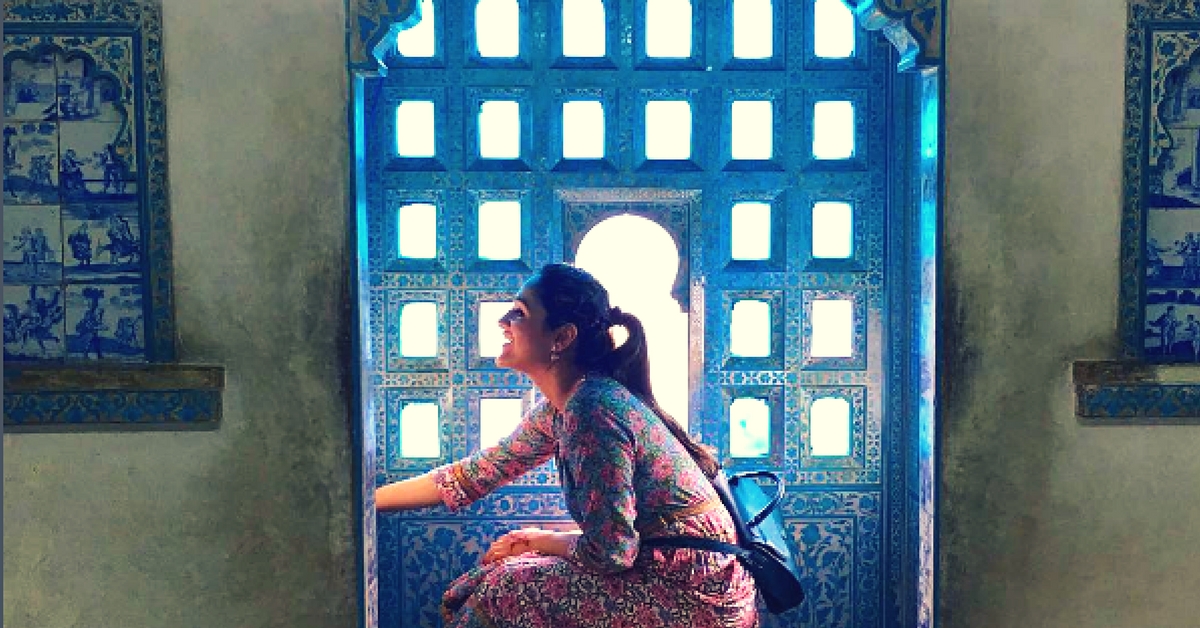 Aanchal's seminal work, called The Remnants of a Separation, is by far one of the most intriguing alternative histories of the Partition.
Artist and oral historian Aanchal Malhotra talks about how she is collecting stories of everyday objects brought over by families at the time of the Partition.
Aanchal Malhotra is a writer, oral-historian, artist, and most importantly, a storyteller. Her seminal work, called The Remnants of a Separation, is by far one of the most intriguing alternative histories of the Partition.
It is a curious inspection of the objects that refugees took from their homes when they left in a haste to cross the border in 1947.
https://www.instagram.com/p/BJFH5o7jrPq/
The 26-year-old was prompted to begin this project in 2013 when she was visiting her grandfather along with a journalist and friend, Mayank Austen Soofi. Her grandfather lives in Delhi in Roop Nagar, which was once a refugee colony. While Mayank was asking questions about old houses in Delhi, her grandfather's older brother pulled out a gaz and ghara, which the family had carried across the border in 1947. The gaz is a yardstick that was used for measuring fabric in his father's clothing store in Pakistan and the ghara is a vessel that his mother used for serving buttermilk.
While the objects made Aanchal immensely curious, what fascinated her even more was the glazed look on her granduncle's face as he talked about the past. According to her, "When we were sitting there and talking about these ancient objects, something very strange happened. While discussing the past, he seemed to go to another place, it was a very transportive experience and I didn't realise that objects could do that to you or hold those kinds of memories."
https://www.instagram.com/p/BJpPrCBgP2b/
Aanchal has been meeting people from the Partition era and speaking with about the objects they brought with them, ever since she was 23 years old. How does she find her subjects? Aanchal's response is:
"How does a 23-year-old know people who are 85 years old? They don't. Amazingly, news of my project just spread through word of mouth. My aunt would go for a walk in Defence Colony and she would approach people who look like they had migrated from Pakistan. But it's important to note that I wasn't just looking for refugees but for the belongings they carried along with them. I wanted to go into their houses, ask them about their clothes, books and jewelry, which is a pretty weird request from a stranger. It is a very intimate and sad thing to be discussing, so you need some level of comfort with the person. But if you spot a ring on someone's hand, you could begin with, 'Oh this ring looks interesting. How did you get it across the border? Is it from your mother? Where did she come from? Who gave her this ring? Did you ever want to sell it?'"
https://www.instagram.com/p/BIDWyyXD_1O/
Aanchal's grandparents, on both the maternal and paternal side, are from Pakistan. When told them about this project, they responded with various levels of enthusiasm. She says, "Despite belonging to a family of refugees, I realized that I haven't thought about the Partition or studied it. They teach us about the Partition in school but that's a very shallow understanding of the events. And most of us don't talk about the Partition because it's not really dinner table conversation, right? So, naturally, we don't question what we don't know. I realised that the journey or migration must have been very difficult because people often left at a moment's notice and they weren't able to take things that were important to them. I started by talking to my family – after coercing my grandmother to talk about it for 4-5 months and repeatedly begging, 'I don't know my own history, you have to tell me!' she finally gave in.
She said, 'Ask me before I forget.'"
https://www.instagram.com/p/BIngtwsjZiH/
It is apparent by the age of the subjects she interviews that the essence of her oral history project is to record these experiences before they die.
When asked whether she thinks the Partition is central to the modern Indian identity, considering that more than fifteen million people were uprooted, she says, "You learn history in school, yes. But do you retain any of it? No, because of the prejudiced way it is taught. History is supposed to be a story and not a series of events. It is stories of people that will get people more interested in history. Instead of listening to a lecture about the Partition, what is more interesting to me is the story about a woman who crossed from one country to another and the challenges that she faced."
https://www.instagram.com/p/BKBhAqmAbUW/
Through the oral history project, Aanchal is keen on bridging the divide between the narrative that reflects human experiences and the narrative that supports certain academic/ political theories. She is aware of the fact that human experiences should go in tandem with serious academic discussions. This approach to archiving history is apparent through her Instagram feed, which is subscribed to by almost 10,000 people worldwide.
The feed features images of old books, toys, jewellery, and even utensils, along with captions that evoke a flood of nostalgia.
https://www.instagram.com/p/BJinJ0ogVwB/
Aanchal says, "Oral history is a very important and underrated source of telling the history of the Partition. The more I learn about where I came from, the simpler it is to understand why I am the way I am. Keeping alive the memory of the Partition is important. We shouldn't suppress the gory aspects of the Partition and we shouldn't forget the glory that existed before it."
Check out her blog and Instagram to know more about Remnants of a Separation.
Like this story? Or have something to share? Write to us: contact@thebetterindia.com, or connect with us on Facebook and Twitter (@thebetterindia).