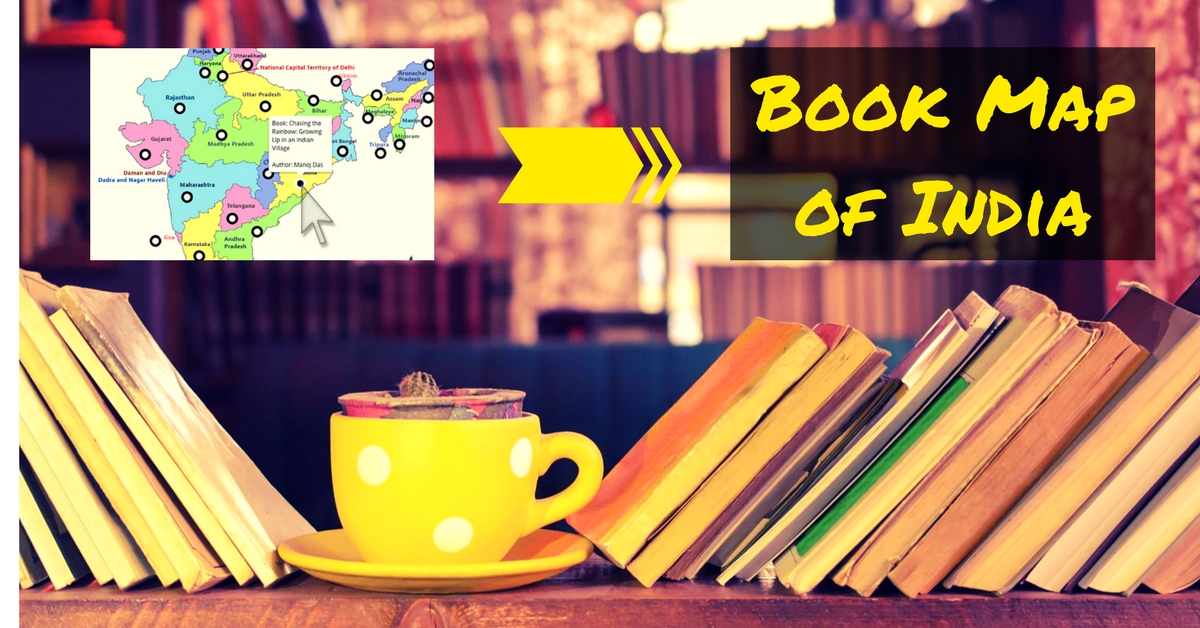 These 34 books perfectly capture the Indian State/UT they are set in, making them a great way of embarking on a bit of armchair travel across India!
Whether you're an at-home tourist or a habitual globetrotter looking for a temporary fix, these books are a great way of embarking on a bit of armchair travel across India.
"The more that you read, the more things you will know. The more that you learn, the more places you'll go." – Dr. Seuss.
Whether you're jet-setting around the world, or staying planted at home, books can take you anywhere.  Reading books from faraway places ignite of one's imagination, fosters an appreciation of cultural differences and offers a newfound perspective on life at home.
India, with its vibrant and diverse literary heritage, offers unparalleled opportunities for cultural exploration. Inspired from author Ann Morgan's TED Talk, in which she shares her experiences of reading one book from each country in the world over the period of one year, we decided to make a Book Map of India.
That's right, we're presenting a book-lover's tour of India. Scroll through these 34 books that vividly evoke the regions they describe and find out what takes place in your home state! Or, you know, maybe that state you've always wanted to visit.  Scroll over the map for reading suggestions.
With this list, you can tour the entire country—without ever leaving home. How many have you read?
1. Short Stories from Andhra Pradesh by Malathi Nidadavolu (Andhra Pradesh )
A compilation of beautifully written short stories, this book invite readers unfamiliar with the culture of Andhra Pradesh to appreciate its centuries-old traditions in the face of change. The thematic threads in these stories are taken from experiences of ordinary middle class people caught in the crevice between traditional and modern ways of life. Translated from Telugu, this book is a gem!
Get the book here
 2. Arunachal Pradesh: The Hidden Land by Mamang Dai (Arunachal Pradesh)
A tropical land hidden in rain and mist, a place where life and legend intertwine, Arunachal's tribal society and traditional culture has undergone rapid transformation since India's Independence. The indescribable loveliness of this landscape is unveiled in this beautifully illustrated book, revealing a people who, since life began, have lived in complete harmony with their unique environment. The book also attempts to document the rich oral tradition of the various tribes of this fascinating, forbidden land.
Get the book here.
3. The Shadow of the Kamakhya by Mamoni Raisom Goswami (Assam)
The Shadow of Kamakhya is a collection of stories set in Assam. Handpicked by the celebrated author Indira Goswami (who writes with the pen name Mamoni Raisom), the stories are invested with a wealth of detail which evoke a feel of the region. The themes explored, however, are wide-ranging and poignant – the pain of thwarted passion, blighted hopes, the struggle for existence – and they transcend the ambiance of the book with ease.
Get the book here.
4. Patna Roughcut by Siddharth Chowdhury (Bihar)
Patna Roughcut is both an elegy to the intimate Indian neighbourhood and a poem of protest. It is also a story of love, idealism and sexual awakening. With ironic, delicate humour, the author peels away layers of sepia-toned memories to arrive gently at the heart of an aching, throbbing Bihari youth. A delightful little book about the uniqueness of Bihar, Patna Roughcut is the kind of book you hate for being only 180 odd pages long.
Get the book here.
5. Inside Chattisgarh by Ilina Sen (Chattisgarh)
A book by Ilina Sen, a well-known rights activist, academician and researcher, Inside Chattisgarh provides a broader perspective about Chhattisgarh, its past, socio-economic and political scenario, its people and their struggles. The author takes us through life in Chhattisgarh before it got statehood, as well as the present years. Not just a personal memoir, this book is also a fascinating political biography of the state.
Get the book here.
6. Ferry Crossing: Short Stories From Goa by Manohar Shetty (Goa)
Twenty-seven engaging stories from the heart of one of India's tiniest states come together in this engrossing book. This anthology introduces the reader to the true Goa, a place rich in history and tradition where the business of living is as serious and humdrum as it is anywhere else. Included here are the finest short stories from Goa translated from Konkani, Marathi and Portuguese, all remarkable for their rare freshness, and many marked by sparkling humour and a contagious lightheartedness.
Get the book here.
7. Saraswatichandra by Govardhanram Tripathi, Translated by Tridip Suhrud (Gujarat)
After 128 years, Saraswatichandra, the classic Gujarati novel by Govardhanram Tripathi, was translated into English, by Tridip Suhrud. Written by Tripathi between 1887 and 1901, this novel (a love story woven around characters Kumud, Kusum and Saraswatichandra) shaped intellectual consciousness in Gujarat and laid the foundation of modern Gujarati literature.
Get the book here.
8. Come, Before Evening Falls by Manjul Bajaj (Haryana)
Set in the year 1909, Come, Before Evening Falls is a powerful tale about the passion and perils of forbidden love, conflicting loyalties and devastating betrayal. Set in the Haryana of a century ago, in a village that is named after a stud bull, this book depicts rural Indian life with great authenticity: the author has done some impressive research, and the readers are the richer for it. Each charachter is lovingly depicted with a light and sure touch in this riveting story.
Get the book here.
9. Himalayan Wonderland: Travels in Lahaul and Spiti by Manohar Singh Gill  (Himachal Pradesh)
In the summer of 1962, a restless young Indian administrator, Manohar Singh Gill, made an arduous journey from the north Indian plains to the farthest reaches of the Indian Himalayas— the Lahaul and Spiti valleys— and spent a year there, living and working amongst the people. Gill went on to a distinguished career in the civil service, but his experience of the relentless beauty of these spectacular Himalayan deserts and the generosity of the people of this land changed him for life. Part memoir, part travel book and part anthropology, Himalayan Wonderland is a witty, opinionated account of Gill's lifelong affair with this extraordinary region.
Get the book here.
10. Curfewed Night: A Frontline Memoir of Life, Love and War in Kashmir by Basharat Peer (Jammu and Kashmir)
A powerful memoir about growing up in war-torn Kashmir, Curfewed Night: A Frontline Memoir of Life, Love and War in Kashmir won the Crossword Prize for Non-Fiction and was chosen among the Books of the Year by The Economist and The New Yorker. Basharat Peer, an eminent and renowned Indian journalist, provides a vivid account of the Separatist Movement that has engulfed Kashmir since 1989 and which led to more than seventy thousand people being killed in the battle between India and Pakistan over Kashmir.
Get the book here
11. The Eternal Mystery by Santosh Kiro (Jharkhand)
Santosh Kiro's The Eternal Mystery is a deep look into the tribal world and life of Jharkhand, particularly the Munda world. Numerous legends from the state's rural hinterland form an important part of the book. With elements of mystery, thrill, suspense, romance and tragedy, this is one book that keeps the reader hooked till the very last page.
Get the book here.
12. Hayavadana by Girish Karnad(Karnataka)
One of Karnad's most remarkable works, Hayavadana was influenced by Thomas Mann's The Transposed Heads, which in turn is borrowed from Kathasaritsagara, an ancient compilation of stories in Sanskrit. Culture defines society and this play has various cultural implications that are relevant even today. An interesting combination of folklore, mythology and drama, the book revolves around Man's search for his own self among a web of complex relationships.
13. Where the Rain is Born: Writings About Kerala by Anita Nair (Kerala)
An interesting and alluring anthology, smartly edited by Anita Nair – this collection of stories, essays and poems bring out the true essence of Kerala- its heritage, culture and people. This collection is made special vy the contributions of eminent authors like Pankaj Mishra, Kamala Das, Arundhati Roy and several more who describe their lucid memories of 'God's own country'. In addition to each author recording a dissimilar subject, the book  also carefully covers the societal ethos and cultural of this gorgeous state.
Get the book here.
---
Also Read: This FB Group Helps Book Lovers Get the Best Deals Online & Also Connect with Other Bibliophiles
---
14. A Breath of Fresh Air by Amulya Malladi (Madhya Pradesh)
Rich in insight into Bhopal's culture and psychology, A Breath of Fresh Air resonates with meaning and the abiding power of love. In a landscape as intriguing as it is unfamiliar, the protagonist's struggles to reconcile the roles of wife and ex-wife, working woman and mother, illuminate both the fascinating duality of the modern Indian woman and the difficult choices all women must make. Based on Bhopal's gas tragedy, this thought provoking book doesn't disappoint.
Get the book here.
15. Maximum City by Suketu Mehta (Maharashtra)
A native of Mumbai, Suketu Mehta gives us an insider's view of this stunning metropolis. He approaches the city from unexpected angles, taking us into the criminal underworld of rival Muslim and Hindu gangs; following the life of a bar dancer raised amid poverty and abuse; opening the door into the inner sanctums of Bollywood; and delving into the stories of the countless villagers who come in search of a better life and end up living on the sidewalks
Get the book here.
16. Mother, Where's My Country? By Anubha Bhonsle (Manipur)
In her powerful, poignant book, Anubha Bhonsle examines the tangled and tragic history of Manipur. Drawing upon extensive interviews with personnel of the Indian army and intelligence agencies, politicians and bureaucrats, leaders of insurgent groups, Irom Sharmila and her family and ordinary people across Manipur, the author has produced a compelling and meticulously researched book that is one of the best non-fiction works from India in recent years.
Get the book here.
17. Boats on Land by Janice Pariat (Meghalaya)
Boats on Land is a collection of 15 folklore infused short stories from Meghalaya. Spanning a sweep of centuries, from the mid-1800s to the present day, these colourful stories work as a historical, sociological documentation of a place and its people, interweaving the mundane and the extraordinary. Bringing out the myths, legends, customs and traditions of the region, this book offers a new way of looking at the little-known world of Meghalaya.
Get the book here.
18. Zorami by Malsawmi Jacob (Mizoram)
Zorami is the first novel ever written by a Mizo writer in English (The Mizos are a tribal community in North East India). Thematic strands of Mizo culture and identity are woven together with the inner 'rites of passage' of the protagonist, Zorami, a Mizo woman subjected to rape and displacement during a time of violent political upheaval and her journey towards personal healing and discovery of a new identity via a spiritual encounter. A story straight from the heart of Mizoram!
Get the book here.
---
You May Like: Meet Malsawmi Jacob – First Mizo Author to Write an English Language Novel
---
19. When the River Sleeps by Easterine Kire (Nagaland)
In When the River Sleeps, Easterine Kire transports her reader to the remote mountains of Nagaland in northeastern India, a place alive with natural wonder and mythical folklore. She tells the story like a fable, only the essential, without embellishments, inviting us into the lives and hearts of the people of Nagaland: their rituals and beliefs, their reverence for the land, their close-knit communities, and the rhythms of a life lived in harmony with their natural surroundings.
Get the book here.
20. Chasing the Rainbow: Growing Up in an Indian Village by Manoj Das (Odisha)
This beautiful collection of memoirs recounts the author's childhood experiences in the quiet and supine world of Indian villages. Set in Sankhari, the author's village by the sea in Orissa, the vividly written reminiscences are imbued with a childlike sense of wonder. A great imagery of the way country life used to be half a century ago and how the modernization changed the essence of life in this part of the world.
Get the book here.
21. I Shall Not Hear the Nightingale by Khushwant Singh (Punjab)
Shall Not Hear the Nightingale is a colorful and moving pageant of an ancient people about to throw off the yoke of foreign rule. Essentially, it is the story of Buta Singh, a shrewd and wily official working with the British, and of Sher Singh, his vain and ambitious son driven to rebellion against the foreign master. Set in Amritsar, at the height of India's freedom struggle, this book is widely considered one of Khushwant Singh's best books.
Get the book here.
22. Chouboli and Other Stories by Vijaydan Detha (Rajasthan)
The rollicking, folk-based tales of Rajasthani writer Vijaydan Detha included in this book have been winning awards in India since the 1970s. Detha's tales combine the local Rajasthani storytelling idiom with narrative technique from the modern short story to set a new standard for contemporary writing in India. Bollywood director, Amol Palekar's movie, Paheli, was based on one of these stories -a ghost falls in love with a young bride and assumes her husband's form so convincingly even her in-laws are fooled.
Get the book here.
23. Legends of the Lepchas: Folk Tales from Sikkim by Doma Yishey (Sikkim)
With its almost mystical aura, this book about Sikkim inspires imaginings of the Himalayas: Of sharp, snowy peaks, of thangka art perhaps, dragons, lotuses and prayer flags, even stories of the fabled yeti. The 24 folk tales in this fascinating anthology, painstakingly collected by Doma, reflect the cohesive and traditional world of the Lepchas, where gods, goddesses, animals, people and nature live in perfect harmony.
Get the book here.
24. Thirukkural by Thiruvalluvar, Translated by M.Rajaram (Tamil Nadu)
Thirukkural a collection of 1330 couplets organized into 133 Chapters written by Thiruvalluvar is considered to be the most important literature of Tamil Language. This iconic collection talks about statecraft, ethics, importance of cultivating moral values and almost everything that human beings would require to lead a peaceful life. There have been a number of translations of Thirukkural by many authors but M.Rajaram's translation is unique in its simplicity,elegance and maintenance of poetic rhythm.
Get the book here.
25. Father May Be an Elephant and Mother Only a Small Basket, But… by Gogu Shyamala (Telangana)
In Father May Be An Elephant And Mother Only A Small Basket But…, Gogu Shyamala, a highly respected activist and Telugu writer from Telangana, offers vignettes that offer glimpses into the life of the Madiga community. Focusing on the women in the Madiga household, the author also works her stories around issues that have been at the epicenter of the Telangana campaign: irrigation and water resources. Evocative settings, songs and incidents populate this interesting read.
Get the book here.
26. The Maharaja's Household: A Daughter's Memories of Her Father by Binodini Devi (Tripura)
Part memoir, part oral testimony, part eyewitness account, Binodini's The Maharaja's Household provides a unique and intimate view of life in the erstwhile royal household of Manipur in northeast India. It brings to life stories of kingdoms long vanished, and is an important addition to the untold histories of the British Raj. The author entrances er readers with her stories of royal life, told from a woman's point of view and informed by a deep empathy for the common people in her father's gilded circle.
Get the book here.
27. Kaleidoscope City: A Year in Varanasi 
by

Piers Moore Ede (Uttar Pradesh)

As with Suketu Mehta's Maximum City, author Piers Moore Ede tells Varanasi's story by allowing inhabitants to relate their own tales. Whether portraying a Dom Raja whose role it is to cremate bodies by the Ganghes or a khoa maker, who carefully converts cow's milk into the ricotta like cheese, he explores the city's most important themes through its people, creating a vibrant portrait of modern, multicultural India.

Get the book here.
28. With Love From the Hills by Ruskin Bond (Uttarakhand)
A wonderful collection of vignettes from Ruskin Bond's life, this delightful book recollect the author's memories and observances of his life in the Himalayan foothills. Written like a diary, this book is also about the man himself and what makes him what he is today. As is the norm with every Ruskin Bond book, this one too has a simple style to it that keeps you hooked. The reader craves to be in the author's shoes, up in the lap of the hills of Uttarakhand.
Get the book here.
29.  Galpaguchchha: Kabuliwala and Other Stories by Tagore , Translated by (West Bengal)
Set in rural Bengal, Galpaguchcha includes some of Tagore's most memorable stories like the 'The Pedlar from Kabul', 'Broken Nest', 'Punishment' and 'The Postmaster'. The Nobel Laureate conveys the story of every character's heart in a lucid manner, making the book soothing, poignant, and absolutely spellbinding. Definitely a masterpiece that shouldn't be missed!
Get the book here.
30. The Last Wave by Pankaj Sekhsaria (Andaman and Nicobar Islands)
In his debut novel, The Last Wave, researcher and veteran ANI-specialised activist Pankaj Sekhsaria employs a wide canvas to join the minutiae of the Andaman story. As many things seem to fall in place and parallel journeys converge in this engrossing story, an unknown contender appears-the giant tsunami of December 2004. This is a tale of lost loves, but also of a culture, a community and an ecology poised on the sharp edge of time and history.
Get the book here.
31. Maharaja in Denims by Khushwant Singh (Chandigarh)
For a state that is almost always intoxicated with the joy of living, Punjab's historical narrative has seen very poignant and turbulent moments. This is the essence of the life and times of Punjab that famous author Khushwant Singh tries to capture in this modern tale told in a bold, moving and racy narrative. A true page-turner indeed!
Get the book here.
32. City of Djinns: A Year in Delhi by William Dalrymple (Delhi)
Sparkling with irrepressible wit, City of Djinns peels back the layers of Delhi's centuries-old history, revealing an extraordinary array of characters along the way-from eunuchs to descendants of great Moguls. With refreshingly open-minded curiosity, William Dalrymple explores the seven "dead" cities of Delhi as well as the eighth city—today's Delhi. Entertaining, fascinating, and informative, this book about India's capital is an irresistible blend of research and adventure.
Get the book here.
33. Lakshadweep Adventure by Deepak Dalal (Lakshadweep)
A breathtaking adventure tale of scuba diving, sharks, windsurfing, survival, sea turtles and sabotage, Deepak Dalal's Lakshadweep Adventure is set in one of the most beautiful locales of India. By and large, though, the book reads more like a travel brochure; elaborate descriptions of lagoons, and the natural fauna and flora of the islands introduce you to a world which few people are aware of; a service indeed, to those of us who've not had the good fortune to actually visit Lakshadweep.
Get the book here.
34. A House In Pondicherry by Lee Langley (Pondicherry)
Other than being a meticulously researched account of Pondicherry and its history, the novel is also a moving account of changing worlds. The third of Langley's novels set in India, the story traces the journey of Oriane, a young French girl who meets a political agitator seeking sanctuary under the French flag at Pondicherry. It is also a remarkable account of the rise of the town's two greatest spiritual projects, the Aurobindo Ashram and Auroville.
Get the book here.
---
Also Read: 7 Street Side Book Markets in India That Must Be on the Bucket List of Every Book Lover
---
Like this story? Have something to share? Email: contact@thebetterindia.com, or join us on Facebook and Twitter (@thebetterindia).
NEW! Click here to get positive news on Whatsapp.
We bring stories straight from the heart of India, to inspire millions and create a wave of impact. Our positive movement is growing bigger everyday, and we would love for you to join it.
Please contribute whatever you can, every little penny helps our team in bringing you more stories that support dreams and spread hope.