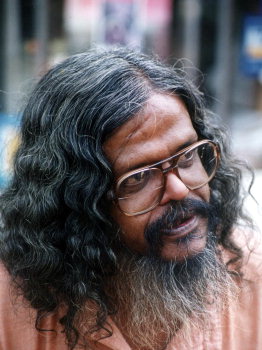 At a time when there was little if any information interchange, one man worked hard to obtain it and take errant politicians to task. He paid for his doggedness in many ways, but that did not weaken his spirit or resolve. With no personal wealth or aspirations, he died in penury. But Nawab Rajendran's legacy remains for all to admire and emulate! Read about the life of a great man.
At a time when there was little, if any, information interchange, one man worked hard to obtain it and take errant politicians to task. He paid for his doggedness in many ways, but that did not weaken his spirit or resolve. With no personal wealth or aspirations, he died in penury. But Nawab Rajendran's legacy remains for all to admire and emulate! Read about the life of a great man.
These are the days of activism, and we are coming across a number of activists working in different fields. The Right to Information Act has emerged as a powerful tool for many such activists, and Non-Governmental organizations are making use of this new Act to promote their aims and causes. Various social networking sites are also doing good work in this area. With the increased popularity of such sites, passing information has been made easy.
When the media is biased, such sites help to bring out many secret deals and unholy practices being followed in the corridors of powers. All these developments have come about in the last decade, though corruptions and malpractices by the rulers were there even before. At a time, when obtaining information from a government department was difficult, and when publicizing the same was even more difficult, there was a person who crossed all the barriers that stood in his way and fought against the arrogant rulers and their cohorts till his last breath. All he had was the support and unconditional love of the common man who saw a savior in him. He never tried to benefit from the confidence put in him by the people. He lived a life of ultimate simplicity, but with a mind that was always thinking of new ideas to fight the evils in our society.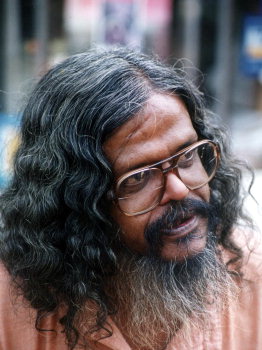 T.A. Rajendran, born in the small town of Payyannur in the Kannur District of Kerala, started his career as a journalist. After a short span of working as a journalist, he started a mid-day daily in Trichur, in the name and style of Nawab. Everyday, some or the other news about corruption in the government departments were brought out through this publication. It earned him a lot of enemies and the anger spewed by the influential people caused him his publication. He had to close it forever. Though the Nawab daily has closed, the name did not leave him. He became popular as Nawab Rajendran.
After closing the daily, he adopted public interest litigation as a tool to fight the evils of the society. He has filed a number of cases under this provision and most of them were against the former chief minister and a powerful politician of his time Late Mr. K. Karunakaran.
His biography clearly outlines various cases which he had filed against many political leaders, and claims that he had the custody of various incriminating documents, which would have put an end to the career of many political leaders in Kerala. In it, he says that the then DIG of Crime Branch Mr. Jayaram Padikkal had taken all the documents from him under the instruction of K. Karunakaran. He had to suffer a lot during the efforts of the police in collecting those records. He had great difficulty in opening his mouth because of the damage caused by the police who plucked his teeth ruthlessly in their mission to take the documents. He had undergone many atrocities during his time under police custody too. As Rajendran claims, Padikkal has repented about this action later.
Though the most number of cases he had filed were against K.Karunakaran, there was one single case which shot him to fame. The then irrigation minister, who was undergoing an enquiry about some misdeeds in the purchase of pipes for irrigation purpose, arranged his daughter's marriage. The girl was still a minor. At a time when there was no Right to Information Act to help in gathering information, Rajendran took great pain in collecting the necessary documents and filed a case against the minister. This case was proved to be right prima facie and the minister had to resign after a comment form the High Court.
After this incident the government approached the High Court of Kerala to denounce Nawab Rajendran as an annoying litigant, as he approached the court with a large number of cases thus wasting the valuable time of the court. However, the honorable High Court of Kerala rejected this plea, stating that a good number of cases filed by Nawab have been won by him and the society requires certain people like him who will work as corrective forces against corrupt practices.
Though he was born in Kannur and later shifted to Trichur his main area of action was Kochi city where the High Court of Kerala is located. Though he was very famous, he was a pauper and the only wealth he had was a pair of worn clothes and an old-style spectacle with thick black frames. He never stayed at a place for a long time. He was always on tour searching for evidences to support his case or to find out new issues. Still he had a unique postal address. It was, Nawab Rajendran, High Court Verandah, Kochi. It may sound funny, but the fact is that he never missed a letter posted to this address. Though we all have a lot of complaints about the postal department, the people in the department were punctual as far as the letters for Nawab was concerned.
When he was at Kochi, he used to stay at the students' hostel of Government Law College. The students of that time and other youngsters regarded him as a leader. They were ready to support him in all ways. They provided him shelter in their hostel rooms, shared their food with him and even gave him spare change for his daily intake of energy drinks. If he was not able to stay in the hostel due to various reasons, his next shelter was the Bus Stand. During my college days, I used to see him regularly. Most of the time, he used to travel by foot. Sometimes he would accept a ride on the two-wheelers of some of his friends. For long journeys he depended upon lorry services. The students, journalists, drivers and many people belonging to the middle and lower strata of the society were behind him. However he was never interested in using that popularity and confidence for his own benefits.
There is an Indian Coffee House in the heart of Kochi city, very near to Maharaja's College. It had a reputation of being a meeting joint for intellectuals and students who had leftist thoughts. The evenings there were always filled with many discussions and debates among small groups. Nawab was a regular visitor there too. Once I asked him about starting an organized movement against the evils of the society. His reply really surprised me.
There is no need to organize movements. Organization will certainly end in more corruption as an organization needs a lot of funds to run the show. And we will have to depend on rich people for that. As a result, we will have to do favors for them. If anybody wants to join me, let him do the work on his own. If everyone is ready to fight the evil practices of the society then all such nasty things will disappear.
Thus he continued his crusade against the wrongs in the society. Corruption was his major area of interest; though he brought a number of other evils also out and fought against them. He has been received recognition for his efforts by many private institutions.
In the 1990's, he was awarded Rupees Two Lakh by a Trust for his outstanding services to the society. He took just Rupees Thousand from it, and donated the rest for constructing a state-of-the-art mortuary in the Kochi General Hospital. This proved that money was not an important consideration in his life. Fighting with the malicious practices and with the malicious tumour which was eating him slowly, he breathed his last breath on 10th October 2003. His last wish was to donate his body for medical studies. However, it was claimed that the government cremated his body in a hurried manner. The government received a lot of criticism over this incident. Thus even by his death he succeeded in exposing the political class!
We bring stories straight from the heart of India, to inspire millions and create a wave of impact. Our positive movement is growing bigger everyday, and we would love for you to join it.
Please contribute whatever you can, every little penny helps our team in bringing you more stories that support dreams and spread hope.