Bangalore-based Blank Noise movement recently launched a campaign – #WalkAlone – to encourage women to reclaim public spaces and get back their right to walk without fear. The unique volunteer-led project engages not only perpetrators and victims, but also spectators and passers-by.
As a woman, when was the last time you remember taking a walk alone, all by yourself, without the fear of harassment? A recent survey by the NGO ActionAid found that a whopping 79% of women in India have been subjected to harassment or threatening behaviour in public.
Blank Noise, a volunteer-led project that grew out of Bengaluru, has been working to tackle street harassment and change public attitudes towards sexual violence through creative initiatives since 2003. In its latest campaign #WalkAlone, Blank Noise asked women across the country to break their silence and walk alone to fight the fear of being harassed on the streets.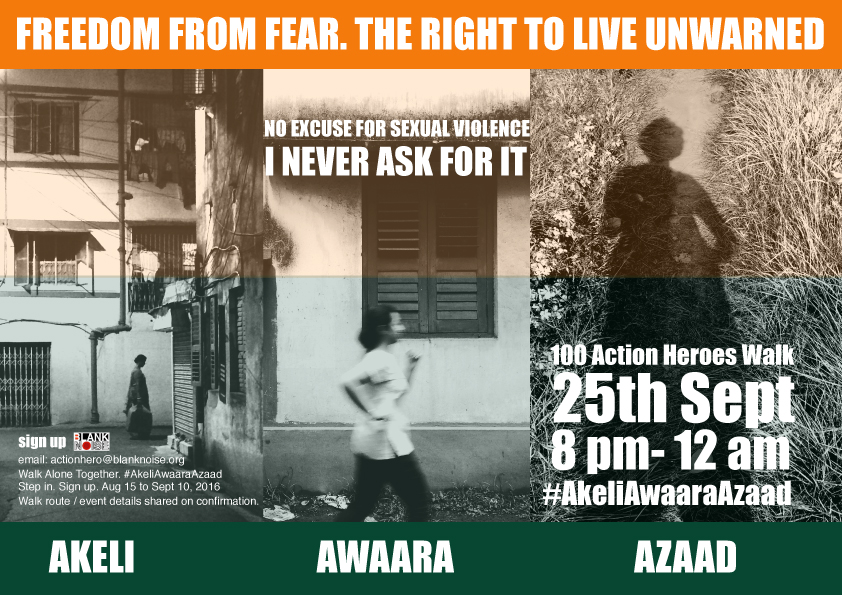 Blank Noise was started by Jasmeen Patheja back in 2003 as a graduation project. Born and brought up in Kolkata, Jasmeen always had the urge to use her creativity to make a difference. Haunted by the experience of being harassed on the streets, even as a young girl wearing her school uniform, and frustrated by public apathy, she decided to do something about it.
As her final project for a college course on communications for social change, Jasmeen decide to launch the Blank Noise initiative. By drawing attention to street harassment through this project, she wanted to transform attitudes towards an often-trivialised problem in India – eve-teasing.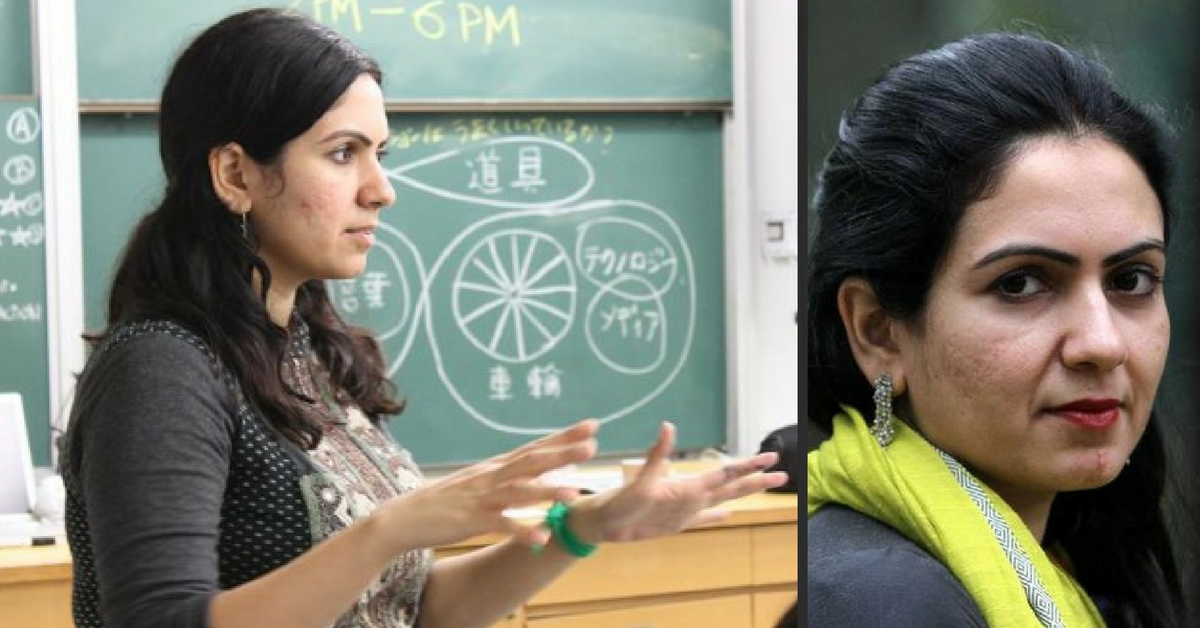 The graduation project has garnered attention and momentum since its inception and has, since then, become a model of active citizenship across India.
Jasmeen employs a variety of strategies in her Blank Noise project — from advocating for effective legal mechanisms to staging theatrical public protests to using new technology to publicise offences. These strategies help mobilise citizens against sexual harassment in public spaces. Her campaign also uses technology as a way to address both women's concern for privacy and the lack of effective laws that deter street harassment and sexism. She also holds week-long courses that teach women how to be active in building safe spaces.
"Blank Noise aims to create a safe space to share and build experiences of sexual violence. We are committed to mobilising citizens as 'Action Heroes', who are all the individuals who want to create a safe space. We are committed to tackling and shifting the fear-based relationship women have been taught to have with their cities," says Jasmeen.
The Blank Noise movement is unique because it engages not only perpetrators and victims, but also spectators and passers-by. It relies on 'Action Heroes' or a network of volunteers, from across age groups, gender and sexuality.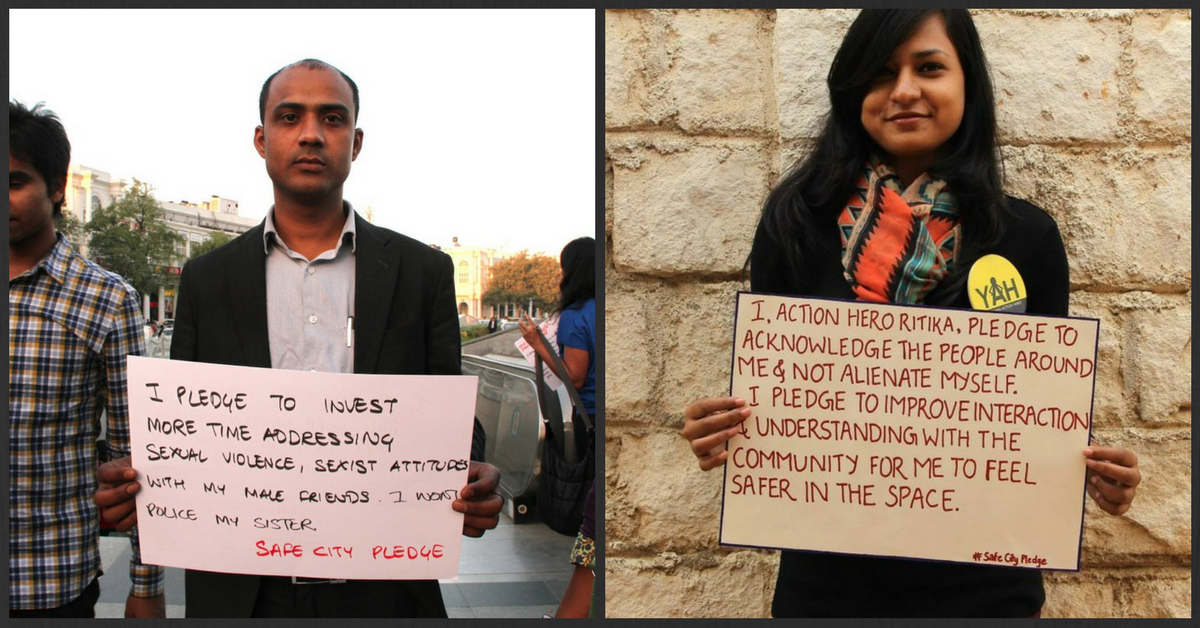 During the project's sensitisation drives at urban bus and railway stations, these volunteers work with bus drivers, women bus conductors, and traffic police, who then become active participants in the process of changing passive social behaviour that allows eve-teasing.
Recently, Blank Noise launched a campaign – #WalkAlone – to encourage women to reclaim public spaces and get back their right to walk without fear. The campaign is urging women to walk alone, in an unapologetic way, at any time of day, to places they've never been to before, and take pictures.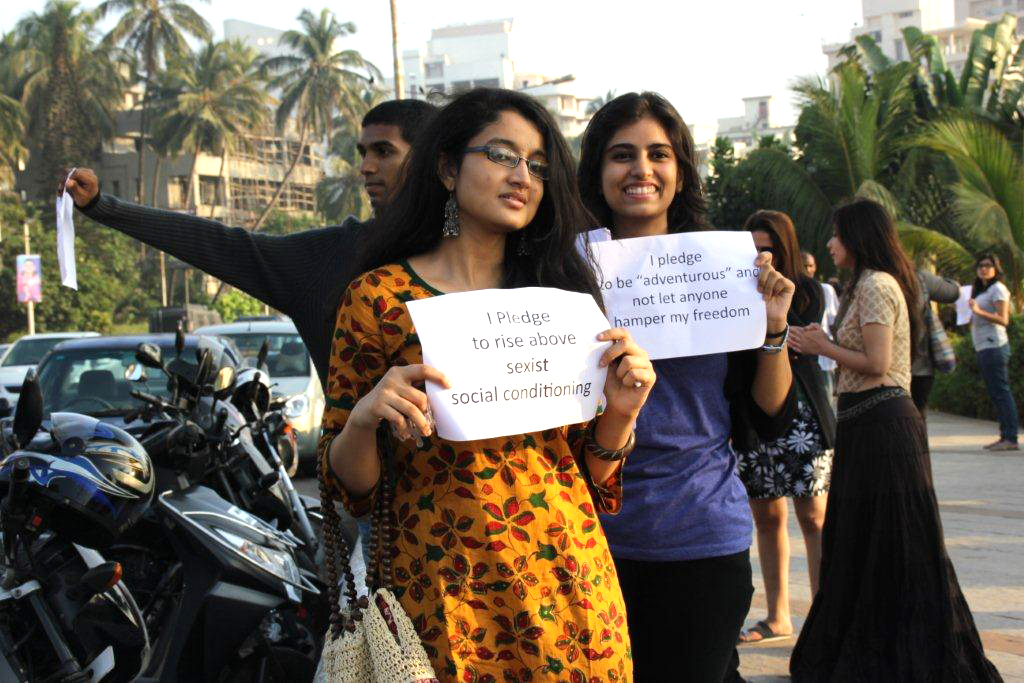 Jasmeen feels that for the roads to be safer, the presence of women in public places should be the norm rather than the exception.
"To live without fear is a fundamental right. If walking alone is dangerous, should we resign ourselves to an environment of fear or should we design ways to intervene and change the scene?" asks Jasmeen, who is working with a lawyers' group to amend the country's legal statutes and make street sexual harassment  a serious and punishable offence.
---
You May Like: 10 Surprisingly Simple Self Defence Techniques Everyone Needs to Know
---
One of the Action Heroes at Blank Noise, Bengaluru-based Neha Khandelwal, was harassed and groped several times as a young girl. It mattered to her that women be able to walk alone on the roads, free from a constant feeling of being under threat. She decided to walk alone at 10.30 pm on a Bengaluru street considered unsafe for women in the city. Knowing the risks involved, she carried a big metal house key with her as a weapon.
"Street harassment incidents are so common that they're not taken seriously. When I reported the incidents of harassment, people told me that I should have kept my name anonymous!

I knew the risk I was taking. I still do it because it is important. It is important to be able to walk freely. Women also have a right to spaces, just like men," Neha opened up in an interview to the Deccan Chronicle.
The Blank Noise project's blog serves as a platform for women to share testimonies of eve-teasing and experiences that are often suppressed for fear of ridicule and humiliation. The blog has elicited an unprecedented response and many women have written how much more confident they feel after going on these walks.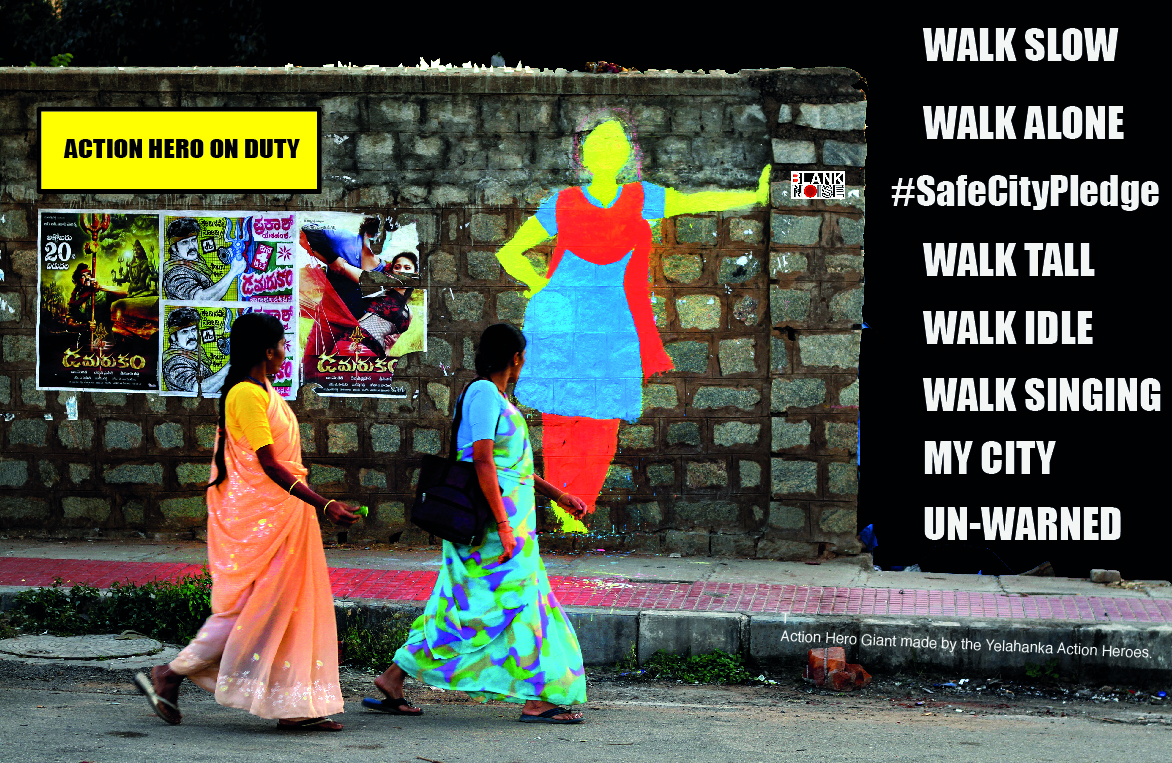 Anthropologist Atreyee Majumder, after one of her Walks Alone, posted her experience walking in the hilly cities of Kohima and Shillong on the Blank Noise blog.
" I walk around downtown, uphill and downhill. Up to the war cemetery. I forget my gender, in a most liberating way."
Chaitra Rao from Bengaluru, who walked alone on the desolate streets of Koppa village of Karnataka, wrote:
"I, for one, have always been a fearful person and wanted to use this opportunity to discover some strength in myself. I did get a few stares but I ignored them and continued on. It was very purposeful in a personal sense because it shows you that leaving fear behind may not be as bad as we think."
Satya Gummuluri, a volunteer with Blank Noise for several years, wrote:
" When I feel anxious on desolate streets, I give myself a little talk, telling myself that I am creating an image in people's minds that it's normal for a woman to be out on her own even if it's late. In a way, I'm shaking up the socio-cultural perceptions associated with it."
Inspired by the vision and strategies behind this project, similar movements have started in seven other Indian cities – Mumbai, Delhi, Chennai, Calcutta, Chandigarh, Hyderabad, and Lucknow.
Moving beyond the network of tech-savvy supporters who frequent the blog, Blank Noise is now also building partnerships with youth groups working in urban slums. These youth groups use letters and posters in indigenous languages to spread their message and change attitudes.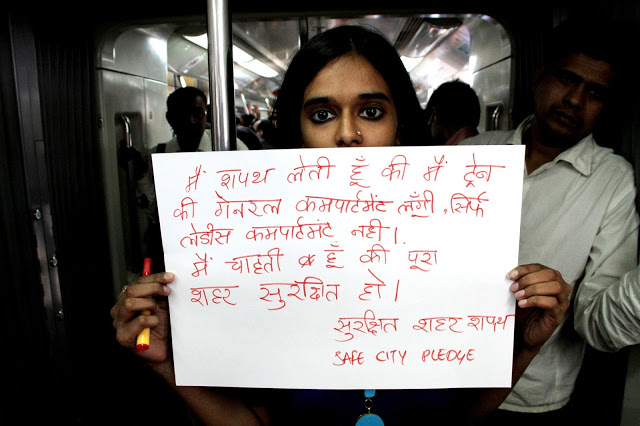 Another unique approach Blank Noise is using to combat street sexual harassment involves using text messages to report the details of harassment, and feeding them into a database that will be linked to police reporting systems. The idea is to eventually create a map of unsafe spaces, using concrete examples of crimes. This will enable lawmakers to take simple steps, such as, changing the lights in a particular area or posting extra security personnel.
---
You May Like: Being Harassed on the Street in Mangolpuri, Delhi? Knock on the Door of Any of these Designated Safehouses
---
Blank Noise is also tackling the notion of shame and blame through campaigns such as "I Never Ask For It" (ask to be sexually harassed when on the streets).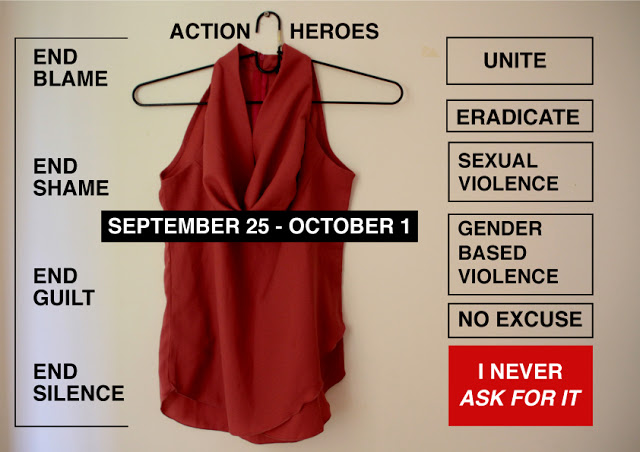 Under this campaign, women send in the garment they wore when they experienced sexual violence, threat or intimidation. The testimonies will be shared online and the garments will then be used to create public installations that break the preconception that women get harassed because of the clothing they wear.
Over a ten year period, Blank Noise has grown from being a student led project to being an international network of 'Action Heroes'.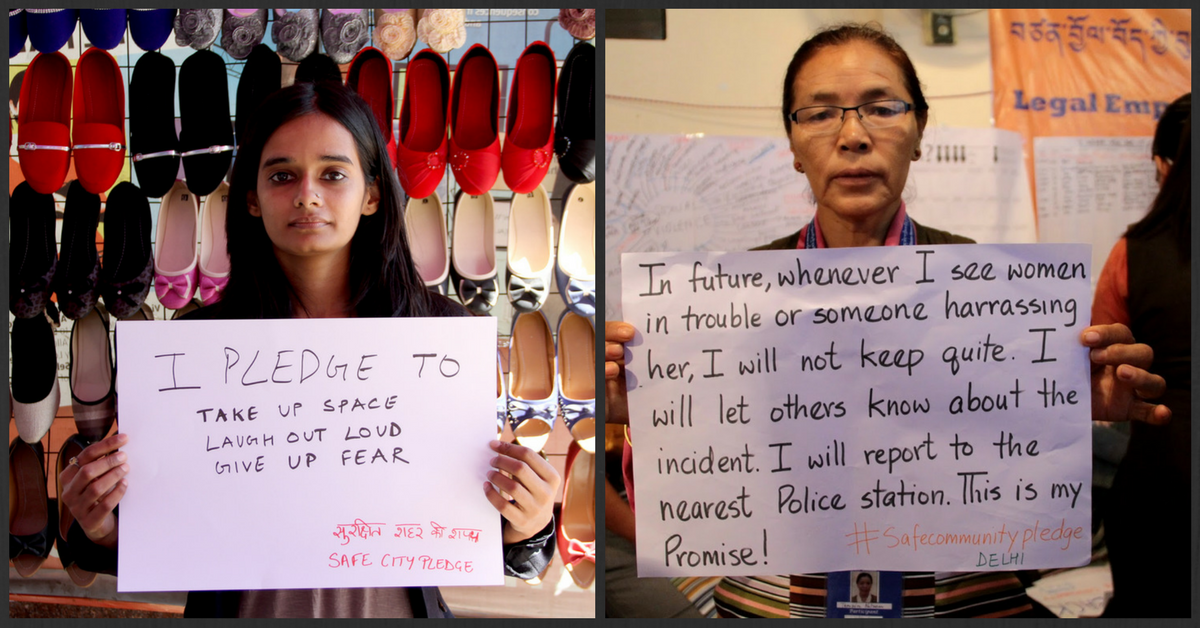 Through its creative street actions, dialogue and campaigns, Blank Noise has empowered victims of street sexual harassment who feel they cannot speak out or access legal remedies, challenged overconfident perpetrators who believe they can get away with molestation and abuse, and confronted the apathy and hesitation of spectators who do not consider harassment their problem.
Blank Noise's efforts towards achieving a safe and free environment for women on the streets, and encouraging society to become more egalitarian towards women in general, has resonated outside the country too. In 2015, Blank Noise's public art project, "Talk to Me", took first place in the International Award for Public Art, a Sino-American initiative that annually recognises work aimed at changing civic thought somewhere in the world.
"I Never Ask For It" is Blank Noise's latest campaign towards eradicating victim blame. Organised in collaboration with organisations, collectives and Action Heroes worldwide, the 'I Never Ask For It' week will be held this year from September 25  to October 1. Here is how you can help and be a part of this initiative.
Blank Noise can also be contacted at http://blog.blanknoise.org/ or on Twitter at @BLANK_NOISE.
---
Also Read: 83,000 Girls Sign Up as Volunteer Police Officers in UP, 1172 Child Marriages Stopped in 4 Months
---
Like this story? Have something to share? Email: contact@thebetterindia.com, or join us on Facebook and Twitter (@thebetterindia). To get positive news on WhatsApp, just send 'Start' to 090 2900 3600 via WhatsApp.
We bring stories straight from the heart of India, to inspire millions and create a wave of impact. Our positive movement is growing bigger everyday, and we would love for you to join it.
Please contribute whatever you can, every little penny helps our team in bringing you more stories that support dreams and spread hope.