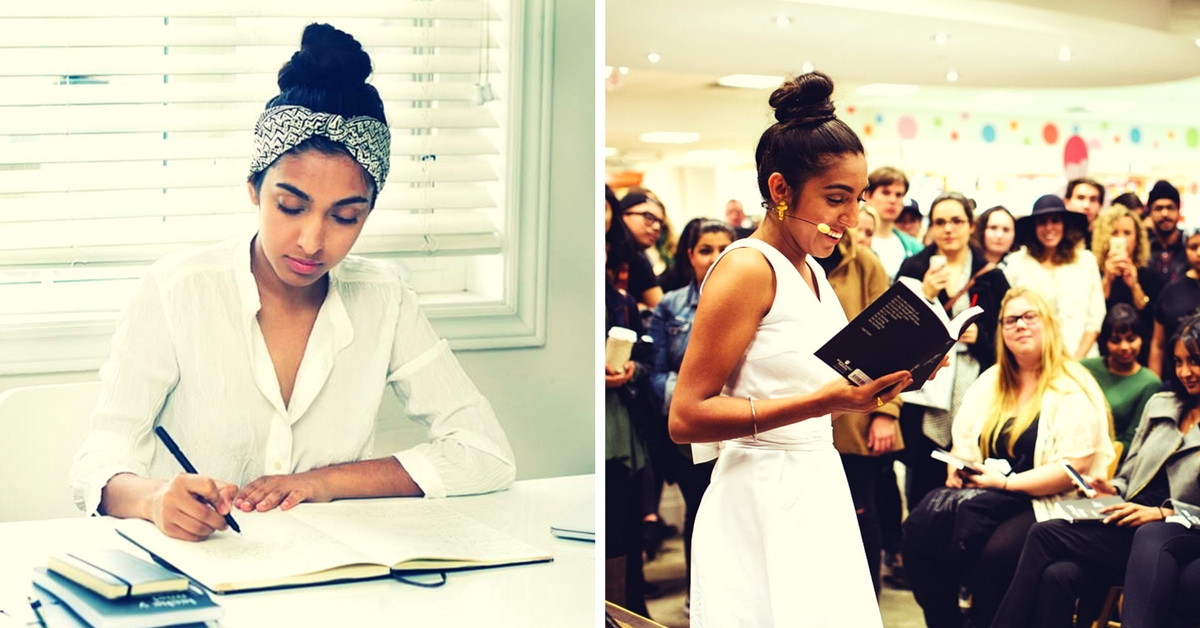 Meet Rupi Kaur, a poet of Indian origin, who began writing when she was only 17 years old. She has a huge following on social media because of her unique poems written in simple, relatable language.
Meet Rupi Kaur, a poet of Indian origin, who began writing when she was only 17 years old. She has a huge following on social media because of her unique poems written in simple, relatable language.
"Our backs
tell stories
no books have
the spine to
carry."
Women of Colour – Rupi Kaur
Go to her Instagram page, which has over 5 lakh followers, and you will find it flooded with such hard-hitting, strong poems that often say a lot more than a page can carry.
Rupi Kaur, a 23-year-old poet, author, and spoken word performer, was only 4 years old when she moved from Punjab to Toronto. Her first self-published book, Milk and Honey, sold over 400,000 copies and was No. 3 on the New York Times Best Sellers list.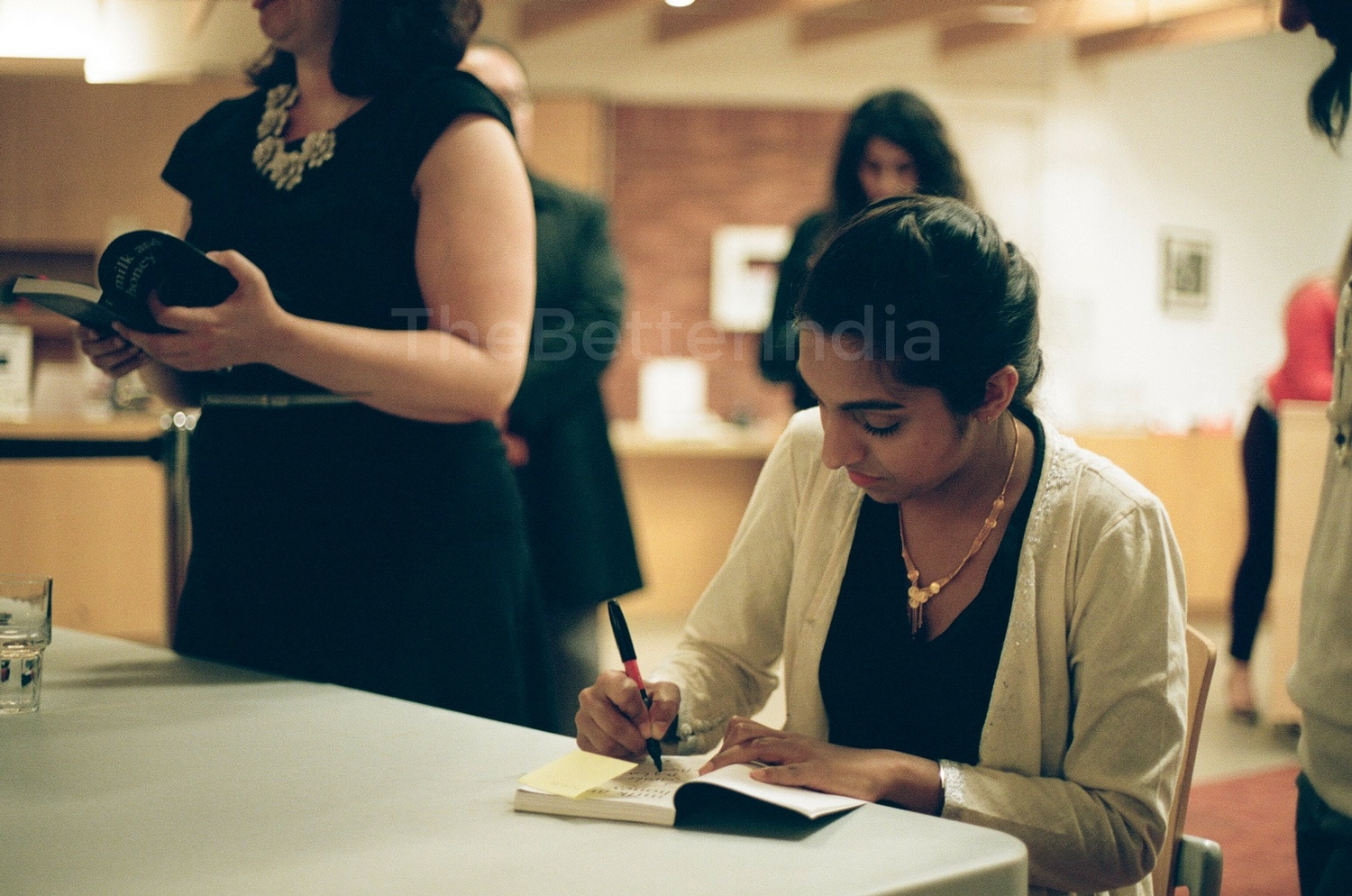 Some of the poems in the book, she says, "are biographical or autobiographical with respect to friends and family," or are simply based on things that happen to people across the world. Her work, right now, is focused on feminism, love, race, violence, and more.
"I would have been a designer if I was not a poet," says Rupi, who received her degree in professional writing, rhetoric studies and business last October. She is a part of the new generation of bestselling poets who use social media to share their work and build a strong community of followers over time – breaking one prejudiced perception after another. In a candid conversation with TBI, she talks about her journey as an immigrant into the mainstream world of a different country from the one she was born in, her poems, feminism and how she is writing through life at the moment.
---
You may also like: Meet the Dreamcatcher: A Photographer Who Connected 365 People with Their Dreams in One Year!

---
On the motivation and inspiration behind her desire to write poetry
I think it was just a desire to express. Growing up, there was a lot of silence at home in terms of a few things I was feeling. It was like, I am feeling all these things and that's okay, but I am not supposed to talk about this and that. My art for me was a way to figure out what it was that I was going through and to figure out the emotions that I was experiencing. Since I was feeling these things so strongly, I was heavily motivated to express them. And when I expressed them I realised that the feelings were universal. That sense of community was so invigorating that I was consistently inspired to share.
On taking to social media to share her work and if it is a good idea for other budding writers to do the same
I think social media was a big support in allowing me to be who I am today. I wasn't even trying to be a writer…in my frame of mind people like me don't become writers. We are not authors. We read the books that authors write, but we are not the ones writing those books. Even when I wanted to publish and I was asking my professors about it, they told me – 'no one's going to publish a book of poetry…they don't do that anymore. The only poems published are classics by people who are already dead.' I felt that I was up against a gatekeeper who wasn't letting me in and social media was great in a way that I was able to create a community of readers and prove that this was a viable option. This was a book that people wanted to read and therefore it should be and can be published. I feel that for young people of colour it's very hard to break into the mainstream here in the West. But social media is an accessible environment and you get access to knowing readers around the world. I think it is very important to build your own community that way.
On the journey since her book Milk and Honey was published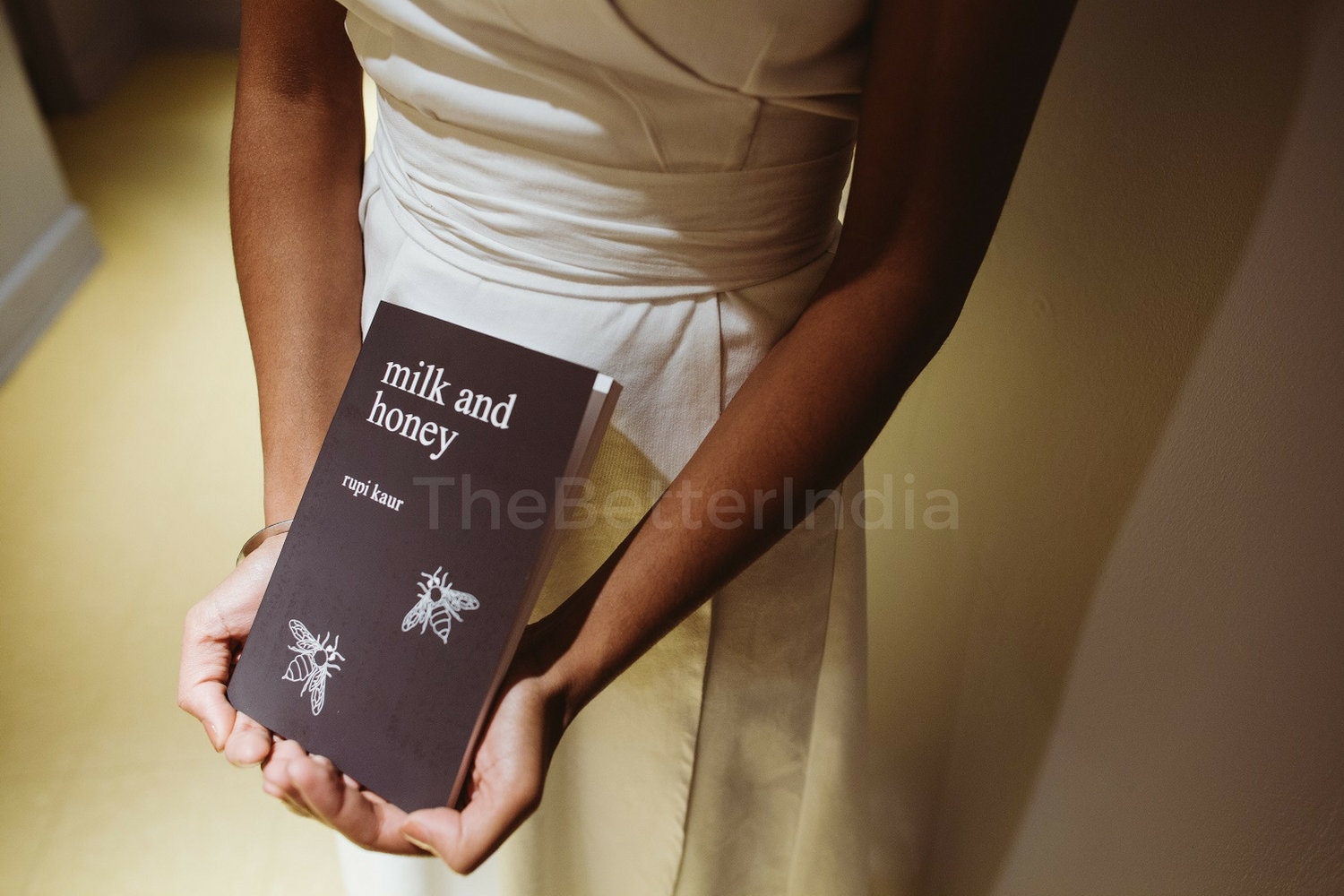 It has been incredible. I couldn't have ever imagined it going where it has gone. I assumed that I would publish and the response would be just good – but it was so phenomenal and it is growing so quickly since then! One week it was at No. 3 on the New York Times list. It is absolutely incredible that this book, which I created in my living room in university, is now among bestsellers across America. And that gives me butterflies. To me it isn't even real yet because this book is like a home-made recipe. Like your mum has that special recipe, right? And then all of a sudden it has become incredibly popular and every single chef around the world is making it. It's like wow! It is so cool and so humbling. Most importantly, it allows me to believe in myself everyday because even though I have come so far, there are still days, and there will always be days, when I don't believe in myself and all the negative feelings come up. Milk and Honey is like an anchor. It helps me know that I can do this, and I can do it again. It is proof of my power.
Many people still remember Rupi as the woman who shared a picture that showed her lying in bed with her pyjamas and sheets stained with a small amount of menstrual blood, on Instagram. The image was banned but put up again later. And it went viral, generating an almost endless debate.
Does she think the picture had some kind of positive impact?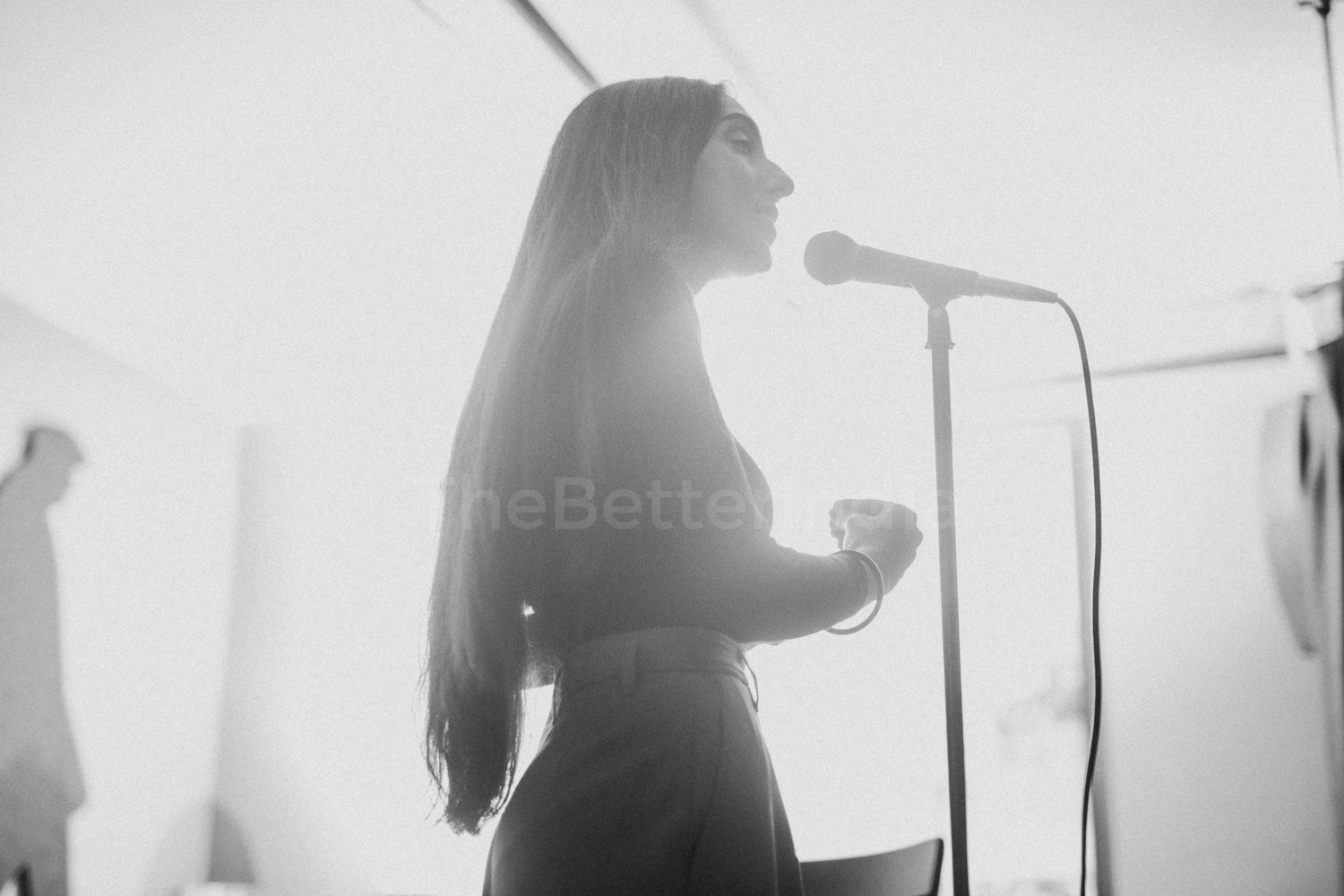 Definitely! That project was done for school. Even my posting it on social media platforms was a part of my hypothesis. We were testing the way the same piece of art is perceived differently in different spaces. I had written poetry about menstruation in the past and photography was just another art form. I guess I was naïve because when I posted that picture I thought everything would be fine. Of course I received so many threats, so much anger and a lot of negativity, but I think that positivity was the end result of it all because people were finally talking about periods. And why shouldn't we? I think it was amazing because families were sitting down and talking about it. I got an email from a girl who said that she sat down with her dad, brothers and sisters and talked about why this photo is important. I read scores of article that were calling 2015 the year of the period, the year in which talking about it was okay. I think many things came together – there was my photo, other people who were talking about the subject, and it was kind of a mini revolution centred around periods, which is very important.
On the core feelings that she takes inspiration from when writing poetry
I write about a lot of things. Mostly, my goal is to take different emotions and dissect them. Survival, feminism, abuse, love, healing, and loss, as you mentioned, are definitely the core themes of Milk and Honey, but they are probably not going to be the core themes of the next book or the book after that. In my growth as a writer, I am trying to explore other things that I haven't touched upon yet.
On feminism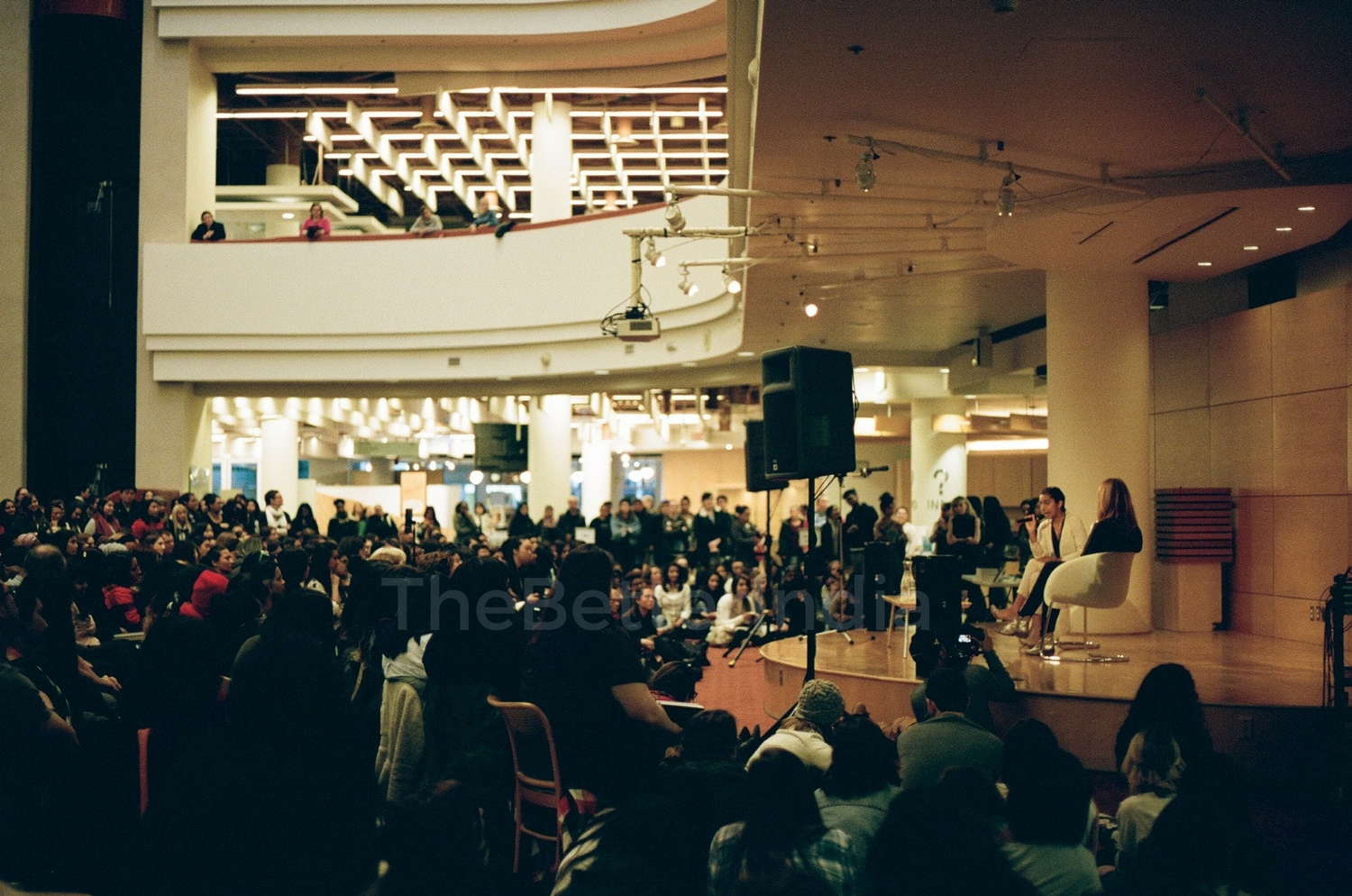 I kind of always considered myself a feminist even when I didn't know what it meant; the reason for that was because I think being a girl was so difficult that any term that allowed me to embrace being a girl, I wanted it. So I heard the term feminism, and in that word I heard female, and I was like 'yes, that's me'. I remember, in Grade 12 English class, my teacher asked how many of us were feminists? And I wanted to put up my hand instantly because it seemed like such a natural response. But I looked around the room and no one had lifted their hands. So I kind of shrank into my seat. My teacher said – 'That's interesting' – and then started asking questions like –'How many of you believe that men and women should be treated equally? How many of you believe that all religions are equal? How many of you believe that children shouldn't be abused?' And more of this and that…she was basically equalising the entire world in every way that we could see it and everyone was raising their hands. At the end of it she said that if you can say yes to all these things, it basically means that you are a feminist. So I think my introduction to feminism was so beautiful and was taught to me so honestly that it always stayed with me. I see feminism as the belief that all people – men, women, children, adults – should be treated equally at every single level. And I don't know any other way to see that.
---
You may also like: EXCLUSIVE: From IIT to US Air Force to TVF Pitchers – Journey of Arunabh Kumar, the Qtiyapa Guy
---
Her favourite poem and what was her thought behind writing it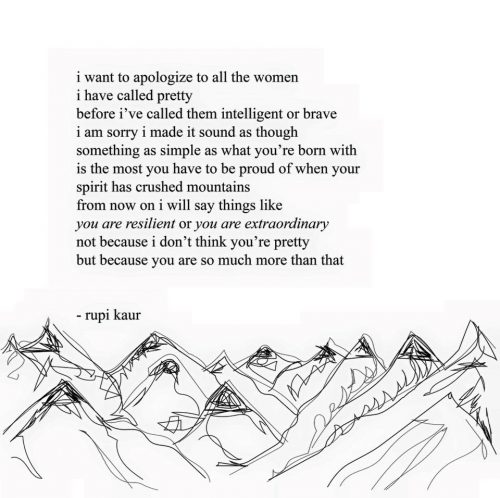 I have so many favourites, but there is one that goes – I don't want to call women pretty because they are so much more than that.
It is basically about how we give each other compliments. Personally, in my journey, what I wanted most of all was for people to tell me that I am pretty. That was a compliment that I always searched for and when people would tell me that, I would feel so fulfilled, like that was the highest compliment I could ever receive and also like the highest compliment I could give to the women around me. And then, one day, while thinking about it I felt that it is so ridiculous. First of all – what is pretty? What makes you not pretty? I thought that the one thing that I can't take credit for is how I look on the outside. That is all due to my parents and the universe and the higher power. And that is the one thing that I am trying to get compliments for? Why would I use that as a value system to make the women around me feel good, when what they really have is the power inside? So there is a kind of revolution happening inside of me which says that I don't need to hear that I am pretty, even if society tells me that I need to be as pretty as possible to be successful. My intelligence is something that I created and I can work on, and my kindness, and how much I can give to other people.
Favourite poem from some other poet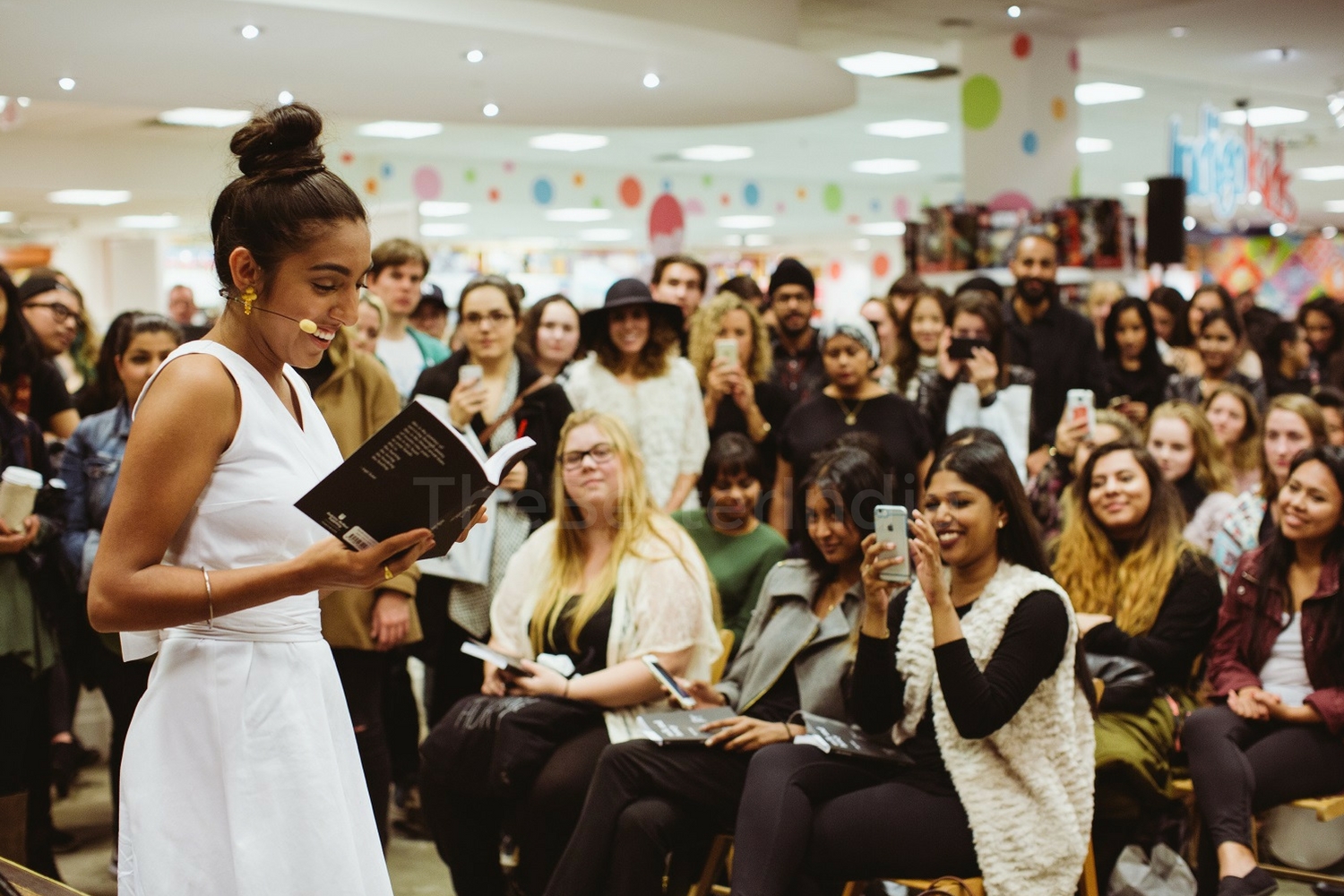 One of my favourites is from the book The Prophet by Kahlil Gibran, and it is on marriage. I think it is one of the most beautifully illustrated poems on how a marriage should be. And the reason that the poem stands out for me is because I have grown up in a community where I have heard the word since the time I was born, and no one has described what a marriage should be. There is so much talk about it in our families – yes, you should get married; yes, you can do all those things, but after you are married; this is how your wedding should be; these many people will come to the wedding, etc. And it is all so superficial. Nobody touches the depths of a marriage and what that power looks like when two people come together. It was when I read the poem that I felt I want marriage too. It was incredible.
On the discrimination she faced because of her accent when she was growing up and how she overcame it
I think that is the case for everyone who is an immigrant and for whom English is a second language at school. It is unfortunate that so many of us experience that and are not able to communicate. When we moved to Canada my parents didn't know any English and for the years when I was here without going to school, I wasn't communicating in or learning English. So when I started school, I didn't know any for a few years. When I did start speaking a little of it, I had to face the response and the bullying. I couldn't even tell you how I overcame it, because you kind of just do! You either use that pain and you turn it into love and share the love, which is what I do through my art. Or you just keep it inside of you and let it rot and hurt you, but then you kind of end up spreading that negative energy to other people. So overcoming it for me was about self-love and accepting myself and realising that I am perfect the way I am.
Her advice to budding poets and writers around the world
Write every single day and hone your craft, especially when you don't believe in yourself. Really, rigorously practise it, and there is no way that it's not gonna blossom.
Photo credits: Baljit Singh and Kp Kaur
Like this story? Or have something to share? Write to us: contact@thebetterindia.com, or connect with us on Facebook and Twitter (@thebetterindia).
We bring stories straight from the heart of India, to inspire millions and create a wave of impact. Our positive movement is growing bigger everyday, and we would love for you to join it.
Please contribute whatever you can, every little penny helps our team in bringing you more stories that support dreams and spread hope.