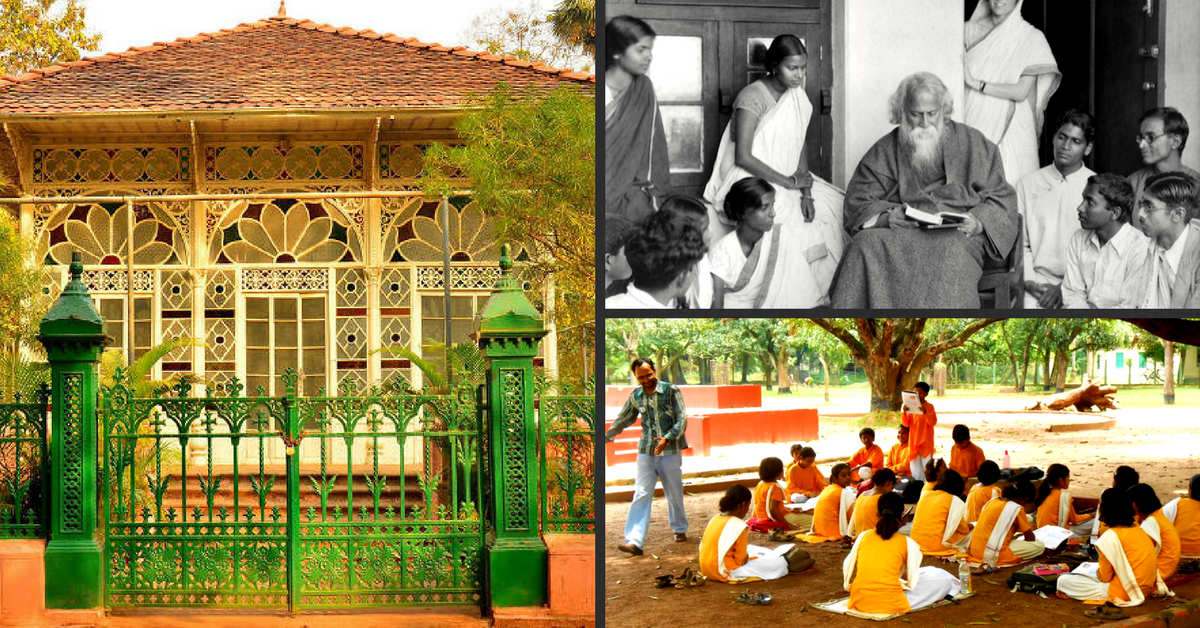 Located in Bengal's rural hinterland, Santiniketan embodies Rabindranath Tagore's vision of a place of learning that is unfettered by religious and regional barriers. Not only did this unique institution help education go beyond the confines of the classroom, it nurtured some of the most creative minds in the country.
"She is our own, the darling of our hearts, Santiniketan.

In the shadows of her trees we meet

in the freedom of her open sky.

Our dreams are rocked in her arms.

Her face is a fresh wonder of love every time we see her,

for she is our own, the darling of our hearts." – Rabindranath Tagore
Located about 158 km northwest of Kolkata in Bengal's rural hinterland, Santiniketan embodies Rabindranath Tagore's vision of a place of learning that is unfettered by religious and regional barriers. Established in 1863 with the aim of helping education go beyond the confines of the classroom, Santiniketan grew into the Visva Bharati University in 1921, attracting some of the most creative minds in the country.
From its very inception, Santiniketan was lovingly modelled by Tagore on the principles of humanism, internationalism and a sustainable environment.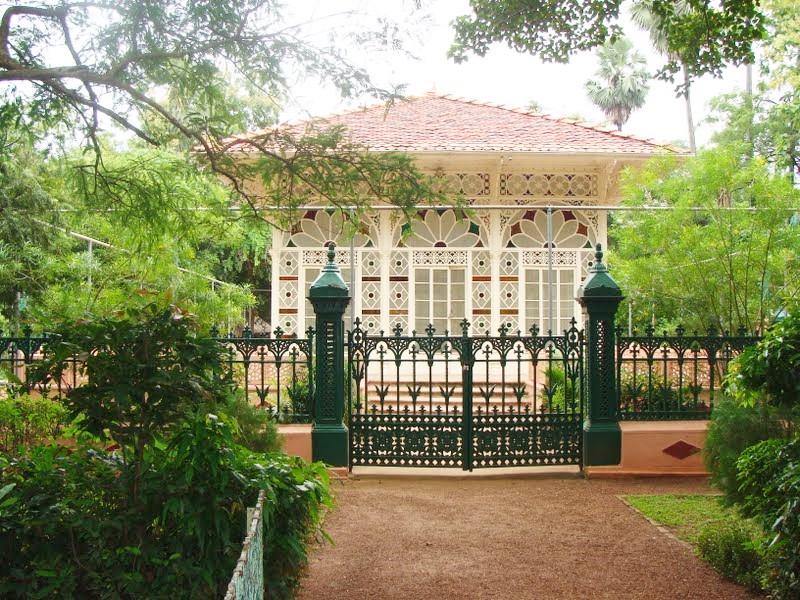 He developed a curriculum that was a unique blend of art, human values and cultural interchange. Even today, in every step, in every brick and in every tree at Santiniketan, one can still feel his presence, his passion, his dedication and his pride in the institution.
This is the fascinating story of how the rural paradise of Santiniketan, Tagore's erstwhile home, became a thriving centre of art, education and internationalism over the years.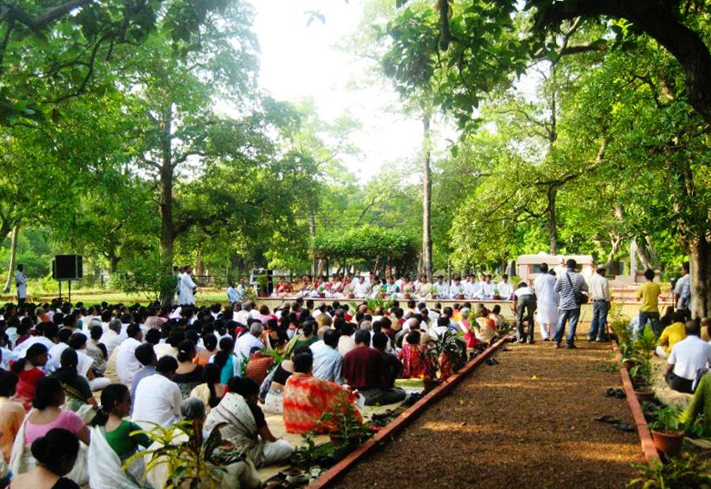 In 1862, Maharishi Debendranath Tagore, father of Rabindranath, was taking a boat ride through Birbhum, the westernmost corner of Bengal, when he came across a landscape that struck him as the perfect place for meditation. Captivated by the kaleidoscopic beauty of the luxuriantly canopied chhatim trees and palm groves that offered shade in the rugged, red coloured terrain, he bought the large tract of land that had charmed him, built a small house and planted some saplings around it.
At that time, the area was called Bhubandanga after a local dacoit named Bhuban Dakat, but Debendranath Tagore decided to call the place Santiniketan, or the 'abode of peace', because of the serenity it brought to his soul. In 1863, he turned it into a spiritual centre where people from all religions, castes and creeds came and participated in meditation.
In the years that followed, Debendranath's son Rabindranath went on to become one of the most formidable literary forces India has ever produced. As one of the earliest educators to think in terms of the global village, he envisioned an education that was deeply rooted in one's immediate surroundings but connected to the cultures of the wider world.
With this in mind, on December 22, 1901, Rabindranath Tagore established an experimental school at Santiniketan with five students (including his eldest son) and an equal number of teachers. He originally named it Brahmacharya Ashram, in the tradition of ancient forest hermitages called tapoban.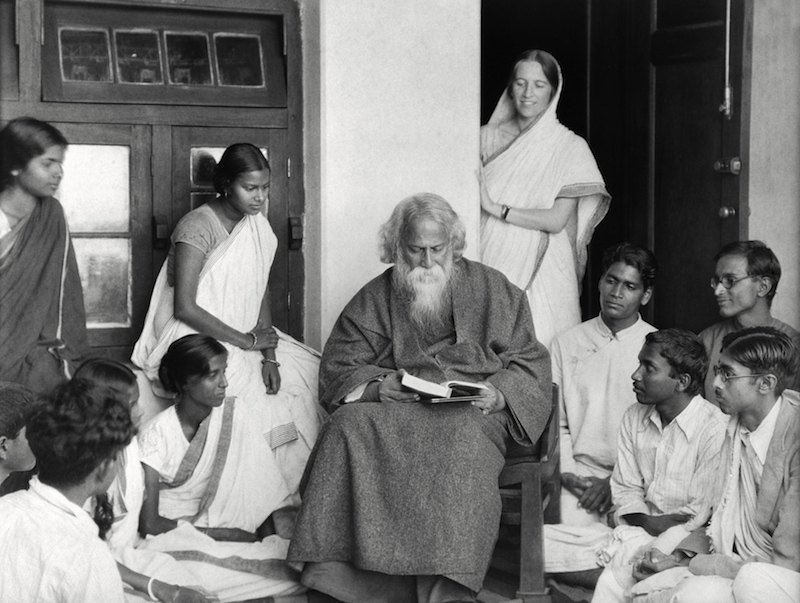 The guiding principle of this little school is best described in Tagore's own words,
"The highest education is that which does not merely give us information but makes our life in harmony with all existence."
Located in the heart of nature, the school aimed to combine education with a sense of obligation towards the larger civic community. Blending the best of western and traditional eastern systems of education, the curriculum revolved organically around nature with classes being held in the open air. Tagore wanted his students to feel free despite being in the formal learning environment of a school, because he himself had dropped out of school when he found himself unable to think and felt claustrophobic within the four walls of a classroom.
At Patha Bhavan, as the school later came to be known, children sat on hand-woven mats beneath trees that they were allowed to climb and run beneath during breaks.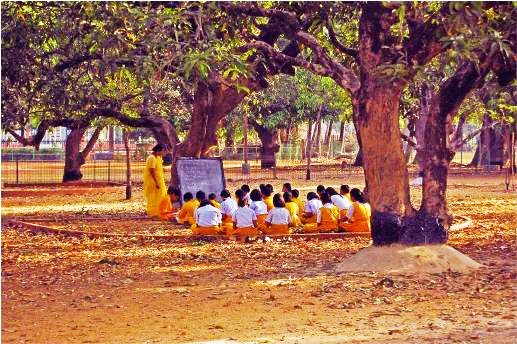 Nature walks and excursions were a part of the curriculum, special attention was paid to natural phenomena and students were encouraged to follow the life cycles of insects, birds and plants. Other than such everyday subjects, emphasis was also given to vocational education. Flexible class schedules allowed for shifts in the weather and the seasonal festivals Tagore created for the children.
---
You May Also Like: This Little Known Himalayan Village Was the Much-Loved Summer Retreat of Rabindranath Tagore
---
In an attempt to help with rural reconstruction, Tagore also sought to expand the school's relationship with the neighbouring villages of the Santhal tribal community. Thanks to his efforts, Santiniketan has today become the largest centre for educated Santhals in West-Bengal. Many of them have become teachers, several serving in Visva Bharati itself, while others have become social workers.
Santiniketan can be credited with taking the first path breaking steps in the field of education at a time when the country was slowly getting hitched to the European mode of education (textual and exam oriented knowledge imparted in closed classrooms).
Other than a humane and environment friendly educational system that aimed at overall development of the personality, Santiniketan also offered one of the earliest co-educational programmes in South Asia.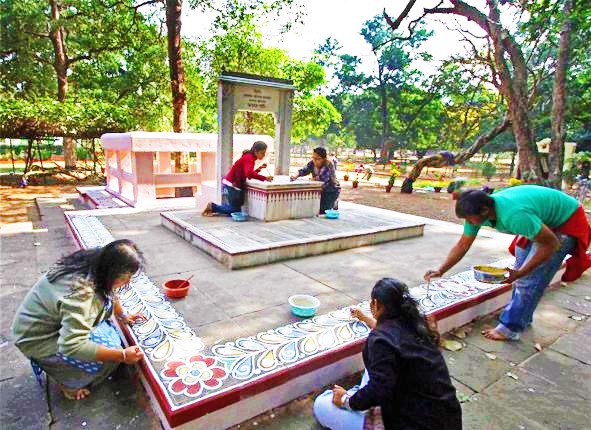 In the year 1913, Tagore was awarded the Nobel Prize for Literature for his book of poems Gitanjali. The award enhanced the prestige of Santiniketan and in 1921, Tagore converted the little school into a university called the Visva Bharati. The motto that Tagore chose for the Visva Bharati University, Yatra visvam bhavatyekanidam (where the whole world can find a nest), reflected his aspirations for the institution.
The University offers courses in humanities, social science, science, fine arts, music, performing arts, education, agricultural science, and rural reconstruction. Its art college, Kala Bhavan, is widely considered to be one of the best art colleges in the world.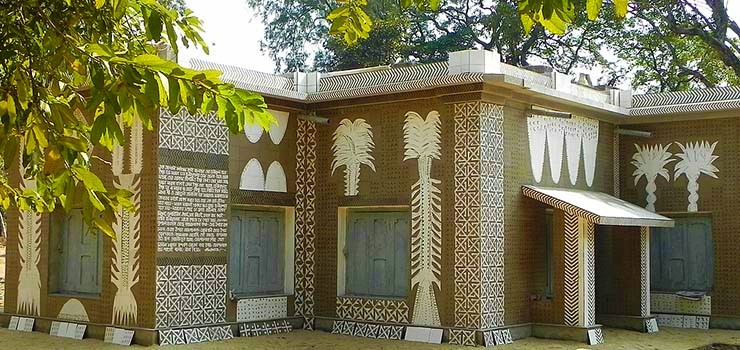 Tagore was one of the first to support and bring together different forms of arts at Santiniketan. He invited artists and scholars from other parts of India and all over the world to live together at Santiniketan on a daily basis and share their cultures with the students of Visva Bharati. He once wrote:
"Without music and the fine arts, a nation lacks its highest means of national self-expression and the people remain inarticulate."
Tagore encouraged artists such as Nandalal Bose to take up residence at Santiniketan and devote themselves full-time to promoting a national form of art. He helped revive folk dances and introduced dance forms from other parts of India, such as Manipuri, Kathak and Kathakali, at Santiniketan. He also supported modern dance and was one of the first to recognise the talents of Uday Shankar, who was invited to perform at Santiniketan.
---
You May Also Like: In This Tiny Karnataka Village, Farmers and Shopkeepers Debate over Shakespeare and Kalidas
---
At Tagore's behest, annual festivals such as Basant Utsav and Poush Utsav became important cultural events, with students and teachers of Santiniketan playing an active role.
The grand Poush Utsav is celebrated on the Foundation Day of the University, while the colourful Basant Utsav is celebrated on the occasion of Holi. The Nandan Mela, which was originally started to raise money for a poor student who needed money for treatment, is today an event where university students display and sell their art. Other events like the Sarodotsav (Autumn Festival), Maghotsav (Founding Day of the Sriniketan campus) and Brikhsharopan Utsav (Tree Planting Festival) are also celebrated with great pomp and fervour.
On all these occasions, the entire campus has a festive atmosphere, with baul (traditional wandering minstrels of Bengal) songs, tribal dances, and other cultural performances being organised throughout the township.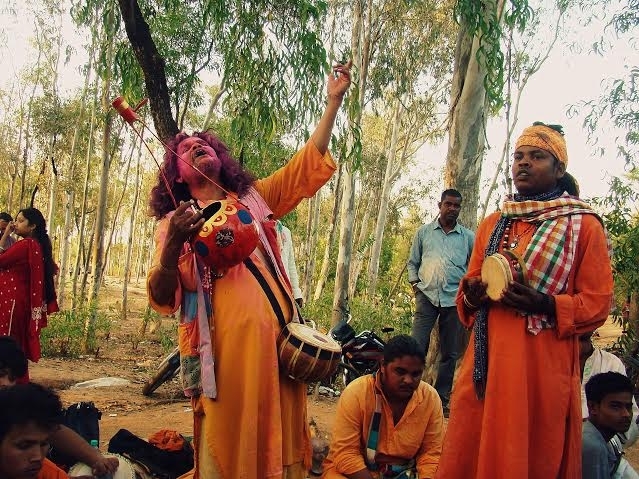 Encouraged by Tagore, rural artisans would bring their wares, like batik printed materials, the famous Santiniketan leather bags, earthenware, wooden iktaras, terracotta jewellery and paintings to these festivals, while urban counterparts would set up stalls where rural folk could buy industrially-produced goods from the cities.
Thanks to Tagore's legacy, Santiniketan has managed to preserve Bengal's fast-disappearing rural crafts culture through folk markets, like the weekly Bondangaar Haat, and rural co-operatives, like Amar Kutir.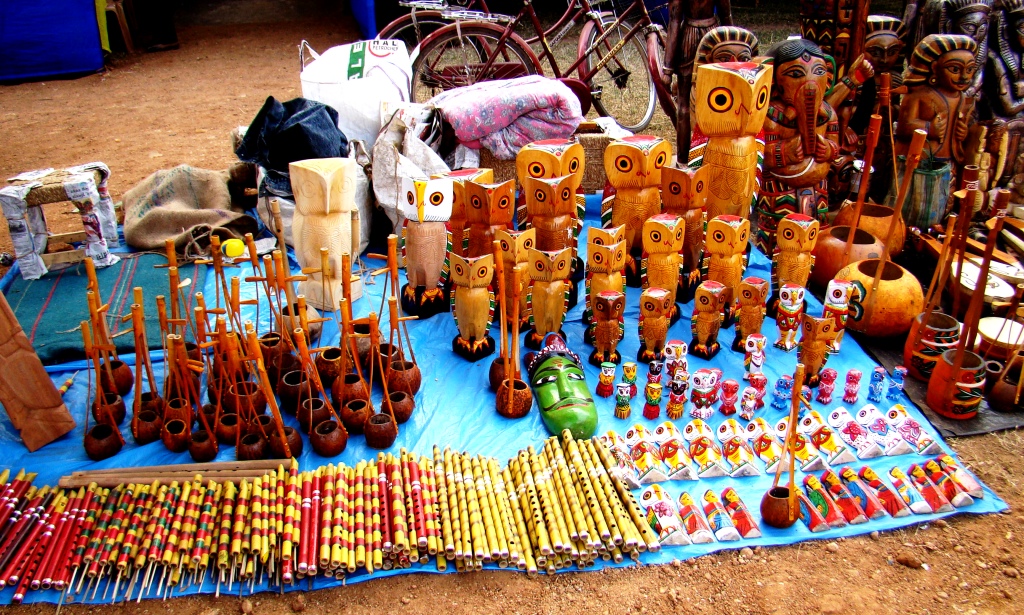 Another unique feature of Santiniketan is its lush greenery and aesthetically laid out campus, which stands testimony to Tagore's belief that the close connect between man and nature should be the founding principle of education.
The mud buildings, the frescoes and tree-lined avenues have a distinct architectural style, the hallmark of which is a dynamic simplicity.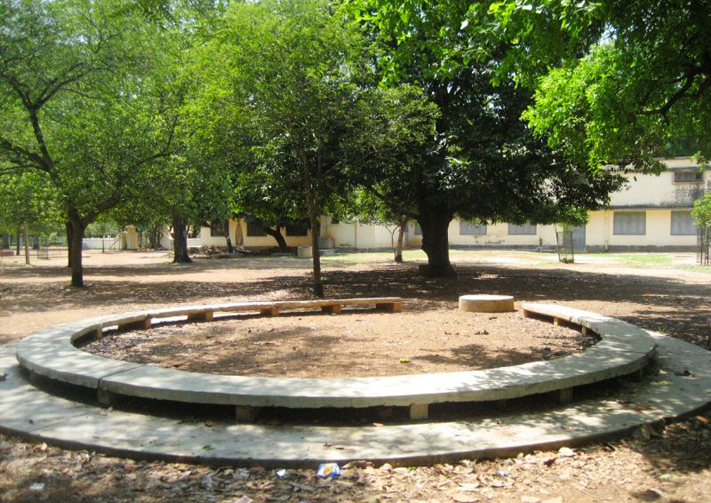 The Uttarayan Complex in Santiniketan holds five homes that Tagore lived in at various stages of his life. Konark, the first home to be built, was used as a venue for poetry recitations and play rehearsals, while Shyamali (an ecofriendly mud house) was an experiment by Tagore to see if a permanent mud roof could be built. The outer walls of the houses in the Uttarayan Complex are decorated with mud murals painted by students of Kala Bhavana in 1935 under the supervision of the famous painter Nandalal Bose.
The Uttarayan complex has also hosted many famous people, including Mahatma Gandhi, who stayed here in 1940.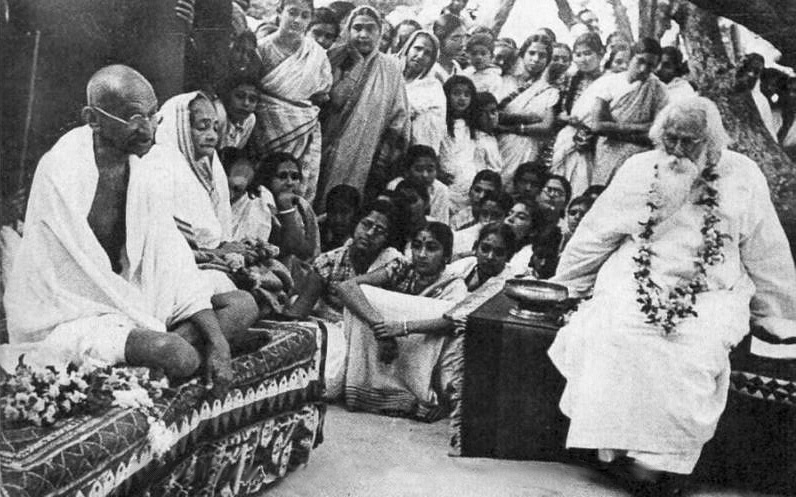 The complex also houses Rabindra Bhavan Museum or the Bichitra. Designed by Tagore's son, Rathindranath, the museum displays several original manuscripts, photographs, gifts Tagore received on his travels, letters (including Tagore's hand written letter refusing to accept knighthood), and his Nobel Prize medallion and citation. In 2004, his original Nobel medal was stolen from the premises and has since been replaced with a replica.
Some other notable places of historical and cultural interest are Santiniketan Griha – the building where most poems of Gitanjali were composed, the Upasana Griha – a deityless Belgium glass temple, the Amra Kunja (mango grove) where spring festivals are held, Dinantika – the tea club where teachers and staff would gather for a chat, and Teen Pahar – where baby Rabindranath once made three hillocks of pebbles.Shal Bithi, a mud path lined with a row of Shal trees, was the favourite walking route of Tagore at Santiniketan.
While Chaitya is a small mud and coal-tar house (resembling a typical thatched Bengali hut) that showcases art work by university students, Taladhwaj is a round mud hut, built around the trunk of a toddy palm, with palm leaves stretching out over its thatched roof.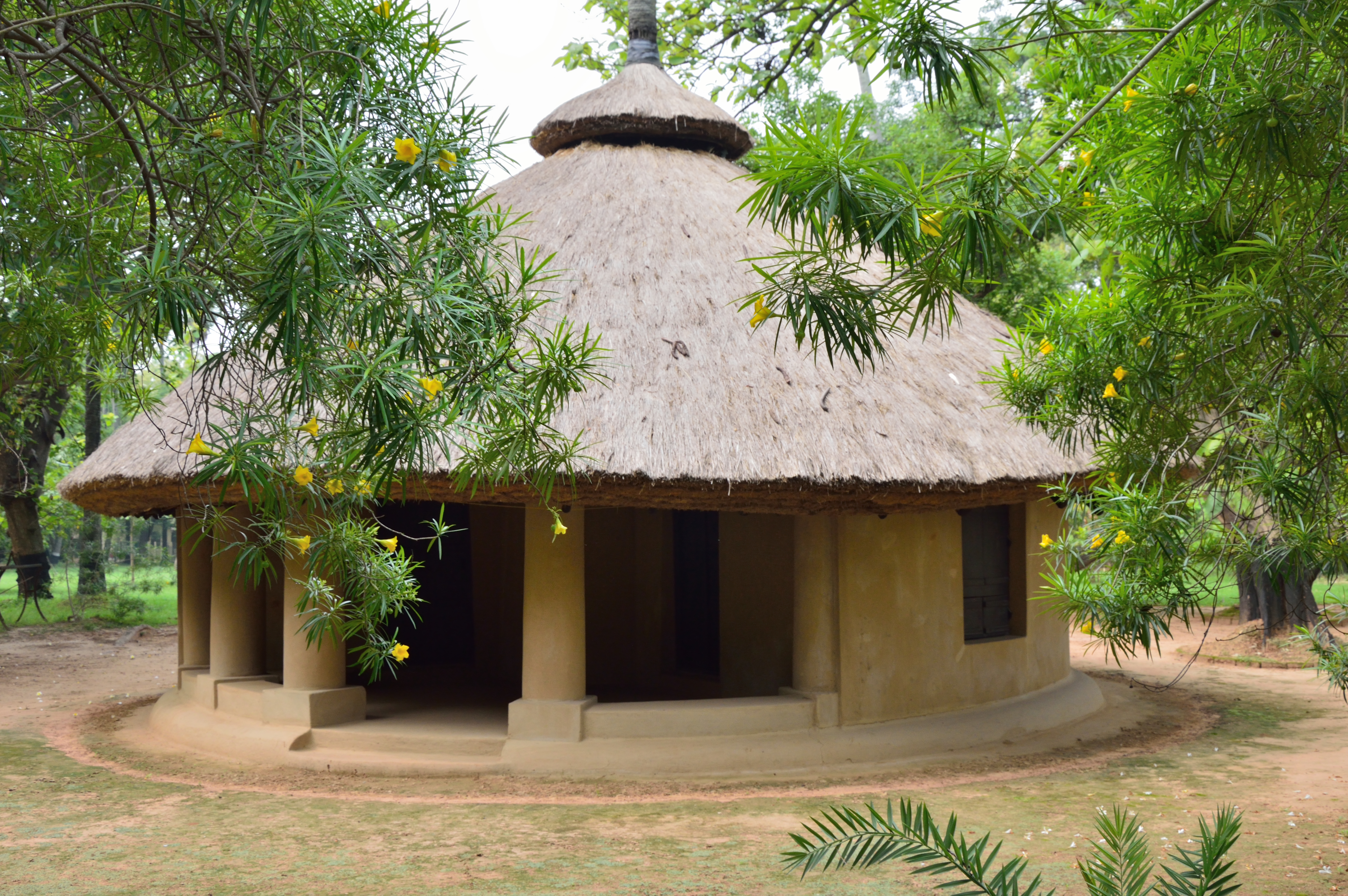 Also, 2 km away from Santiniketan is Sriniketan, the part of Visva Bharati that is devoted to rural reconstruction.
Here, there are cottage industries that specialise in pottery, leatherwork, batik print and woodwork.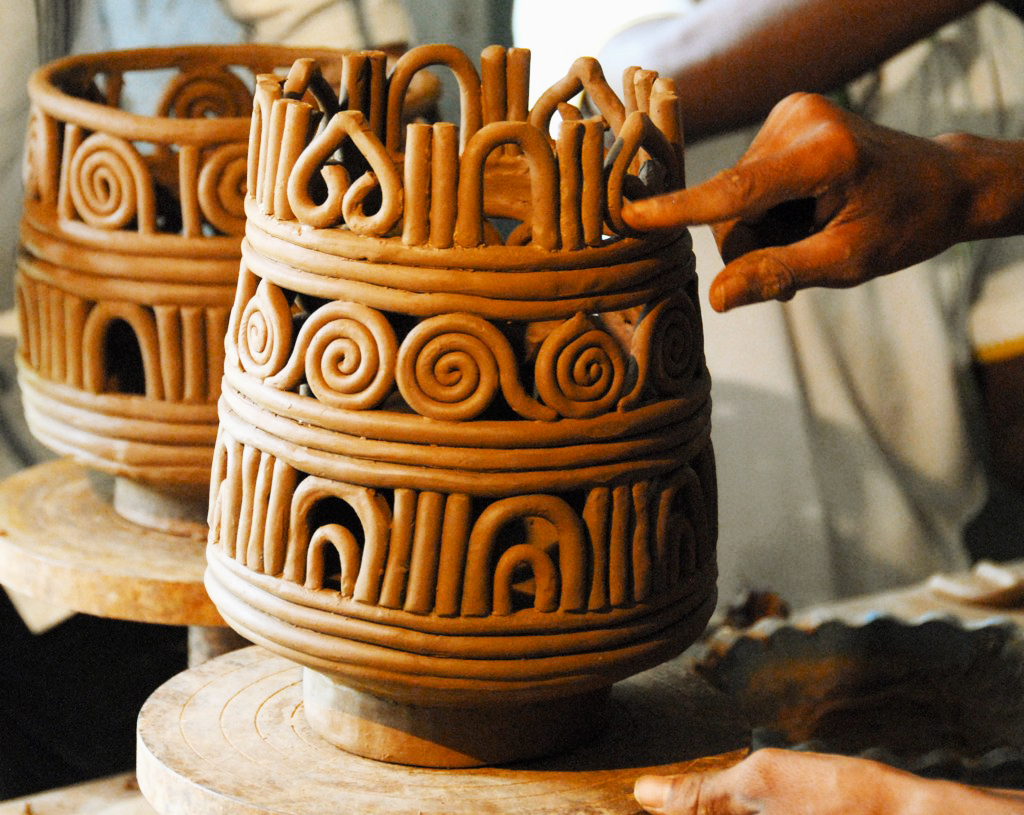 Other than its vibrant festivals and eclectic architecture, what makes Santiniketan really special is the fact that Visva Bharati University gives complete artistic freedom to its students. In line with Tagore's immortal words, "Where the head is held high, and knowledge is free," the college knows that freedom to acquire knowledge also means the freedom to work whenever a student feels like.
This is why, at Santiniketan, the studios are open 24×7 for students who want to work.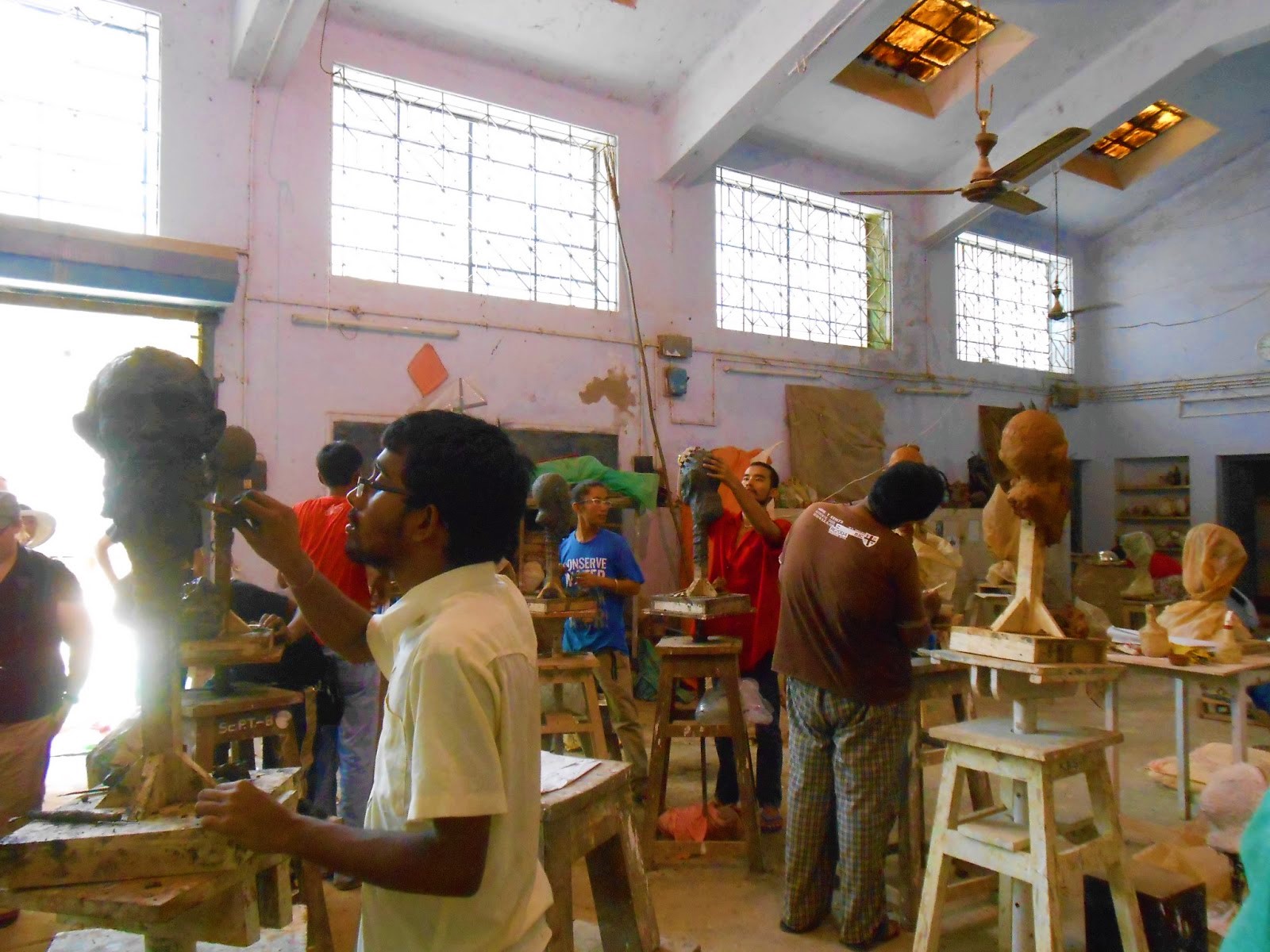 This ground-breaking outlook is also the reason why Santiniketan has given India many luminaries like pioneering painter Nandalal Bose, famous sculptor Ramkinkar Baij, Nobel-winning economist Amartya Sen, globally renowned filmmaker Satyajit Ray, and the country's leading art historian R. Siva Kumar. The University also has several eminent international alumni that include Indonesian painter Affandi, Italian Asianist Giuseppe Tucci, Chinese historian Tan Chung, eminent Indologist Moriz Winternitz, and Sri Lankan artist Harold Peiris, among many others. Pouring his creative genius into his work, Tagore himself produced some of his best literary works, paintings and sketches at Santiniketan.
Over the years, Santiniketan has adapted to the changing times. But the essence of the place is still what Tagore wanted it to be.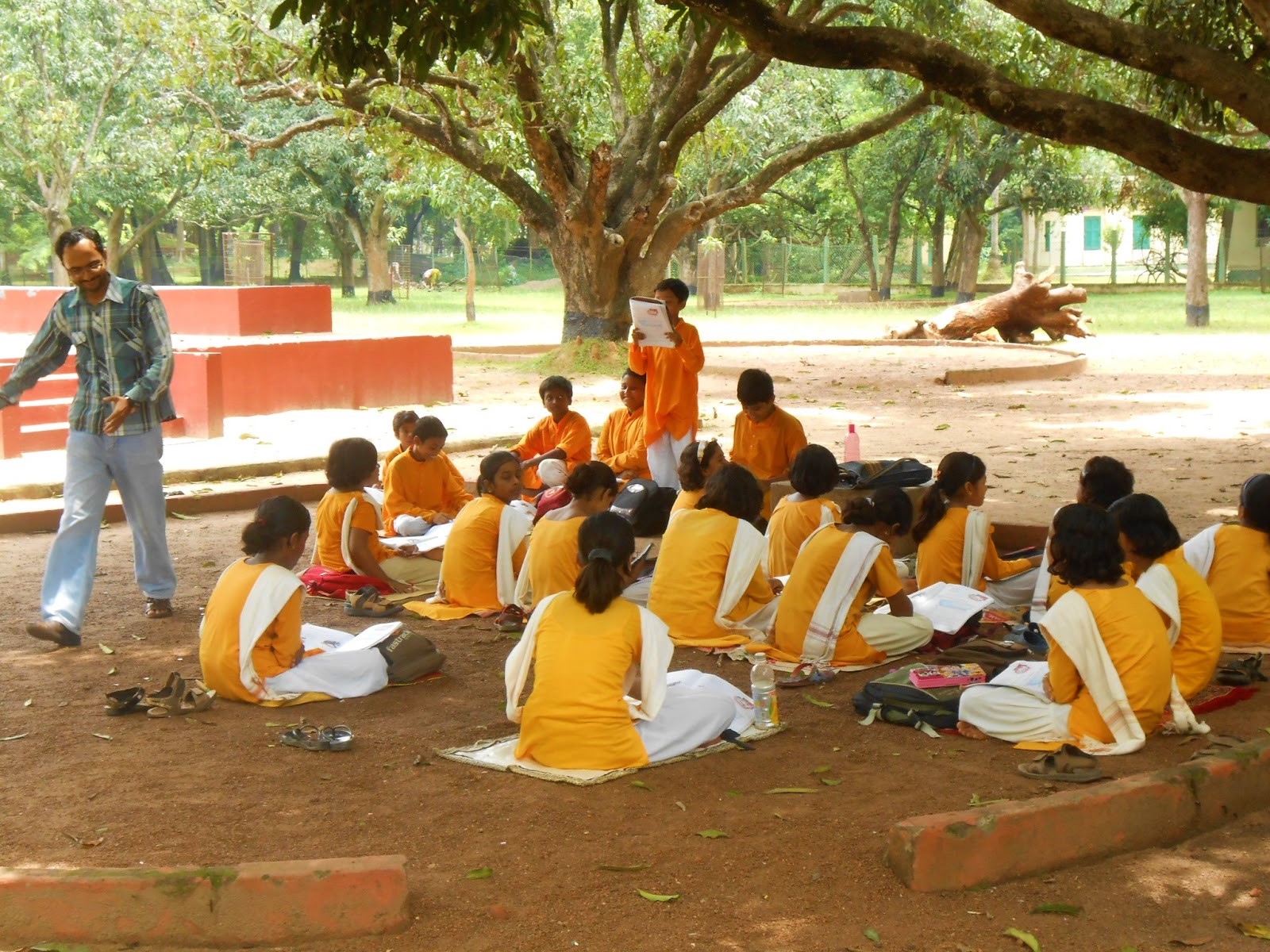 The Nobel Laureate's life, philosophy and literary works find their greatest reflection in Santiniketan, where classes are still taught in the open, where nature and its seasons are still celebrated instead of religious festivals, where the graduation ceremony is marked by the gifting of a chhatim leaf, and where education is rooted in Tagore's philosophy that "the whole world can find a nest."
Falling way outside the strict definition of an academic university, Santiniketan, an educational institution with a difference, is arguably Tagore's greatest work and a legacy India has to live up to. As Tagore wrote in his last letter to Mahatma Gandhi,
"Visva Bharati is like a vessel carrying the cargo of my life's best treasure and I hope it may claim special care from my countrymen for its preservation."
How to reach Santiniketan
The distance from Kolkata to Santiniketan is about 182 km. Santiniketan is well connected to Kolkata via road and rail.
By Rail: The nearest station is Bolpur. Take the Visva-Bharati Fast Passenger or Rampurhat Express from Howrah to reach Bolpur within 2.5 hours.
By Road: If you follow the Durgapur Expressway, it takes approximately 4 hours to reach Santiniketan. Buses to Bolpur are available from Esplanade bus terminal in Kolkata
When to visit
Visit during winter, when the weather is pleasant and perfect for long strolls, or during the monsoon, when the lush countryside paints itself in every hue of green. Summers here can get very hot and humid.
Where to stay
Several options are available, ranging from basic homestays and pretty guest houses to family-friendly holiday resorts.
---
Also Read: This Mysterious Himachal Village Was a Meeting Point for Famous Artists, Potters and Actors
---
Like this story? Have something to share? Email: contact@thebetterindia.com, or join us on Facebook and Twitter (@thebetterindia). To get positive news on WhatsApp, just send 'Start' to 090 2900 3600 via WhatsApp.