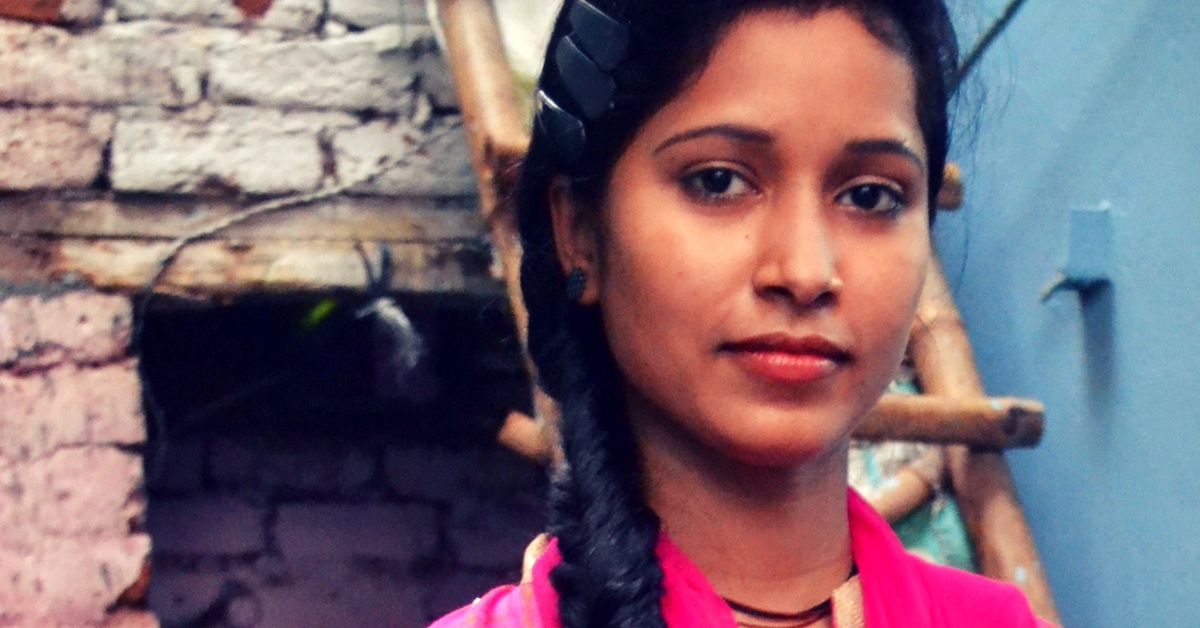 Nineteen-year-old Nazmeen battled gender bias, family pressure and societal expectations, but never gave up on her dream to get educated. Today, thanks to her job, she helps support her family.
Nineteen-year-old Nazmeen battled gender bias, family pressure and societal expectations, but never gave up on her dream to get educated. Today, thanks to her job, she helps support her family. 
Nazmeen lives in Haiderpur, in North Delhi. Her father migrated from Bihar in search of better livelihood opportunities, leaving his wife, Nazmeen's mother, behind. Nazmeen was not even born then.
"This is a common occurrence; men marry, then leave their wives and go to the cities in search of work" she explains.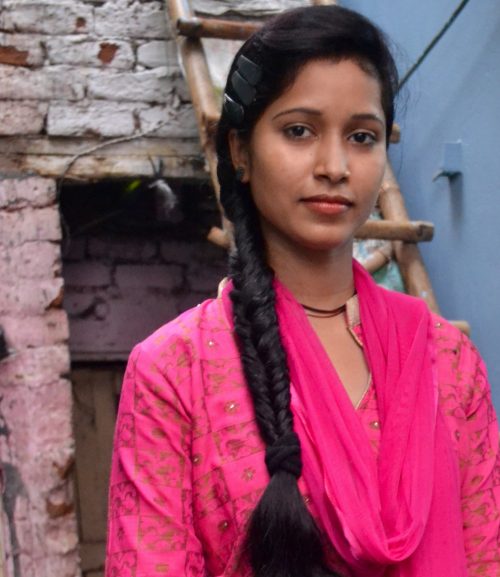 After three years, Nazmeen's mother decided to follow her husband to Delhi. She had three children by then. With no source of income and little to no support from her husband, it became increasingly inconvenient for her to just depend on relatives.
Her struggles followed her to Delhi where she lived at the slum cluster, Anand Parvat, with her children. Her husband worked as an ice-cream vendor and earned a meagre income.
There were days when the family of five would go without food.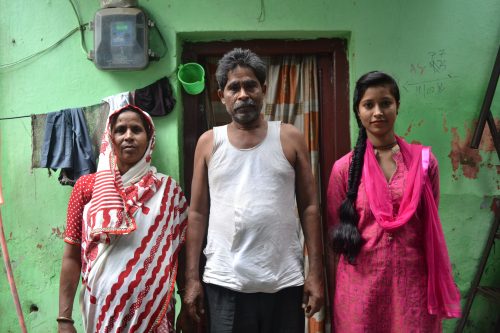 Yet, Nazmeen's father would give no more than Rs 500 to support his family. The rest of his income would go towards alcohol and gambling.
On a neighbour's advice, Nazmeen's mother decided to move to a juggi at Haiderpur, with her children. She also started working as a domestic help, earning Rs. 2,500 per month.
The family was saved from starvation; but the limited income still meant that Nazmeen's older brothers had to stop going to school and take up daily wage work at construction sites instead.
In her mother's absence, Nazmeen's older sister discontinued schooling and took up domestic responsibilities. At 17, Nazmeen's oldest sister got married.
"She is 30 years old now and has four children. She was pregnant within a year of her marriage, at 18. I never found out what her dreams were. I shudder to think of a life like hers," Nazmeen says, her voice breaking as she recalls the many opportunities denied to her sister.
Nazmeen got a chance to go to school at the age of six. She would see children in the neighbourhood go to school and plead with her mother to send her to one. Her younger brother followed in her footsteps and also got enrolled in school.
"I remember both of us went to get enrolled. We were the last ones and the school refused admission. On pleading with them, they said one of us could get enrolled. My brother asked me to take the seat. 'I will get enrolled in the next year, behen,' he said. I will never forget that moment. It was then that I vowed to make the most of the opportunity I had been given, " her voice struggles to remain steady.
Throughout school, Nazmeen worked hard, never forgetting her brother's sacrifice, her mother's struggles and her own resolve to make the best out of the opportunity she alone had. She never came second in class.
When Nazmeen came home with a glowing report card at the end of each year, there would be no one to share her happiness. Her mother, worn out by financial troubles, would 'place her hand on her head, utter a blessing and wipe a tear from the corner of her eyes.'
"It would leave me with an overwhelming sense of guilt that I was not supporting her financially. But, I would console myself by saying that a time would come when I would support her better, with better pay and working conditions," she explains.
Nazmeen with her mother.
Nazmeen scored 75 percent in the tenth standard. Her teachers were happy with her performance, but she was sad. She knew her family would not support her dream to study further.
Her mother confirmed her worst fears. "She asked me to take sewing lessons instead. She was concerned that I did not have any skills to become a suitable bride," Nazmeen laughs.
"I pleaded with my mother to send me to school. After a lot of fights, she permitted me to study for two more years. I was relieved," she says.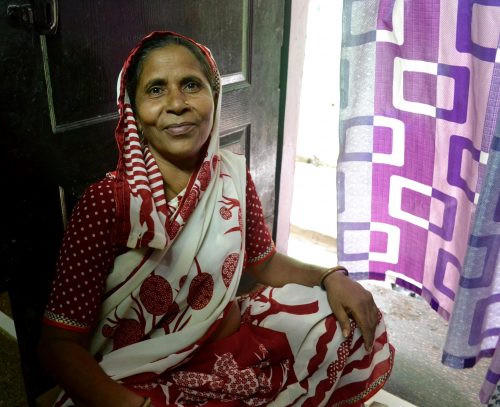 Nazmeen paid her school fees from a scholarship she had won for her academic achievements in the tenth standard. "I came first in the 11th standard examination and scored 86% in my higher secondary examinations," she says with a hint of pride in her voice.
Nazmeen knew her mother would not allow her to go to college, but wanted to make one last attempt to convince her. She requested her mother to accompany her to the school to collect her higher secondary report card. At school, her mother met Nazmeen's teachers. All of them heaped praises on her daughter's performance and appealed to her to let Nazmeen study further. But she was not convinced.
"My brothers supported my mother's decision to not allow me to go to college. They were worried that I would become 'too educated' to get any groom," she explains.
Nazmeen soon found a way to go to college. She had Rs. 6,000 in her bank account from a government programme (Ladli Scheme) for adolescent girls in Delhi. She got herself enrolled in an open learning course (BA in Political Science) in Delhi University.
"No one in my family knew about it. I wanted to study further. After coming so far, I didn't want to stop. I chose this course because there would be no regular classes, just one examination in six months. I thought I could make an excuse and give my examination," she explains.
A year ago, another opportunity came her way. Magic Bus' programme had just begun in her locality. Pooja, a Youth Mentor, approached her with an offer: How would she like teaching children the importance of education through activities?
"I loved the idea. I thought I could make use of my free time and teach children. But my mother refused to allow me to step outside. She was not comfortable with the fact that both boys and girls would come for these sessions." she explains. Pooja, however, succeeded in convincing her mother to send Nazmeen for the sessions. But, on the first day itself, her brother told her that such freedom is not 'honourable' for adolescent girls and strictly forbade her from going to the sessions ever again. "I was a Community Youth Leader for a day," she sighs.
Pooja never lost touch with Nazmeen. She would often visit her and talk to her about her career plans. It was from Pooja that Nazmeen first heard about Magic Bus' Livelihoods Centre. Pooja convinced her mother to send her for these classes, assuring her that she would be under strict supervision.
Nazmeen started attending the training at the centre from November 2015. She started classes on life-skills, computer lessons and English literacy. The staff helped her plan her career ahead. But Nazmeen seemed to have hit a dead end. She didn't want to dream any further.
"I was exhausted fighting at home. I knew I wouldn't be allowed to do a job. I knew they were looking for a groom for me. I shared my problems with the counsellor. I shared my dream of becoming a teacher one day. She listened to me. She gave me the confidence to negotiate with my mother again. She assured me that she would even come to my house to meet my mother. I have never received such support from anyone in my life," Nazmeen says.
Nothing Nazmeen said could convince her mother to allow her to work. "She told me clearly that our neighbours would start looking down on my brothers if I start working outside. I was crestfallen. I thought my luck had run out," Nazmeen says.
The next day, she was surprised to find the Centre Coordinator and the Counsellor at her house; they spoke to her mother and brothers. "If it hadn't been for them, I would have been stuck at home now. All my efforts would have gone in vain," she says.
In December 2015, Nazmeen got her first job with the HDFC bank for a salary of Rs. 10,000 a month.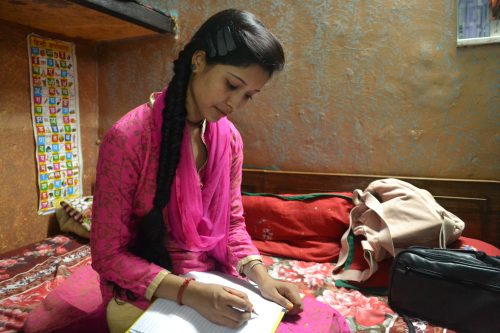 "I couldn't believe it. For the first time, my mother was happier than me. She knew I could support her financially," she says, adding, "I don't fault her for being difficult with me all these years. She had never seen anything better during her youth. She was my sole confidante all this while. My father was never there for any of us, but she was."
Nazmeen gives a part of her salary to her mother and saves a small part for a teacher-training course.
"I haven't forgotten my dream yet; it is to be a teacher," her voice sparkles with silent excitement as she looks forward to her dreams with renewed vigour.
You can support Magic Bus by making a contribution at donate.magicbus.org or give a missed call at 1800-200-6858 and we will call you back!
Like this story? Or have something to share? Write to us: contact@thebetterindia.com, or connect with us on Facebook and Twitter (@thebetterindia).
We bring stories straight from the heart of India, to inspire millions and create a wave of impact. Our positive movement is growing bigger everyday, and we would love for you to join it.
Please contribute whatever you can, every little penny helps our team in bringing you more stories that support dreams and spread hope.