Art can overcome huge differences between people and unite them in common cause. Here is a poem celebrating this unique ability of art to bring people together and erase prejudices and distinctions.
Though each of us belong to different sectors and parts of society, art is something that transcends boundaries to unite all of us. This piece of poetry narrates the absurdities that breathe around us, and was penned down especially to mark our presence at the Bengaluru Poetry Festival, 2016. Between the hush-hush of the Silicon Hub, the city saw poetry enthusiasts across different walks of life head to the Leela Palace with the intent of diving deep into the art form. Team Open Sky represented the curated piece with grace, and was also welcomed by the audience with a standing ovation. For a budding community of young artists, this gesture means the world, and we hope you have a great time reading and watching us as well.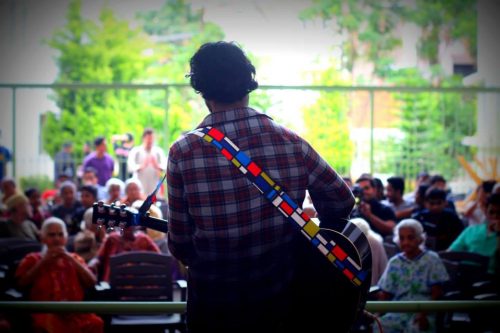 I am the Islam,
whose blood soaks the streets
My lips do not smile when death arrives,
my smile does not appear much these days.
My legs ache, I am the single mother
waiting for a part of herself  to return home
to have the sound "ma" fill her empty home
He now prefers the streets, listens to music he does not understand,
memories of ma disappear with a puff of smoke.
I am each life
you thought too insignificant,
so you stole their last breath for your greed.
My Gucci bag is soaked with the blood of lives that did not matter enough,
The screams and cries of those we never cared to hear.
I am obesity, the girl you point fingers at,
accusing tones, now her background music;
she seeks her confidence lost, releasing all her self-hate in the sink.
Finger stuck orally too deep, hoping to throw up what she can never be.
My mind used to be a plain blank sheet that is now etched with colors of the night,
Of pollution,
Of gangrene and the dark maroon of suffering.
The disease of Hiroshima and Bhopal, shades of brown sticking to skin like the cancer
the future generations pay for.
I am war, earthquakes and hurricanes,
I am nature taking back what is rightfully hers.
Part my legs, tear my skin, the bruises fall off eventually, be prepared for the day I rise
like a Phoenix from the ashes, from below your feet where you have suffocated me,
You steal my voice no more.
I am water, air, fire and earth – tame me you may try, but my fury has no bounds
My people once were all one.
We were all Africa.
I am an aboriginal; born from the earth.
We are all children of this soil, and as we close our eyes to our final realm
As we descend into the same rings of purgatory
we all return to the same darkness.
While we still have light in our eyes why not fight for the same cause..
Just imagine, you could be anyone.
Brahman
Mohammad.
The Great Spirit
Jesus.
Siddhartha
The Universe
If you could just close your eyes
You'll realize.
We are no color, gender or race.
We are no religion,
cannot be defined by space,
we bleed the same,
haven't we seen enough red-stained fields to know this?
Open your eyes, you are me and I am you
we come from the earth
we are strength,
we are magic,
we are the greatest work of art,
Today we take back our voice
Today we are enough.
A poem written by poets Shaun D'Souza and Simran Narwani from Open Sky.
Team Open Sky is raising funds to be at the Goa Arts and Literature festival, come December 2016. To help in any way, drop a mail at Openskyslam@gmail.com.
Like this story? Or have something to share? Write to us: contact@thebetterindia.com, or connect with us on Facebook and Twitter.
NEW: Click here to get positive news on WhatsApp!