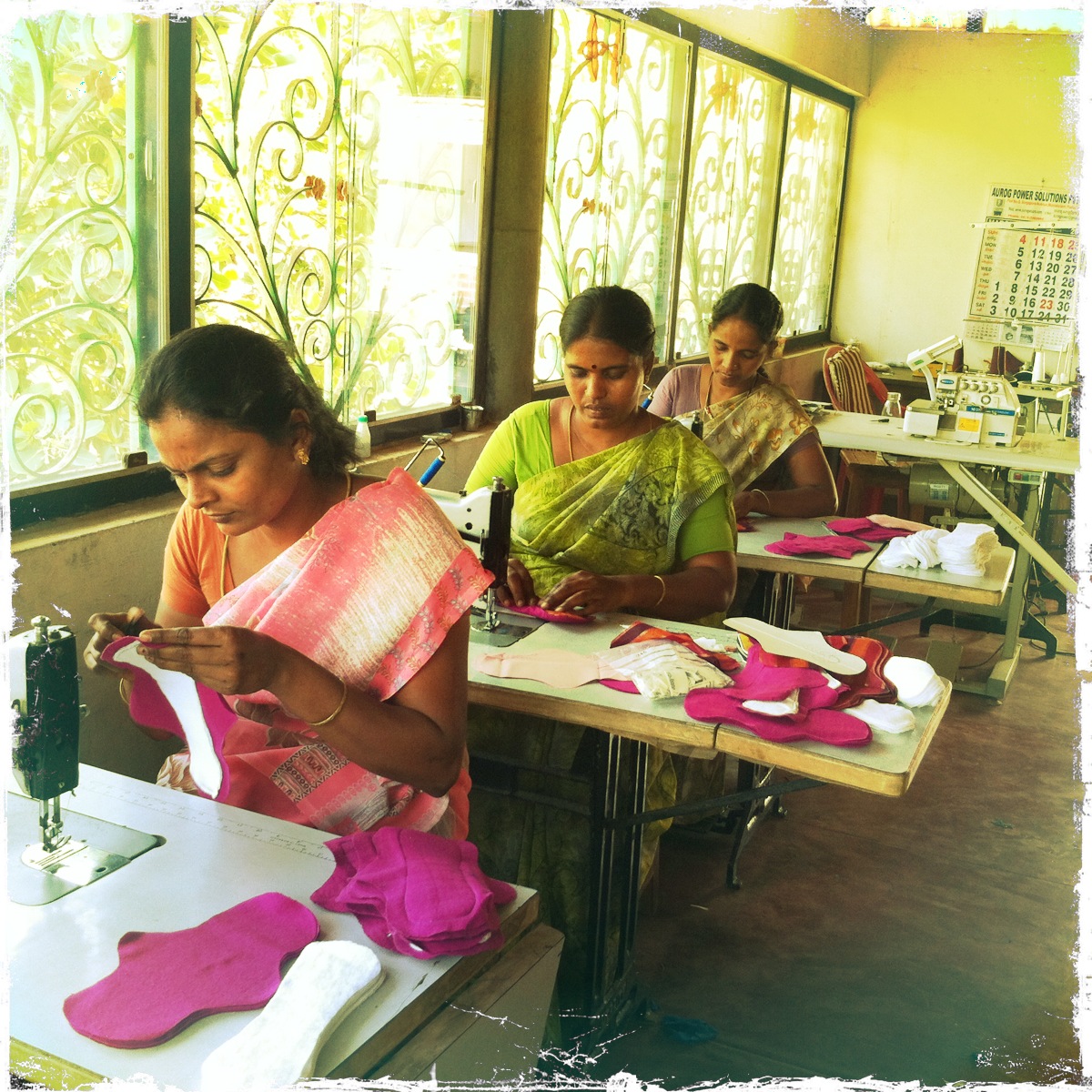 Continuing our changemakers series, here we present to you a very diverse bunch of people - an apartment owner who composts her kitchen waste, village women who stitch washable sanitary napkins and a traditional honey hunter in the Nilgiris. What can they have in common? They are all social and ecological entrepreneurs, and this is how they are making a difference.
Continuing our changemakers series (read Part 1), here we present to you a very diverse bunch of people – an apartment owner who composts her kitchen waste, village women who stitch washable sanitary napkins and a traditional honey hunter in the Nilgiris. What can they have in common? They are all social and ecological entrepreneurs, and this is how they are making a difference.
The city-residents have chosen cleaner, healthier and less environmentally-impacting lives. The villager and the forest dweller seek a similar choice – from their customers. The villager meets a basic, feminine need while the honey hunter wants to convey the knowledge that his livelihood is entwined with the health of the forest (and of the honey bee colonies).
Back to Basics – Eco Femme
Ever wondered what impact menstrual hygiene has on the environment? All those disposable sanitary pads used and thrown away every month. Can women adapt to healthy, affordable menstrual practices that are also eco-positive?
Eleven women in Auroville, Puduchery, are trying to prove just that. They make up Eco Femme, a womens' empowerment and self-help group, that stitches and sells washable cloth-based sanitary pads. The group's output is 1,600 pads a month – mostly sent to the UK, the US and the Netherlands. Now Eco Femme is trying to expand within India.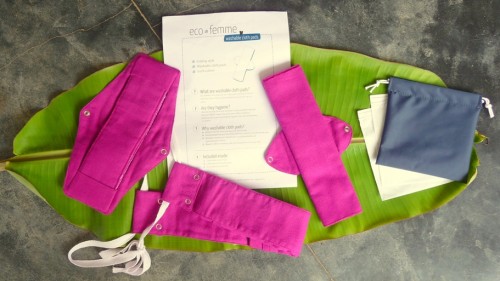 Founder Kathy Walkling, a long-time Auroville resident, started by designing, using and selling washable pads at Auroville. She says a single, washable cloth pad represents the equivalent of 120 disposable tampons/pads used over a five-year period. "A UK survey showed that a woman throws away approx 125-150kg of sanitary waste during her menstruating life which is assumed to be 35 years," she explains. In the Indian context there are no surveys. "But a survey in the Indian Textile Journal on the market potential of disposable sanitary napkins says there are over 300 million women of menstruating age in India. The article says if all of them used sanitary napkins, it would result in sales of (and consequently waste from!) 58,500 million pieces a year!" she rues.
Tackling Taboos
Eco Femme was born in 2009 when Kathy involved women self-help group members of the Auroville Village Action Group (AVAG)–an NGO which runs various social enterprises in the villages around Auroville. Now, they organise educational workshops to address the many taboos and gender-based stereotypes associated with menstruation – being considered 'impure', becoming a social outcast on those days, and so on. Plus, the project aims to get women to use cloth again. Currently, three models of pads designed for rural women are being product tested with over 1,000 rural women and girls across Tamil Nadu. For urban women, Eco Femme has an 'export' or international range of all-in-one pads with wings and leakproof layer, adapted from brands available in the West.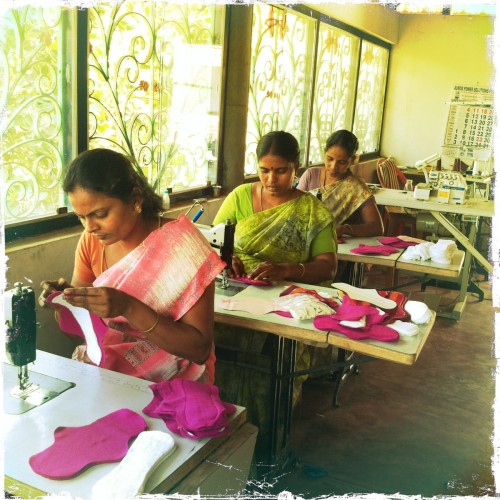 Eco Femme pads, adds Walkling, help women save money (a washable pad can last years) and the environment.
For further details: www.villageaction.in
www.ecofemme.org
———————————————————————————————————————-
Keeping the Last Forests Alive – Last Forests
Halan from Baviyoor village is a honey collector or hunter. He wears no protective gear for his work; rather, he relies on traditional knowledge gained over generations. Halan is a Kurumba, one of the many indigenous communities living in the Nilgiris, part of the Nilgiri Biosphere Reserve (NBR) of the Western Ghats.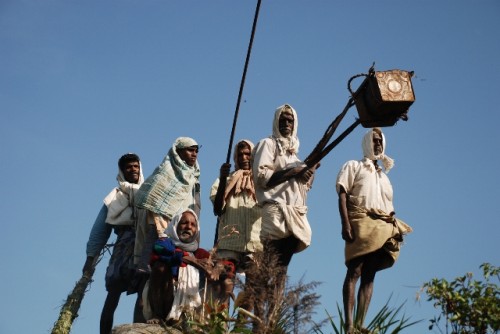 Today, the honey he collects by smoking bees out of hives is packaged and marketed to urban consumers under the evocatively named 'Last Forests' brand. This initative, promoted by the Kotagiri, Tamil Nadu-based Keystone Foundation (KF), aims to provide a livelihood for tribal people while protecting and conserving the NBR forests.
Suganthi Thangavelu, marketing specialist with Last Forest, says KF involves tribal communities in areas such as natural resource management (promoting beekeeping or apiculture, for example) and enterprise management (production of food, craft and artisanal products). The Last Forest brand offers nine categories of organic/fair-trade and natural products – from varieties of honey (raw, bitter, wild, ginger, etc.) to spices, coffee and oils, personal care products and even, home accessories (Kurumba craft work). "Presently, we work with over a 1,000 individuals (honey collectors, craftsmen, farmers, etc)," she says. The biggest benefit to them, she explains, is that they get upfront cash payment and assured purchase of the quantities they produce.
These products are available at Last Forest-owned Green Shops located at Ooty, Kotagiri, Coonoor and Mysore, as well as other stores in Mumbai, Delhi, Pune and Pondichery.
Under Threat
But beyond the exotic allure of the brand, lies a grim truth – the NBR forests, spread over Kerala, Karnataka and Tamil Nadu, are under threat, says KF. On one hand there are human activities such as tourism, poaching, logging and extraction of medicinal plants; on the other, there is climate change. Now, the bees are getting affected too. In fact, a May 2011 report in The Hindu noted that bees in the Western Ghats are abandoning their colonies, leading to a sharp decline in honey production.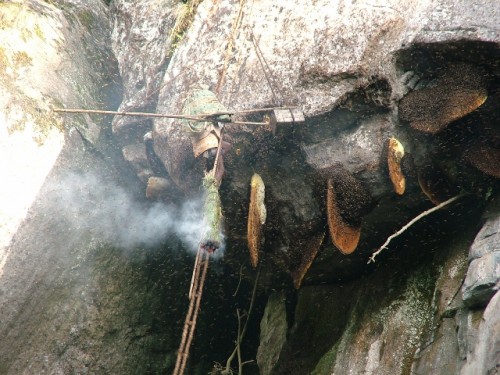 So, the Last Forest brand is not just about "buying organic", it is about investing in the forests and the indigenous communities. For, if the bees fly away, what happens to Halan?
For further details: www.lastforest.in
www.keystone-foundation.org
———————————————————————————————————————-
Treat Your Trash to Terracotta – Daily Dump
Trupti Godbole and Sarita Kotagiri are activists, not the slogan-shouting type, the get-it-done kind. In their quiet way, these two women have, for the past four years, converted their apartment building (Sarovar Apartments, LB Shastri Nagar, Bangalore) into a re-use, and recycle zone where nothing is trashed. They have convinced other apartment owners in the area, to follow suit. And they have uploaded YouTube videos on their experience.
They are committed composters. They use Daily Dump.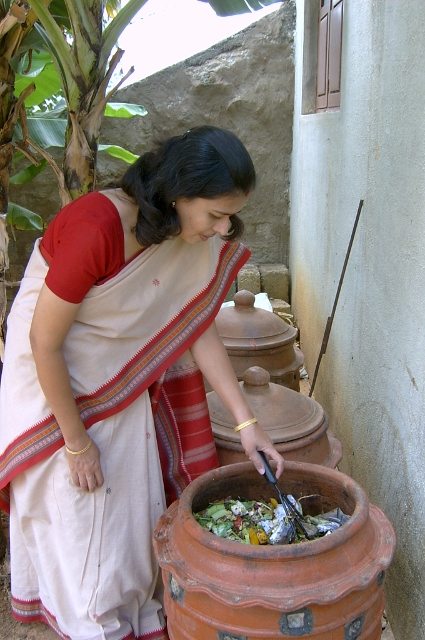 Daily Dump is the brainchild of Bangalore-based industrial designer Poonam Bir Kasturi. Her premise is stunningly simple–convert your kitchen waste into compost at home using a composter. Daily Dump offers 'terracotta composters (basically, tiered pots) and various other products for both the home and the larger community. Launched in 2006, Daily Dump operates on an 'open source' platform–others can "clone" the concept. "There are 15 other clones" operating presently in the country. There's also a franchisee in Chile.
Waste gone waste?
As of August 2012, Daily Dump users were responsible for keeping over 7,000 kgs of organic waste out of landfills. At Sarovar Apartments alone, four big composters handle 10 kgs of organic/kitchen waste daily. Yet so much more can be done in waste management. According to Poonam, research shows Bangalore generates upto 4,500 tonnes of waste every day. "Sixty per cent of that is organic," she stresses. To show people what happens to their trash, Daily Dump conducts (based on enquiries received) day-long tours called Trash Trails. The trip includes interactions with small scale entrepreneurs, recyclers, sorters and dealers.
Poonam has also recently launched Recycle Guru–a website to bring citizens closer to their local recycler. "Log onto Recycle Guru, get the number of your local raddiwala/kabadiwalla, and call him to pick up your waste," says Poonam. Initially, the website is Bangalore-specific.
For further details: www.dailydump.org
http://recycleguru.in/
All photographs courtesy: Divya Sreedharan
This article first appeared in The Hindu Sunday Magazine, dated October 14, 2012, and has been republished here in arrangement with the newspaper and the author. Divya Sreedharan is a Bangalore-based journalist, who dabbles in short fiction (she came second in the Elle India 2011 short fiction contest) and also contributes articles to The Hindu Sunday Magazine, The Hindu Literary Supplement, Marie Claire India, Prevention India and Wedding Vows India. She blogs at
deviousways.blogspot.com
Tell Us More
We bring stories straight from the heart of India, to inspire millions and create a wave of impact. Our positive movement is growing bigger everyday, and we would love for you to join it.
Please contribute whatever you can, every little penny helps our team in bringing you more stories that support dreams and spread hope.