Thalis are the best way to explore any regional cuisine. Here are 20 incredibly delicious thali meals from across India that celebrate the culinary specialities of each region.
"India is so unique, one can find three different recipes for the same dish in the three houses lined in the same row. Every kitchen has its own cook book, unlike the rest of the world."- Author Unknown
The quintessential Indian thali is a cultural exploration on a plate. A complete meal in itself, a thali packs in small portions of a multitude of dishes on one salver.
Each region has its own take on the thali and as you move from one region to another, you'll be welcomed with a new platter, with its own elaborate menu. That makes the thali, where you get to eat a little bit of everything, the best way to explore any regional cuisine.
As diverse as they are, all Indian thalis serve local and seasonal food and showcase popular indigenous cooking techniques like dum (steam entrapment), baghar (tempering), zammin doz (baking), and dhunnaar (smoke seasoning), to name a few.
Here are 20 delicious thali meals from across India that celebrate the culinary specialities of each region.
1. Aalohir Exaj / Assamese Thali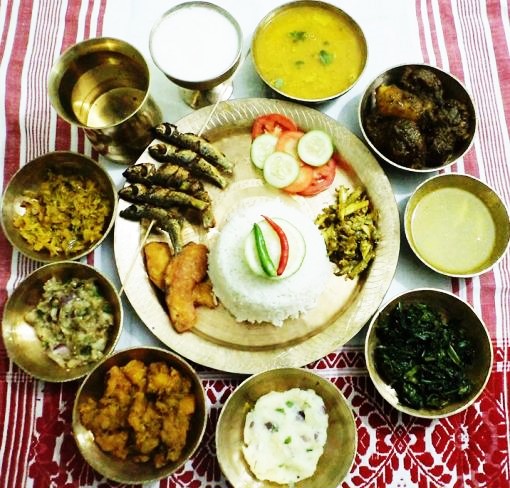 A traditional Assamese meal starts with a unique dish called khar (a curry of raw papaya, lentil and powdered dried banana skins). It is followed by pura ( smoked meat or fish), poitabhat (cooked rice that is soaked overnight and garnished with mustard oil, onion and chillies), pitika( a kind of mash), shaak bhaji (green leafy vegetable), bor (fritters) and pickle. The meal ends with a signature Assamese preparation, tenga, a lightly spiced sweet and sour fish curry that will have you licking your fingers.
Great Place to Try: Delicacy at Ganeshguri, Guwahati
2. Andhra Thali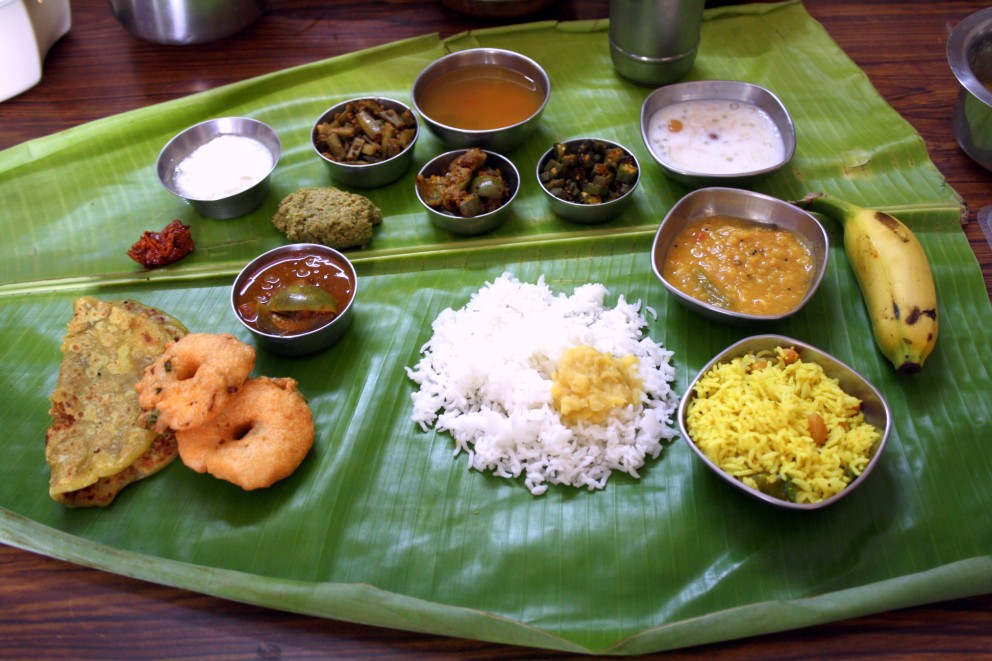 A quintessential Andhra thali is complete only when served on a banana leaf. An Andhra meal begins with a liberal dose of hot neyyi (ghee) served on piping hot rice along with mudda pappu (lentil). This is followed by charu ( a version of rasam), avakaya (mango pickle), parippu podi (powdered lentil with spices), vankaya kothamira kaaram (brinjal preparation), dondakayya veppudu (an ivy gourd preparation), before finishing off with a sumptuous dose of perugu (curd rice).
Great Place to Try: Andhra Bhawan on Feroze Shah road, Delhi
3. Bengali Thali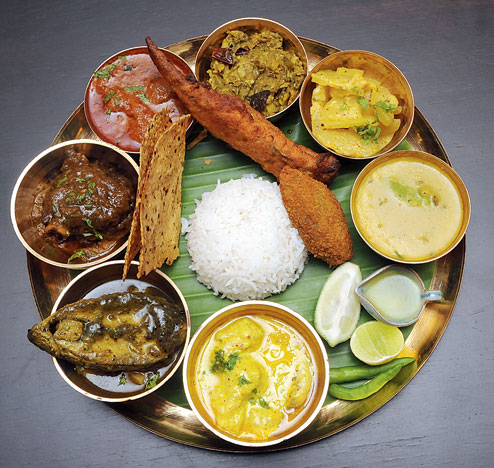 The flavours of a blissful Bengali thali stay with you long after the meal is over. A veritable feast for the fish lover, the Bengali thali includes signature delicacies like the begun bhaja (pan-fried brinjal), patol bhaja (pointed gourd fry), shukto (a bitter-sweet medley of vegetables), shaak (green leafy vegetables), alu bhate (mashed potatoes), chholar dal (lentil curry), bhaat (rice), maach bhaja (fish fry), maachher kalia (fish curry), kosha mangsho (mutton in thick gravy), and payesh (rice pudding).
Great Place to Try: Kewpie's Kitchen at Bhawanipore, Kolkata
4. Bhojpuri Thali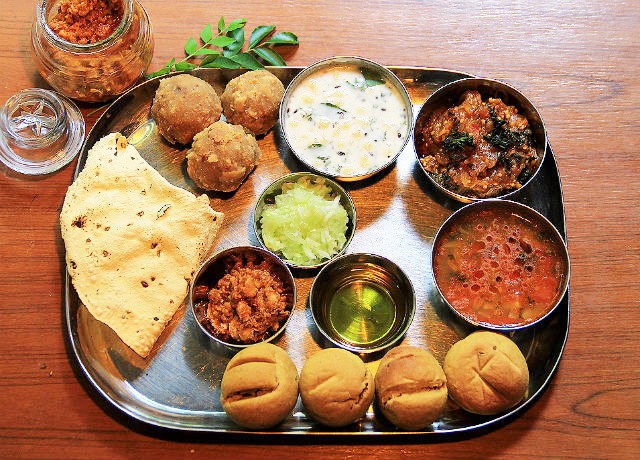 A predominantly vegetarian thali, the Bhojpuri thali is as diverse and awesome as the state of Bihar. One of the main ingredients used is sattu (roasted Bengal gram flour) while the main technique involved is bhoonjna or light frying. A typical Bhojpuri thali includes bharbhara (green gram fritters), dahi chura (yoghurt with rice flakes), sattu ka paratha, litti chokha (doughballs of wheat and Bengal gram flour), kaale chane (Bengal gram curry), gurma (raw mango chutney), rasiyaaw (sweet rice), and balushahi (a sweet).
Great Place to Try: Potbelly Rooftop Cafe at Shahpur Jat, Delhi
5. Chettinad Thali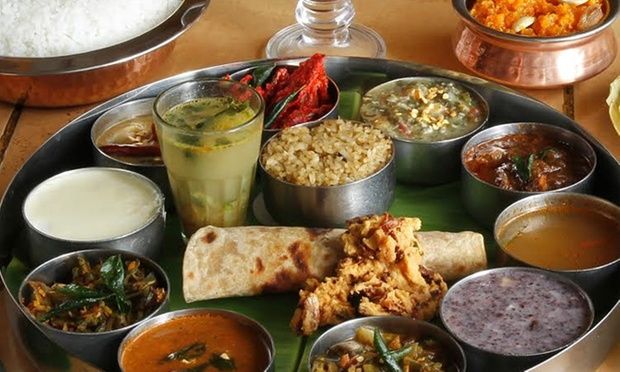 One of the spiciest and most aromatic thalis in India, the Chettinad thali has a distinctive place on the culinary map of the country. The fiery thali from Tamil Nadu includes murungakkai kara kozhambu (drumstick sambar), palakkai pirattal (raw jackfruit stir fry), kootu (lentil with vegetables), poriyal (dry vegetable), meen kuzhambu (fish curry), kozhi varuval (pepper chicken), appalam (papadam), rice, curd and pickle. Simple, spicy and very traditional!
Great Place to Try: The Bangala at Devakottai Road, Karaikudi
---
You May Also Like: Food Secrets: Exploring the Spicy and Spirited Cuisine of Chettinad
---
6. Goan Thali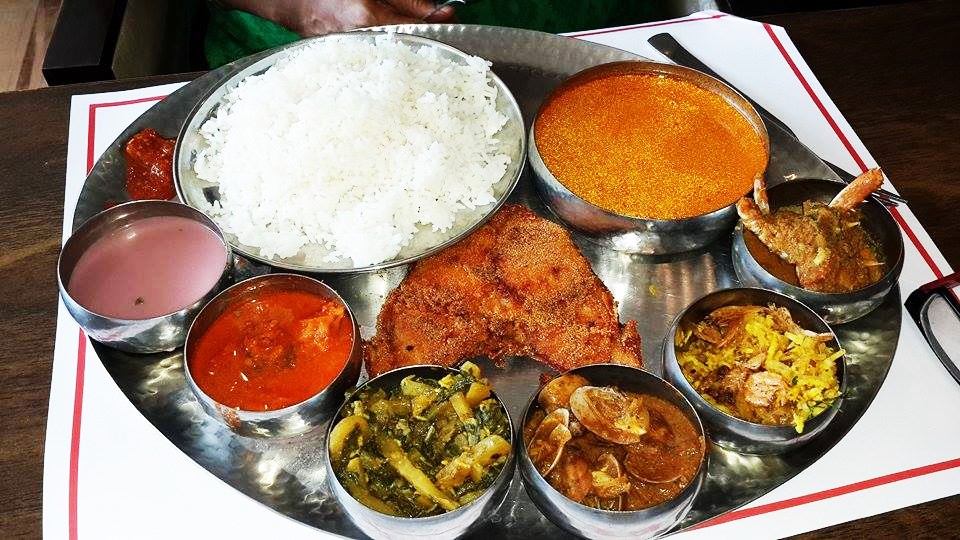 Goans are known for their sheet kodi nustea (fish curry rice) that will blow your mind with its mix of spices and rice. The seafood lover's favourite thali, a Goan meal includes boiled rice, kismur (a salad of fresh grated coconut and pan-fried dry prawns), kodi (fish curry), prawn caldin (mild curry), tisreo sukhem (small clam stir fry), mackerel rawa fry, cabbage foogath (steamed cabbage vegetable), poi (butterfly shaped Goan bread), and the refreshing sol kadi (kokum-coconut milk drink).
Great Place to Try: Ritz Classic on 18th June road, Panaji
7. Himachali Dham Thali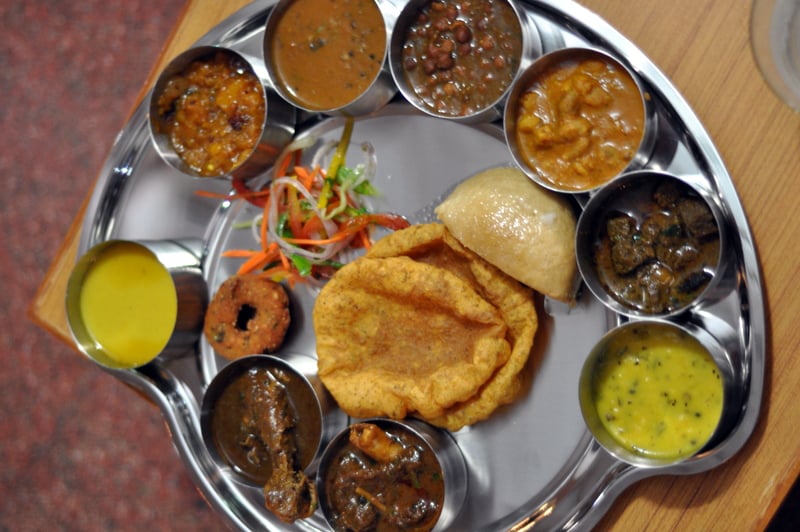 The Himachali dham thali, laced with an assortment of traditional herbs and spices, is incredibly delicious. The dham starts with patore (steamed and fried colocassia leaves), mhani (boiled raw mango mashed with jaggery and rock salt), madrah (yogurt-based chickpea curry), mathri choware (lentil fritters in spinach gravy), mash dal (dark lentil) and khatta ( a sweet-sour sauce) that is served with rice and khus sidoos (poppy seed and jaggery). The non-veg delicacies, if included, are khatta murg (chicken with local spinach, malora) and chaa ghosht (lamb in a yoghurt gravy). Dham invariably ends with the delicious mittha, a dessert of sweet caramelised rice, liberally mixed with raisins and dry fruits.
Great Place to Try: Himachali Rasoi at Middle Bazaar, Shimla
8. Kannadiga Oota Thali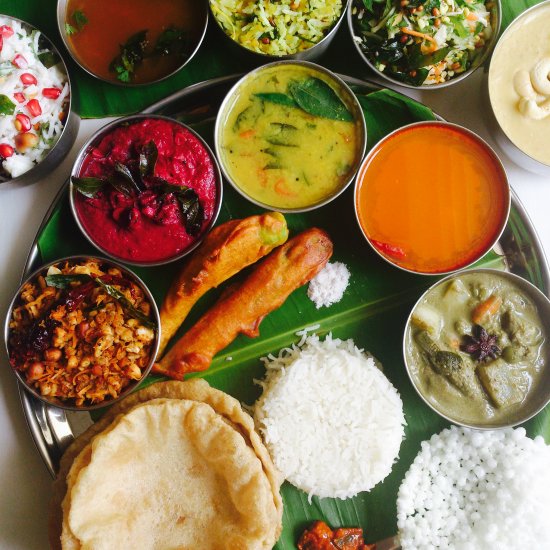 A typical Kannadiga Oota (Karnataka thali) is a beautiful blend of different flavours. Brimming with variety, this thali includes jolada roti (sorghum flatbread), akki roti (rice flatbread), padavalkayi masala (snakegourd curry), badane ennegai (stuffed brinjal), ranjaka (chilli-garlic chutney), gattisoppu (lentils and greens), mirchi bhajji (chilli fritters), kosambari (moong dal salad) and a bowl of homemade yoghurt.
Great Place to Try: MTR on Lalbagh Road, Bengaluru
9. Kashmiri Thali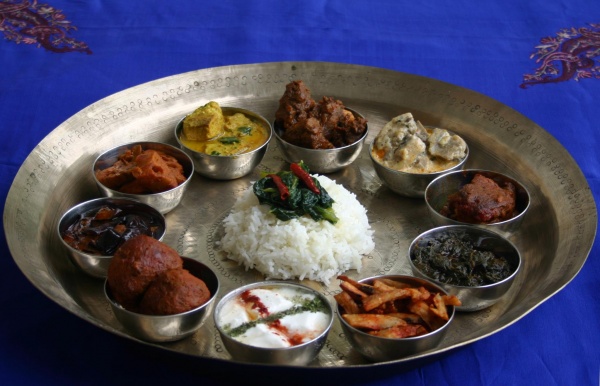 The rich, redolent dishes steeped in traditions adorn the heavenly Kashmiri thali. The ultimate ceremonial feast in Kashmir is known as Wazwan and its preparation is a art in itself. This thali includes kebab nadir shahi (lotus stems kebabs), rajma rismise (slow cooked kidney beans), methi chaman (cottage cheese with fenugreek), Kashmiri dum alu (potatoes in a nutty gravy), haak (green leafy vegetables), khatte baingan (spicy and sour brinjal), mutton rogan josh (signature Kashmiri lamb curry), Kashmiri pulao (spicy rice with nuts), al raita (bottle gourd in yoghurt) and doon chetin (apple chutney). The feast ends on a decadent note with phirni, a rose and saffron flavoured rice custard.
Great Place to Try: Mughal Darbar at Residency Road, Srinagar
10. Kathiawadi Thali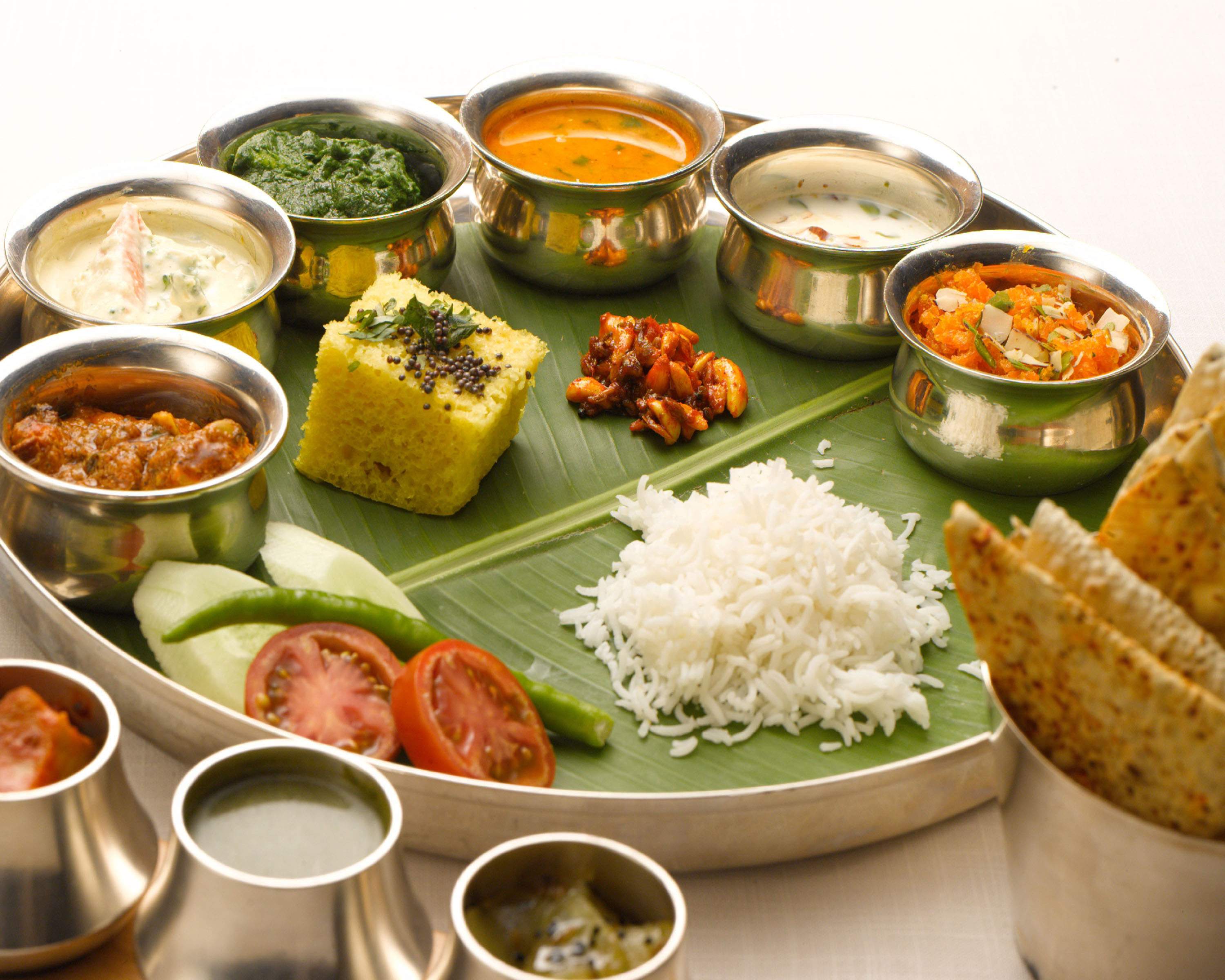 Straight from the heart of Kathiawad, the classic Gujarati thali has much to offer. Most Gujarati dishes have a subtle sweet taste to them that makes them truly distinct from other Indian cuisines. This thali includes khatta dhokla (Gujarati snack), gajar mirch sambhaar (pickled carrots and capsicum), sev tamatar nu shaak (sweet and spicy tomato gravy), rigna palak nu shaak (spinach in brinjal curry), dal dhokli (dhokla in lentils), Kathiawadi stuffed onion, methi thepla ( a flatbread), kadhi khichdi, kesar shrikhand (saffron flavoured yoghurt sweet) and chaas (buttermilk). If you are lucky and its mango season, this thali will also be accompanied by a luscious aamras (mango pulp) dip.
Great Place to Try: Gopi Dining Hall, Ashram road, Ahmedabad
11. Kumaoni Thali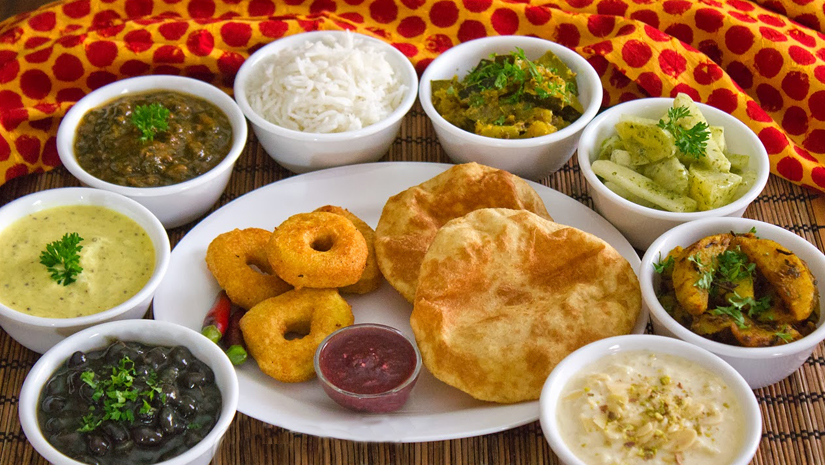 The simple and seasonal Kumaoni thali is a regional culinary gem. This traditional thali from Uttarakhand includes gahat ka shorba (lentil soup), alu ke gutke (spicy potato fry), kappa (green leafy vegetable), phanu ( complex gravy of three types of lentils), jholi (curd and chickpea flour gravy), thechwani (radish and potato mash), bhatt ki churkhani (black soy bean gravy), kafuli (spinach-fenugreek curry), sana hua nimbu mooli (tangy radish salad), lesu (finger millet stuffed bread), meetha bhaat (sweet rice), jhangore ki kheer (local millet pudding), and singal (sweet semolina spirals).
Great Place to Try: Club Mahindra at Binsar Valley, Almora
---
You May Also Like: Food Secrets: On The Trail Of Kumaon's Culinary Wonders
---
12. Maharashtrian Thali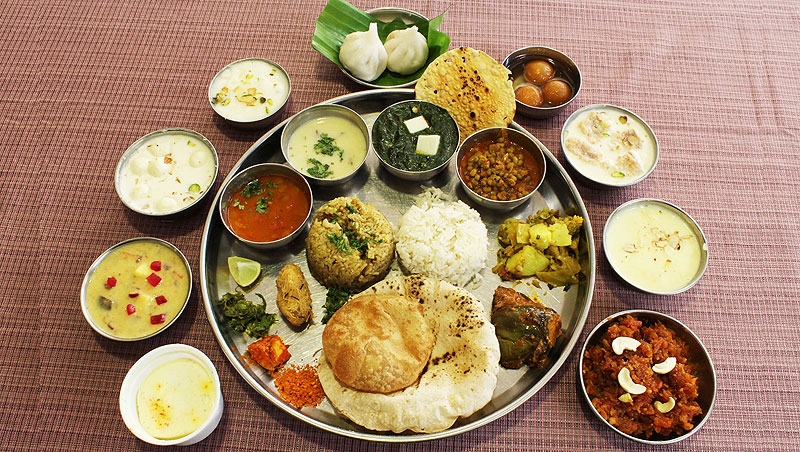 The Maharashtrian thali beautifully showcases the traditional and scrumptious staples of the state. Ranging from mild to very spicy, this lip smacking thali includes rice, bhakri roti (a millet flatbread), bharli vangi (stuffed brinjal), amti (spicy tangy tur lentil), pitla ( thick chickpea flour curry), kothimbir wadi (corainder cutlet), chawli chi usal (black eyed beans curry), pandhra rassa (chicken in white gravy), mutton kolhapuri (fiery mutton gravy), kosimbir (salad in yoghurt), and kheer (rice pudding).
Great Place to Try: Gajalee at Vile Parle, Mumbai
13. Manipuri Thali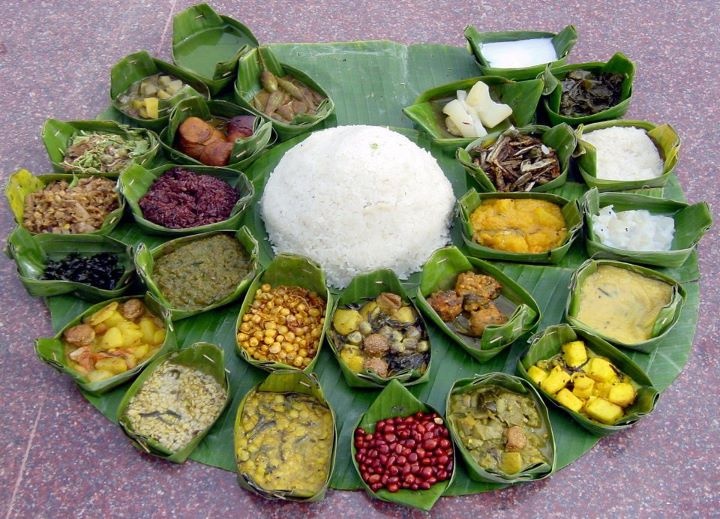 The Manipuri (or meitiei) thali is simple, tasty and centred around fish, seasonal vegetables and sticky rice. Manipuri or meitiei thali includes eromba (fermented hidol fish and vegetables), sinju (cabbage and local greens salad), thanbou (lotus stems), ooti (peas curry), chareng (a fish curry), pakora thongba (gram flour curry), manikha (a mix of brinjal and fish oil), kangsoi (veg stew), chambut (boiled papaya), kangsoi (boiled dry fish) and, of course, a mustard chutney. The perfect end to the meal is provided by chak hao kheer, a beautiful purple hued black rice dessert generously laced with cardamom powder.
Great Place to Try: Luxmi Kitchen, Wahengbam Leikai Road, Imphal
14. Kerala Sadhya Thali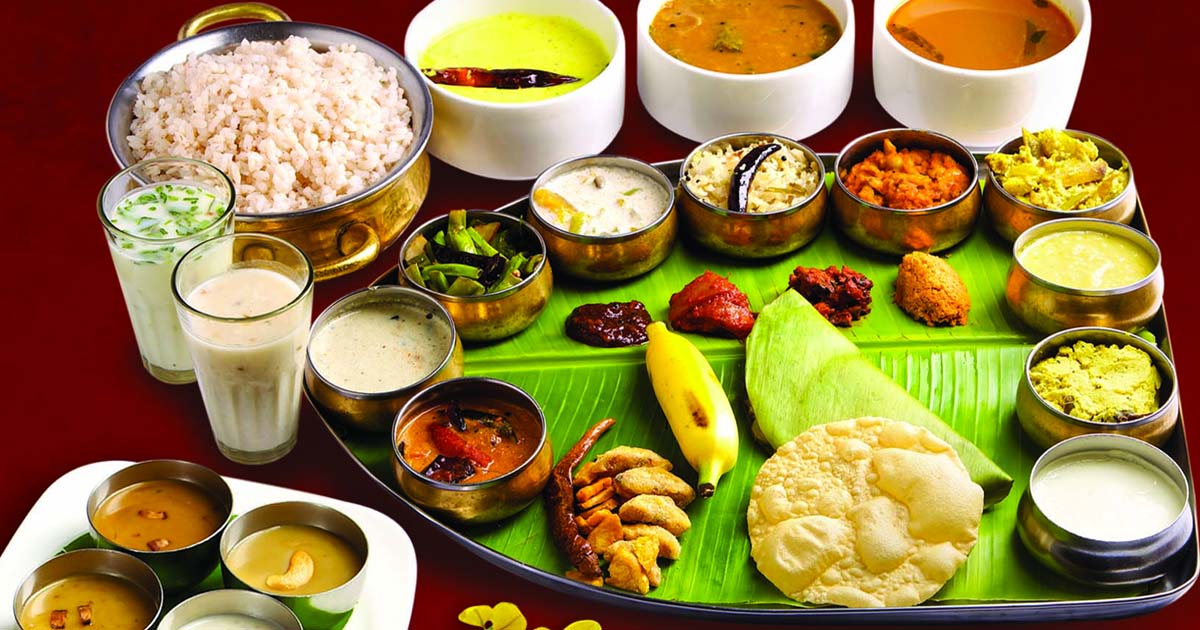 A multi course meal served traditionally on banana leaf, the sadhya or traditional feast is an integral part of Onam, the biggest festival of Kerala. The sadhya thali includes a variety of traditional dishes like sambhar, parippu curry (lentil curry), puliserry (cucumber in yoghurt), olan (white gourd in coconut milk), aviyal (mixed vegetables), thoran (veg stir fry), kalan (flavoured yoghurt curry), kichadi/pachadi (cucumber and coconut in yoghurt), as well as scrumptious desserts like ada pradhaman (rice and jaggery pudding) and sharkara varatti (banana chips with jaggery).
Great Place to Try: BTH Sarovaram Hotel on Bypass Road, Kochi
15. Oriya Thali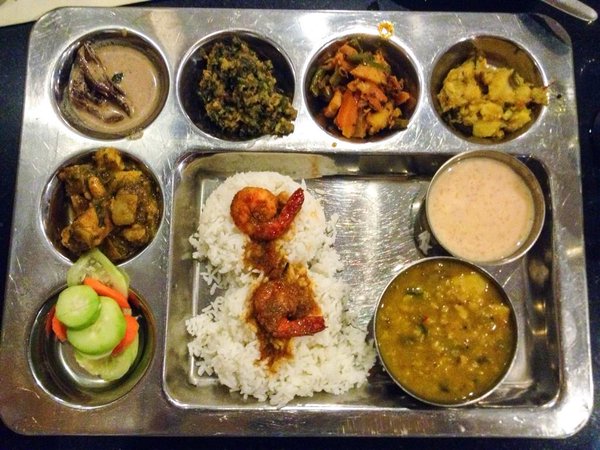 The rustic and robust Oriya thali, with its emphasis on copious amounts of vegetables and restrained use of spices and oil, is among the healthiest thalis in India. The thali includes roti, rice, phakala (rice in fermented and spiced curd), dalma (signature lentil and vegetables dish), karela bhaja (bitter gourd fries), alu posto (potatoes with poppy seeds), baingan chatka (roasted brinjal mash), phulgobi kosha (dry cauliflower curry), tamato khatta (sweet sour tomato and date chutney), and the divinely delicious kanika or meethi khechudiya (sweetened rice-lentil khichdi).
Great Place to Try: Dalma on Sachivalaya Marg, Bhubaneswar
16. Parsi Bhonu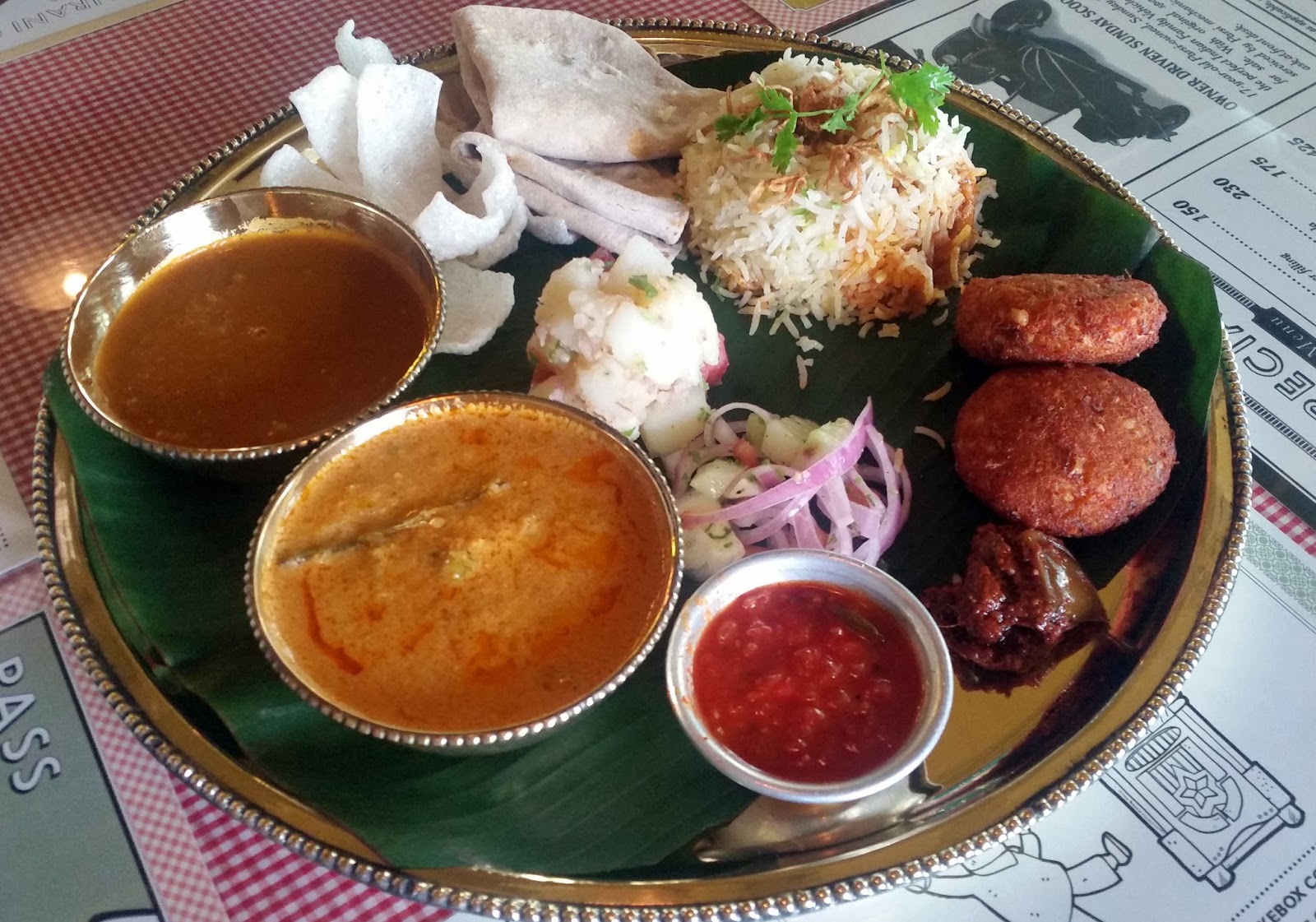 A cracker jack of a thali, the Parsi bhonu thali brings together Iranian, Gujarati and British influences in food. It includes rice, saria (Parsi papad), patrani machchi (mildly spiced steamed fish), dhansak (signature mix of lentils, meat and vegetables), salli chicken (chicken curry), farcha (fried chicken), mutton cutlets and lagan nu (wedding-style) custard. An eclectic mix of hot and sweet, nice and spice!
Great Place to Try: Jimmy Boy at Kala Ghoda, Mumbai
---
You May Also Like: Parsi on My Plate: How Bawa Cuisine Is Adding Spice to the Indian Palate
---
17. Punjabi Thali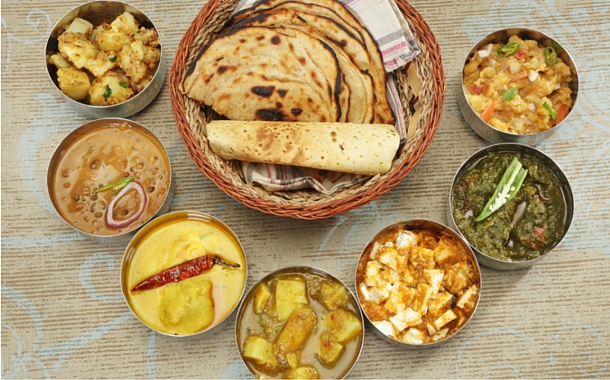 Punjab is a state synonymous with food and its thali is a lot like its people – rich, robust and full of life. Bold textures and hearty ingredients are what make up this popular thali that includes Amritsari aloo kulcha (stuffed flatbread) or naan, kadhi pakode (fritters in youghurt gravy), pindi chole (spicy chickpea curry), shahi paneer (rich cottage cheese gravy), jeera rice, dal makhni (black lentil) and sweet lassi. The much loved star delicacies of the non-veg platter are butter chicken and Amritsari machchi (deep fried fish).
Great Place to Try: Kesar Da Dhaba at Chowk Passian, Amritsar
18. Rajasthani Thali
A traditional Rajasthani thali is an elaborate spread of gourmet preparations that would delight one and all. The local hits on this thali include dal baati churma (round breads with lentils), missi roti (lentil-wheat flatbreads), gatte ki sabzi (gram flour nuggets in gravy), panchmela dal (combination of 5 types of lentils), laal maas (fiery meat curry), bhuna kukda (slow cooked chicken curry), goond ka laddoo (a kind of edible gum sweet), boondi chaas (flavoured buttermilk). To add another delicious level to the meal, there are salads, papads, pickles, and chutneys to choose from.
Great Place to Try: Four Seasons on Subhash Marg, Jaipur
19. Sikkimese Thali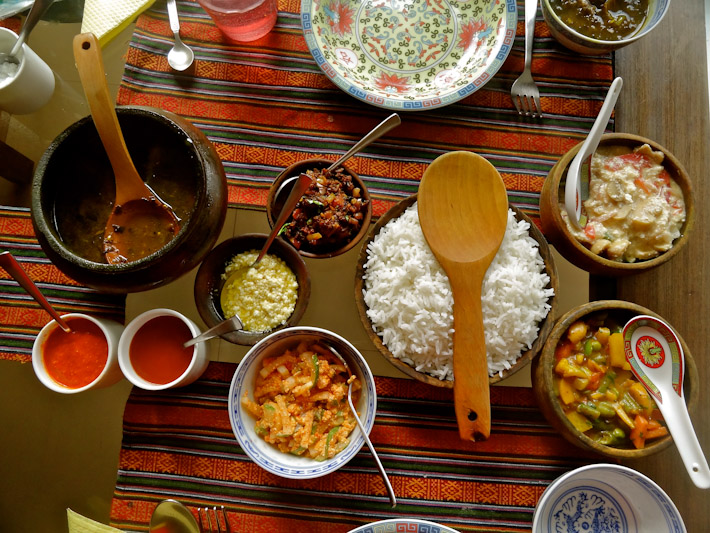 Bursting with flavours, the Sikkimese thali is a foodie's delight. It includes momos (steamed dumplings), Dalle chili and tomato chutney, thukpa (noodle soup), gundruk (fermented leafy green vegetables), chhurpi ka achaar (yak cheese pickle), ningro curry (fiddle-head curry gravy), sel roti (doughnut shaped bread), shimi ka achaar (string beans and sesame pickle).
Great Place to Try: 9'INE Native Cuisine on M G Marg, Gangtok
20. Tamil Sappadu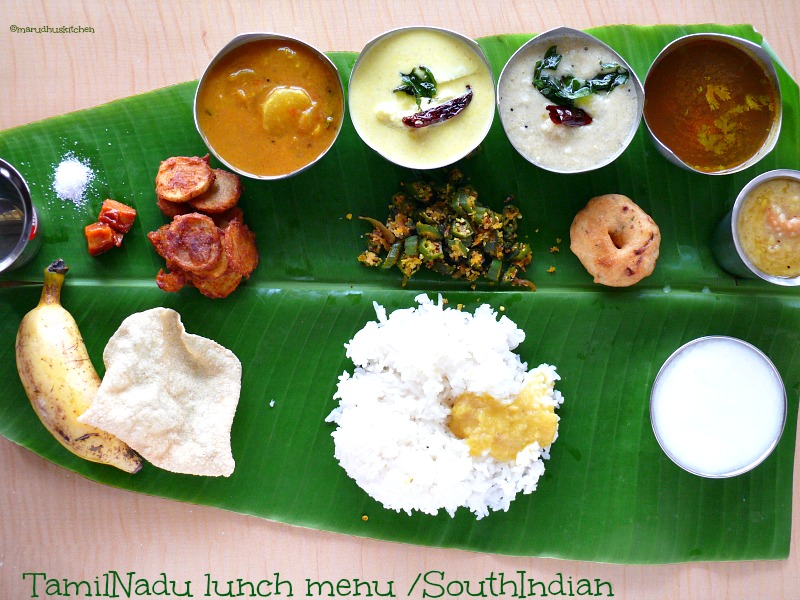 There is no classic Tamil thali as each district and community in the state has its own signature recipes but the sappadu does have some much loved staples. They include poriyals (curries), kootu (mixed vegetable), mangai pachadi (mangoes with tur dal), paavakai (stir fried bitter gourd), kuzhambu (stews), thakkali rasam, chinna vengayam (small onion) sambar, thayir (curd rice) and utterly delicious pal payasam (rice pudding). Add this to the culinary specialties of each district and you know why this thali promises to be a gastronomic adventure!
Great Place to Try: Tanjore Restaurant at Mylapore, Chennai
---
Also Read: From Colleges to Diplomatic Enclaves, These 14 Iconic Canteens Are Among the Best in India
---
Like this story? Have something to share? Email: contact@thebetterindia.com, or join us on Facebook and Twitter (@thebetterindia). To get positive news on WhatsApp, just send 'Start' to 090 2900 3600 via WhatsApp.