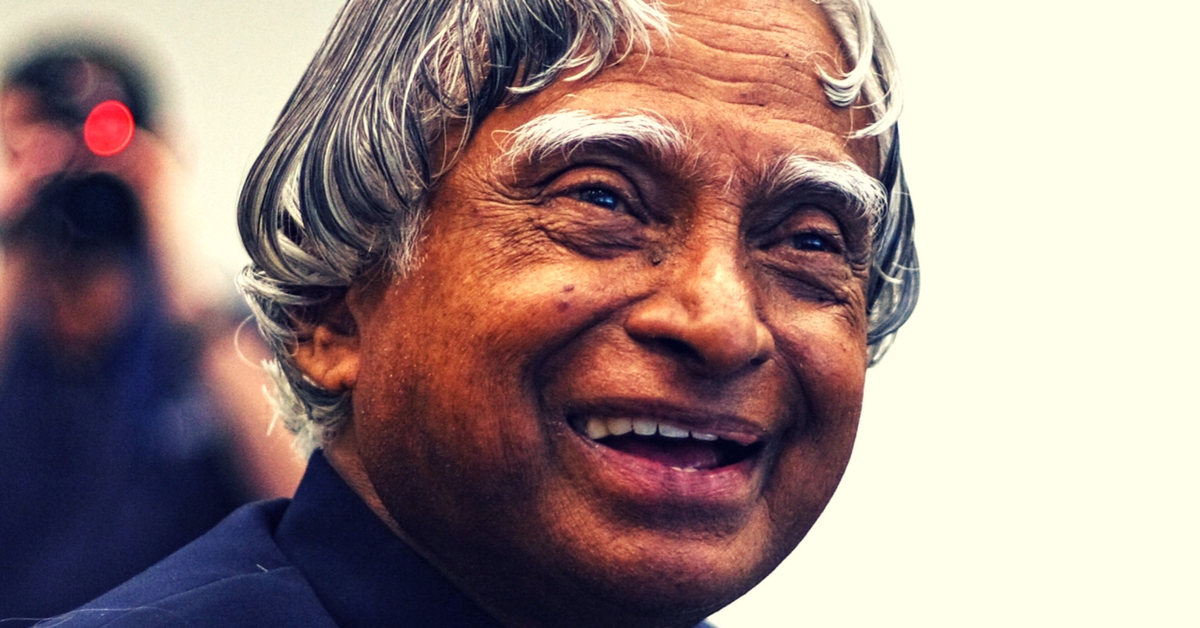 Meeting Arjuna, Dr APJ Abdul Kalam's 110-year-old best friend who was a permanent fixture at the former President's residence, 10 Rajaji Marg.
Meeting Arjuna, Dr APJ Abdul Kalam's 110-year-old best friend who was a permanent fixture at the former President's residence, 10 Rajaji Marg, in a book excerpt.
July 27, 2016 marked the first death anniversary of the nation's best loved president, a teacher par excellence and a human being worthy of being called one of the most humble people in the current times: Dr APJ Abdul Kalam.
Srijan Pal Singh, a close associate of Dr Kalam as well as his student, has chosen to pay tribute to the People's President through the book 'What Can I Give: Life Lessons from my Teacher APJ Abdul Kalam.' The book reveals to readers rare, personal and unheard of anecdotes as well as unseen pictures from Dr Kalam's life. It also offers one a peek into his daily routine, travels and reflections on various issues.
Below is an excerpt from the book
Live to Give
The people who visited 10, Rajaji Marg to meet Dr Kalam were inevitably asked one question: 'Have you met my friend Arjuna? Let me introduce you to him. He is a wonderful fellow.'
Then he would escort the guest to the front garden, where Arjuna stood—tall and majestic like the warrior he had been named after, the long years proudly etched on his body.
Dr Kalam would then say, 'This fellow is very old. Hundred and-ten years old. He must have seen so much, imagine− Gandhiji, Nehru, the freedom wars and India's rising story. He holds an entire section of history his heart. He is my best friend.'
Arjuna would wave back at Dr Kalam gently, its large branches swaying gracefully. The people who have seen it have always been tempted to take a selfie with it. Arjuna was almost three decades older than Dr Kalam. He was the most special occupant of 10, Rajaji Marg, loved and respected by the owner of the house.
Dr Kalam would walk up to him every day and they would exchange their thoughts silently. No one knew what they communicated, in what language, but we all knew that they made each other wiser. Dr Kalam would often thank Arjuna for taking care of 10, Rajaji Marg through the ages and for helping so many flowers and plants grow under his care. Arjuna was also the official bee-keeper of the house.
One day in 2012, while Dr Kalam and I were in the garden, I asked him, 'What is so special about Arjuna? Why do you admire him so much?' He looked at me, puzzled.
Then he said, 'Because Arjuna lives to give and anyone who lives to give needs to be venerated. Arjuna's mission in life has been "What can I give, what can I give, what can I give?" That is why he is standing so proudly and happily at such an age.'
I could feel Arjuna, the 110 year-old Terminalia tree, smile behind us.
The conversation did not stop there. Dr Kalam gave me a task one day. 'Can you determine how many lives Arjuna supports?' he asked. I was puzzled. It was an unexpected challenge. 'Go ahead, find out,' he said.
So I walked up to the giant tree and counted the thick rings of runners around the trunk. Runners are smaller plants that cannot support themselves and so spread themselves around the trunks of large and stronger trees like Arjuna.
One, two, three . . . eleven. Bingo. Eleven rings. I came back with my answer. 'Sir, it supports eleven rings and of course, it gives out oxygen.'
'Oh. You missed the nests. Look again.'
So I went back to Arjuna. This task was difficult because the tree was heavy with foliage, which carefully shielded its inner branches. I managed to count about twelve nests. I went back. 'Sir, it supports eleven rings, twelve nests, and gives oxygen.'
'You missed something again. Come with me.'
This time he walked back towards Arjuna with me. Pointing down at the base of the trunk, he said, 'You missed this. Didn't you?' There it was. Hidden in the dense bushes, growing around the base of the trunk was a peacock's nest, and a beautiful peahen was laying her eggs in there.
'Yes, I missed it.'
'You know why? Because we often look for solutions that are above us and that makes the solutions look more magnificent. Our mind points us that way. Thus we ignore the inspiration that comes from below, from the ground level. You missed, the largest nest, with the prettiest birds in it, because it was lying on the ground—at the base, around the roots. Diamonds are found in the depths of the earth, and not at the height of the sky.'
A few weeks later, the nest became alive with the chirping of five little chicks. Dr Kalam asked me if I knew what a baby peacock was called. And before I could Google it, he gave them a name—'Pea-children'.
The pea-children became a part of the 10, Rajaji Marg family. Dr Kalam would regularly ensure that they were fed in the courtyard, which was near the dining room. While we had lunch at the table, he would get birdfeed laid out at the courtyard for the pea-children. And the pea-children would flock to it hungrily.
'We have more guests for lunch. Now they will always come here for their lunch happily, even when we are not there. You just keep watching; they will come, and come just on time, regardless of anything,' he would say.
Of course, soon the pea-children were joined by many other birds—pigeons, parrots and crows. This established a tradition which continued for years to come. Even when Dr Kalam went out of town, those birds were served their food. He would remind his staff to feed them whenever he was gone for a long time. And he made it a point to check on them whenever he returned from his trip.
When I returned to 10, Rajaji Marg after Dr Kalam's death, the fact that he would never again eat in that dining room across the courtyard sunk in. But the birds are still fed, like they used to be in his time. The birds will always be fed, in his honour.
Read more of such inspirational stories in What Can I Give?: Lessons from My teacher, A.P.J. Abdul Kalam.
**All proceeds from the book go towards establishing the Kalam Library Project, aimed at providing books to children from economically weaker sections across India.
Featured Image Source: Wikipedia
Like this story? Or have something to share? Write to us: contact@thebetterindia.com, or connect with us on Facebook and Twitter (@thebetterindia).
We bring stories straight from the heart of India, to inspire millions and create a wave of impact. Our positive movement is growing bigger everyday, and we would love for you to join it.
Please contribute whatever you can, every little penny helps our team in bringing you more stories that support dreams and spread hope.