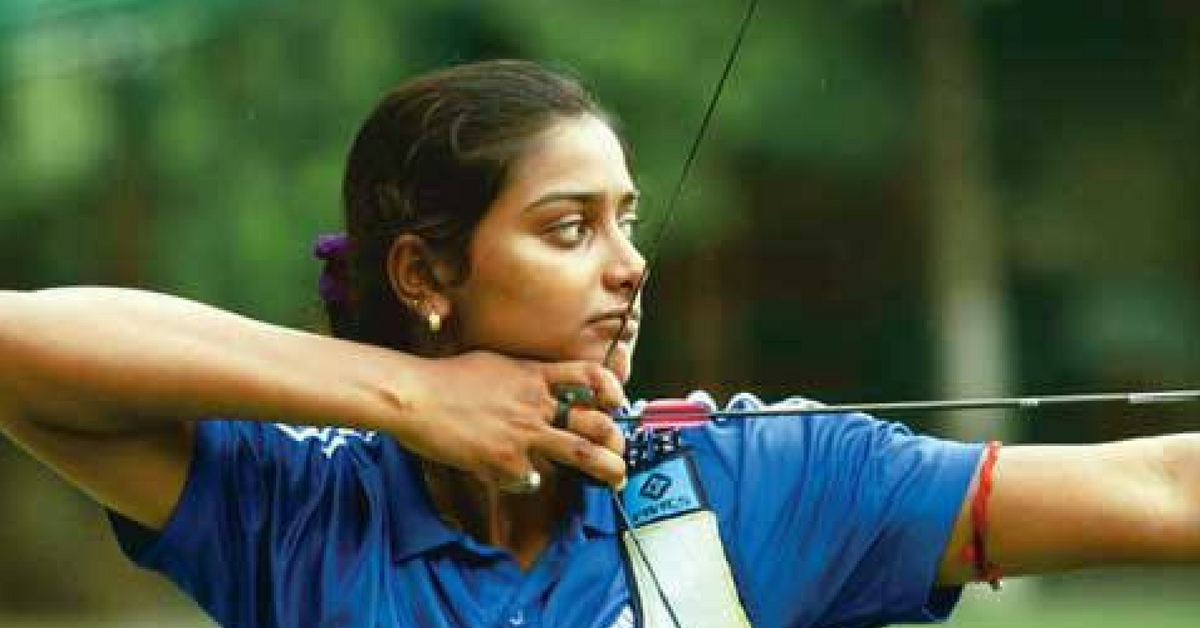 Jharkhand archer Deepika Kumari's unwavering focus and determination have made her India's hope for a medal in archery in the Rio Olympics of 2016.
#ChasingTheGold: A series on the lesser known stories of India's sporting stars, presented by The Better India in collaboration with Knappily, the Knowledge App.
Jharkhand archer Deepika Kumari's unwavering focus and determination have made her India's hope for a medal in archery in the Rio Olympics of 2016.
Ever since Deepika Kumari arrived in Rio, the ghosts of London's 2012 Olympics seem to haunt her. The women's team went down to Russia on Sunday as the Jharkhand archer buckled under pressure.
However, Deepika's passion for archery and belief in her abilities have seen her through many challenging times, and this will be no different. Deepika has brushed off the poor performance of the past and has now focussed her attention on the individual event in which she hopes to win a long-pending medal for the country.
What was Deepika's performance like in her last event?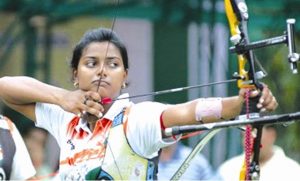 The archery event began in Rio even before the Opening Ceremony. Even though the women's team – Deepika, Laishram Bombayla Devi and Laxmirani Majhi – qualified, they merely scrapped through and finished seventh in the qualification.
On Sunday, the team went down 4-5 to Russia in the quarterfinals of the women's recurve competition. Tuiana Dashidorzhieva, Ksenia Perova, and Inna Stepanova held their own and carried Russia to a 25-23 margin after the teams were tied 4-4.
Unfortunately, Deepika buckled under the pressure. Although she was required to shoot a perfect 10, she could only manage an 8 at the Sambodromo arena.
Strong winds of about 37 km/h at the Samba Street didn't make things easier for Deepika; forcing the Jharkand archer to cite windy conditions as one of the reasons she couldn't deliver her best.
In the individual round, Deepika will face 45th ranked Kristine Esebua of Georgia.
Even after her disappointing performance in the Qualifiers, she remained confident of her abilities.
Why are her accomplishments special?
The biggest archery hope of the country may have failed in the team event, but her journey is nothing short of inspirational. From a very young age, Deepika's determination and unwavering focus set her apart from the rest.
Deepika's father Shiv Narayan Mahato is a rickshaw driver in Ratu, Ranchi (Jharkhand). Even today, he continues his work as a rickshaw driver, earning Rs. 200 a day.
The family earned Rs. 1,500 per month and lived in a modest hut. Yet this never hampered Deepika's drive to succeed.
Deepika started by using homemade bows and arrows, using mangoes as targets.
She only got proper equipment in 2006, when she joined the renowned Tata Archery Academy and started receiving a stipend of Rs 500 per month.
An 11-year-old Deepika in 2005 is reported to have told Meera, who runs an archery academy in Kharsawan and is the wife of the then CM of Jharkand, "Just give me three months. And please throw me out if I don't perform." And perform she did.
When did she arrive on the world stage?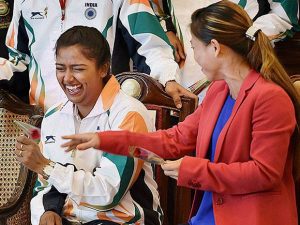 At the age of twelve, she won the junior compound competition in the 2006 Archery World Cup, becoming the second Indian to do so.
Fifteen-year-old Deepika Kumari became an inspiration for youngsters across the country when she won the 11th Youth World Archery Championship after ousting world class champions in her age group.
She was recognized with the Outstanding Performance at CWG (Female) Award at the 2010 Sahara Sports Awards ceremony, for her exemplar performance at the Delhi Commonwealth Games in 2010 that won her a double gold.
In May 2012, she won her first World Cup individual stage recurve medal in Antalya, Turkey after defeating Korea's Lee Sung-Jin by six set points to four in the final. She earned the first rank in the world in Women's Recursive Archery later that year.
She recently stunned the archery world by breaking South Korean Bo-Bae's record in the women's recurve event of the Archery World Cup in Shanghai.
Where did Deepika suffer her biggest setback?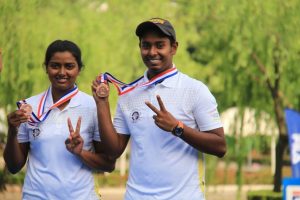 She entered the London Olympics 2012 as a top player. Prior to the competition, a lot of expectations had been set on the Indian archers as India, for the first time since the 2004 Asian Games, had filled the six quota places available at the Olympics.
However, Deepika's performance – both in the individual and team events – came as a big disappointment.
The team, ranked second in the world, lost to Denmark in the second round. Deepika too lost in the first round to Amy Oliver of Great Britain.
The cold weather (the team had been exposed to windy Gangtok as a part of their training), viral fever and pressure of performing in the Olympics are believed to be factors that overwhelmed the debutante Deepika.
Though the failure at the London Olympics hit her hard, she bounced back and is now more determined than ever to prover herself.
Who are the other members of  the Indian archery team?
The archers representing India are Deepika Kumari, Bombayla Devi, Laxmirani Majhi and Atanu Das, the only Indian male archer at the Games. The Indian men's team could not make it to Rio.
This is Bombayla Devi's third Olympic appearance and she finished 24th with 638 points in the qualifying round.
Lakshmirani, a coal miner's daughter, fought a tough battle to arrive among the top names in archery. She ended 43rd with a score of 614. She could not qualify for the individual event.
The total score of 1892 placed India in the seventh position.
Atanu Das defeated some of India's finest archers to earn a quota for the Olympics. He was the best scorer for India and finished 5th with a score of 683.
Deepika finished twentieth falling from a top slot and winding up with a score of 640.
Despite having participated consistently in the Olympics since 1988, India has never once made it to the quarterfinals in the individual archery event. The women's team made it to the quarter finals in 2004 and 2008.
How difficult is archery as a sport?
While anybody can get started in archery and consistently hit targets with an hour of daily practice, to reach an expert level needs mastering of the advanced aspects and that takes years.
Compound bows are said to shoot faster and straighter, recurve bows shoot further in an arc. Depending on the person, either of these can be used by a newbie archer.
Something is "right" only insofar as it works for the archer. However, no style will be right unless it is reproducible consistently, so that you shoot each arrow in exactly the same way.
Wishing Deepika Kumari the best of luck for the individual event.
Knappily, short for Knowledge Application Daily, is India's highest-rated digital magazine that analyses news and features in its unique 5W1H framework, helping readers gain a 360-degree view on them. The app is free, and can be downloaded from Play Store or App Store.
Featured image source: Facebook
Like this story? Or have something to share? Write to us: contact@thebetterindia.com, or connect with us onFacebook and Twitter (@thebetterindia).
We bring stories straight from the heart of India, to inspire millions and create a wave of impact. Our positive movement is growing bigger everyday, and we would love for you to join it.
Please contribute whatever you can, every little penny helps our team in bringing you more stories that support dreams and spread hope.