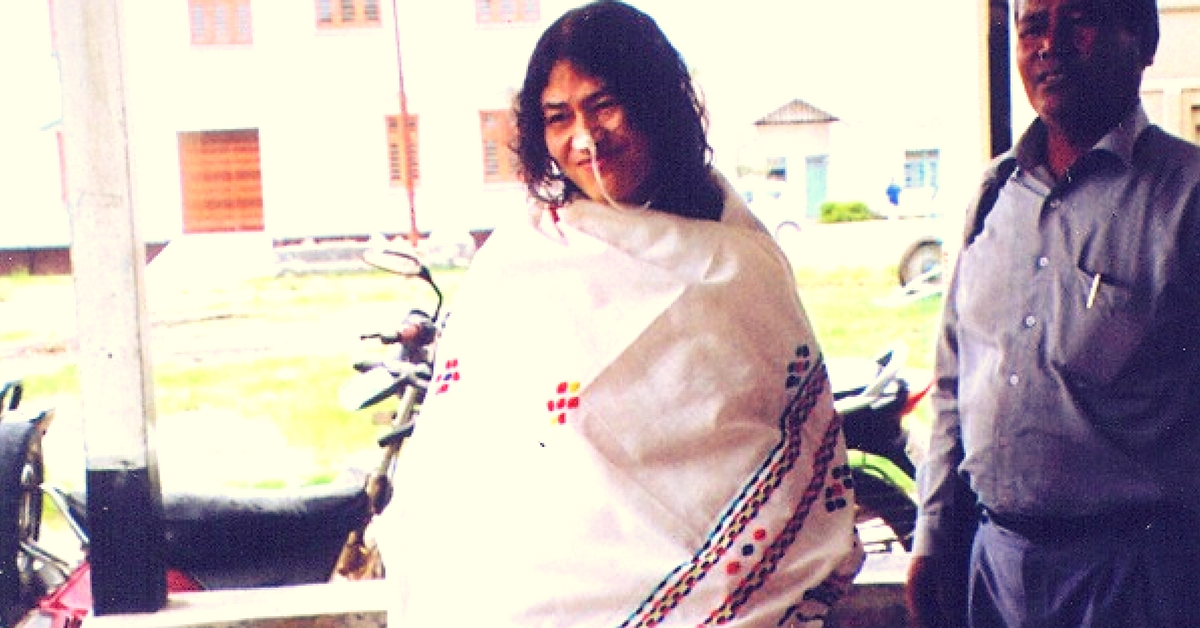 Deepti Priya Mehrotra writes about meeting Irom Sharmila, becoming friends with her, and observing her struggle. Here she appeals to those have constantly worried for Irom that now is the time to carry her struggle forward.
Deepti Priya Mehrotra writes about meeting Irom Sharmila, becoming friends with her, and observing her struggle. Here she appeals to those have constantly worried for Irom that now is the time to carry her struggle forward.
A poet may seem misplaced as a politician. But perhaps this is exactly what we need: people who can bring sensitivity in the public domain and drive us to look at our lives, our politics and our ethics anew. Irom Sharmila's politics stems from deep sensitivity; she dreams of a world free of fear, and writes: "I'll spread the fragrance of peace/ From Kanglei, my birthplace/ In the ages to come/ It will spread all over the world" (Kanglei is an ancient name for Manipur).
Sharmila began an indefinite fast on November 3, 2000, a determined solo step on the slow, very slow, road to peace. Almost 16 years on, she has decided to break her fast on August 9, 2016, and resume life as we all know it: eating food, drinking water, walking the streets, a free citizen.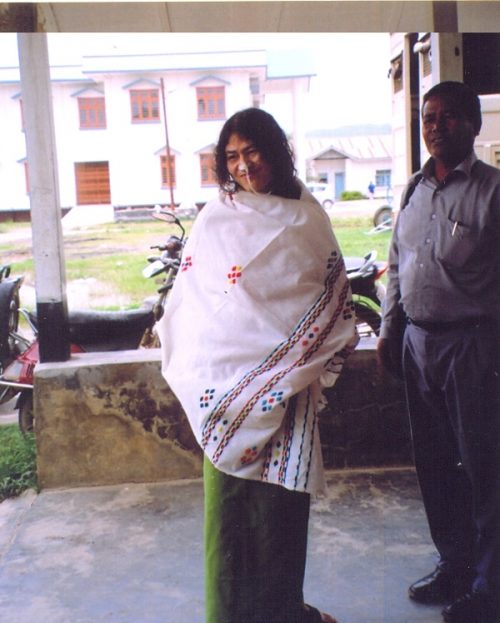 Credit: Tripti Nath\
WFS
The State having failed to respond to her sustained non-violent protest, she figures it is time for her to try another track. In a democracy, when nothing else seems to be working, people power almost always has the capacity to bring change. So now she is considering electoral politics to further the same cause: to end the violence that cripples her state and remove, in particular, the Armed Forces Special Powers Act (AFSPA). This draconian law empowers armed forces to kill any Manipuri citizen on mere suspicion; over the years, under cover of this law, atrocities – murders, rapes, disappearances, torture – have piled sky-high.
Although Sharmila is the most public face of the Anti-AFSPA struggle, others, older than her, have protested against the law ever since it was first enforced in the 1980s. Consequently, Sharmila, born in 1972, grew up reading about the atrocities committed and observing the crusade of the firebrand Meira Paibis and Apunba Lup, a network of civil society organisations.
In October 2000, Sharmila interned with Human Rights Alert, a small organisation in her home-town, Imphal. She met with victims of army atrocities, read reports and attended meetings. On November 2, when ten ordinary villagers were killed by Assam Rifles at Malom bus-stop, she realised that the existing means of dissent were insufficient. After deep reflection she came up with the idea of an indefinite fast.
Sharmila's fast has been extremely effective in drawing attention to the cause, building awareness and solidarity.
Credit: Tripti Nath\
WFS
In a recent judgment, the Supreme Court (SC) ruled that the armed forces cannot use excessive force even in areas that come under AFSPA. As per the Extra Judicial Execution Victim Families Association (EEVFAM), there have been 1,528 fake encounters in Manipur since the 1980s by the armed forces and state commandos. The Apex Court has questioned the impunity and noted that all these "must be investigated". So far, six incidents have been thoroughly investigated and all of them have been proven to be unprovoked killings of innocent persons. Commissions appointed by the central government, such as the Justice Jeevan Reddy Commission (2005), too, have clearly recommended that this "much-hated" law be repealed. Sharmila and her ilk firmly believe that sustainable development, education, health, livelihoods and attention to the distinctive culture of their land, is the need of the hour, not guns, murders, rapes.
I had first met Sharmila in Delhi in November 2006. By then, she'd been routinely arrested, convicted for 'attempted suicide', released after 365 days; and then, as she continued her fast in public, re-arrested. In 2006, the day she was released in Manipur she came to the national capital to spread the word on her cause, sat on 'dharna' at Jantar Mantar, and was picked up by Delhi police and kept in the All India Institute of Medical Science where she was force-fed through a nasal (Ryle's) tube. When I visited her she was sitting cross-legged on the hospital bed, full of vitality and questions; a pile of books beside her included the Quran, Hindu scriptures, Bible, Che Guevara's 'Motorcycle Diaries', Manipuri poetry and newspapers; we discussed Japanese folk stories and she borrowed Chinua Achebe's 'Things Fall Apart' that I had with me. We became friends and I visited often before she left for Imphal in March 2007.
Soon after, I decided to write about her saga, threw myself into the research, and visited Manipur, where I met her in jail-hospital. She read out a 1,000-line poem she'd written; asked if I'd eaten Manipuri curries and offered to cook, one day, 'sagem pamba', a dish of fermented soya beans, roots, vegetables and water plants.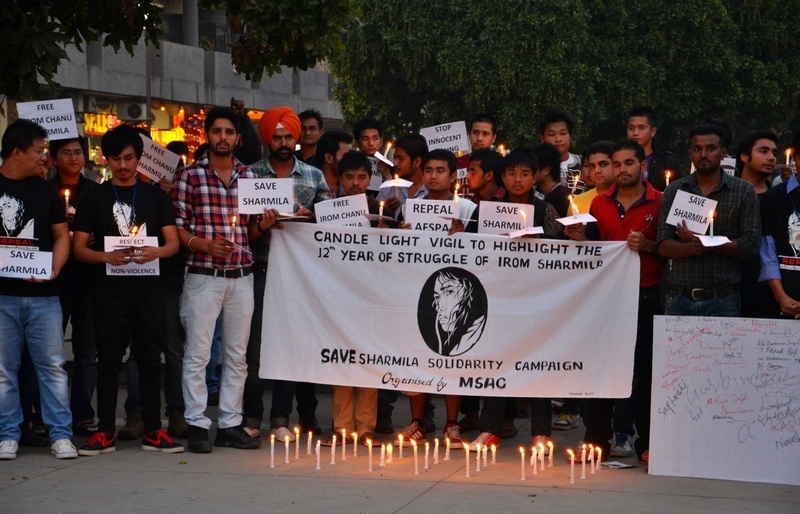 Credit: Ninglun Hanghal\WFS
In November 2009, I went to Manipur to participate in a Festival of Peace, Justice and Hope held in solidarity with Sharmila's protest. The late writer Mahasweta Devi and I had run from pillar to post, but were denied permission to meet Sharmila, even for a minute. Later, Mahasweta wrote a foreword to new editions of my book ('Burning Bright'): "…For me, and many others like me, it is Sharmila who represents Manipur…. The twenty-first century is the century of Irom Sharmila. Her story is the story of mother earth…."
Earlier this year, Sharmila was once again in Delhi at Manipur House. The Delhi High Court was trying her for attempted suicide, a case that was dragging on from 2006-07. It was finally dismissed on March 30. When I met with Sharmila she was lively, communicative, her eyes often wet though she smiled a lot and laughed too. The tape holding her nasal tube in place seemed to chafe the skin. I, like many of her supporters have in the past, requested her to give up the fast, suggesting she lead the struggle from the outside. She was quiet at first and then said, "I am fully surrendered to the will of God. He is looking after me and I know that soon I will succeed. Very soon one day the government will remove the Act. Then I will be free."
Whereas to many, Sharmila's decision to end her fast may seem sudden, I think it has actually been building up within her. It is time for her to move on, into a new phase of life. In this, she hopes to explore politics in a different way, and also the personal. She is in love, with somebody she got to know five years ago, with whom she has corresponded regularly, and is considering marrying him.
For most people, if not all of us, the political and the personal coexist in uneasy proximity. And Sharmila will face several challenges in this upcoming phase. Yet, as with every difficulty she has been able overcome, her customary thoughtfulness, intelligence and indomitable spirit will enable her to ride these out as well.
What of the struggle against AFSPA? All this while Sharmila in jail seemed to be a fact of nature; she was the immovable boulder that would not budge until her demand for withdrawal was met. For those who have constantly worried for her, now is the time to carry forward this struggle, put our energy into our politics and continue on this journey. There is a need to engage in immensely creative political action, to keep up a strong, steady voice of resistance. Without collective struggle, there can be no solutions.
The Meira Paibis have already shown the way: on December 10, 2010, they began an indefinite relay hunger strike, in a shed in Porampat, just across the hospital where Sharmila had been incarcerated. Everyday a group of women come, and fast, in solidarity with Sharmila and for removal of AFSPA. Protestors like Ima Mangol, Ima Mamon, Ima Taruni and Ima Ramani, Ima Gyaneshwari and Loitam Ibetombi Devi have devised courageous, powerful forms of protest.
It is time to remember, consolidate, strategize and move forward with renewed strength, on the long road to peace.
Like this story? Or have something to share? Write to us: contact@thebetterindia.com, or connect with us on Facebook and Twitter (@thebetterindia).
About the author:
Written by Deepti Priya Mehrotra for
Women's Feature Service
(WFS) and republished here in arrangement with WFS.
We bring stories straight from the heart of India, to inspire millions and create a wave of impact. Our positive movement is growing bigger everyday, and we would love for you to join it.
Please contribute whatever you can, every little penny helps our team in bringing you more stories that support dreams and spread hope.