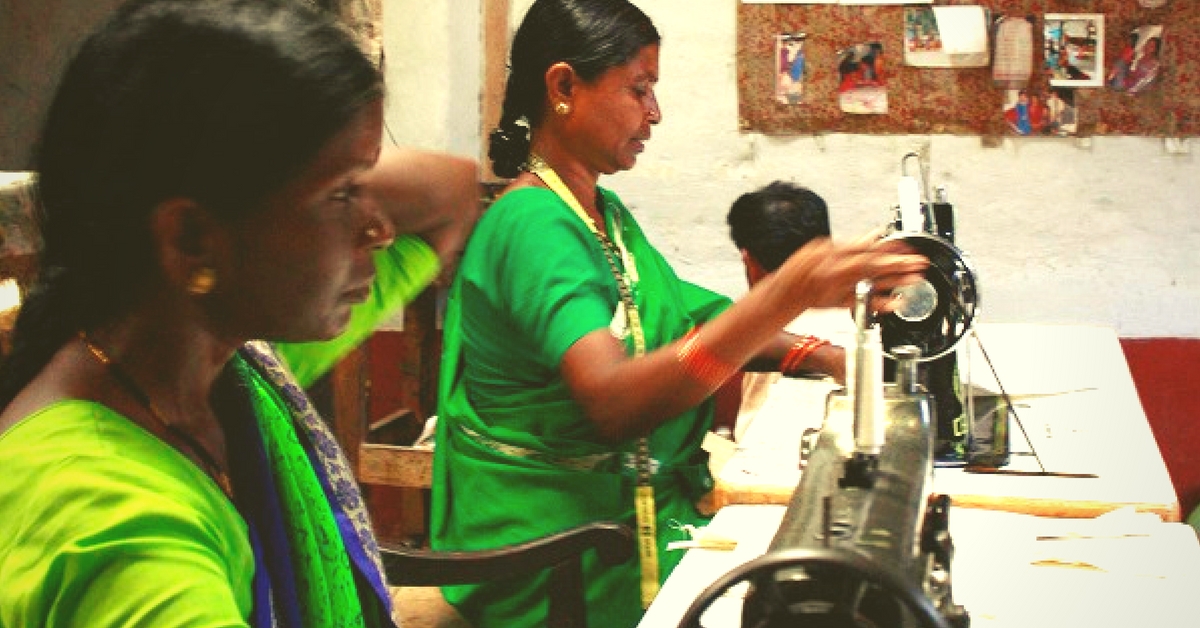 Garment workers in Bengaluru recently came out to protest against the proposed new rules related to their provident fund, and their voices were heard. Here's how they are slowly becoming aware and are speaking up against injustice.
Garment workers in Bengaluru recently came out to protest against the proposed new rules related to their provident fund, and their voices were heard. Here's how they are slowly becoming aware and are speaking up against injustice.
Over a century ago, women working primarily in clothes manufacturing units in the United States protested en masse against their poor working conditions. The strikes lasted for some time – some lost their lives, several were injured. But crucially, the agitations led to the realisation of certain basic rights – an eight-hour work day, a weekly day off, minimum hourly wages, and so on.
Historically, workers have been struggling to secure their rights and entitlements; it's these inspired actions that bring about qualitative changes to their lives. Earlier this year, thousands of garment workers in Bengaluru, the hub of garment manufacturing in the country, too seized the opportunity to stand up for themselves. This otherwise highly oppressed, invisible workforce, largely comprising of women, took to the streets of Karnataka's state capital to demand the withdrawal of the proposed new rules related to their provident fund (PF), which for many is their only real saving.
One among the vociferous protestors was Bharati, 37, who has been employed at a garment factory in Peenya, the city's industrial zone, for the past nine years.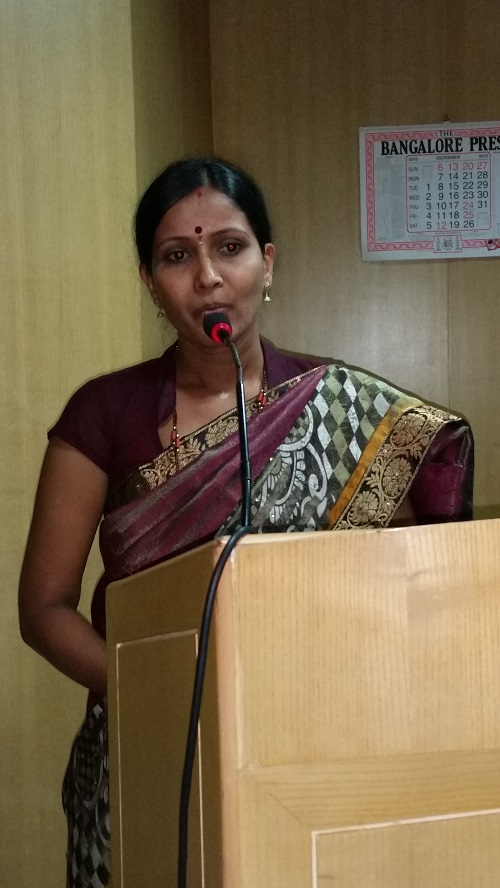 As a garment worker Bharati has seen the worst of times, marred by poverty and backbreaking work. Every morning, this mother of two walks for 30 minutes to reach her factory by 9 am. There is no way she can spend on public transportation daily. She lives in a small, one-room tenement and has to step out every time she wants to relieve herself. Try as she may she hasn't been able to rent a place that has a toilet. Bharati earns around Rs. 7,500 a month, including PF, from which she pays Rs 3,000 for the room, apart from Rs. 300 that cover the electricity and water charges. Her two children, a daughter and son, aged 21 and 20, study and work part time to help make ends meet.
Bharati has experienced first-hand the difficult conditions under which female workers like her are forced to operate – not only are they subjected to constant verbal abuse, especially if they miss their daily target of stitching around 150 pieces, but they are forbidden from leaving their work station; the only exception being a couple of permitted bathroom breaks. Consequently, most of them end up with chronic ailments that they, again, can't afford to treat. They endure all this because they feel that though their salary is meagre, at least they have the PF money to fall back on. "So when the government announced the move to restrict workers from accessing this corpus it was a big blow," she shares.
As such, garment workers are not part of any of the central trade unions in the country and so do not have any formal negotiating powers.
However, there are groups such as the Garment Labour Union (GLU), Garment and Textile Workers Union (GATWU), Karnataka Garment Workers Union (KGWU) and Bangalore District Garment Workers Union (BDGWU) that are actively engaging with them to improve awareness levels and address their problems.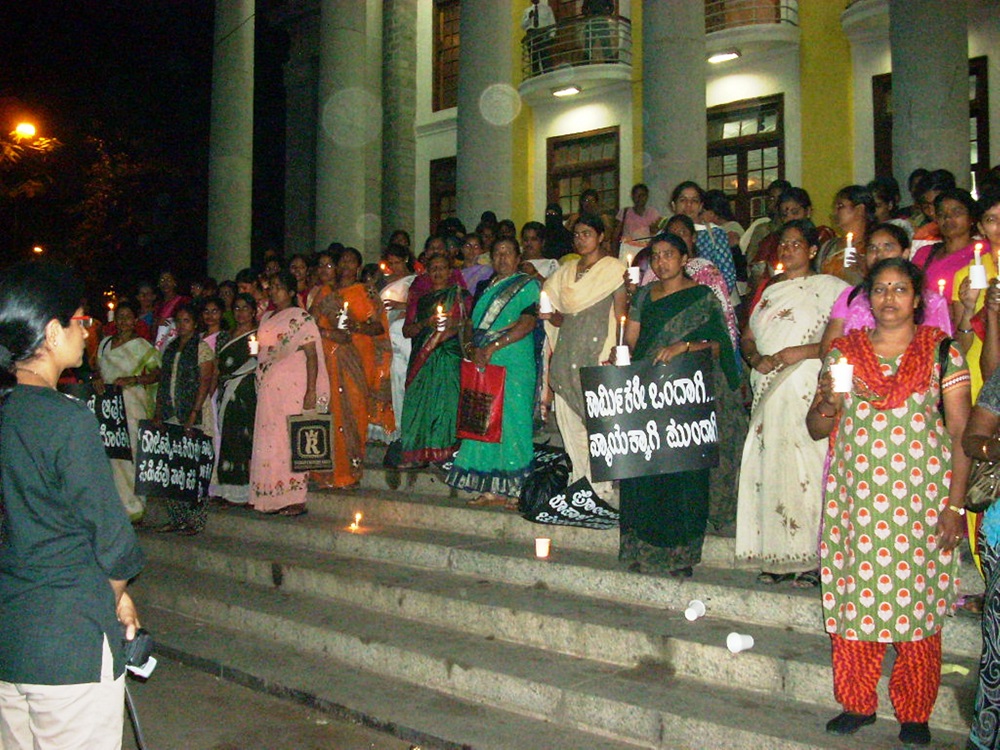 The GLU, of which Bharati is a part, was set up in 2012 and has 2,000 women associated with it. It reaches out to workers through self-help groups and also connects with them directly at the Peenya industrial area. An annual membership of Rs. 60 gives the women an opportunity to be part of regular meetings that empower them to cope with their workplace and domestic concerns, besides sharing information on human, gender and labour rights and socio-economic entitlements.
According to Rukmini M., President, GLU, "Women workers, who constitute nearly 80% of the estimated 10 lakh workforce in Bengaluru, hardly know about unionisation since they are mostly from rural areas. Central unions haven't joined in our efforts. We have recently selected five factories to hold gate meetings and mobilise workers but, as expected, managements are creating obstacles."
Essentially, managements have the upper hand as the women are desperate for work and have very few avenues available to them. "Many garment workers like me come from financially backward families based in remote villages. I discontinued my studies after completing high school as there was no government college nearby and my parents couldn't send me to an expensive private institution. Without a degree the job options are limited though contributing to the household income is a necessity. So I joined the textile industry," explains Rashida (name changed), 19.
When the youngster chose to go to a factory – "it's considered more respectful socially" – rather than become a domestic helper she didn't know the odds she would be up against in her quest to eke out what she believed was "a decent living". She elaborates, "The official hours are 9 am to 5.30 pm with only a 30-minute lunch break. Sometimes, we have to stay back for reviews or meeting the unfinished daily targets without being paid overtime. Career advancement or training opportunities are almost non-existent – irrespective of the number of years one has spent in a factory a female employee is destined to be working under a male supervisor, who is abusive. Our wages are under Rs. 300 per day while PF, Employees' State Insurance (ESI) contribution and overtime are not guaranteed. Annual increments and incentives are paltry; getting paid leave is even harder. Those who have small children have to figure out some place to leave them because despite regulation under the Factories Act only some large units have crèches with safe, clean and adequate infrastructure." Rashida also perceives sexual harassment as a very real threat though she admits that few would ever come forward and complain because they know there would be no redress and instead it would only give rise to further harassment or even termination.
Those, in fact, are the very reasons why garment workers are hesitant to voice their discontent or join a group like GLU. "Individuals who try to complain about violations or motivate others to take a stand are isolated and, at times, if they don't back down, dismissed without severance payments," she adds.
Of course, this omnipresent risk hasn't prevented Rashida or Bharati from seeking confidence and kinship with their local group. And if the recent rare show of agency is any indication then many more are ready to come forward. Yashoda P.H., Vice President, GLU, elaborates, "After the strike, the more experienced workers want to be part of our group. Though the police probably intimidated them, they are keen to continue their struggle."
Rukmini sees this as a positive step, "The PF issue may have gotten women to break their silence but I think it will have far reaching consequences. For starters, it has given us an opportunity to show everyone that collective action can bring results – in this case, it has led to the withdrawal of the amendments to the PF Act for the moment. At the same time, it has finally brought into national focus the many labour, gender and human rights violations that are experienced by women workers regularly."
Kala, Vibha and Janet (names changed), aged 38 to 40, have been garment workers for 13, 16 and 20 years, respectively, in various factories in Bommanahalli, Bengaluru. When the strike had happened the trio took part on impulse. For now, the three are not part of any formal workers' group but perhaps they may change their mind. "We didn't get penalised for participating in the demonstration though police was stationed at our factory even days later. Things are anyway so problematic so one wonders whether it's prudent to take added risks. But it did feel good to speak out with others," they say.
It's early days, but there is definitely change in the offing – and it's sure to give women the break they deserve.
Like this story? Or have something to share? Write to us: contact@thebetterindia.com, or connect with us on Facebook and Twitter (@thebetterindia).
About the author:
Written by Pushpa Achanta for
Women's Feature Service
(WFS) and republished here in arrangement with WFS.
We bring stories straight from the heart of India, to inspire millions and create a wave of impact. Our positive movement is growing bigger everyday, and we would love for you to join it.
Please contribute whatever you can, every little penny helps our team in bringing you more stories that support dreams and spread hope.