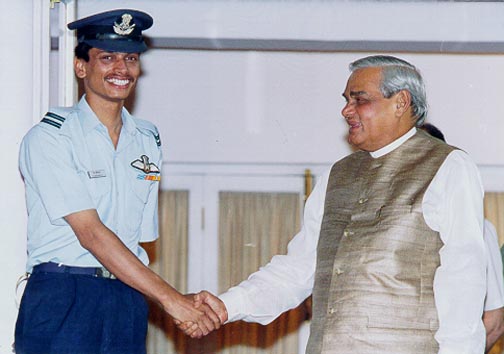 Flight Lieutenant Nachiketa is one of the very few IAF pilots to have returned after his aircraft crashed in enemy territory. He was shot down by the Pakistani Army on May 28, 1999
Kargil was one of the harshest wars India's armed forces ever fought. Maybe that's why the tales of valour and grit that emerged from the Kargil war zone are so striking. Many heroes emerged in the ferocious war, and while we remember some of them, many names are still lost in the pages of history.
This is the untold story of one such unsung hero, Flight Lieutenant Kambampati Nachiketa.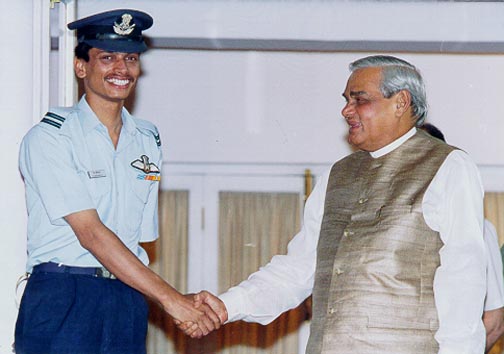 Flight Lieutenant Nachiketa is one of the very few IAF pilots to have returned after his aircraft crashed in enemy territory. He was shot down by the Pakistani Army on May 28, 1999, and was held in captivity for a week before being released on June 4 due to mounting pressure from international media. He had suffered a spinal injury while ejecting from his MiG-27 fighter, and many thought his fighting days were over. But proving them wrong, Nachiketa still flies for the Indian Air force.
---
Read More: #KargilHeroes: Anuj Nayyar, The Braveheart For Whom Nation Always Came First
---
During the Kargil War in 1999, 26-year-old Nachiketa was a serving officer in the No.9 Squadron of the IAF that was operating in the war-hit Batalik sector. As a flight lieutenant, Nachiketa had been assigned the task of hitting enemy positions at altitudes over 17,000 feet with deadly 80 mm rockets.
On May 27, 1999, Nachiketa was carrying out strikes against enemy posts from his MiG 27 fighter aircraft. He had just locked on to a target and fired the powerful 30 mm cannon of his MiG 27 fighter bomber when his engine 'flamed' out – a nightmare for pilots anywhere. The engine flames out (or goes dead, mid-air) when fumes released by firing in the rarefied atmosphere of high altitudes are ingested by the engine during air intake.
Training took over and Nachiketa kept trying to reignite the engine. All his attempts failed and Nachiketa had to eject at a place called Munthudalo, an enemy territory in a snow-capped mountain region.
---
Read More: These #KargilHeroes Are Indian Army's Only 2 Serving Param Vir Chakra Awardees!
---
Landing on the rocky surface, Nachiketa observed a speck in the sky. The speck was his brave fellow pilot, squadron leader Ajay Ahuja, who was hovering over the area in his MiG-21 in an effort to locate the landing area of his colleague. Nachiketa recoiled in horror as the speck suddenly burst into flames in a giant explosion that reverberated across the horizon. A Pakistani Anza missile had found its mark in Ahuja's plane.
Still stunned by his hard landing and the sight of the explosion, Nachiketa was ambushed by Pakistani soldiers half an hour later, even while he continued to fight bravely, unloading an entire magazine of bullets from his pistol at them.
---
Read More: The Forgotten Story of the First Indian Air Force Women Pilots Who Flew in the Kargil War Zone
---
Overpowered once his ammunition ended, Nachiketa was captured and thrown into the dark confines of a prison in Rawalpindi. Ruthlessly tortured for information by the Pakistani soldiers, Nachiketa's brutal treatment stopped only when a senior officer ordered his men to back off. In an interview to NDTV, Nachiketa says,
"The aggressive jawans who had captured me were trying to manhandle me and maybe trying to kill me, because for them, I was just an enemy pilot who had fired at them from the air. Fortunately, the senior officer who came was very mature. He realised the situation, that I was now a captive and I need not be handled that way.

Personally, I was aware I may not see a tomorrow back in India, but the hope was always there – that I would be back someday."
Nachiketa remained a war prisoner in Pakistan till June 3, 1999, when he was handed over to the International Committee of the Red Cross in Pakistan due to the mounting pressure by the UN and international media.
---
Read More: #KargilHeroes: The Soft-Spoken Buddhist Soldier from Ladakh who Notched India's First Win in Kargil
---
After days of intense politicking by the Government of India to secure his release, he was subsequently repatriated over the Indian border check post at Wagah.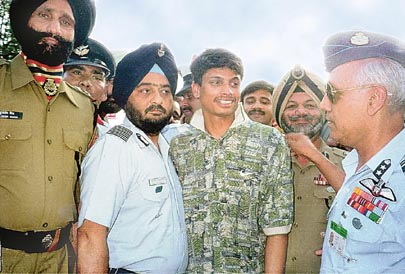 When Nachiketa met media persons at Wagah, soon after his ordeal, he said that he was just a soldier, not a hero, and declared that he was ready for his next sortie. However, Nachiketa had suffered a compression fracture to his spine when he had ejected from his MiG-27. Unable to return to fighter flying because of this injury, Nachi, as he is known to his friends, underwent a series of remedial measures and retraining to join the Indian Air Force's transport fleet.
---
Read More: #KargilHeroes: The Story of a Soldier who Climbed Kargil's Icy Slopes Barefoot to Defeat the Enemy
---
For most people, the trauma of this experience would have been enough to call it a day, but this man is clearly made of sterner stuff. Today, Nachiketa is a Group Captain who continues to fly giant Ilyushin Il-78 and AN-24 mid-air refuelling transport aircraft for IAF Squadrons. Though he misses flying fighter aircraft, this inspiring hero believes that flying in any form is equally challenging. As he says,
"The heart of a pilot is always in the cockpit."
Flight Lieutenant Nachiketa was awarded the Vayu Sena Gallantry Medal for his exemplary service during the Kargil war.
---
Read More: This Unsung Hero's Act of Extraordinary Courage Led the Indian Army to Victory in the Kargil War
---
Like this story? Have something to share?
Email: contact@thebetterindia.com,
or join us on Facebook and Twitter (@thebetterindia).
We bring stories straight from the heart of India, to inspire millions and create a wave of impact. Our positive movement is growing bigger everyday, and we would love for you to join it.
Please contribute whatever you can, every little penny helps our team in bringing you more stories that support dreams and spread hope.