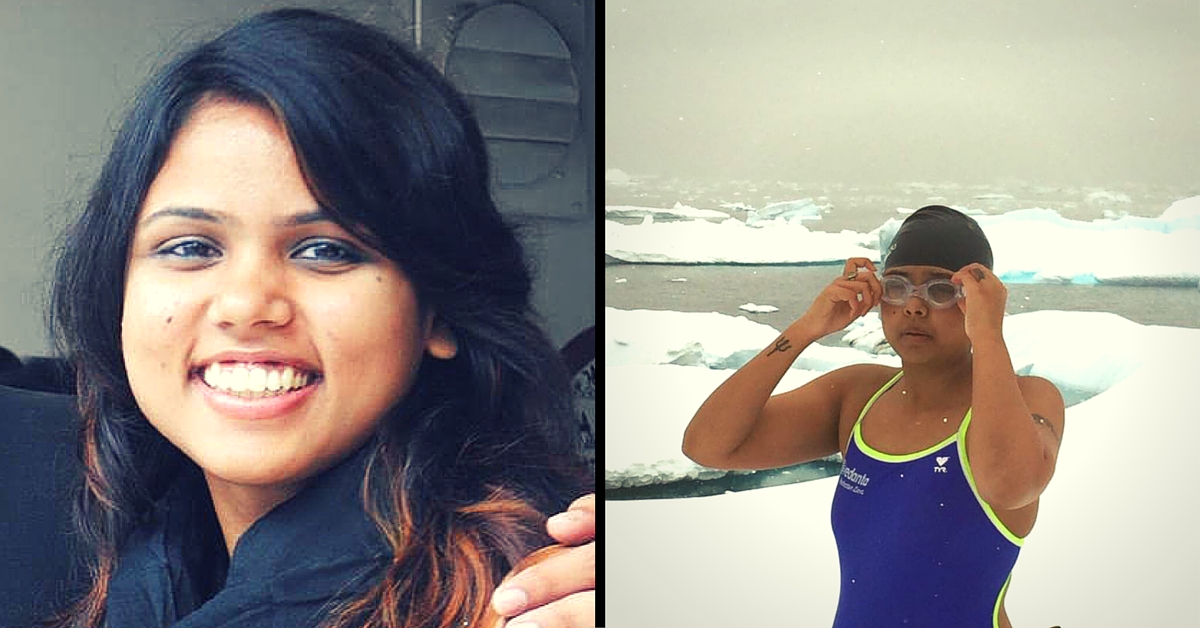 Meet Bhakti Sharma, the 26-year-old open water swimmer who has already swum in all five ocean of the world. Here are some glimpses of her inspiring journey.
Meet Bhakti Sharma, the 26-year-old open water swimmer who has already swum in all five ocean of the world. Here are some glimpses of her inspiring journey.
"My mother is a swimmer. She started teaching me how to swim when I was just two-and-a-half years old. And that's how it all began," says open water swimmer Bhakti Sharma, talking about her love for the sea. This conqueror of all five oceans of the world was born in Mumbai and brought up in Udaipur. She finished her first open water swim when she was only 14 years old. It was a 16 km swim in 2003, from Uran Port in Navi Mumbai to Gateway of India. And she has never looked back since.
In 2010, Bhakti became the second and youngest swimmer in the world to swim in four oceans. In 2012, she received the Tenzing Norgay National Adventure Award from President Pranab Mukherjee for her achievements. One of the many records she holds is that of the first swim by a three-member women's relay team across the English Channel, with her mother Leena Sharma and friend Priyanka Gehlot. She went on to set a world record in 2015 by swimming in the Antarctic Ocean for 2.28 km in 41.14 minutes. She became the youngest person in the world and the first Asian girl to do so.
We spoke to her about her struggles, her victories, and her dreams for the future:
Q: Tell us about your journey from the time you had to give up swimming to the time when you competed at the state level for the first time.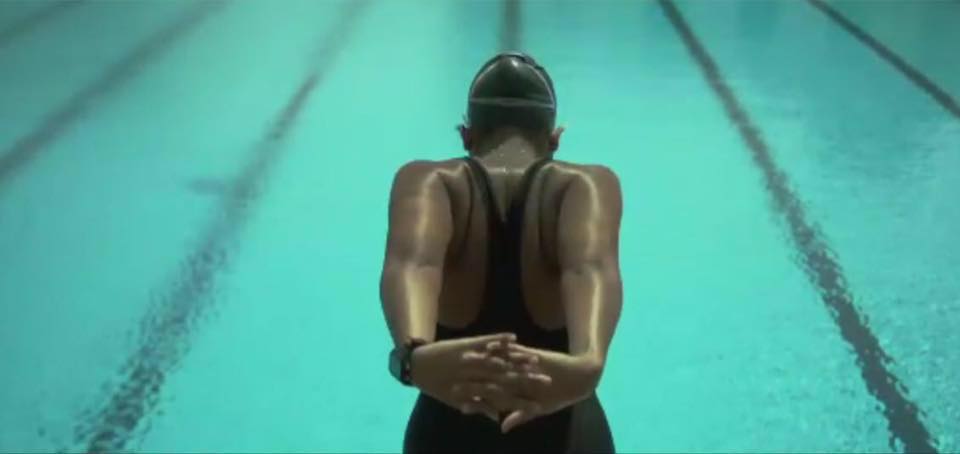 A: We didn't have proper swimming pools in Udaipur for a very long time and that's why I couldn't swim for a couple of years after I started. But eventually, a school opened up a swimming pool and I started training there. The same year, I participated in a district level competition, won the races and also took part in my first state level competition. I was very young at that time. I probably finished last, but I finished the race. And that's what mattered.
---
You May Also Like: Meet Madhavi Latha: The Crusader for Wheelchair Basketball in India
---
Q: Why did you start open water swimming and what were the challenges you faced in the initial days?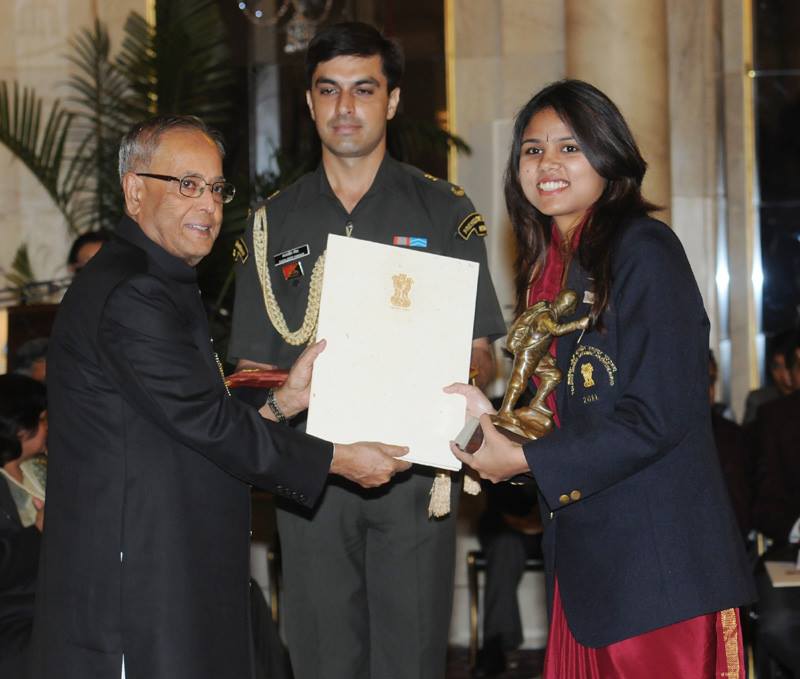 A: I was 14 years old and had already won a couple of national championships in the CBSE National Level competitions, along with a number of state championships. But we didn't have an all-season swimming pool in Rajasthan and all the pools would shut down for the winter after October, till February or March. In order to improve my performance at the national level, my mom used to request the pool owners (sometimes even some resort owners) to not close their pools at least till the time I practised, which was usually till November end or December first week. This way, while practising to keep up my speed, I was also increasing my resistance to low temperatures. During one such practice session in October, my mother was the only one on the pool deck and I was the only one in the pool. After the practise she asked – "You know about the English Channel? It is a cold, long-distance swim in the sea. Do you want to try it?"
I said yes, why not? And that's how I started open water swimming. My first swim was two months later in the Arabian Sea from Uran Port to Gateway of India. The biggest challenge with open water swimming is practising for long hours. It gets physically and mentally exhausting to keep swimming all by yourself for three to four hours at a stretch.
---
Bhakti is raising funds for her annual training to participate in the Olympics in 2020 in Tokyo, Japan. You can help by contributing at Fuel a Dream.
Unable to view the above button? Click here
---
Q: You have swum in all five oceans of the world. Please talk about a specific interesting experience from one of them?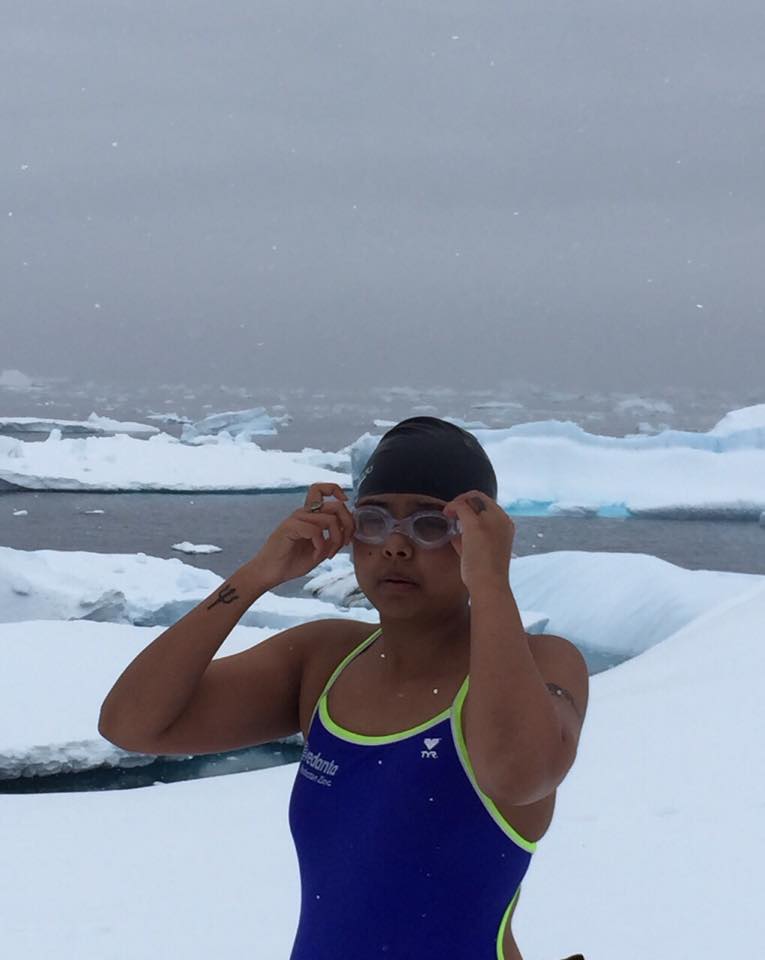 A: The Antarctic swim was the most beautiful experience of my life. Not just the swim but simply being there in Antarctica! I swam on the fourth day of the 11-day-long trip. The first three days were full of mixed emotions – anxiety, trying to figure out the logistics of the swim, etc. We were discussing questions like if I become unconscious during the swim how would the crew get me back on the ship. Instead of making me nervous, all these things actually made me feel alive and grateful for that chance to realise my dreams.
The swim itself was quite painful in the beginning. The salinity of the water hit me instantly after I jumped in. It made it very hard to pull through each stroke. In the initial five minutes, I thought that I won't be able to make it. But then I remembered a poem my friend had sent when I was training for the swim. The lines were – "Don't give up when you are hardest hit. Rest if you must but do not quit." I started reciting this as a mantra and focused on taking one stroke at a time. After a few minutes, I saw a penguin swimming under my belly. It came up on my left and just kept swimming with me. This made me smile and I told myself that this is meant to be. I am meant to do this swim. That's how I swam 2.28 km in 41.14 minutes. I didn't know anything about the distance when I finished the swim. It took me two hours to recover and that's when they told me that I had done it.
On realising that I had successfully achieved my target distance, I felt a kind of bliss that could only stem from the satisfaction of having done something that you always wanted to do. It was not the happiness of having made a world record. It was the feeling of pure satisfaction that my dream of swimming in Antarctica had now been fulfilled. I wish everyone could experience that once in their lives.
Q: How did the English Channel swim with your mother take place? How was the experience?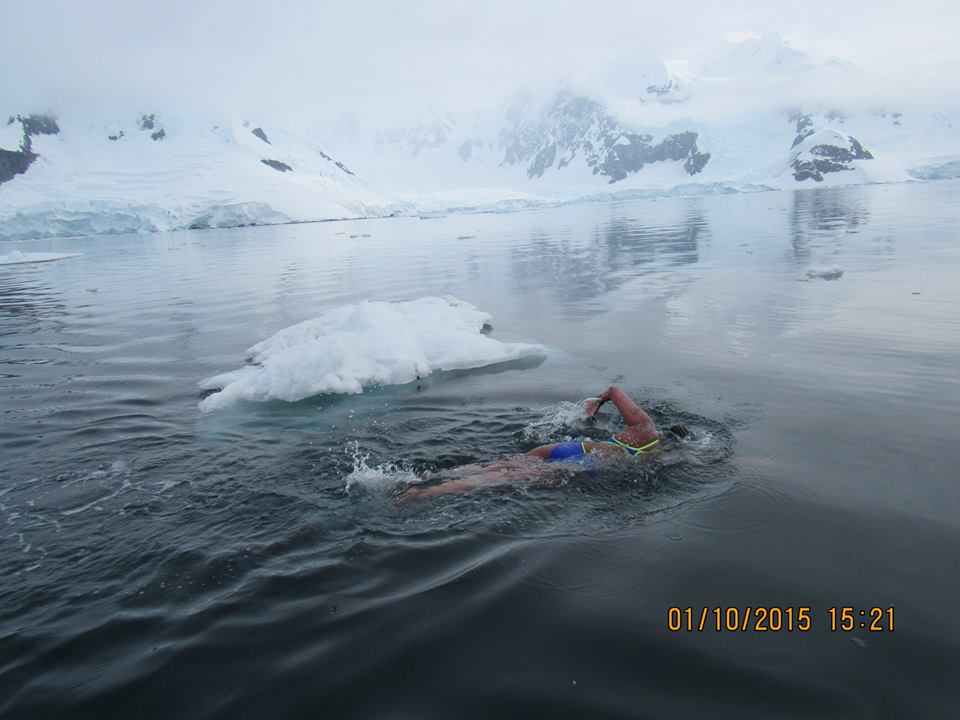 A: A swimmer from Jodhpur approached us. She wanted to swim in the English Channel but due to lack of preparation she decided to do it in a relay. I was obviously going to be a part of the relay and we started looking for more swimmers. That's when it struck me that it was always my mother's dream to swim in the Channel and there couldn't be a better opportunity than this. So I asked her to be a part of the relay and being the incredibly strong-willed woman that she is, she started training with us. We faced really tough weather in our first attempt. We were doing a great job in the water but were getting sea sick on the boat and were throwing up incessantly. After nine hours of swimming I decided that we should wait because my mother is diabetic. It would have been really dangerous for her to keep going on an empty stomach. We quit the swim and came back.
It doesn't usually happen that you are given a chance to attempt the swim again. But we spoke to our pilot. He had seen us fighting in the sea and giving our all. So the next week we went again and crossed the English Channel successfully. While taking a stroll the next day we came to know from an official that my mother and I were the first mother-daughter duo in the world to swim across the Channel.
---
You May Also Like: What Made This 49-Year-Old Become the First Indian to Complete the Boston Marathon Barefoot?
---
Q: What does it take to become an open water swimmer – what does the training regime look like?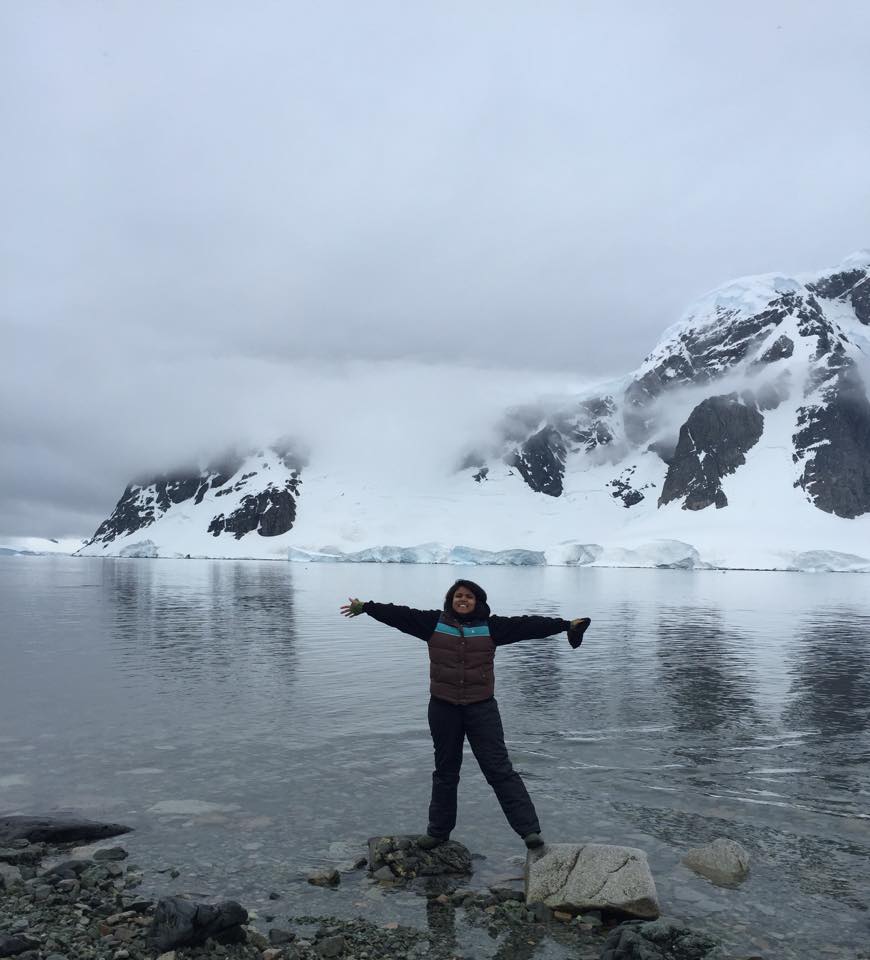 A: The main ingredients for becoming an open water swimmer are a very strong will and an almost stubborn mind. My training regime differed from swim to swim depending upon the length and nature of the sea. But it involves swimming daily for at least two to three hours and some ground exercises. Meditation to train my mind is also a very important aspect.
Q: Does your diet include something specific to add to your training and to build stamina?
A: No I haven't been on a very specific diet. Being a vegetarian, it just includes lots of proteins, dairy and fats for swims like the English Channel.
Q: Is the coaching scenario in the field of swimming improving in India?
A: It is improving but only in specific cities like Bengaluru, Delhi and Mumbai. We need major improvements in the smaller cities of all the states.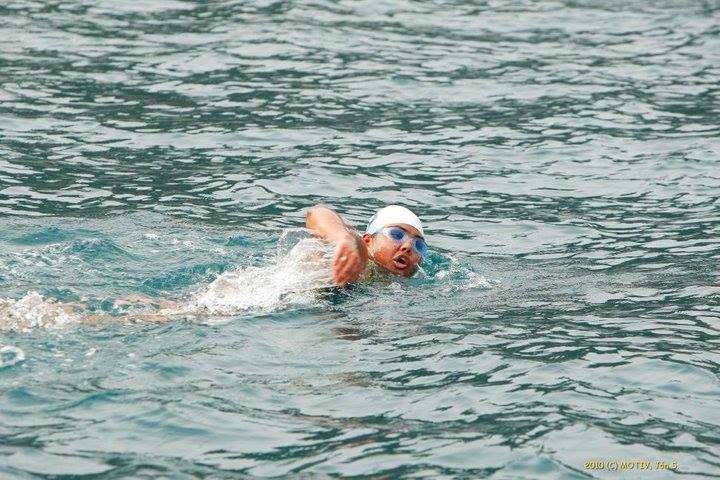 Q: There have been many firsts in your life, and Tokyo 2020 could be the next one. Tell us about your plans for the Olympics.
A: Open water swimming has been an Olympic sport since 2008 and I want to represent India in this event – hopefully win a medal.
Q: What is your message to girls in India who want to take up swimming as a profession but need guidance because it is not a very celebrated sport?
A: If you want to do it, just go for it. But be ready to make a lot of sacrifices and put in immense effort and hard work. We live in the age of technology and every doubt can be answered by an expert online. So make the best use of this tool to improve your training even if you don't have proper coaching options. Don't give up on the sport because it is not celebrated enough. Play it so well that one day we make it the most celebrated sport.
---
Bhakti is raising funds for her annual training to participate in the Olympics in 2020 in Tokyo, Japan. You can help by contributing at Fuel a Dream.
Unable to view the above button? Click here
---
Like this story? Have something to share? Email: contact@thebetterindia.com, or join us on Facebook and Twitter (@thebetterindia). To get positive news on WhatsApp, just send 'Start' to 090 2900 3600 via WhatsApp.
We bring stories straight from the heart of India, to inspire millions and create a wave of impact. Our positive movement is growing bigger everyday, and we would love for you to join it.
Please contribute whatever you can, every little penny helps our team in bringing you more stories that support dreams and spread hope.