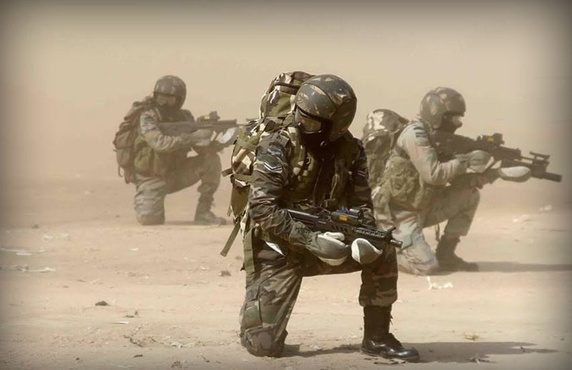 An integral part of the nation's armed forces, India's elite Special Forces are among some of the most formidable military units in the world.
In the world of the military, there is perhaps no unit that captures the imagination of the public quite like the Special Forces. From reconnaissance and assault missions to counter-terrorism and hostage rescue, Special Forces take on some of the hardest missions and live some of the most secret lives in the military world.
India's elite Special Forces are among some of the most formidable military units in the world. Rigorously trained and equipped to handle, support and conduct special operations, these badass units can handle pretty much any dangerous situation without breaking a sweat. An integral part of India's armed forces, they are indeed the best of the best. Here is a list of some of the elite Special Forces troops (with their mottoes) every Indian should know about.
1. MARCOS : The Few The Fearless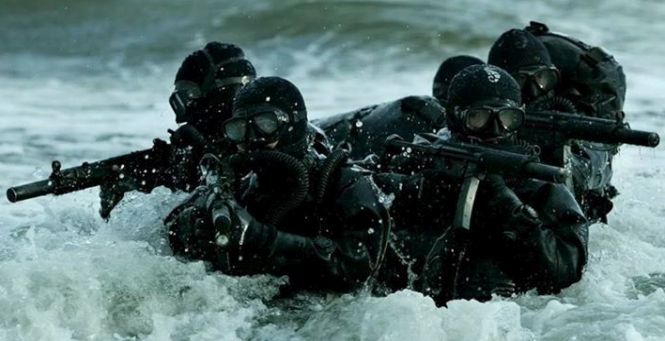 India's most lethal special force, the MARCOS (Marine Commandos) unit was created by the Indian Navy in 1987 in order to conduct special amphibious operations. Experts in maritime warfare, MARCOS commandos are trained to engage in battle on all terrains. MARCOS commandos, who specialise in underwater operations in Jammu and Kashmir's Jhelum River and Wular Lake, are also called the Dadiwala Fauj by the terrorists because of their bearded disguise.
More than 80% of the applicants drop out in the first stage of enrollment itself, a three-day long physical fitness test that is one of the toughest in the world. Those that make it through are then subjected to a five-week-long process called 'hell's week', which includes extreme sleep deprivation and incredibly tough physical tasks. The final stages of the training include an 800 meter long thigh-high mud crawl (called the 'death crawl') that is concluded with shooting a target 25 meters away with a man standing next to it.
At the end of this formidable training, these commandos are capable of firing while lying down, running in full sprint, or looking into a mirror. MARCOS are also among the handful of special forces from around the world that are capable of being para-dropped into the sea with the full combat load. MARCOS are equipped with the Israeli Tavor TAR-21, an assault rifle that is weather sealed – so they can emerge out of the sea, weapons drawn and ready to shoot!
2. COBRA: Victory or Death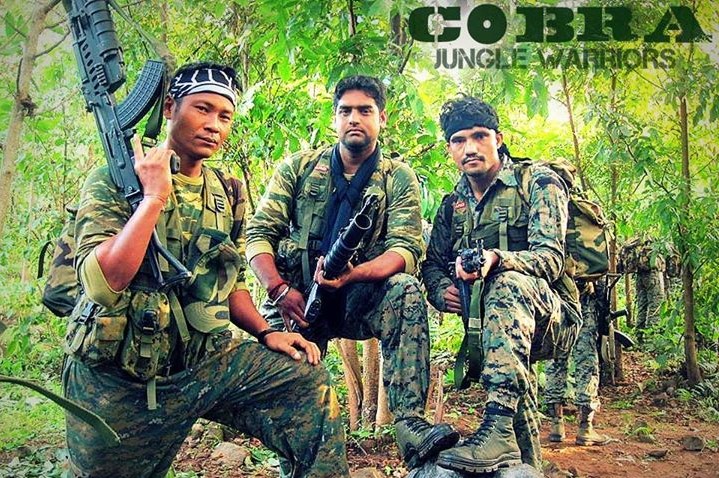 Created in 2008, COBRA or the Commando Battalion For Resolute Action is an integral part of CRPF that came into action in order to tackle insurgent groups engaging in guerrilla warfare in India. Highly proficient in guerrilla tactics and jungle warfare, these commandos are masters of camouflage, precision strikes, parachute jumps, and ambushes. Since its inception, the COBRA battalion has been involved in various battles with Naxalites and has played a key role in recovering weaponry from the insurgents.
Ranked among India's more experienced and successful law enforcement units, COBRA is also the best equipped Central Armed Police unit. Their high- end weapons include the INSAS rifles, the AK rifles, and the X95, an extremely compact stand-alone weapon specifically designed for Special Forces units. Their sniper units are also one of the best among the armed forces of India.
3. GARUD : Offence is the best form of Defence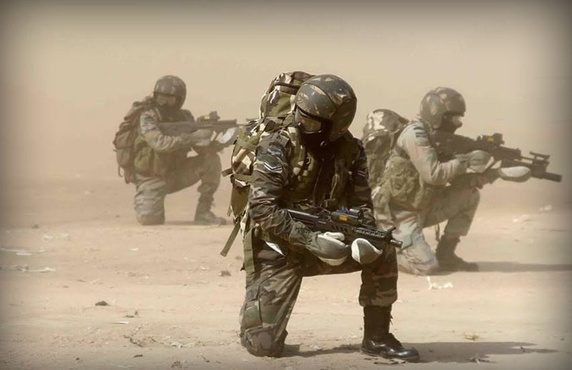 The commando unit of the Indian Air Force, GARUD was created in 2004 and derives its name from garuda, a divine bird-like creature of Hindu mythology. This elite unit specialises in Airfield Seizure, Special Reconnaissance, Airborne Operations, Air Assault and Search and Rescue missions, including those behind enemy lines. It is also tasked with the protection of critical Air Force bases as well as rapid response to terror attacks on such installations. In the aftermath of the Pathankot Terror Attack, Indian Air Force has decided to raise ten additional squadrons of Garud commandos.
Unlike its counterparts in the army and navy, Garud selects its commandos from among volunteers of other branches. The training is so tough that it can take up to 3 years to qualify as a fully operational Garud. Their training includes niche fields such as anti-hijack, para trooping, demolition, snow survival, specialised weaponry, and advance driving skills. A part of elite IAF exercises like the Iron Fist and the Live Wire, Garud commandos also train at the diving school of the Indian Navy and the Army's Counter Insurgency and Jungle Warfare School.
4. GHATAK: Lethal
Ghatak Platoon, or Ghatak Commandos, is a special operations platoon present in every infantry battalion in the Indian Army. The first wave of Indian Army's counter forces, the Ghatak Platoon usually consists of 20 soldiers whose mission is to launch a quick attack on a particular target and annihilate it so that the forward movement of the company or battalion is not slowed down or stopped.
Only the most physically fit and motivated soldiers make it into the Ghatak Platoon. They usually operate without support from the rest of the battalion and are trained to conduct raids on enemy artillery positions, airfields, supply dumps and tactical headquarters. Another of their key tasks is to collect battlefield intelligence and observe enemy movements by going very close to enemy formations. Ghatak platoons (a name given by General Bipin Joshi) were extensively used in the 1999 Kargil conflict. These shock and assault troops would climb up the cliffs from the rear and create a safe area for the rest of battalion to launch an attack.
Grenadier Yogendra Singh Yadav was a part of the Ghatak platoon of 18 Grenadiers during the action on Tiger Hill in the Kargil War, for which he was awarded India's highest gallantry award, the Param Vir Chakra.
---
You May Also Like : 10 Facts about the Indian Army That Will Fill You With Pride
---
5. BLACK CATS: One for All, All for One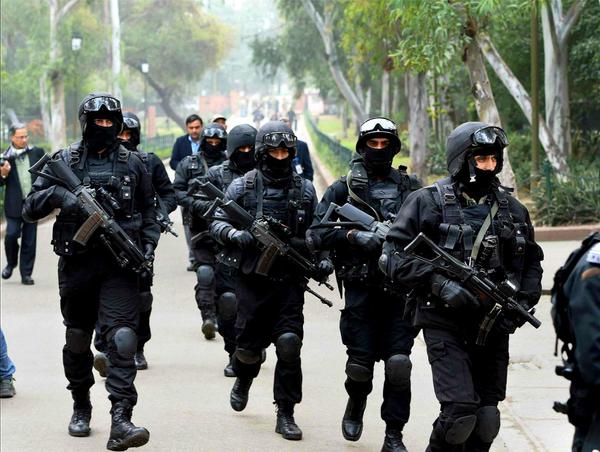 Formed in 1986, the National Security Guards are popularly called Black Cats because of the all-black Nomex coveralls, balaclavas and assault helmets they wear. An elite counter-terrorist squad, they provide security to VIPs, conduct anti-sabotage checks and are responsible for neutralising terrorist threats to India's vital installations. Some of the important missions they have played a pivotal role in are Operation Black Thunder, Operation Ashwamedh, Operation Black Tornado, and Operation Cyclone.
Led by the Director General of the Indian Police Service, Black Cats are neither a part of the Central Armed Police Forces nor do they come under the Paramilitary Forces of India. A mix of commandos from both the police and the army, NSG has two units – the Special Action Group (SAG) and the Special Ranger Group (SRG). Equipped with some of the most advanced weapons in the world, Black Cats are trained to tackle terrorism in all its manifestations. For this, they undergo a brutal training period of 9 months, which has a dropout rate as high as 50-70%.
6. SPECIAL FRONTIER FORCE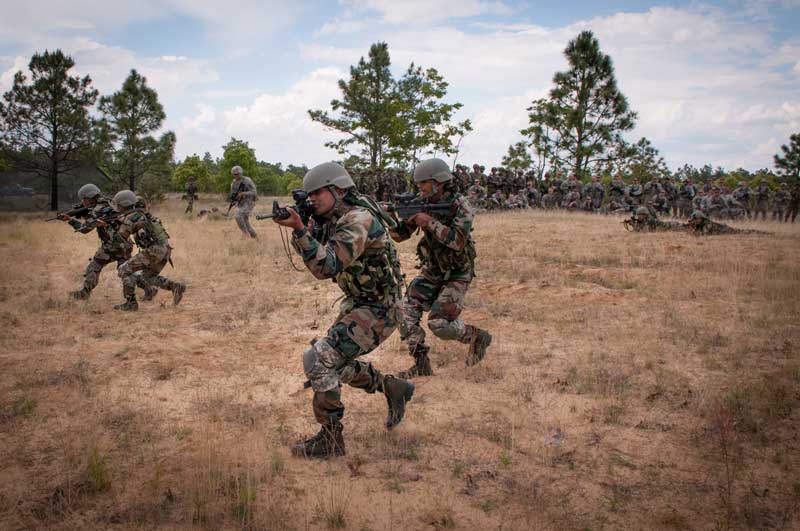 Created in the wake of the Indo-Sino War, Special Frontier Force specialises in unconventional warfare and covert operations behind enemy lines during events like wars. Keeping this in mind, the commandos are trained for extreme conditions, with special attention paid to guerrilla tactics, mountain and jungle warfare, parachute jumps, special reconnaissance, and hostage rescue .
Based in Chakrata, Uttarakhand, the SFF works in sync with the Research and Analysis Wing, India's external intelligence agency. The force is also called Establishment 22, courtesy its first Inspector General, Major General (Retd.) Sujan Singh Uban, who used to be the commander of 22 Mountain Regiment during World War II.
SFF played a pivotal role in Operation Meghdoot (the Siachen battle of 1985/86) and since then one of its units has been constantly guarding the Siachen Glacier, a place considered one of the world's most inhospitable battle zones.
7. PARA-COMMANDO: Men apart, every man an emperor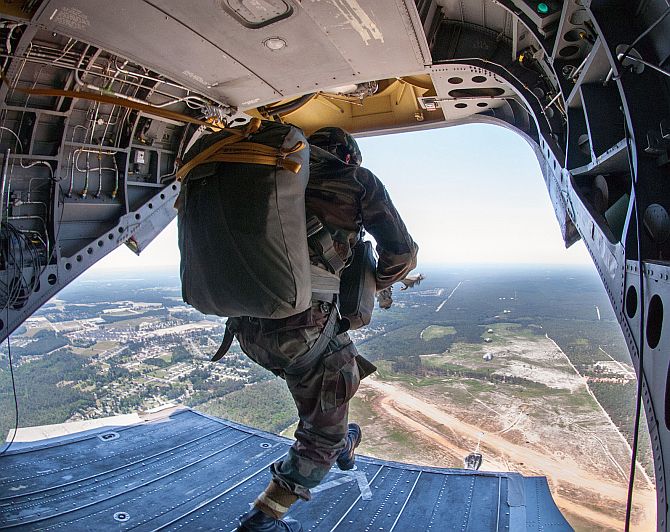 The Para Commando unit was formed in 1966 as a part of the highly-trained Parachute Regiment of the Indian Army. A highly trained crack force, the main job of the Para Commandos is to help the main army get into the enemy lines without much damage. This kind of quick deployment of soldiers behind the enemy lines can destroy their first line of defence.
Para Commandos have one of the most gruelling commando training regimes in the world. Apart from running 20 km daily with 60 kg baggage, and free falls from heights of as much as 33,500 feet, they also learn man-to-man assault practices and terrain-specific warfare. They are taught specialised modes of infiltration and exfiltration, either by air (combat freefall) or sea (combat diving).
Interestingly, they are the only units in the Indian Army allowed to have tattoos on their bodies.
Their most notable operations include the 1971 war with Pakistan, the 1999 Kargil war and Operation Summer Storm in 2009.
8. FORCE ONE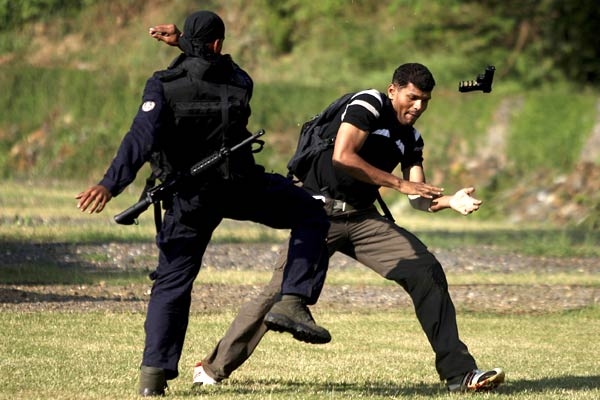 After the Mumbai terror attacks, the Maharashtra government woke up to the need of raising a special squad that could combat urban terror and assembled the youngest Indian special force unit called Force One. The sole motive of Force One is to protect Mumbai when under threat. Force One is one of the fastest response teams in the world – it can ready an armed unit and leave for a hostage situation in less than 15 minutes.
From over 3000 applications from both the army and the police, the best 216 were selected and then trained under close guidance from the Israeli Special Forces. Their curriculum is designed on the lines of German Police's GSG 9 and focuses primarily on first-response intervention and firing. They also undergo regular drills to prepare for possible attack scenarios around sensitive installations, with special emphasis laid on intelligence gathering and tactical formations.
---
Also Read : 10 Army Heroes and Their Extra Ordinary Tales of Bravery
---
Like this story? Have something to share? Email: contact@thebetterindia.com, or join us on Facebook and Twitter (@thebetterindia). To get positive news on WhatsApp, just send 'Start' to 090 2900 3600 via WhatsApp.