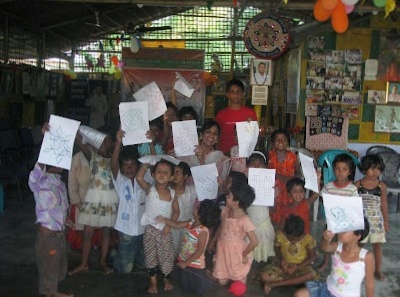 Pratham Books celebrated International Literacy Day in a unique way - by holding storytelling sessions for thousands of children across India. Read an account of one such session held by our friend and writer in Assam, and learn about the beautiful experience storytelling can be - both for the listener and the teller, while serving as an important educational aid.
International Literacy Day was celebrated all over the world on the 8th of September in many different ways. In India, Pratham Books had an ambitious plan for the day – to get 100 volunteers to conduct storytelling sessions in their towns, villages or cities. A lofty plan like this had all the chances of failure, and at times it looked like it might. But guess what, as time drew close, they got 250 volunteers representing each and every state in India! Thousands of children were read a story – "Susheela's Kolams", specially chosen for this day, about a girl who loves Kolams (a form of rice painting drawn with rice powder/chalk, also known as Rangoli) and dreams big. One of the volunteers was our friend and writer Meena Vaidyanathan, who conducted a session in Assam and shares her experience with us.
Literacy has different meanings for different people. A few years ago, just being able to sign one's name was considered enough to be deemed "literate". Since then, even the statutory definition of literacy has changed. The United Nations Educational, Scientific and Cultural Organization (UNESCO) has defined literacy as the "ability to identify, understand, interpret, create, communicate, compute and use printed and written materials associated with varying contexts."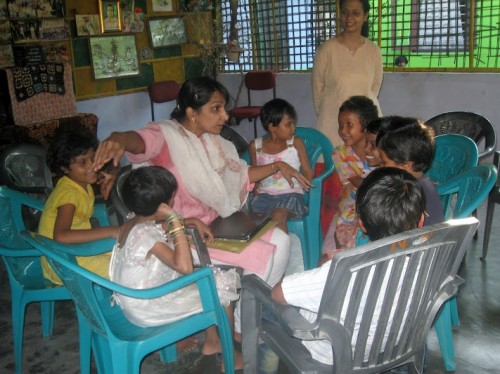 To create and interpret and communicate, children need to imagine and articulate their thoughts. What better way to inculcate these skills than storytelling? Story telling is an art that has mental, social and educational benefits on children. Besides, who doesn't love the warm, fuzzy feeling one gets from listening to a good story?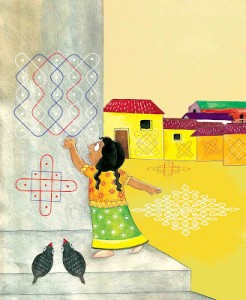 Listening to stories help kids imagine a world of their own weaving in the words that they hear into a fabric that is unique, that can potentially help shape his or her personality and thinking. Much more sometimes than what they may do learning from a class lesson, and it definitely helps kids broaden their ability to imagine and express than watching television endlessly. Through stories, kids can get to learn about places, practices in life, relationships etc. Stories also allow children to know about their own cultural roots, differences between cultures and various lifestyles and also learn about new worlds, while helping kids to visualize the plot and characters.
So when Pratham Books thought of a country-wide storytelling as a way to mark the International Literacy Day, I jumped at it. "Susheela's Kolams" was a beautiful book. Simple, colourful but more importantly, introduced so many new words and concepts in a fun manner. How many opportunities do children in the far east get to learn about Tamil Nadu and a word called "Kolam"? But they did, and learnt how to make them! They learnt about the Air Force and about trains. I conducted the story telling session at the Nabprabhat Orphanage in Tezpur in Assam, with about 20 kids, none of who had been in a train before. And Susheela's kolams helped them visualize their own little train journey. We read the story together and then learnt how to make kolams. The enthusiasm was palpable and the creativity oozing out!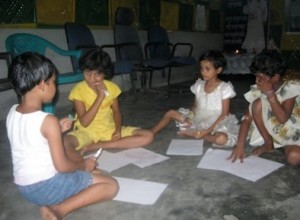 None of the kids had Hindi or English as their first language. But the pictures and the expressions helped them understand the nuances of the story, and they answered questions with such gusto and asked such probing questions that it made me realize just how much the process of story-telling encouraged them to participate in the learning process. Hearing stories with interesting expressions and a patterned speech helps break the code of language, the sounds of words, the rhythm of sentences, and bring out the emotion even in the youngest of children. Kids love to talk instead of listening to anything. Storytelling gives them the necessary training to listen and understand instead of talking, helping them nurture valuable life skills that will enable them not just to become literate but also well-rounded individuals! As children experience an entertaining story, they pair this positive emotion with storytelling, which encourages them to explore and experience it again, listening to others, perhaps even to recorded stories, and eventually telling their own.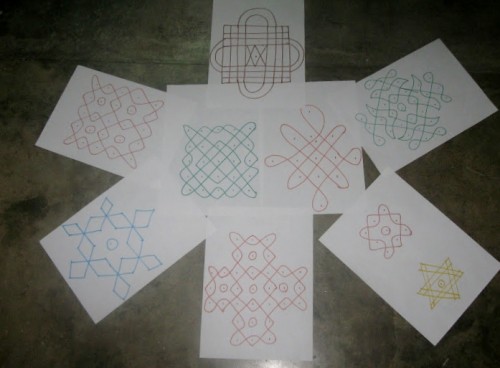 This wasn't the first time I was doing a story telling session and definitely won't be the last. But a campaign that got a whole lot of story-telling volunteers to reach out to thousands of kids forebodes the beginning of something different. Hopefully with the momentum continuing, we will be able to offer the young ones of today knowledge packaged in exciting, interesting, yummy stories, that combines bits of history, geography, good morals, strong values, and insights into life!!
After all, isn't a literate society all about a continuum of learning? In enabling individuals to achieve their goals, to develop their knowledge and potential, and to participate fully in their community and wider society.
Meena Vaidyanathan has had a long and accomplished career across business development, marketing, and public affairs since 1994. She presently leverages her expertise and experience on programmes having large scale social impact through
Niiti Consulting
, and other consulting assignments like the one with
Dialogue Social Enterprise
. Meena loves singing, is a compulsive cook and writes infrequently on her
blog
. She is a travel bug and is presently collecting stories and unearthing history around places near India's rivers.
We bring stories straight from the heart of India, to inspire millions and create a wave of impact. Our positive movement is growing bigger everyday, and we would love for you to join it.
Please contribute whatever you can, every little penny helps our team in bringing you more stories that support dreams and spread hope.