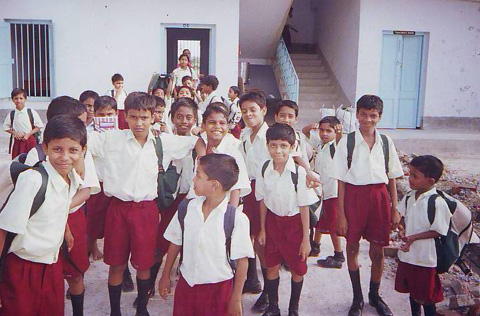 Parivaar is a humanitarian service organization based in West Bengal, working for the complete development of underprivileged and vulnerable children from tribal areas. Starting with 3 children in 2003, it now houses more than 375 children and offers quality education and a better life to each of them.
What is Parivaar?
Parivaar is a humanitarian service organisation, based in 24 Parganas (S), West Bengal, and at present is chiefly working for total care and overall development of homeless children from categories like orphans, girl children highly vulnerable to exploitation, victimization, and trafficking, street children, abandoned children, highly impoverished children from tribal areas and other such highly vulnerable children at Parivaar Ashram, Village- Barkalikapur, P.O. Bakhrahat, District 24 Parganas (South), West Bengal.
Starting from scratch and thereafter developed brick by brick, Parivaar Ashram is being continuously developed and moulded into a unique institution transforming the lives of each of its residential members (children and adults) and acting as a training ground of highly dedicated life-committed Seva-vratis for taking up multifarious service activities in future. As on 15th December '08 there are 372 resident children and 30 Resident Seva-Vratis and 40 other day-time workers at Parivaar.
Parivaar Ashram also acts as a hub for various service activities for scores of the villages in the vicinity. At the Parivaar Ashram campus is also located Parivaar's own Formal School 'Amar Bharat Vidyapeeth' in which the resident children of Parivaar study.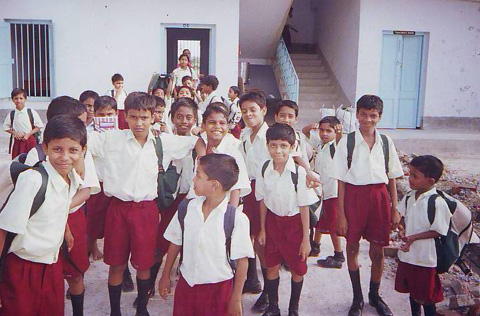 Children are admitted at a young age of 4 to 10 into Parivaar Ashram. Each resident child once admitted into Parivaar will be under the care and custody of Parivaar till higher education (graduation / post-graduation) and subsequent job placement and settlement into future phase of life. Parivaar is and shall be behind each child and pave his/her way into any future career which he/she is aspiring for and showing promise of making to, whether it is a stream graduation in humanities, commerce or sciences, or a professional degree education in engineering/medicine. Their eldest group of children is already in Class 8 and despite the fact that they were late-starters in academic path (trained and initiated straight into Class 4 in 2004) they are outperforming children from educated households in their respective schools, and securing top-bracket ranks.
In the next 2 years, Parivaar is being developed to accommodate 1000 such resident children while ensuring the same high quality. A separate All-Girls Residential Institution is on the way of being developed which will be gradually expanded to accommodate 500 resident girls. Residential Institutions shall also be started in some of the far-off tribal areas where Parivaar is working.
Parivaar Ashram is also the base for many other projects serving the rural areas in 24 Parganas district as well as far-off tribal areas in districts of Midnapore (West), Bankura, and Purulia in West Bengal and Singhbhum (East) in Jharkhand. Two main tribes, Sabar and Birhore, are the main beneficiaries of Parivaar's tribal service programs. 400 such families from highly impoverished tribal areas are enrolled in Parivaar's regular Foodstock Scheme whereby 9 tonnes (9000 Kg) of foodstock (Rice and Dal) are ferried and distributed by Parivaar Seva-vratis through most inaccessible terrains in these areas every month. More than 100 children from these tribal areas have also been admitted at Parivaar Ashram Residential Institution. Also miscellaneous service activities like house-repair of dilapdited dwellings etc. are taken up across these villages.
See http://www.parivaar.org/Food_stock_Distribution_Scheme.shtml
Parivaar's work has attracted an increasing number of supporters from amongst Indians in varied walks of life, and at the same time has been able to build a cadre of highly dedicated youth Seva-vratis who are initiated into ideals of service and trained at Parivaar Ashram.
The Beginning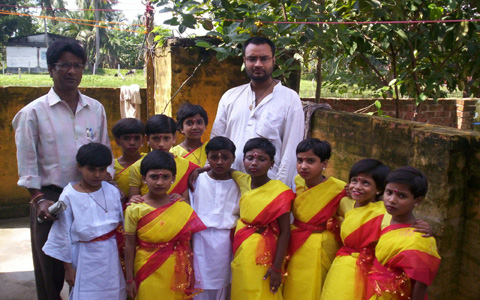 Parivaar was started by Vinayak Lohani (an alumnus of IIT Kharagpur and IIM Calcutta), who, inspired by spiritual and humanistic ideals of Swami Vivekananda, decided to devote his entire life for serving 'Divine in Man' as taught by Swami Vivekananda. Immediately after passing out of IIM in 2003, with just 3 children in a small rented building with almost no financial resources, Shri Vinayak started Parivaar. Till the level of 15 children at Parivaar, he used to take some lectures for students appearing for Management entrance examinations and through that could meet the expenses. Gradually people began to be inspired by this dedicated service and started to support this initiative and the number of children at Parivaar grew. At the end of 2004, Parivaar could purchase its own land to develop its permanent campus called Parivaar Ashram. Parivaar's mission and theme began to attract dedicated youth, many of whom joined Parivaar Ashram as resident workers and began to become bearers of this mission.
Parivaar Ashram : Building of a Unique family
December '03 : Admission of 3 children at rented building at Bonogram near Thakurpukur, Kolkata.
June 30th '04: 59 children
Dec 29th '04: Purchase of land at Barkalikapur, Bakhrahat in 24 Parganas (South)
Dec 31st '04: 67 children (all housed at Bonogram Centre)June 30th '05: 110 children.
Dec 31st '05: 145 children.
June 30th '06: 200 children.
April 15th '07: 226 children.
May 15th '07: 250 children.
Oct 15th '07: 275 children.
Feb 15th '08 : 310 children.
Jun 15th '08 : 332 children.
Dec 15th '08 : 372 children
The Road Ahead
Parivaar wants to continuously develop its cadre of dedicated Seva-vratis who can devote themselves to a life of service and work in various neglected parts of India for our unserved brethren and bring light to their lives. Thus in the years to come similar full-fledged Seva-Ashrams shall be started in other places first in West Bengal and then in rest of India.
Parivaar's Support Base
Indians (and a few foreign nationals too) all over the world have been influenced and inspired by Parivaar's work. A large no. of working professionals including IIT and IIM alumni (more than 500 of them) the world over support Parivaar. Parivaar received more than Rs 3 Cr in the said Finacial Year, by Parivaar supporters worldover. Out of this the bulk was from individual donors who inspired by Parivaar support it magnanimously.
Read more about Parivaar and its activities at: http://www.parivaar.org/
We bring stories straight from the heart of India, to inspire millions and create a wave of impact. Our positive movement is growing bigger everyday, and we would love for you to join it.
Please contribute whatever you can, every little penny helps our team in bringing you more stories that support dreams and spread hope.