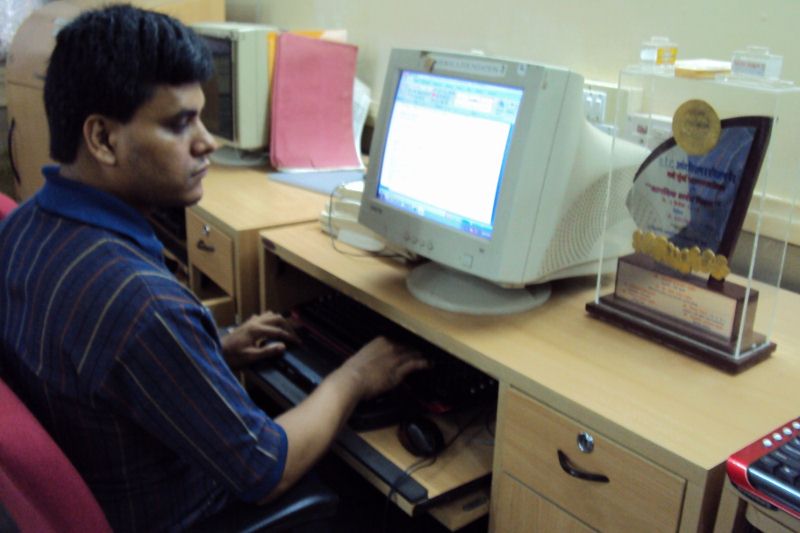 Malay Desai visits the Helen Keller Institute for Deaf and Deafblind in Mumbai, and meets one of the students. Pradip joined the centre at the age of 12, a scared
Malay Desai visits the Helen Keller Institute for Deaf and Deafblind in Mumbai, and meets one of the students. Pradip joined the centre at the age of 12, a scared and confused child. Today, at the age of 33, he is confident of making his life decisions and is looking forward to starting his own business. It is truly remarkable what the right environment and supportive people can help you achieve.
'Chhoone se phailta hai toh sirf pyar', actor Shabana Azmi had informed all Indians in an AIDS awareness TV spot in the 90s. So radical was that line that we couldn't help recalling it as we entered a small room with a loft on the ground floor of a municipal school in south Mumbai. Frankly, we'd expected the Helen Keller Institute for Deaf and Deaf blind (HKIDB), a pioneering body in Asia for its work for deaf blindness, to be grander. But minutes into a 'conversation' with one of its students Pradip Sinha, we realised its grandeur. After all, we were using both our hands to clasp his in various ways to communicate and unravel an outstanding life story.
'Deafblind' is one word, a term used to describe the deaf who lost sight or vice versa. Most of us won't at first recall the name of this institute's namesake as a revolutionary deafblind person, but would get perspective at the mention of Rani Mukherjee's character in the film Black. We spot a forlorn postcard of the film too, while 'talking' to Pradip. He is using the American Sign Language (ASL) to talk and feeling his teacher and interpreter Devyani Hadkar's palms to 'listen'. Their hand movements are too swift for us, and often end prematurely as one understands the other beforehand, and we only reason this sync to years of their time spent in this room.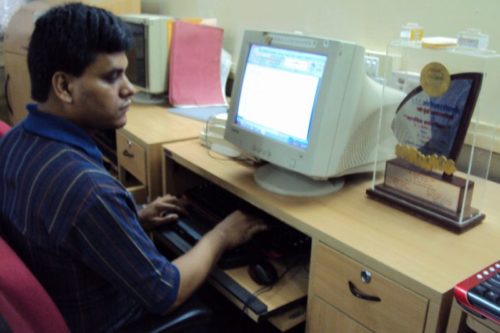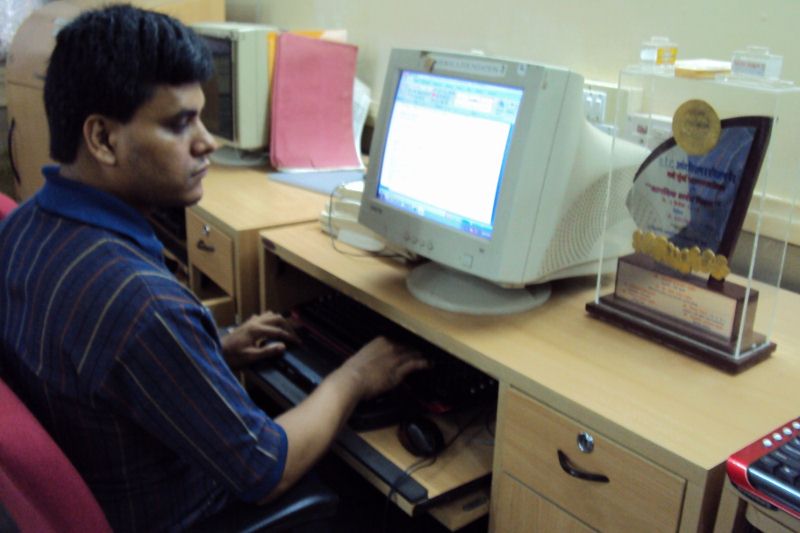 "As a child, I was confused and scared," Pradip is hesitant as he tells us of his past, but his face is ever-beaming. The only brother to five sisters in a middle-class Kolkata family, he was born deaf with Rubella Syndrome (group of abnormalities that occur to a developing foetus) but lost vision only at age 10. "His protective parents wouldn't let him out too much until his sisters discovered our centre in 1991 and sent him to Mumbai," Devyani tells us. She doesn't need to refer to him on many things we ask – his past, present, even about his feelings. Devyani is the doting figure that has anchored Pradip to this city.
This also means that Pradip's sisters, who're incidentally visiting him when we're there, don't know him as well as Devyani does. "Mujhe itna nahi aata (I don't know that much)," one of them admits of the ASL. Pradip was brought here when he was nine, and like in cases of many deaf blinds, this created some distance with his blood relatives. Even though he goes home every year like any other out-of-towner in Mumbai, the overall lack of communication has created a perplexed wall between them. "In fact, he just didn't go last year because he 'didn't feel like'," Devyani adds. She is therefore, playing the bridge between him and his family.
Another element that has held Pradip together in his different youth so far has been religion, and we discover this only when he tells us his email id, which has 'Philip' in it. "My priest gave it to me," he says. "Why did you convert?" we ask. Devyani is curious too. Pradip makes random signs till we figure he's just mumbling and suddenly the smile we thought was perennial turns into a nervous, straight face. "My family did not trust me in many things. So I decided for myself in 1996 to be happy," he opens up on email later. Devyani, however believes that witnessing the Hindu-Muslim riots of 1993 may be the reason. The 'Philip' within 'Pradip' is still a mystery to us, especially when Devyani tells us of his staunch ways of not even having 'Prasad'.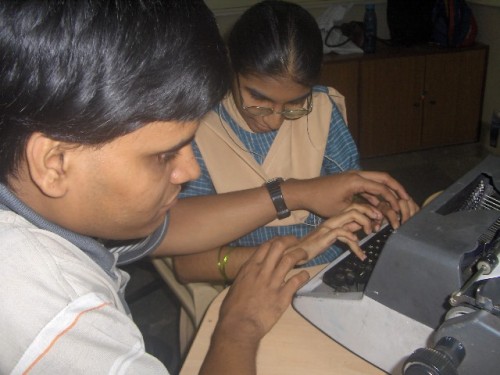 That said, Pradip is still just another man in the big city, living on rent with a roomie Akhtar (also deafblind), travelling 90 minutes by train every day, chasing dreams of becoming a businessman. The time that he flies out of his nest is near, he knows it; Devyani knows it. "I'm ready to stay wherever my work takes me. I might need to be with my mother as I'm the only son!" he asserts. After he finishes his Diploma for Computer Education for the Deafblind, he would like to become a trainer for other deafblind persons, and utilise his proficiency with special computers. The woman interpreting his thoughts to us now is a key player, and has in fact called the sisters here to give them a subtle 'it-is-time-he-must-go' message.
The question of long-term companionship is lurking too. Pradip is 33 and though he doesn't reveal much on the subject, Devyani reports that along with his roommate and friends, he's been excitedly talking on this and scouting for matches – disabled or otherwise. "Some of them have been hitched to sighted partners… their optimism is high!" she smiles.
An hour or so of this warm, three-way talk later, Pradip takes our palm and doodles an invisible 'Nice to meet you' with his index finger. As we envelope his hand in both ours and pat him, we realise Shabana Azmi was indeed right.
This is a part of a series of articles that celebrate the intriguing lives of persons with disabilities. This is an initiative of Trinayani which is a not-for-profit advocacy trust founded by Ritika Sahni. Trinayani works towards Disability Awareness and Support, communicating through workshops/seminars, print, radio, films and other electronic media. Visit www.trinayani.org or write to them at trinayani.contact@gmail.com
We bring stories straight from the heart of India, to inspire millions and create a wave of impact. Our positive movement is growing bigger everyday, and we would love for you to join it.
Please contribute whatever you can, every little penny helps our team in bringing you more stories that support dreams and spread hope.